Pink Velvet Cake
Soft, moist, easy pink velvet cake recipe from scratch with strawberry frosting, requiring simple ingredients. Perfect for Valentine's Day or birthdays.
I am sure ALL of you know about a red velvet cake but feast your eyes on this PINK velvet cake now! This is the most ROMANTIC cake ever and it's one of my most POPULAR Valentine's day cakes, just like my moist red velvet cake.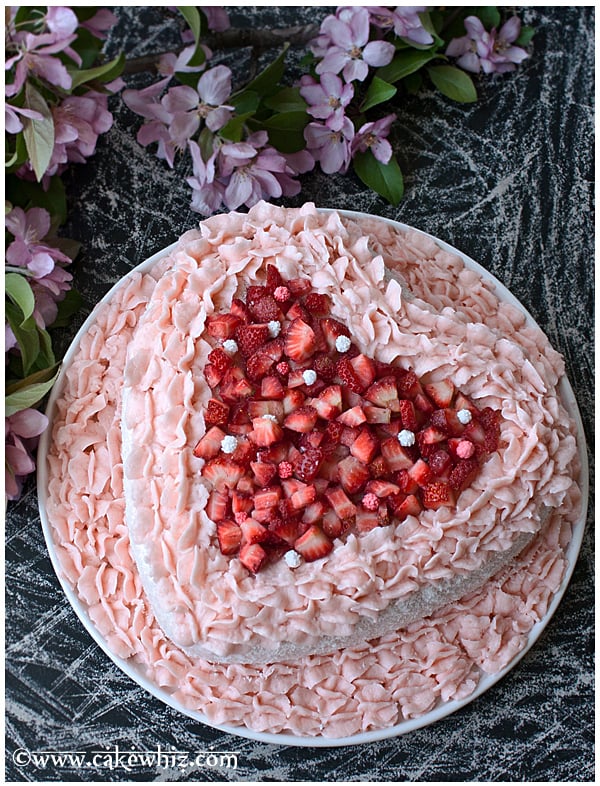 By the way, many people DON'T realize that red velvet cake is NOT just a red colored vanilla cake.  It's actually a red colored vanilla cake batter with a hint of chocolate.
Over the years, red velvet cakes have given RISE to other velvet cakes. These new velvet cakes are simply vanilla cakes in different colors or at least that's my understanding. The one I am sharing today is a PINK velvet cake or some people like to call it a pink sponge cake recipe.
UPDATE: I shared this pink velvet cake recipe a few years ago but it did not have pictures of the slices and those have been added now.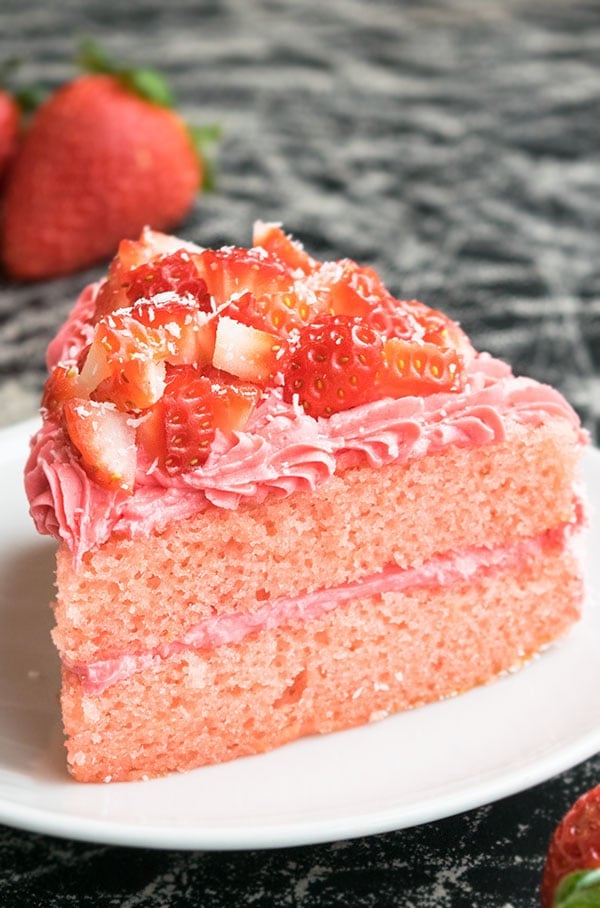 What is a pink velvet cake?
It's a soft and moist buttermilk cake that is pink in color and frosted in pink buttercream icing.
How to make pink velvet cake?
Start off by creaming together butter and sugar. Then, mix in eggs, vanilla and buttermilk. In a separate bowl, whisk together the dry ingredients and mix that into the wet mixture until just combined. Bake and let it cool. Then, frost it in icing and decorate with strawberries and coconut. Enjoy!
What does pink velvet cake taste like?
It's soft, moist and has a very light and airy texture.
How do you make pink cake batter?
You can do this by adding pink food coloring or a little bit of red food coloring into the cake batter and mixing well. I suggest using gel food coloring instead of liquid food coloring since the color is stronger and you don't have to add as much as the liquid variety.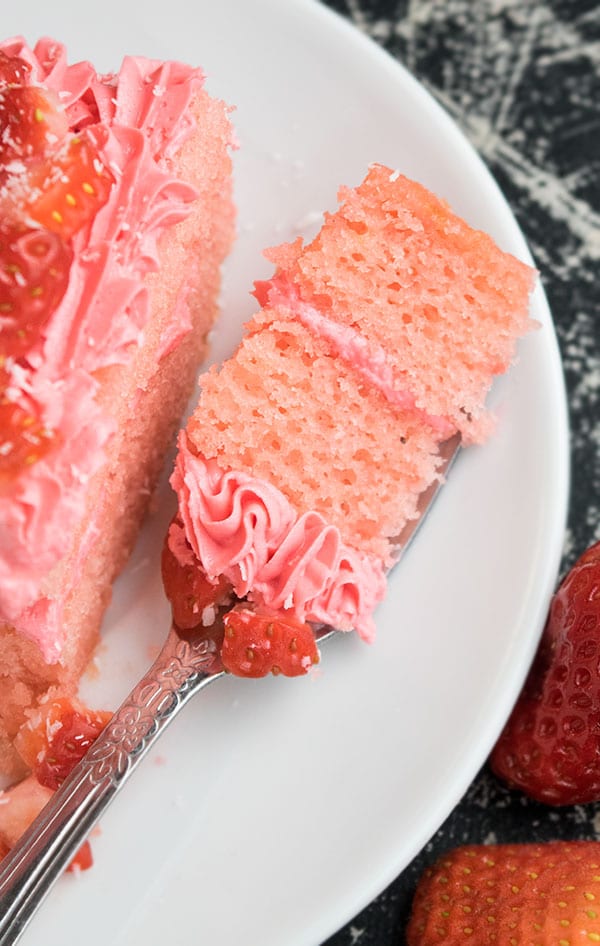 TIPS for easy pink velvet cake:
Instead of a cake, you can use this recipe to make 24 pink velvet cupcakes.
DO NOT replace buttermilk with regular milk because it adds a lot of moisture to this cake.
Make sure all your ingredients are at room temperature because this ensures they blend together properly and smoothly.
DON'T frost the cake until it has fully cooled down or else the cake will crumble and frosting will melt.
 You can bake this cake in a flat cookie pan to make a pink CAKE ROLL(I was able to get 2 rolls).
I think the best icing or best frosting for pink velvet cake is strawberry frosting but my family and friends LOVE this pink velvet cake with cream cheese frosting.
You can also use LEFTOVER cake or cake scraps to make pink velvet cake pops or pink velvet truffles or cake balls.
By the way, I recently saw pink velvet cake mix boxes at my local grocery store  but I think they might be seasonal and they are probably not available all year. If you can find them, you can use them to make a pink velvet cake or even pink velvet cake mix cookies. I haven't tried them and don't know how they taste though.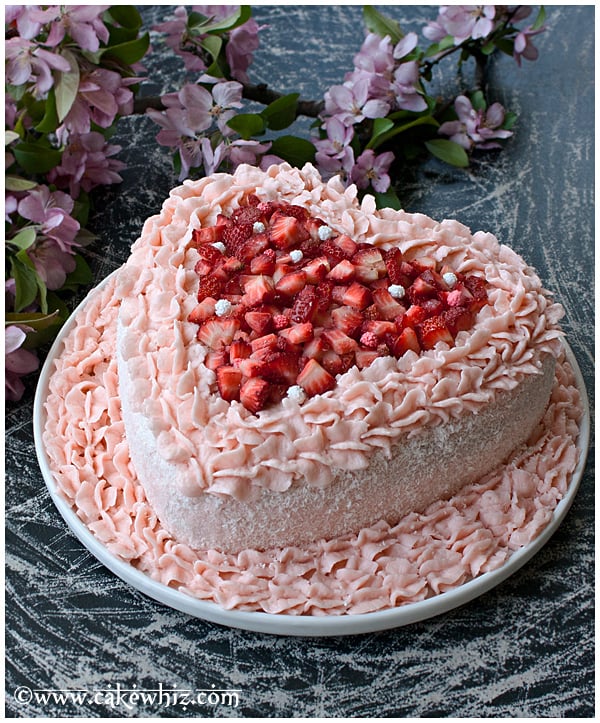 Other romantic Valentine's Day cakes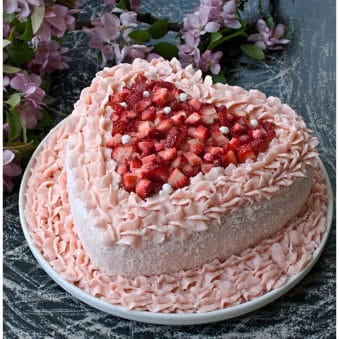 Pink Velvet Cake
Soft, moist, easy pink velvet cake recipe from scratch with strawberry frosting, requiring simple ingredients. Perfect for Valentine's Day or birthdays.
Yield: Slices
Ingredients
Cake
2½ cups All-purpose flour
1¼ cups Sugar, Granulated
1 cup Butter, Unsalted
1 cup Buttermilk
3 Eggs, Large
1 tbsp Vanilla extract
Pink gel coloring
1½ tsp Baking powder
½ tsp Baking soda
⅛ tsp Salt
Filling, Frosting, Decoration
Instructions
In a large mixing bowl, add butter, sugar and cream together until light and fluffy.

Add eggs, vanilla extract, buttermilk, pink gel coloring and mix until smooth.

In a separate bowl, whisk together the flour, baking powder, baking soda, salt.

Dump this dry ingredients to the wet mixture and mix until smooth. Do not over-mix!

Pour this batter into a greased/floured heart pan (Dimensions 8x3).

Bake at 350 degrees for about 40-45 minutes or until an inserted toothpick comes out clean.

Allow this cake to cool down completely.

Cut it in half and fill it with strawberry frosting and top it off with some strawberry pieces. Place the other half of the cake on top of the strawberries.

Frost your entire cake with strawberry frosting.

Cover the sides of the cake with finely shredded coconut.

Use Tip 1M (star tip) to pipe the top of your cake and the cake board.

Add more strawberries on top of the cake and sprinkle some coconut. Enjoy!
Notes
I highly recommend sifting the flour because it makes the cake more airy and soft.
Leftovers can be stored in a sealed container in the fridge for up to 2 days. 
Nutrition
Calories: 708kcal, Carbohydrates: 94g, Protein: 7g, Fat: 34g, Saturated Fat: 18g, Cholesterol: 111mg, Sodium: 427mg, Potassium: 281mg, Fiber: 2g, Sugar: 63g, Vitamin A: 755IU, Vitamin C: 19.1mg, Calcium: 94mg, Iron: 2.4mg
Until  next time, tata my lovelies!