How to Make a Flower Cupcake Bouquet
Learn how to make an easy flower cupcake bouquet with frosting. This pull-apart flower bouquet cupcake cake is great for Mother's Day, Valentine's Day parties.
*Ad – This flower cupcake bouquet tutorial is a sponsored conversation written by me on behalf of Pillsbury™. The opinions and text are all mine.*
Valentine's Day will be here in a few weeks and this STUNNING flower cupcake bouquet is the perfect addition to your menu.
I have seen MANY flower cupcake bouquet designs…
Some of them are in a basket and others are in a box or even a vase and they are all gorgeous.
However, I wanted to make a PULL-APART flower bouquet cupcake cake, which is simpler and easier than those versions.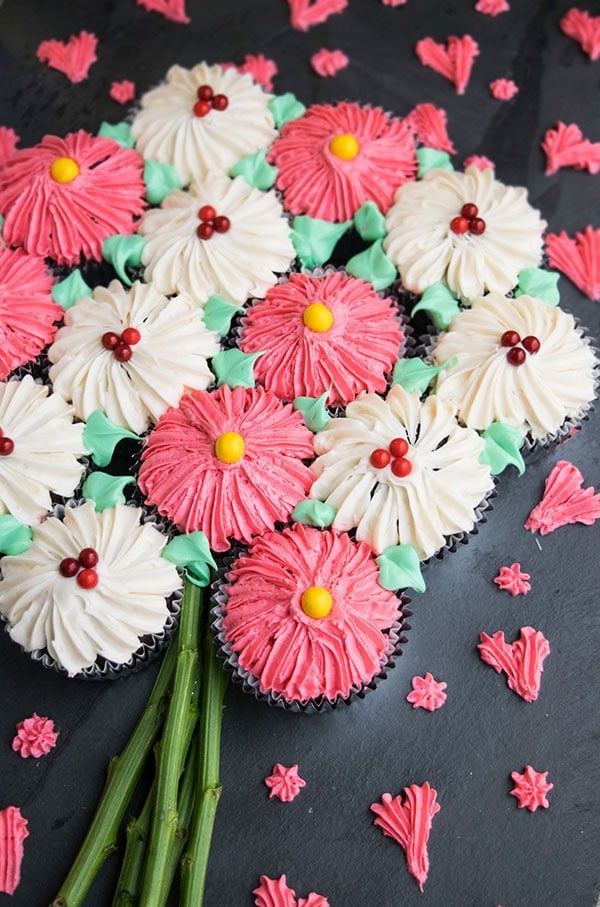 The BEST thing about this pull apart cupcake cake is that you can match the colors of any party theme to these cupcakes.
Think about making Mother's Day bouquet cupcakes, wedding bouquet cupcakes and even birthday cupcake bouquets… The possibilities are endless!
I think you can also use this tutorial to make a beautiful cupcake bouquet CENTERPIECE, which will totally blow your guests away.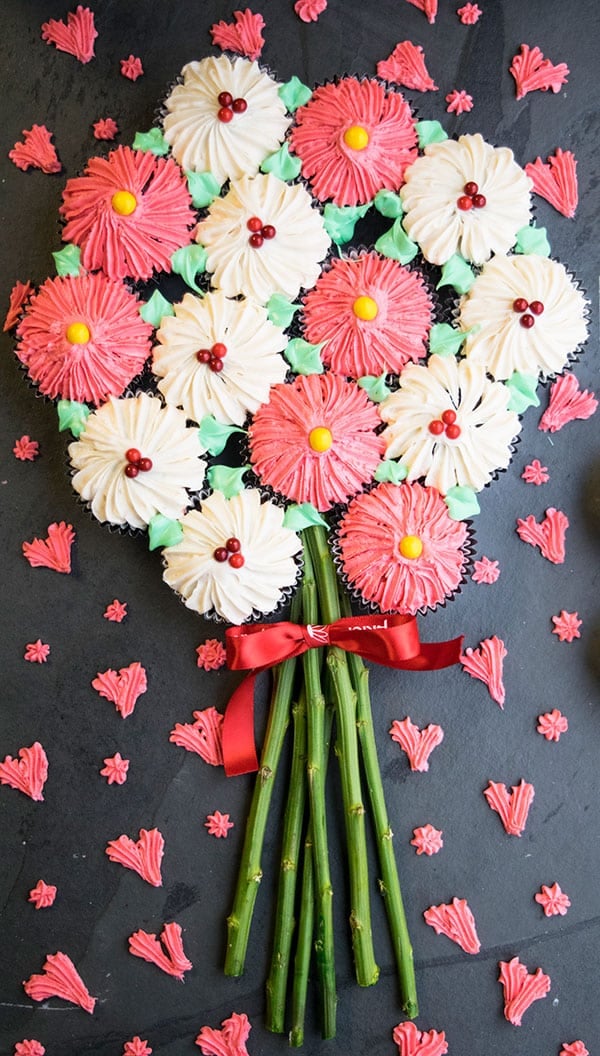 Here are some TIPS for this flower cupcake bouquet tutorial:
Make sure cupcakes COOL down completely before piping flowers or else the icing will melt.
Icing should be FIRM so that the frosting holds its shape and the petals don't look messy.
For best piping results, CHILL piping bag in the fridge for 20 minutes.
You can use DIFFERENT decorating tips to make different types of flowers.
Use GEL coloring to color frosting instead of liquid food coloring because liquid food coloring makes the consistency thinner and that becomes difficult to pipe.
TRY using Pillsbury Filled Pastry Bags instead of a traditional pastry bag for the most
convenient way to frost cupcakes.
Make sure the stems that you use in this bouquet come from SAFE and EDIBLE plants.
Use a THICK, sturdy cake board because that will prevent the board from bending and disturbing the arrangement of your cupcakes.
To prevent the cupcakes from shifting around (especially if you are taking these somewhere), you can SECURE them in place them with double sided tape or even a bit of frosting.
Leftovers can be STORED in the fridge in a sealed container for up to 3 days.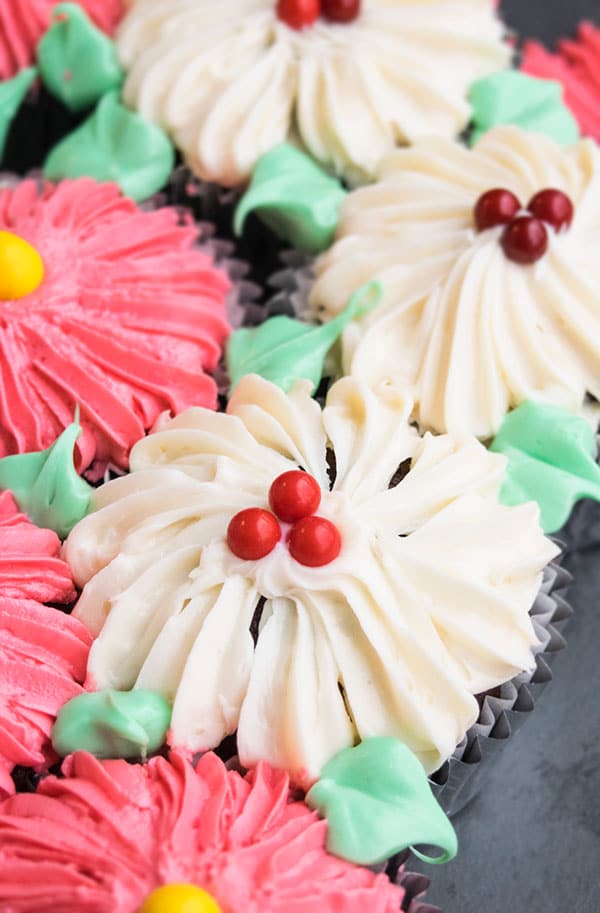 The flavor combination of these cupcakes was Devil's Food and cream cheese.
It is a classic and always a HIT with my family, especially my husband.
Who can resist that… Right?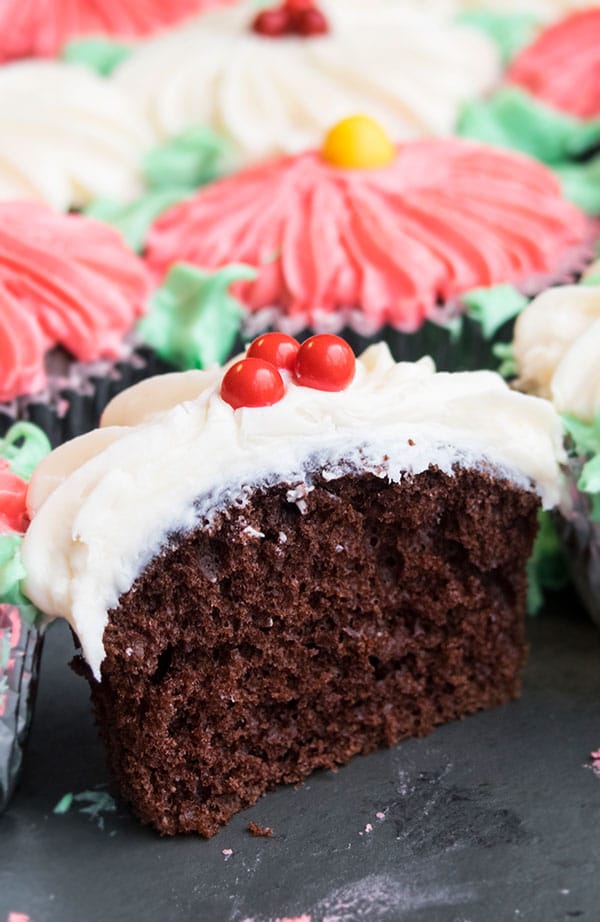 As part of Operation Celebration, I used Pillsbury products to make this cake (Devil's Food Cake Mix, Pillsbury Filled Pastry Bag in Cream Cheese), which made the entire process so easy!
I have been OBSESSED with these pastry bags for a few months now and I love the fact that they are ready to use immediately.
The piping bags have a built-in star tip, which is perfect for making frosting flowers and even frosting swirls on cupcakes.
They are also DISPOSABLE, which makes clean-up a breeze and there is no mess.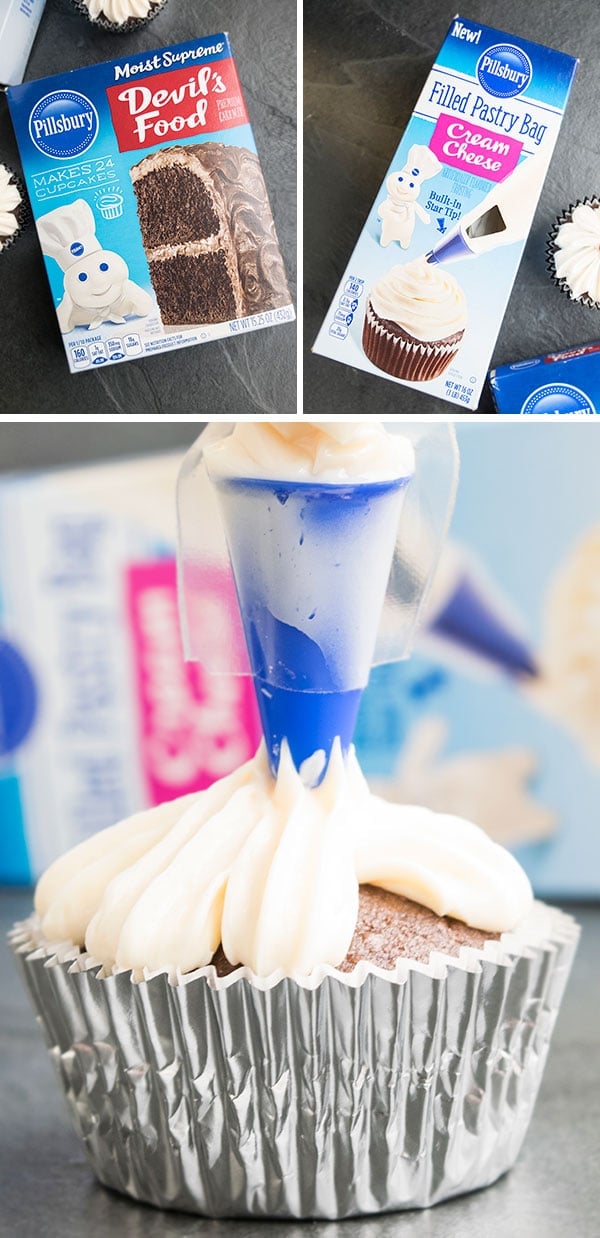 How do you make bouquet cupcakes step by step?
Start off by piping flowers on cupcakes and then arrange them in the shape of a bouquet on a large, thick board. Tie a bundle of stems with a nice bow and arrange them below the cupcakes. Pipe green leaves to fill some of the empty space between the cupcakes. Decorate the board with simple frosting designs.
How do you decorate cupcake bouquet?
You can either use fondant flowers or colored frosting to pipe flowers on these cupcakes.
How do you make a cupcake bouquet without Styrofoam?
You should make them in the pull apart cupcake style that I did. Styrofoam is not required for that.
Well, that's all for today.
If you liked these cupcake bouquet instructions/cupcake bouquet DIY, you may also like some of these other cupcakes and cakes:
Pull Apart Watermelon Cupcakes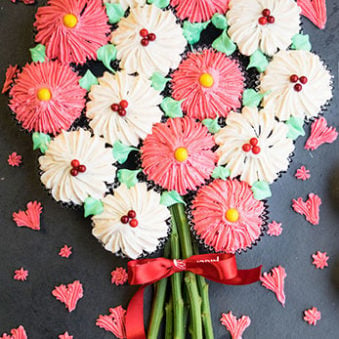 How to Make Flower Cupcake Bouquet
Learn how to make easy flower cupcake bouquet with frosting. This pull apart flower bouquet cupcake cake is great for Mother's Day, Valentine's Day parties.
Yield: Cupcakes
Ingredients
14 Cupcakes
2 cups Frosting
20-25 Round candies
5 Stems
Instructions
Bake cupcakes and allow them to cool down completely.

Hold the piping bag at a 45 degree angle along the edge of the cupcake.

Squeeze the bag until icing comes out and pipe inwards to the center.

Continue piping petals all around the cupcake.

Stick a few edible pearls or round candies in the center.

Arrange the cupcakes in a round bouquet cluster formation.

Tie the stems with a ribbon and place it below the cupcakes.

Fill a piping bag with green icing and attach a leaf tip and pipe leaves on the edges of some cupcakes to fill up the empty space. Enjoy!
Notes
Read all my tips above. 
If you don't have Pillsbury's piping bag, you can use the star tip (Tip 21) and leaf tip (Tip 366) to make these cupcakes. 
Nutrition
Calories: 295kcal, Carbohydrates: 47g, Protein: 2g, Fat: 10g, Saturated Fat: 2g, Cholesterol: 1mg, Sodium: 200mg, Potassium: 51mg, Sugar: 36g, Vitamin A: 20IU, Vitamin C: 0.1mg, Calcium: 59mg, Iron: 0.7mg