Best Cream Cheese Fruit Dip
Quick and easy cream cheese fruit dip recipe, homemade with simple ingredients. Smooth, rich, creamy. Perfect for fresh fruits and cookies. Enjoy it as dessert or snack.
If you are ever looking for a last-minute dessert, look no further and make this dip for fruit! It's super yummy and beautiful. It's ready in 10 minutes, requires no baking or cooking and is just as popular as my Peaches and Cream Dip and Chocolate Fondue.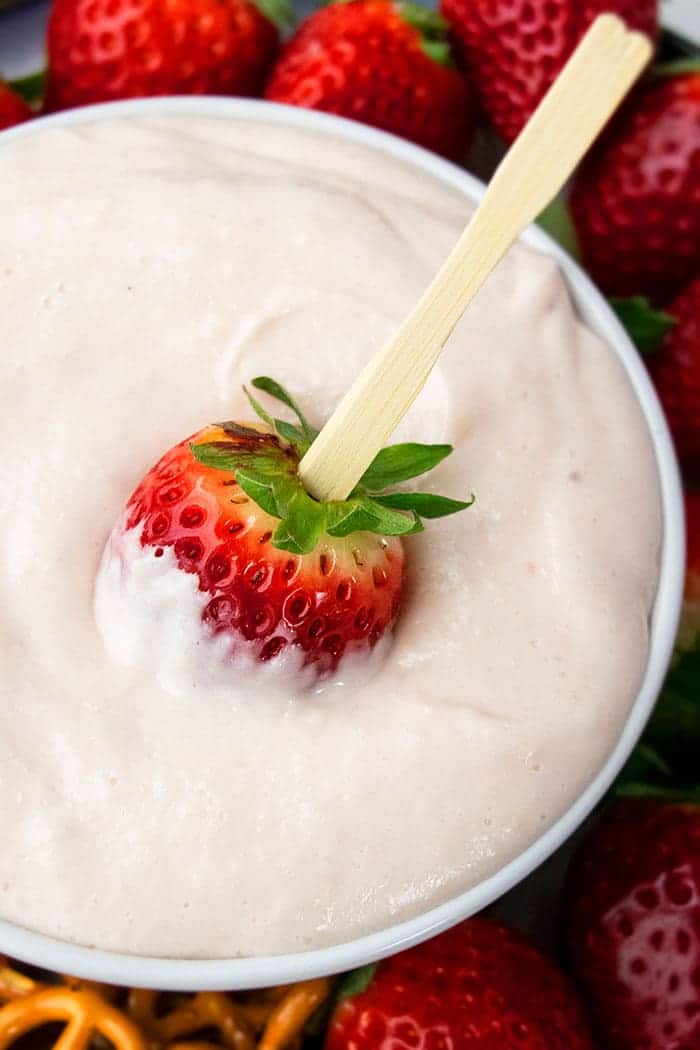 How to make fruit dip?
Beat cream cheese– Until it's fluffy.
Add marshmallow fluff– Mix until fully combined.
Add Cool Whip– Mix until smooth and creamy.
Enjoy– Serve on a tray with fresh fruit, cookies, pretzels.
What to serve with easy fruit dip recipe?
Fruits– Such as strawberries, apples, grapes, pineapples, cantaloupe, honey dew, bananas, blackberries, raspberries, oranges. Make sure there are little toothpicks nearby that people can use for picking up fruit and dunking. It's less messy this way.
Cookies– Such as chocolate and vanilla wafers, Oreos, Chocolate Chip Cookies, Chocolate Chunk Cookies, graham crackers, Cut Out Sugar Cookies or Soft and Chewy Sugar Cookies, pretzels, Easy Peanut Butter Cookies, and Best Shortbread Cookies (3 Ingredients). They can be homemade or store-bought.
Chocolate– This includes Hershey's chocolate bars, Mars, Twix, Kit Kat, Milky Way, Snickers e.t.c. Use chocolate in the bar shape because they are sturdy and easy to hold and eat.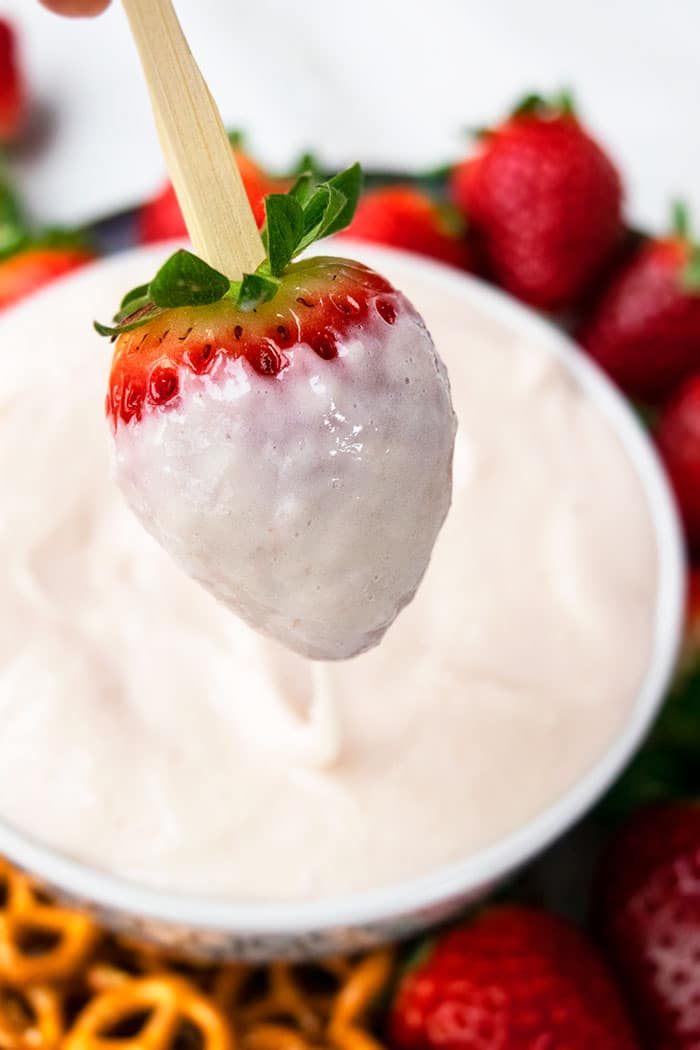 Variations
Yogurt fruit dip– Reduce the quantity of cream cheese by half and replace that amount with full fat Greek yogurt (flavored or plain).
Add pudding mix powder– Use 1 packet or using just a few tablespoons from the packet should be enough. Try vanilla, banana or any other flavor you like.
Chocolate fruit dip- Add some cocoa powder and chocolate chips.
Use different flavors of cream cheese– Such as strawberry or berry flavored or even cinnamon flavored.
Add sour cream– Use full fat sour cream which adds a tangy twist. You can use this in addition to the cream cheese.
Make it healthy– Plain or flavored Greek yogurt will be a healthier choice. You can use low fat cream cheese as well.
Add toppings and garnish– Such as sprinkles, mini marshmallows, mint leaves, mini chocolate chips, chocolate shavings, chopped nuts, or shredded coconut. They add an elegant touch.
Add flavors and extracts– Such vanilla, maple, mint, coconut, peppermint, caramel, almond extracts or citrus zests (lemon, lime or orange) and even cinnamon powder, nutmeg powder, pumpkin pie spice.
Color it– Use gel coloring since it's thicker and more concentrated and doesn't alter the consistency of the dip. You can match the color with the holiday theme or a party theme.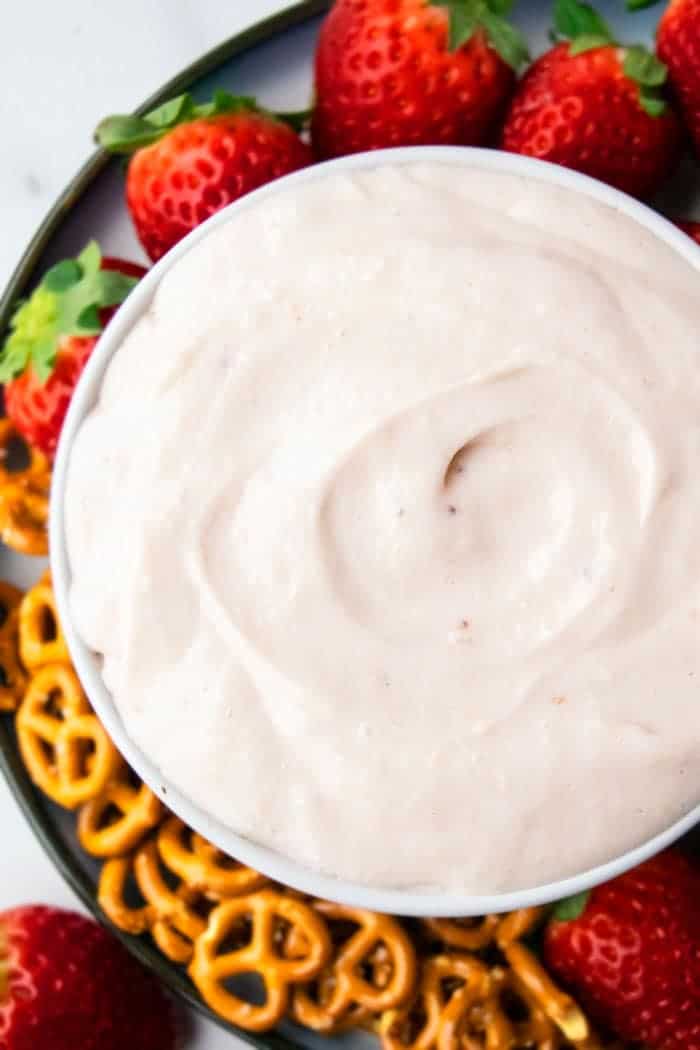 Tips and Techniques
Cool whip vs. Homemade Whipped Cream– Either can be used. I prefer Cool Whip because it's convenient.
Can the dip be made ahead of time? Yes, it could be made one day in advance and stored in the fridge.
Can the dip be frozen? No. That's because as it thaws, the dairy starts breaking down and the consistency becomes watery and lumpy.
How long does this dip last? It can last up to 3 days in a sealed container in the refrigerator.
How make dip thicker? Mix in some powdered sugar. It also thickens a bit as it chills in the fridge.
How to make dip thinner? Mix in some milk or heavy cream.
Cream cheese should be at room temperature- That's because it blends together smoothly and evenly without any lumps.
Use full fat ingredients- This is especially with regards to cream cheese and Cool Whip because full fat results in maximum richness and creaminess.
Make a bigger batch- By doubling or even tripling all the ingredients. This would be great for a big birthday party.
What to do with leftovers? Enjoy it as a delicious topping on Easy Crepes, Chocolate Waffles (With Cake Mix) or Chocolate Chip Pancakes or just eat it by the spoonfuls.
More No Bake Desserts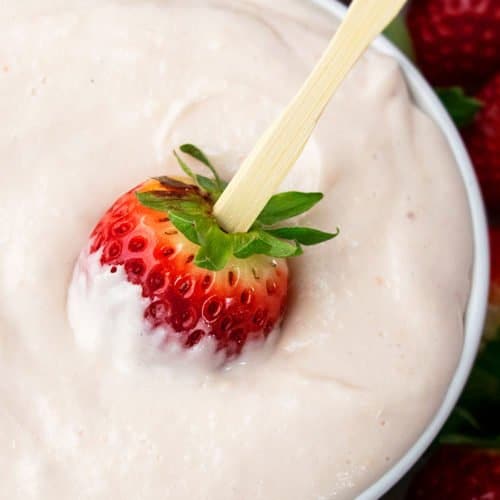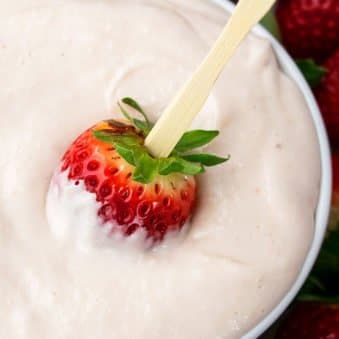 Easy Fruit Dip Recipe
Quick and easy cream cheese fruit dip recipe, homemade with simple ingredients. Smooth, rich, creamy. Perfect for dipping fresh fruits at parties.
Yield: People
Ingredients
8 oz. Cream cheese, Full fat, Softened, Plain or strawberry flavored
1 jar Marshmallow fluff, 7 oz. jar
1 container Cool whip, 8 oz. container
Pink gel coloring, Optional
Instructions
In a medium-size mixing bowl, add cream cheese and beat until fluffy.

Add marshmallow fluff and mix until combined.

Add Cool Whip and mix until smooth and creamy.

Mix in a little pink gel coloring/ food coloring (optional).

Serve with fresh fruits and enjoy!
Notes
Read all my tips above.
Leftovers can be stored in a sealed container in the fridge for up to 3 days. 
Nutrition
Calories: 220kcal, Carbohydrates: 30g, Protein: 2g, Fat: 11g, Saturated Fat: 6g, Cholesterol: 35mg, Sodium: 111mg, Potassium: 69mg, Sugar: 21g, Vitamin A: 430IU, Calcium: 58mg, Iron: 0.1mg
Until next time, tata my lovelies!