Champagne Cookies with Champagne Frosting
This easy champagne cookies recipe requires a few simple ingredients and no chilling. These champagne sugar cookies are decorated with champagne frosting.
Ever since I bought a bottle of champagne extract, I wanted to make these PINK champagne cookies with champagne buttercream frosting.
I finally made them yesterday and will be serving them in a couple of weeks, at my New Year's Eve party!
These cookies taste INCREDIBLE and have a wonderful fragrance plus they are so PRETTY and pink.
So, exactly what are champagne cookies and how to make champagne cookies?
Well, these cookies are adapted slightly from my small batch of sugar cookies recipe. The process is very SIMPLE: cream butter and sugar, add extract and then mix in the dry ingredients and knead into a dough. Roll the dough, cut out pieces. Bake and decorate. It really can't get any easier!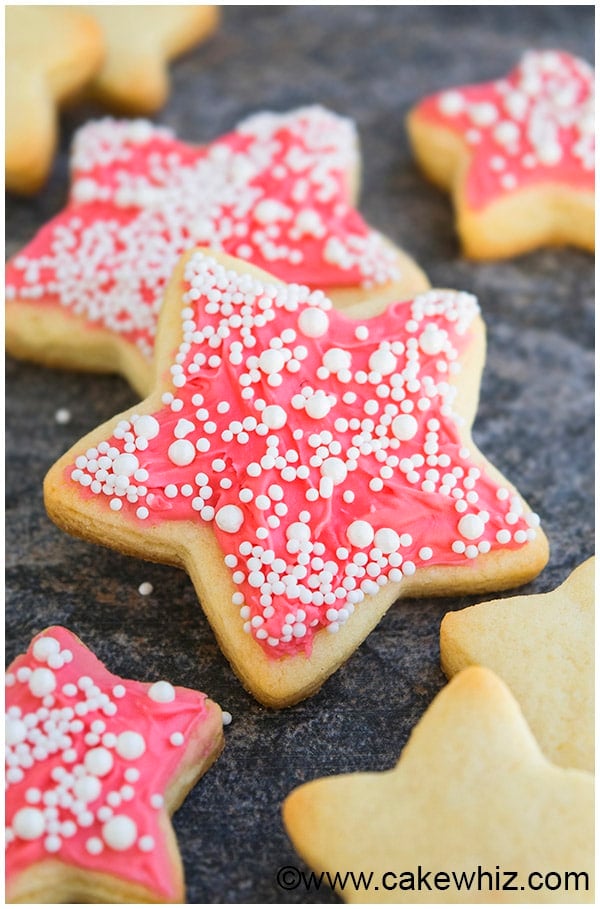 These cut out champagne cookies are PERFECT because:
They hold their shape
No chilling is required
They are easy to make with a few basic ingredients from your pantry
They are great for cookie decorating
They are ideal for multiple occasions/parties: New year's, Mother's Day, Valentine's Day, Weddings and Anniversaries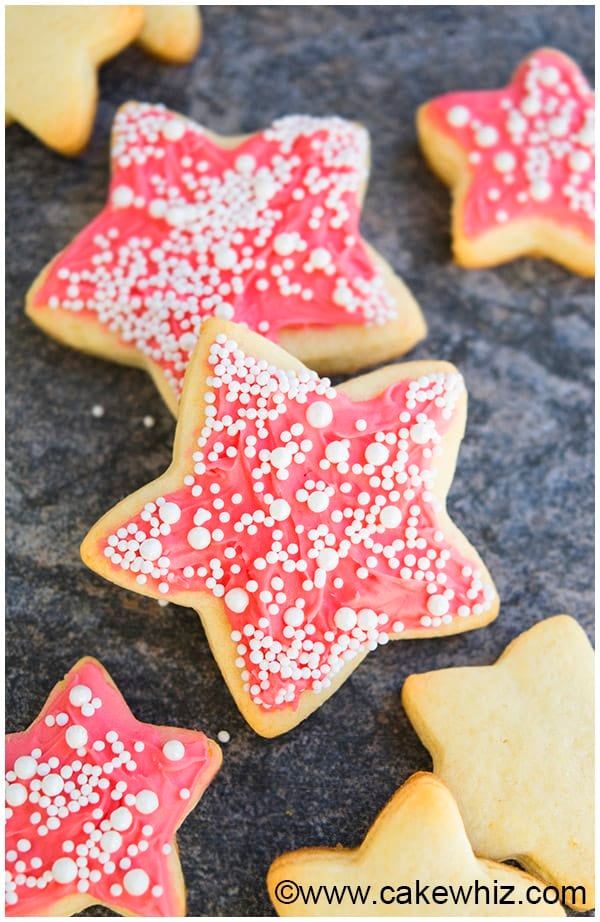 Here are some TIPS for making perfect champagne cookies:
This is a SMALL BATCH champagne sugar cookies recipe and will yield about 8 medium sized cookies. You can easily double or triple this recipe, without any issues.
DO NOT eyeball your measurements. They must be exact!
Your butter and egg must be at room temperature.
DO NOT omit the sour cream. It adds moisture and richness to these cookies. You can replace it with full fat cream cheese or thick green yogurt but honestly, sour cream yields the BEST results.
If the dough feels dry when you are kneading it, dampen your hands with water and continue kneading.
NO chilling is necessary for this champagne sugar cookie dough.
Remember to roll the dough between two sheets of wax paper to PREVENT the dough from sticking to the rolling pin.
Your baking time will vary, depending on the thickness of your cookies. You will know that the cookies are ready when they are golden brown and firm along the edges.
Champagne extract can be found online at Amazon.
Cookie dough can also be FROZEN in a sealed in a freezer bag for up to 1 month.
Leftover champagne frosting should be STORED in the fridge for up to 1 week.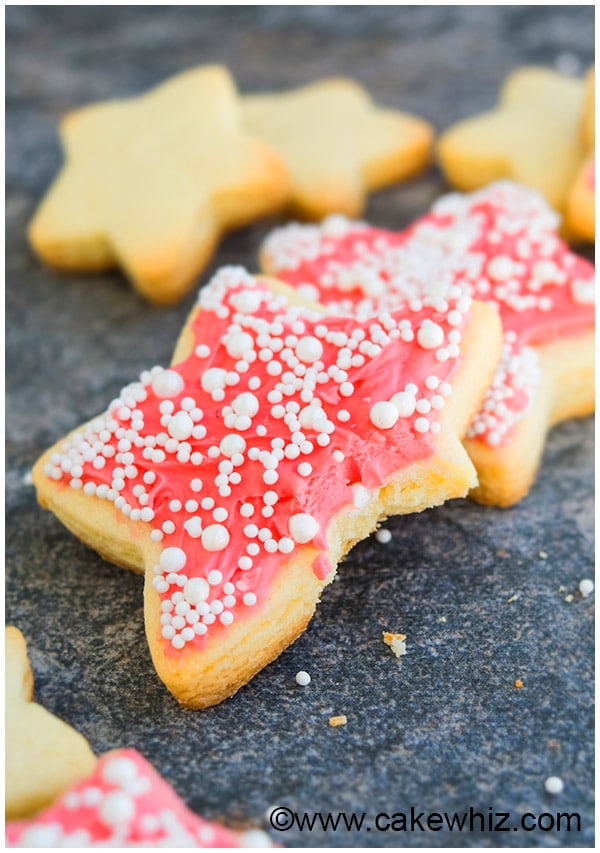 If you liked this recipe, you may like some of these other recipes too…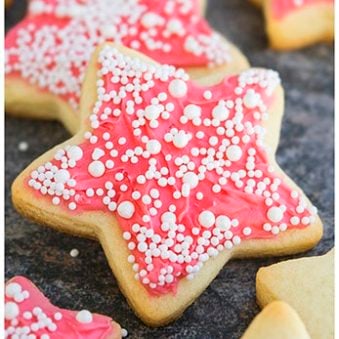 Champagne Cookies
This easy champagne cookies recipe requires a few simple ingredients and no chilling. These champagne sugar cookies are decorated with champagne frosting.
Yield:
Ingredients
Champagne cookies
¼ cup Butter, Unsalted, Room temperature
⅓ cup Granulated sugar
1 Egg yolk, From a large egg
1 tbsp Sour cream, Full fat
½ tbsp Champagne extract/flavoring
1 cup All-purpose flour
⅛ tsp Salt
⅛ tsp Baking powder
Champagne buttercream frosting
½ cup Butter, Unsalted, room temperature
½ cup Vegetable shortening
4 cups Powdered sugar
¼ cup Champagne, Alcoholic or non-alcoholic
1 tsp Champagne extract/flavoring
Pink gel coloring
Decoration
White edible pearls
White sprinkles
Instructions
Cookies
In a mixing bowl, cream butter and sugar together until light and fluffy.

Add egg yolk, sour cream and extract and mix until smooth.

In a separate bowl,

whisk

together the flour, baking powder and salt.

Dump this dry mixture into the wet mixture and mix until you have rough crumbly mixture.

Now, use your hands to knead the mixture into a ball of dough.

Roll out the dough between two sheets of wax paper and cut out shapes with cutters.

Bake at 350 degrees for 6 minutes. Then, rotate your tray and bake for another 3 minutes until cookies are golden brown and firm along the edges.

Allow the cookies to cool down completely.
Frosting
In a deep bowl, mix together butter and shortening until smooth.

Add champagne and extract and mix again.

Add powdered sugar (1 cup at a time), while continuing to mix until frosting is light and fluffy.

Finally, mix in some pink gel coloring.
Assembling
When the cookies have cooled down completely, use a spatula to spread some frosting on top of each cookie.

Toss some sprinkles on top of each cookie and enjoy!
Notes
Read all my tips above.
The recipe can easily be doubled.
Store leftovers in a sealed container between sheets of wax paper at room temperature for up to 1 week.
Nutrition
Calories: 602kcal, Carbohydrates: 80g, Protein: 2g, Fat: 31g, Saturated Fat: 14g, Cholesterol: 70mg, Sodium: 193mg, Potassium: 31mg, Sugar: 67g, Vitamin A: 575IU, Calcium: 15mg, Iron: 0.8mg
Well, that's all for today.
Until next time, tata my lovelies!