Easy Mother's Day Cake Tower
Learn how to make an easy homemade Mother's Day cake tower recipe with simple ingredients. Slices of pound cake are stacked and decorated with pink buttercream and fondant flowers. It's also great for birthday parties, Anniversaries and Valentine's Day.
This cake is so easy to make that kids can help too. The main concept behind this dessert is that you cut slices of cakes and arrange them on top of one another in a rounded "pyramid" formation. Then, you decorate as you like and you end up with a stunning piece of art that's almost too pretty to eat!
Be sure to check out all these other delicious Mother's Day Recipes too for more inspiration. You can even set up a Mother's Day Dessert Table and it can be a wonderful surprise. Also, be sure to have a look at these Pink Desserts that can work for today's theme too.
Since my own Mom lives in Canada, I made her this virtual cake and took the real one to my Grandma's place. She absolutely loved it.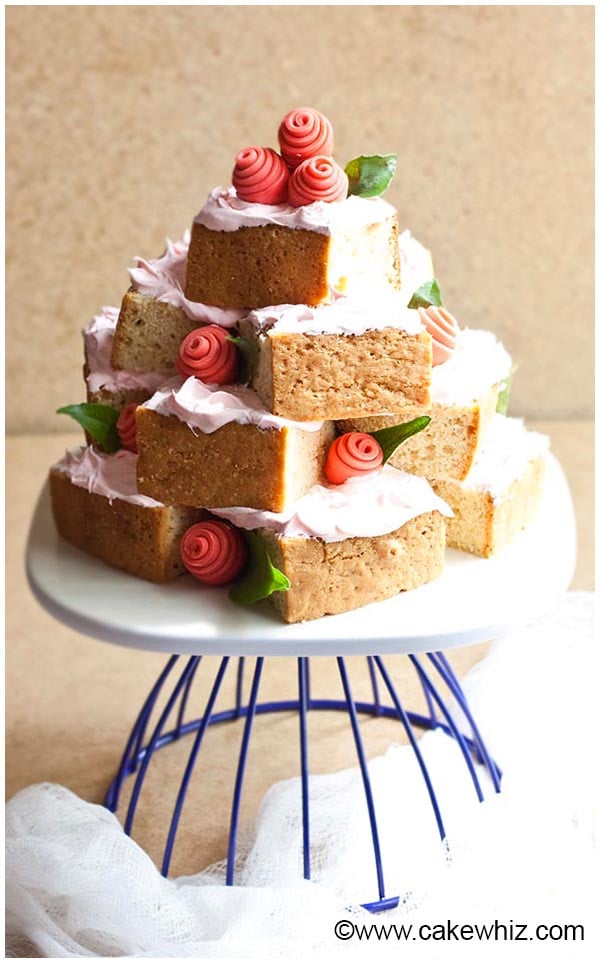 How to make Mother's Day cake?
Bake cake- It should be a firm pound cake.
Let it cool- Until it's room temperature.
Cut slices- Make sure they are all about the same size.
Make icing- And color it pink.
Assemble– Arrange a layer of slices on a cake stand and top it off with frosting. Continue doing this until you have a "pyramid" style tower.
Decorate– With fondant flowers.
What frosting goes well with this Happy Mothers Day cake?
The icing works like "glue" to stick all the cake slices and decorations together. The most important thing to keep in mind is that the frosting flavor should compliment the cake flavor well. Nothing is worse than eating a dessert where flavors are not playing harmoniously together.
Also, keep in mind that the icing should be white so that you can easily color it pink to fit this holiday theme.
The classic choice is American buttercream because it pairs well with so many different cake flavors. Here are some other white icing options: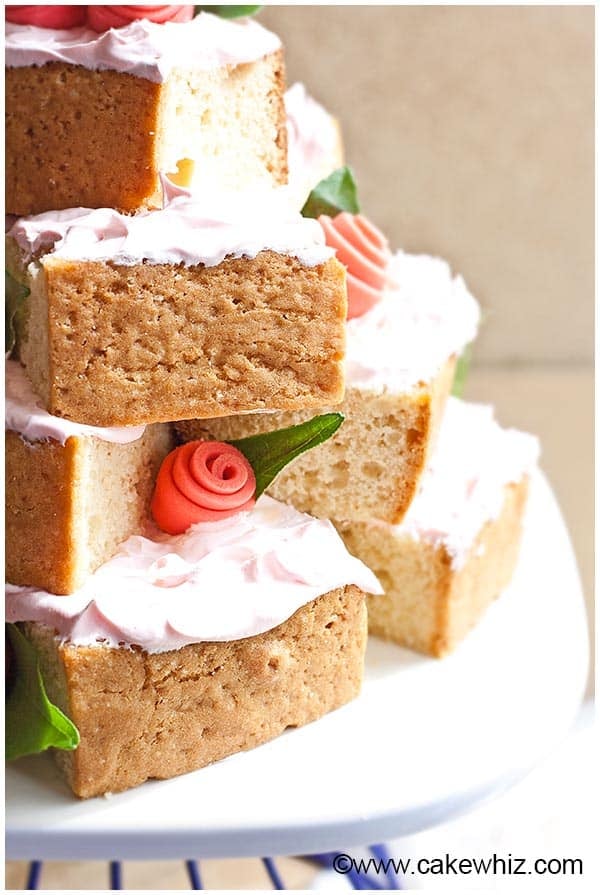 Recipes for other cakes for mom/ cake for mother
The main think you need to remember is to use a firm cake. That's because if you use a very soft cake, the slices will start to break apart, as they are arranged on top of one another due to weight and decorations. However, if you use a firm cake like pound cakes, the slices can easily be stacked without falling apart or digging into one another.
Here are some cake options: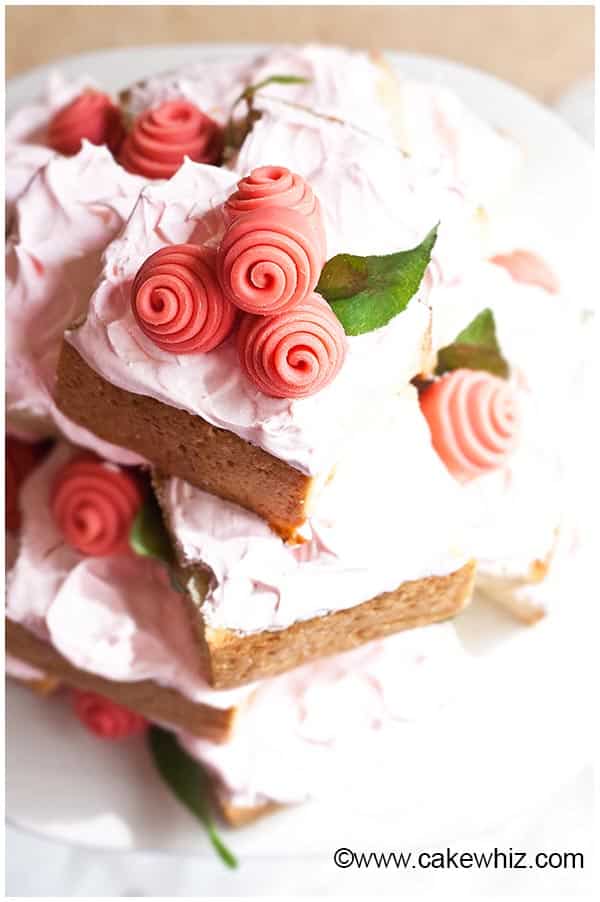 Tips and techniques
Avoid soft cakes- I have said this before and I will say it again: Stick to pound cakes because they firmer and stronger and can handle the weight of all the slices and decorations without falling apart.
Other cake decorating ideas- Use edible fresh flowers or even fresh berries (strawberries, raspberries, blueberries, blackberries), candies, sprinkles, sugar decorations.
Keep cake covered- Since the slices are all exposed to air, they will start becoming dry. To prevent that from happening, cover with saran wrap or a large box.
Add fillings- Like a layer of Easy Homemade Strawberry Jam or preserves under the frosting on top of each slice.
Don't assemble a warm cake- It must be completely cool and at room temperature because decorating a warm cake would melt the icing and make a mess.
Make ahead instructions- It can be made 1 day in advance. Cover and keep it in the fridge or at room temperature until you are ready to serve.
Use gel colors for icing- Because they are thick and concentrated and don't affect the consistency. However, a small amount of liquid food coloring can be used.
Try different colors- I used pink flowers and pink icing but get creative and try red or an ombre style.
Storage
Room temperature- Sore in a sealed container or covered box for 24 hours.
Refrigerate– In a sealed container or box for 3-5 days.
Freeze– Store frosting and cake separately in sealed container or bags and thaw in fridge overnight when you are ready to assemble. Fondant decorations cannot be frozen and have to be stored at room temperature for up to 1 month, once dry.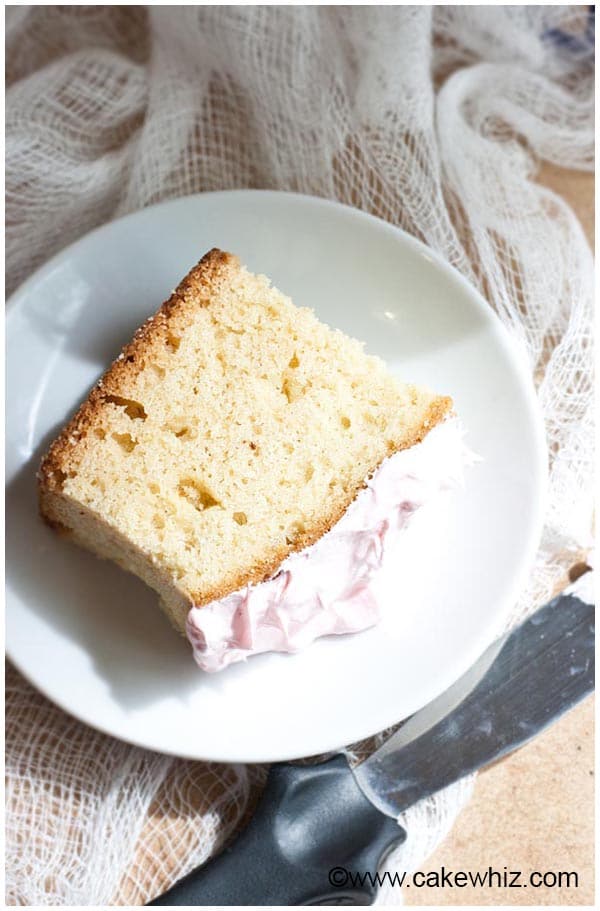 More Mother's Day cake ideas/ cake designs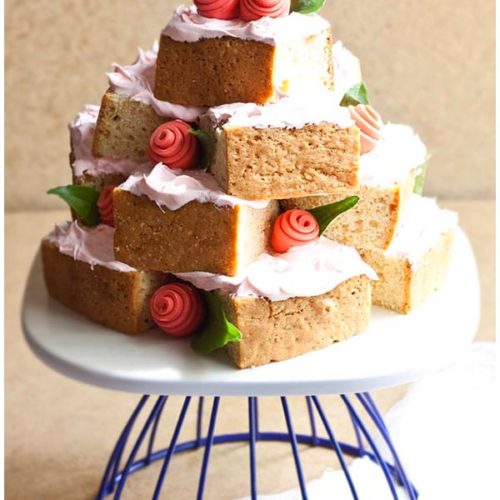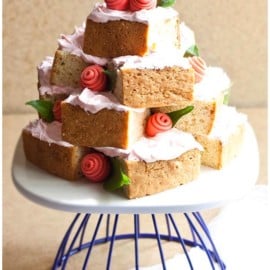 Easy Mother's Day Cake Tower
Easy Mother's Day Cake Tower recipe, homemade with simple ingredients. Slices of pound cake are stacked & decorated with pink buttercream & fondant flowers.
Yield: People
Instructions
Bake pound cake and allow it to cool completely.

While the cake is cooling, make frosting and color it pink.

Slice the into rectangle pieces. They should all be about the same size.

Assemble everything together by arranging slices in a circular formation on a cake stand.

Use a spatula to spread icing on top of each slice.

Then, stick more slices on top of the frosting.

Each tier should be getting smaller in size, as you go up.

Place the final slice in the center on top.

Finally, decorate all the gaps and top of this cake with flowers and leaves. Enjoy!
Notes
Read all my tips above.
Leftovers can be stored in a sealed container in the fridge for up to 3 days. 
Nutrition
Calories: 237kcal, Carbohydrates: 39g, Protein: 1g, Fat: 9g, Saturated Fat: 2g, Cholesterol: 1mg, Sodium: 105mg, Potassium: 19mg, Sugar: 36g, Calcium: 2mg, Iron: 1mg