Birthday Cupcakes (Pinata Cupcakes)
Quick and easy birthday cupcakes recipe (Pinata cupcakes)- These soft, moist chocolate cupcakes with chocolate frosting are filled with sprinkles. They are homemade with simple ingredients.
Ever since I made this Robin Egg Pinata Cake, I have wanted to make cupcakes with a similar concept. What can be more fun that biting into a cupcake with a hidden surprise? In this case, the surprise will be colorful sprinkles because honestly, a birthday party is incomplete unless there are lots and lots of sprinkles.
How to make birthday cupcakes at home (happy birthday cupcake)?
Bake chocolate cupcakes.
Let them cool completely.
Make chocolate frosting.
Hollow out cupcakes.
Fill them with sprinkles.
Frost them with chocolate icing.
Decorate with sprinkles, candies, chocolate e.t.c
Enjoy!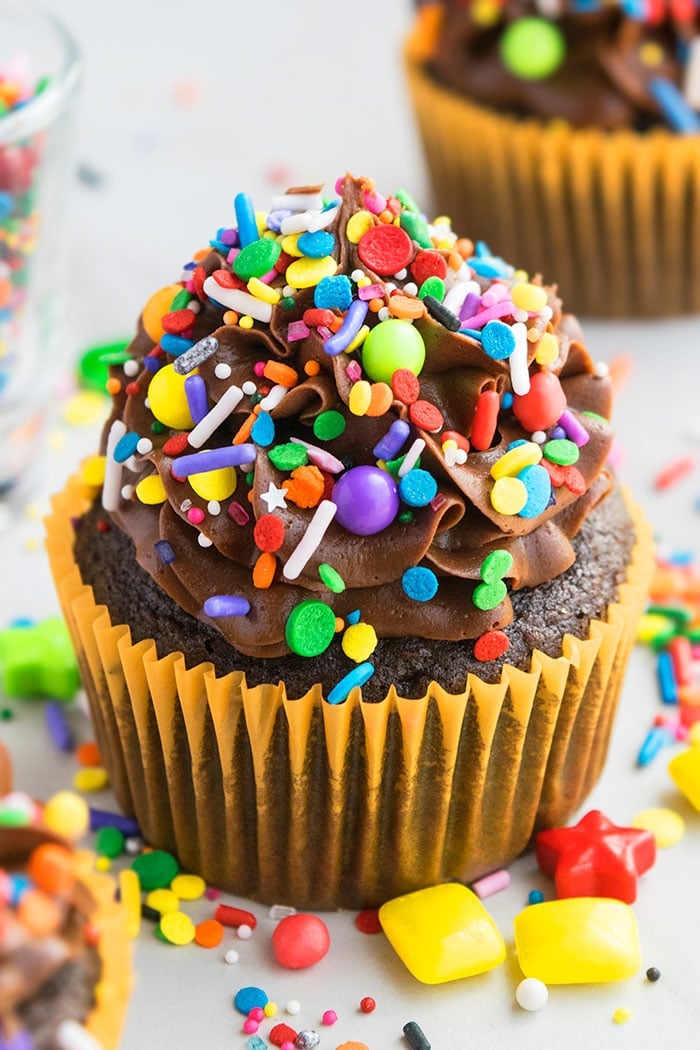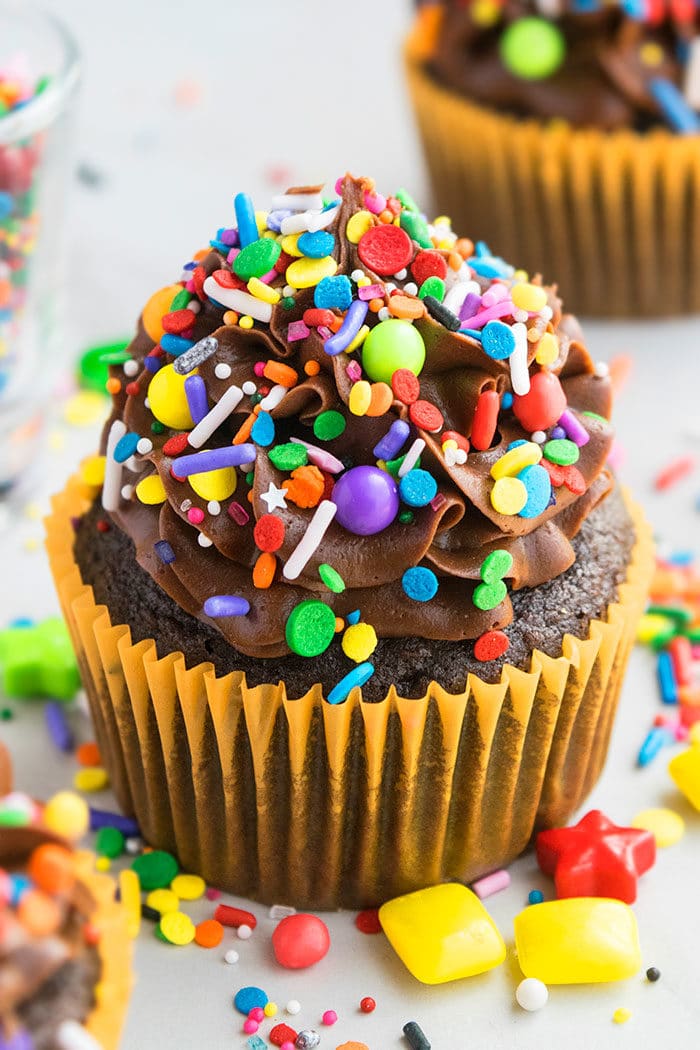 How to make pinata cupcakes?
You can enjoy these cupcakes, as is, without any fillings but when you fill them with something, especially sprinkles, they are called pinata cupcakes.
Bake cupcakes.
Let them cool completely.
Use an apple corer or a big cake decorating tip such as Tip#1M to hollow out the centers of cupcakes.
Fill this space with sprinkles.
Cover the top with the small cupcake piece you had just removed.
Top it off with a swirl of frosting.
Toss more sprinkles on top.
Enjoy!
These pinata cupcakes have also become very popular at baby showers and gender reveal parties. Use blue or pink sprinkles to show others whether you will be having a boy or girl.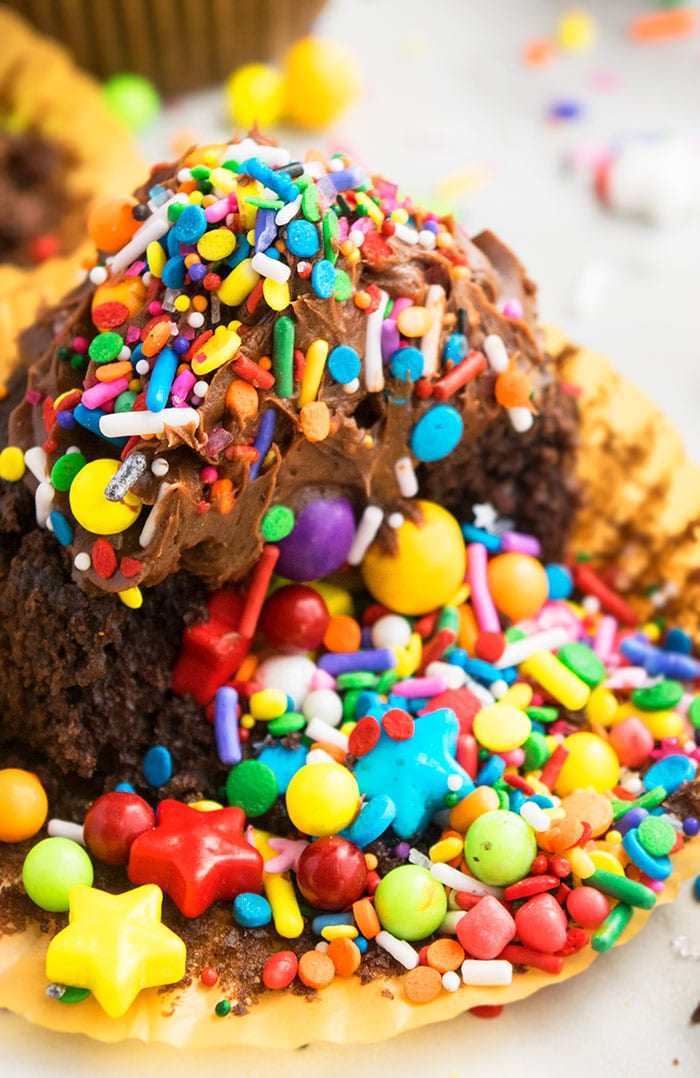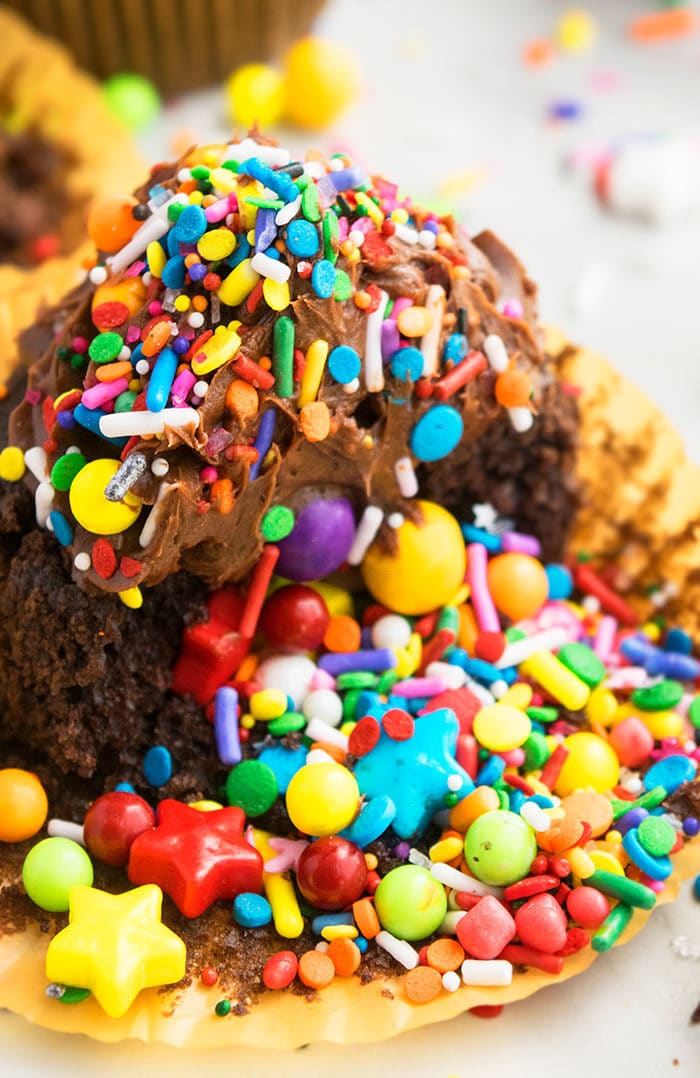 The recipe you will be seeing today comes from my friend, Christi, who blogs over at Love From The Oven. She just published the most colorful dessert book ever. It's called "My Little Pony Baking Book." You really need to check it out and get yourself a copy asap! It's filled with the most gorgeous and delicious desserts ever! All recipes are so simple too and there is a picture that goes with every single recipe. So, you will know exactly what the dessert is supposed to look like. My kiddo and I have bookmarked so many recipes to try and the first one we made were these Pinata cupcakes. They are so much fun to make and even more fun to bite into.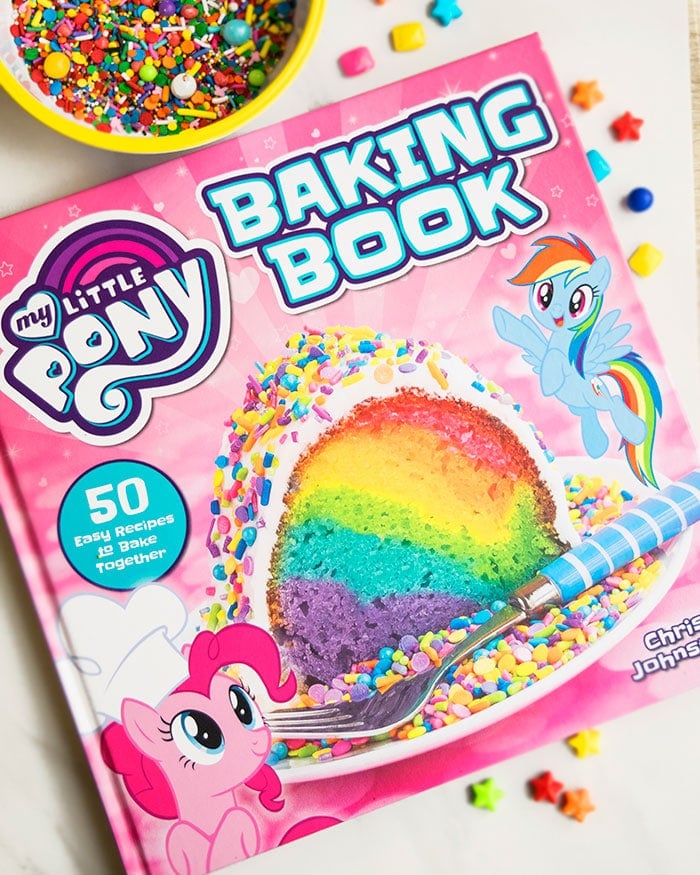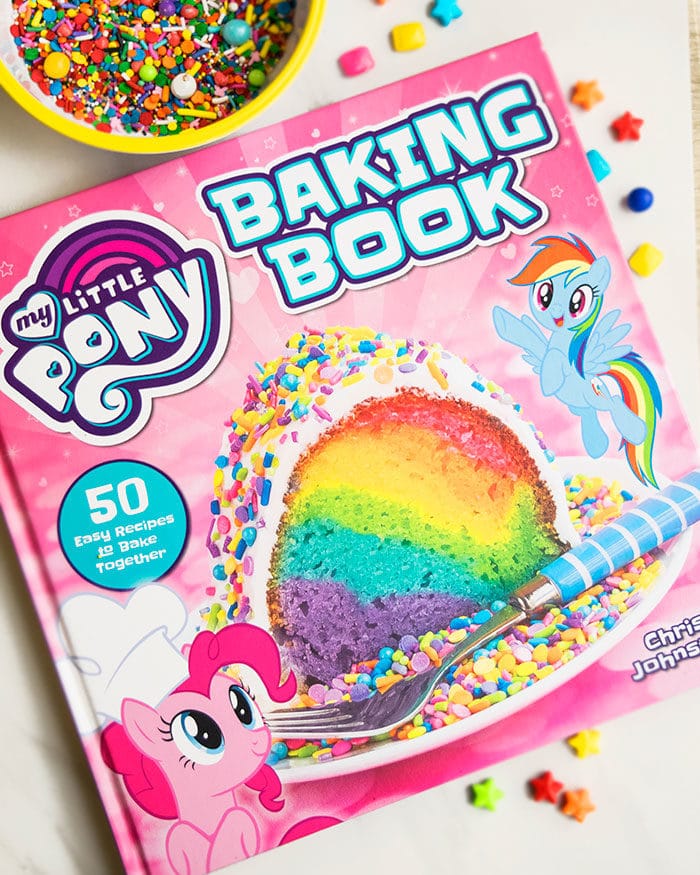 What are some cupcake filling ideas?
I filled these cupcakes with a blend of colorful sprinkles but you can get as creative as you like. Here are some fillings I have tried in the past:
If you have never filled cupcakes before, check out my video tutorial on How to Fill Cupcakes.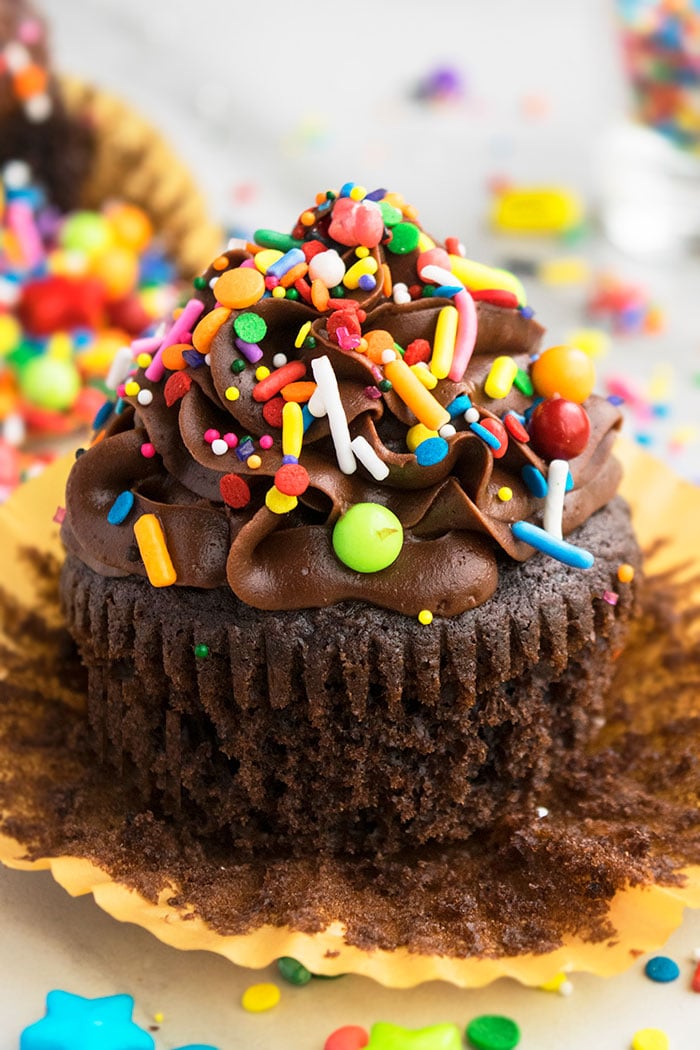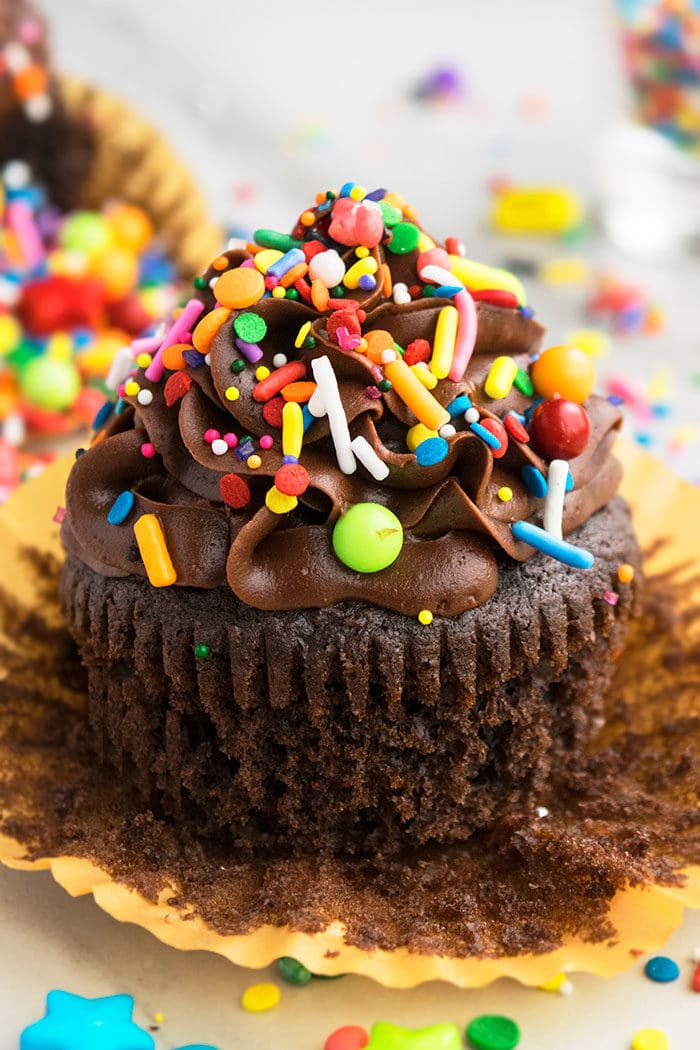 How to decorate birthday cupcakes (Birthday Cupcake Ideas)?
There are so many different way you can decorate cupcakes. Below, you will find some of the easiest options that even novice bakers and beginners can tackle:
Frosting- You can use different colors of frostings with various decorating tips. You can even create swirls and patterns by piping 2 or more colors of frostings together. Check out my video tutorial on How to Decorate Cupcakes and this Russian Piping Tips Tutorial would also be very helpful. You can also use various tips to pipe flowers such as these Poinsettia Cupcakes.
Sprinkles– There are so many varieties in the market these days. Wilton sells some great designs/shapes and colors that you can match to your birthday color theme. There are edible pearls, glitter, sanding sugar, nonpareils, jimmies.
Sugar decorations- Making homemade cut out decorations with fondant or gum paste is tedious and time-consuming and also requires practice. There are many designs available online and in the cake decorating aisles of most big grocery stores. You can buy pre-made edible flower decorations, cartoon characters and so much more.
Candies and Cereal– There are so many flavors, shapes, sizes and colors to choose from. You can also stock up on unique seasonal candies and arrange them in fun ways on top of cupcakes. Check out these Easy Monster Cupcakes.
Store-bought toys and figures– Buy small toys that are about 2-3 inches in size (to avoid choking at kids parties) and stick them on top of iced cupcakes.
Chocolate– I have so much fun with this! You can use white chocolate, milk chocolate, semisweet and even dark chocolate. Melt it and use it as a drizzle on frosted cupcakes. Pipe cool designs with melted chocolate on a sheet of wax paper and when it sets, remove it gently and stick it on your cupcakes. You can even tint melted chocolate with oil-based food coloring. They also sell Candy Melts, which is colored chocolate. Check out these Chocolate Spider Webs or these Chocolate Snowflake Cupcakes.
Wafer paper– You can cut it in any shape with scissors and color it with edible markers or edible petal dust/ lustre dust. Check out my tutorial for Easy Wafer Paper Flowers.
Fresh fruits– Ice your cupcake first. Then, stick a few berries on top. I like to use strawberries, blueberries, raspberries, blackberries. Check out these Strawberry Cupcakes or these Blueberry Cupcakes or these Raspberry Lime Cupcakes.
Nuts– Chop them up roughly and sprinkle them on top of frosted cupcakes. It creates a very rustic look. I think Pistachios look very nice, as you can see in these Carrot Cupcakes.
Fondant and gum paste– You can make Homemade Marshmallow fondant or buy it from stores. You can color it in any shade with gel coloring and use cutters and cake decorating tools to make fun shapes and edible figures. Let them dry and then stick them on cupcakes. Try these easy Fondant Monogram Toppers or these Fondant Pansies or Fondant Daisies. Kids will enjoy these Ladybug Cupcakes or Bumblebee Cupcakesand these Dinosaur Cupcakes.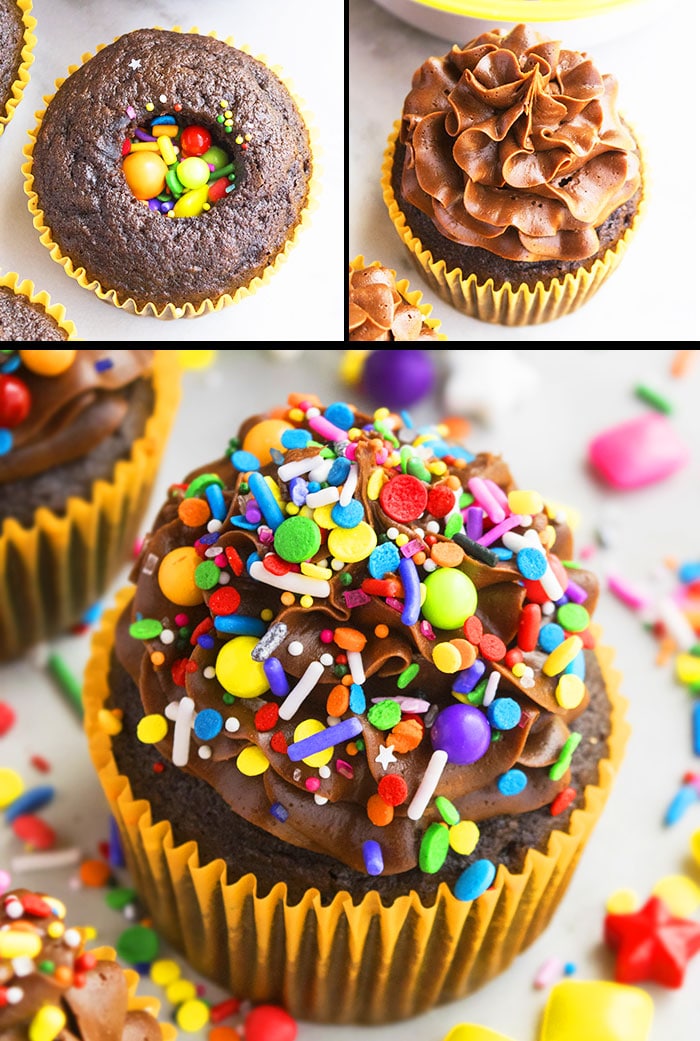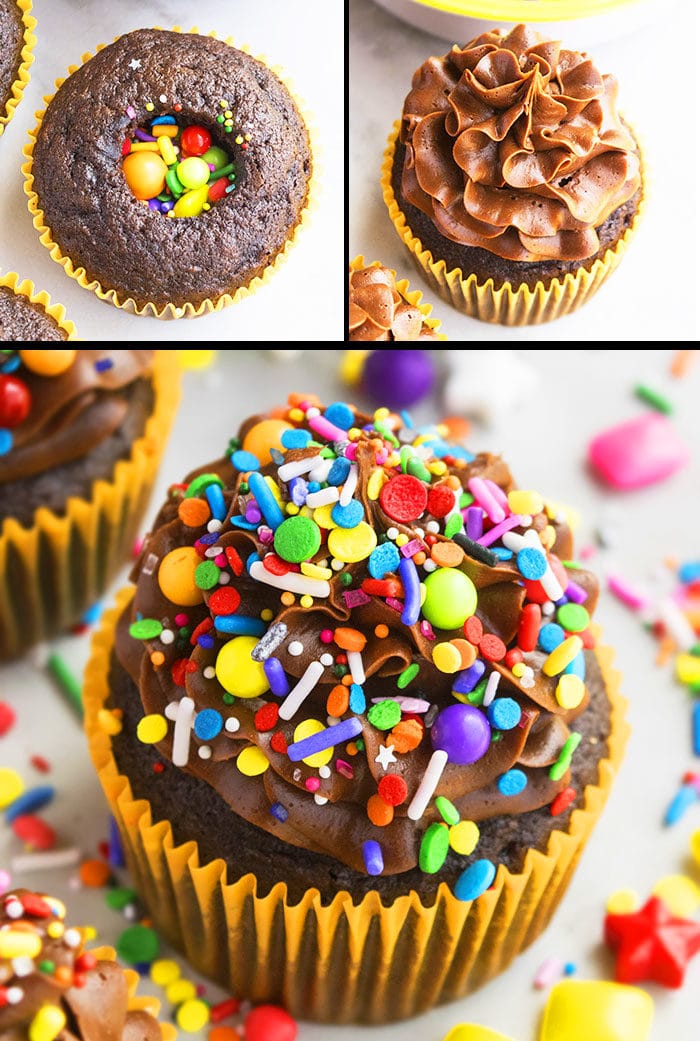 How to display birthday cupcakes?
Keep it simple -You can do a simple arrangement on a table, lined with a fancy tablecloth.
Use stands– You can also buy or rent cupcake stands and cupcake towers. There are some cool designs now.
Make Pull apart cupcakes– This has become very popular over the last few years. Basically, all the cupcakes are arranged on the table in such a way that they resemble something else such as this Flower Cupcake Bouquet or these Pull Apart Watermelon Cupcakes and these Football Pull Apart Cupcakes.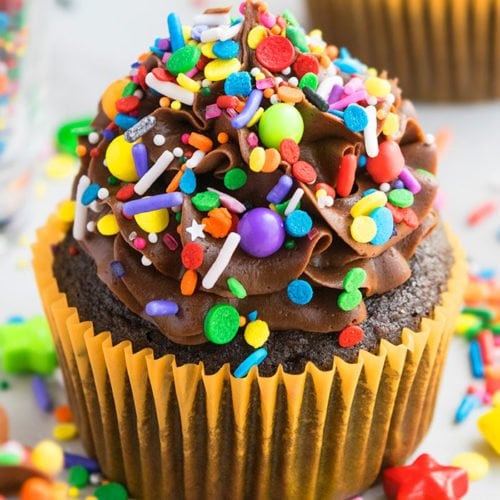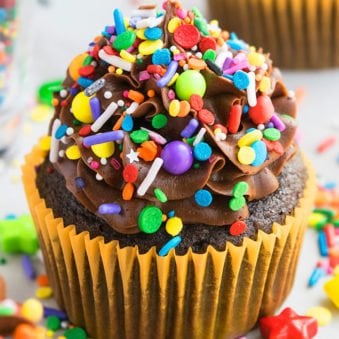 Birthday Cupcakes Recipe
Quick and easy birthday cupcakes recipe (Pinata cupcakes)- Homemade, soft, moist chocolate cupcakes with chocolate frosting, filled with sprinkles.
Yield: Cupcakes
Ingredients
Filling and Decoration
1 cup Sprinkles, I mixed together various colors and shapes of sprinkles to make a birthday sprinkle blend
Instructions
In a large mixing bowl, whisk together sugar, flour, cocoa powder, baking powder, baking soda, salt.

Add eggs, milk, oil, vanilla, water and mix until smooth. The batter will be thin.

Pour batter in cupcake liners (About two thirds full).

Bake at 350 degrees for 20-25 minutes or until as inserted toothpick in the center comes out clean.

Allow the cupcakes to cool down completely.

While the cupcakes are cooling, prepare the frosting: In a large mixing bowl, add melted butter, cocoa powder and mix until smooth.

Gradually, add powdered sugar, while alternating with the heavy cream until light and fluffy.

Note: If frosting is too thin, thicken it by adding more powdered sugar. If icing is too thick, thin it out by adding a little more heavy cream.
Assembling
Hollow out the center of each cupcake with an apple corer or a big decorating tip like Tip 1M.

Fill it with sprinkles.

Place a small piece of hollowed out cake on top to cover the hole.

Attach Tip 1M to a piping bag and fill it with frosting.

Ice a swirl of frosting on top pf each cupcake.

Toss more sprinkles on top and enjoy!
Notes
Read all my tips above.
Leftovers can be stored in a sealed container in the fridge for up to 2 days.
Recipe is from Christi Johnstone's book called "My Little Pony Baking Book." 
Nutrition
Calories: 385kcal, Carbohydrates: 60g, Protein: 3g, Fat: 16g, Saturated Fat: 7g, Cholesterol: 44mg, Sodium: 258mg, Potassium: 180mg, Fiber: 2g, Sugar: 47g, Vitamin A: 370IU, Calcium: 45mg, Iron: 1.6mg
Until next time, tata my lovelies!