Learn how to make easy monster blob cupcakes for Halloween. All you need is melted chocolate, m&m candies and cereal. It's a fun craft to do with kids!
The monster blob cupcakes were a result of my WEIRD curiosity…
You see, everyone I know seems to have grown up eating cereal clusters but somehow, I DIDN'T :S
I grew up eating cereal the GOOD OLD FASHIONED way… in a bowl of milk! lol 😉
After seeing them on Pinterest, I was CURIOUS and wanted to try them.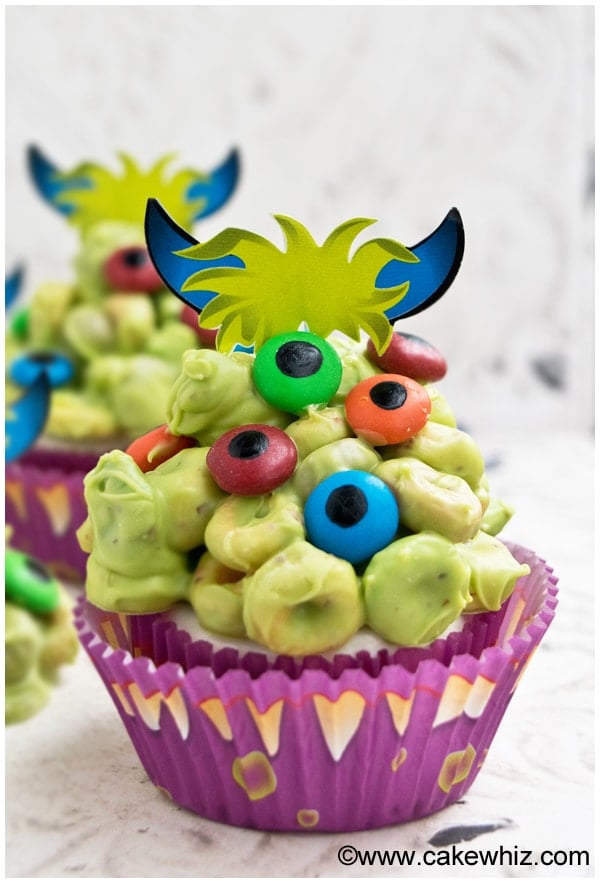 They are basically CLUSTERS of cereal and chocolate mixed together and taste surprisingly GOOD!
Crunchy and choco-licious but unfortunately, they are also pretty UGLY! hahahahah.
I believe they were the most NON-PHOTOGENIC treats I have ever made and when I used dark chocolate, they kinda looked like poo… YIKES!

MY OTHER RECIPES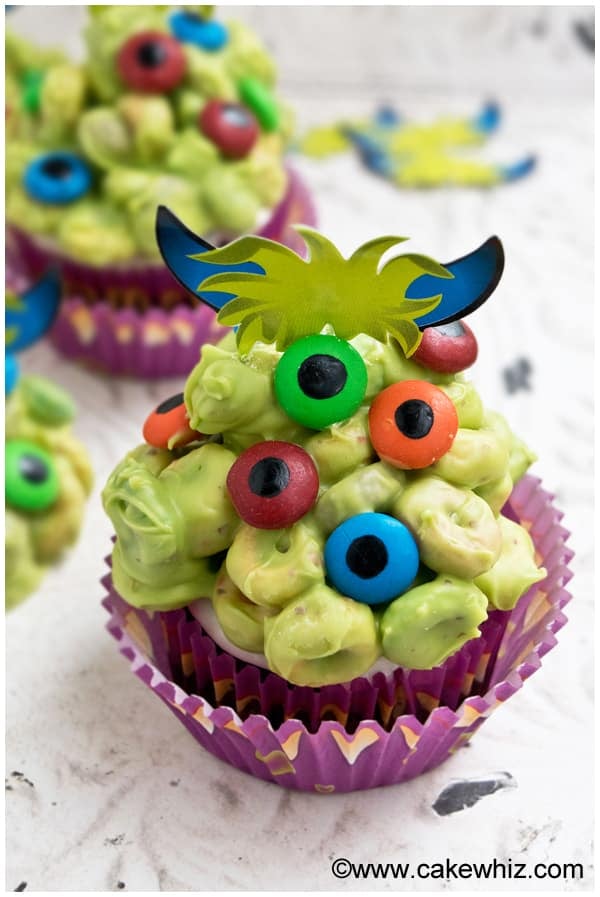 But sometimes, ugly treats are PERFECT for Halloween…
I added a few m&m eyeball candies to the clusters, pushed a decorative horn pick on the top and stuck them on top of a cupcake and VOILA…Monster blob cupcakes! 😀
By the way, if you don't feel like baking cupcakes, just serve these monster blobs as is and they would still look COOL.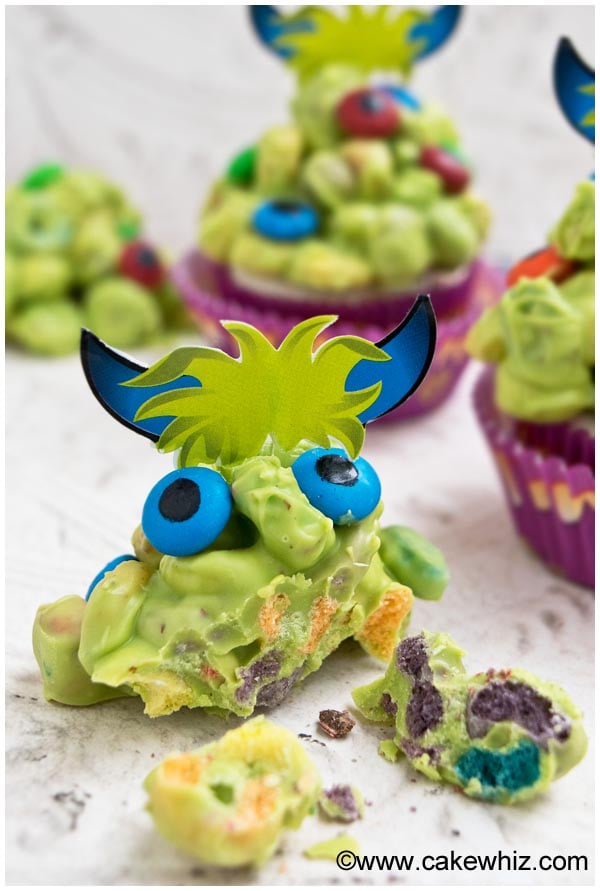 To make these monster blob cupcakes, you will need the following ingredients and supplies:

1 cup fruit loops
1/2 cup melted chocolate (I used Wilton's caramel apple flavored candy melts)
Chocolate cupcakes
Buttercream icing
m&m candies
Cupcake picks with a horn design
Black edible marker
Wax paper
Notes:
– I used Fruit Loops to make these blobs coz it's fun to bite into them and see all the colors inside.But you can use whatever cereal you like.
– I wanted to use those store bought black and white googly eye candies but didn't have enough. So, I made some spooky m&m eyeball candies instead and these worked just as well!
And here are the steps:
Step 1:
In a bowl, add cereal and melted chocolate.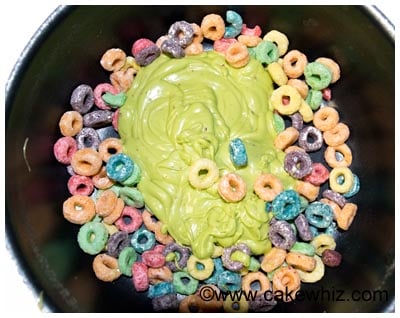 Step 2:
Mix everything with a spoon.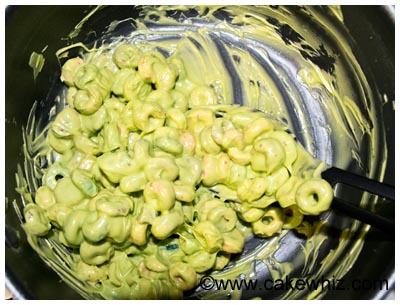 Step 3:
Spoon out about two tablespoons of that mixture onto a sheet of wax paper.
Use a black edible marker to draw eyeballs on m&m candies.
Stick these eyeballs randomly on the blobs.
Let the blobs set and harden at room temperature (takes about 10 minutes).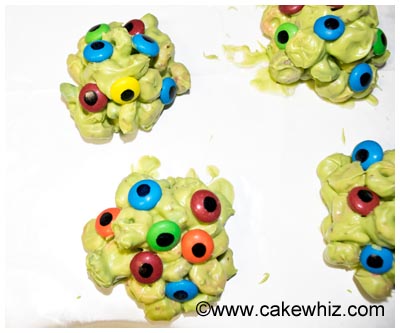 Step 4:
When the chocolate hardens, push a horn pick on top of each blog.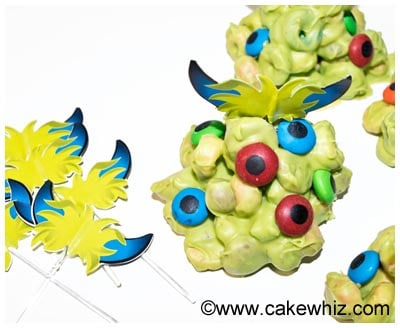 And you are done!
Now, spread some buttercream icing on top on your chocolate cupcakes and top off each cupcake with a monster blob.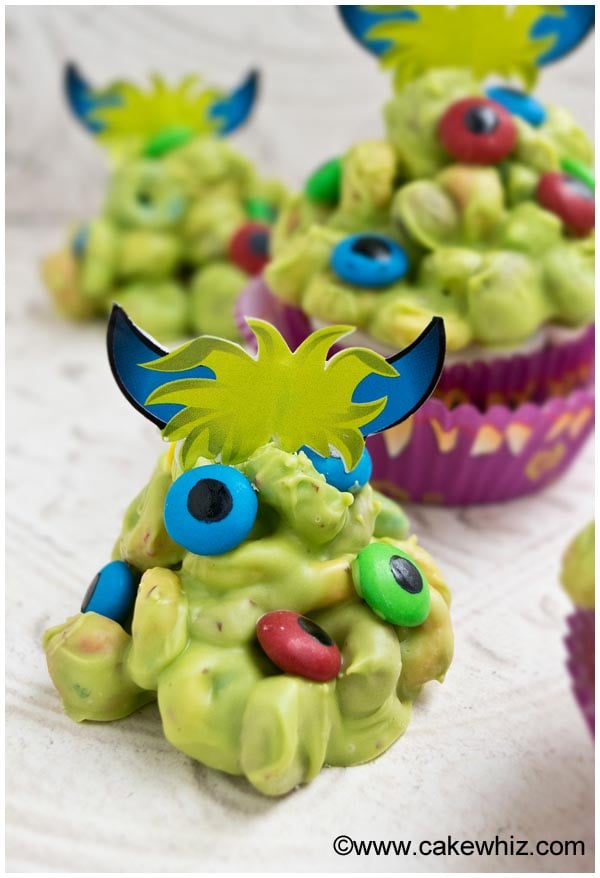 Well, that's all for today.
If you liked this post, you may like some of these other Halloween monster treats…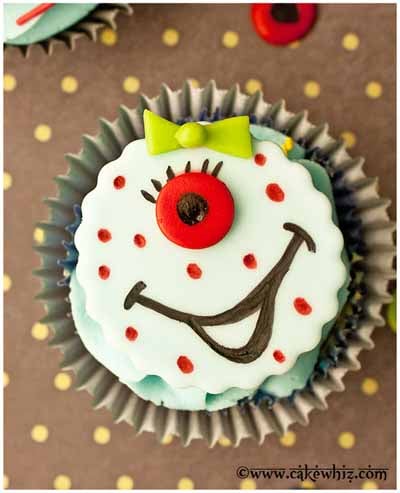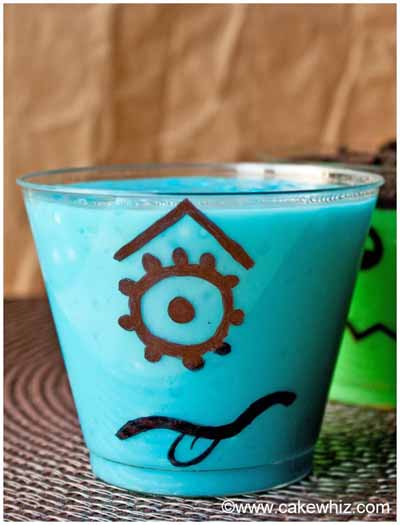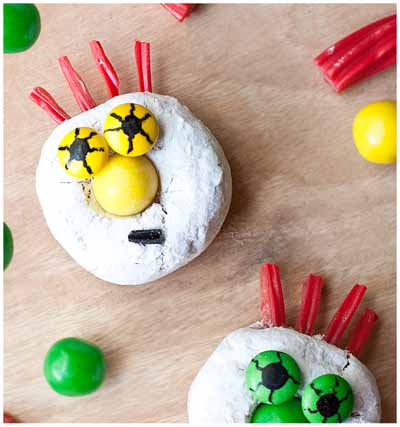 Until next time, tata my lovelies!