Easy Wafer Paper Flowers
Use this step-by-step tutorial to make easy wafer paper flowers. Ready in just 5 minutes! Great for decorating cakes and cupcakes!
Today, I will be showing you how to make super EASY wafer paper flowers.
If you happen to be one of those people who HATES making fondant or gum paste flowers because they are so HARD to make and take forever, then you should makes these ones!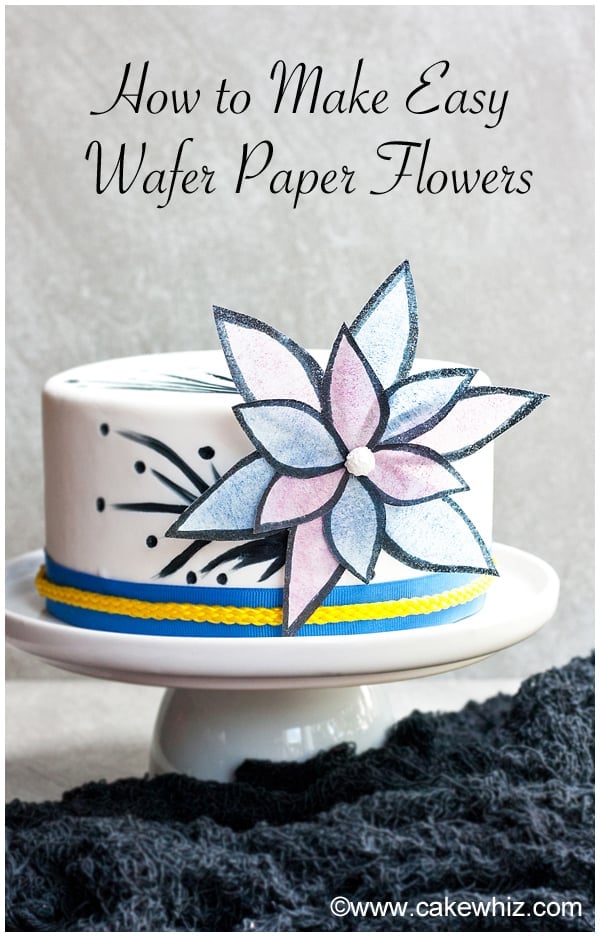 Btw, wafer papers are my latest OBSESSION! 😉
They are so EASY to use.
You can COLOR them with petal dust or even buy pre-colored sheets online.
You can also CUT them easily with scissors and stick the pieces together with corn syrup or very little water.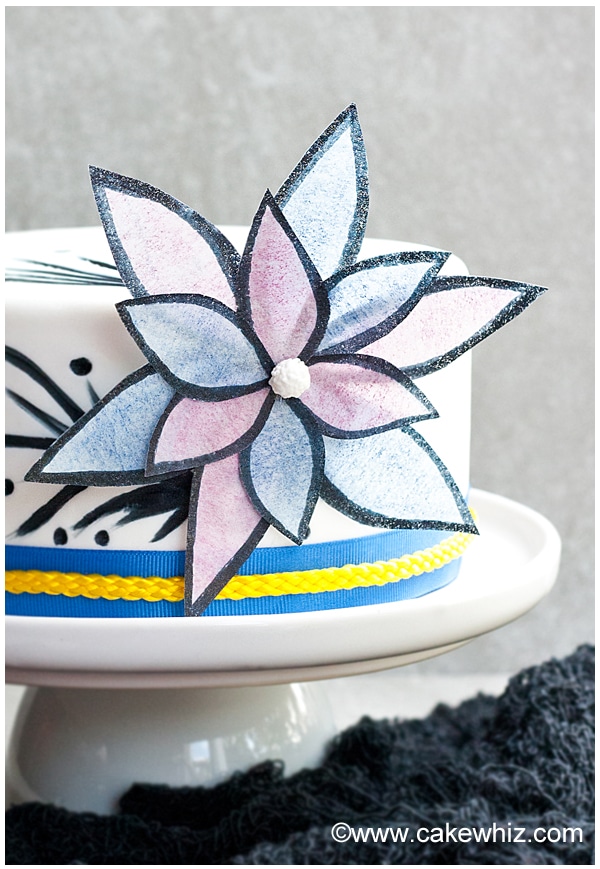 I have seen some cake decorators make GORGEOUS wafer paper flowers like peonies and ranunculus but those take some time.
The flower that I am sharing with you today is so easy that it's ready in about FIVE minutes!!!
It's kind of a FANTASY flower and also has a BOLD effect to it since I outlined each petal with a black edible marker.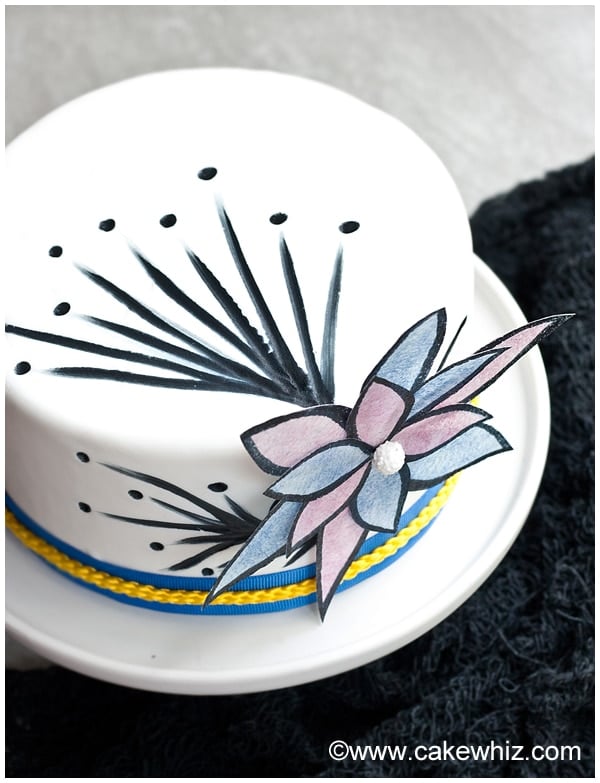 I also drew an ABSTRACT design on the cake with a black edible marker and tied a blue/yellow ribbon around the base of the cake to give it a pop of color.
And voila!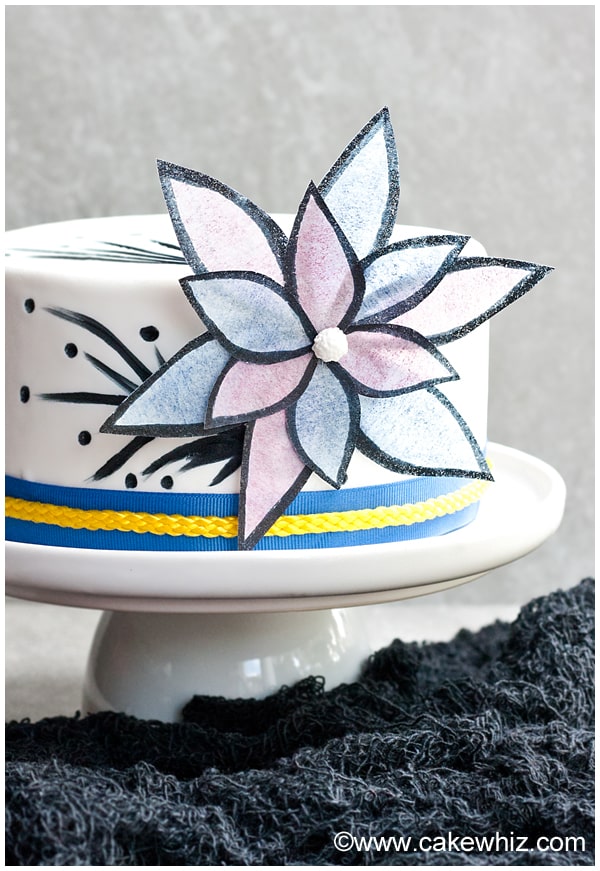 To make these easy wafer paper flowers, you will need the following supplies/ ingredients:
Round mango cake (Dimensions: 8×4)
Buttercream icing
White marshmallow fondant
Wafer paper
Corn syrup
Black edible marker
Big white edible pearl
Blue petal dust
Pink petal dust
Paintbrush
Scissors
Pencil
Blue and yellow ribbons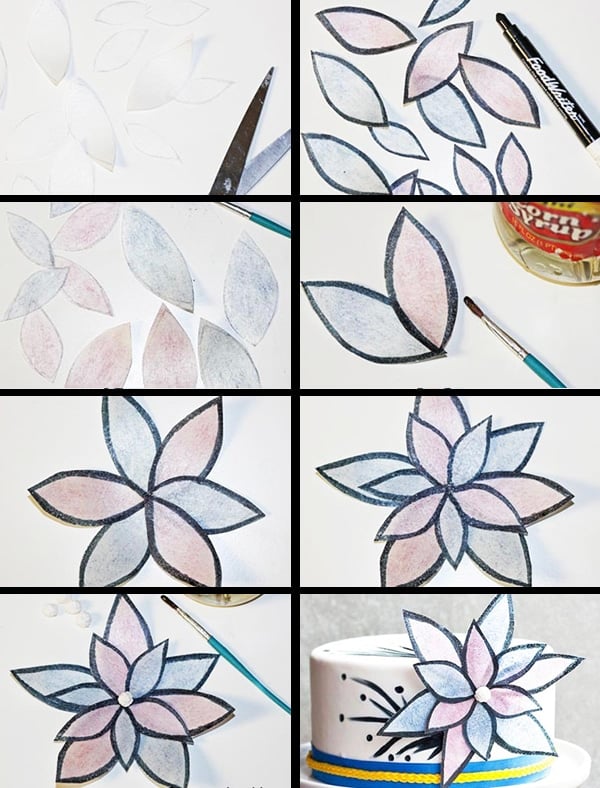 And here are the steps:
Step 1:
Use a pencil to draw petal shapes on a sheet of wafer paper.
Draw 6 big petals and 6 smaller petals.
Step 2:
Use scissors to cut out all the petal shapes.
Step 3:
Brush pink petal dust on 3 big and 3 small petals.
Brush blue petal dust on 3 big and 3 smaller petals.
Step 4:
Outline each petal with black edible marker.
Step 5:
Use very little corn syrup to stick 1 big blue petal and 1 big pink petal together.
Step 6:
Continue to stick the big petals together in alternating colors, using very little corn syrup.
You will end up with a big wafer paper flower like this…
Step 7:
Now, stick the smaller petals in a similar flower formation on top of the big flower and you will end up with something like this…
Step 8:
Stick a big edible pearl in the center of the flower with very little corn syrup.
Allow the syrup to dry for a few hours.
Step 9:
Then, stick the wafer paper flower on the side of your fondant covered cake, using corn syrup.
Use black edible marker to draw an abstract design.
Wrap the base of the cake with ribbons.
And you are done making a beautiful cake with easy wafer paper flowers!