How to Make Easy Monogram Toppers
Learn how to make easy monogram toppers with this step by step tutorial. Great cake decorating technique for cakes, cupcakes, cookies. Perfect for weddings!
It's time for TIP OF THE MONTH and today, we learn how to make easy monogram toppers.
This tip comes from Renee from The Cake Fairy.
Renee is a an AWESOME cake decorator who makes some of the cutest cake/cupcake toppers I have ever seen.
She will be showing us how to make EASY monogram toppers for cupcakes or even cakes, using very simple and inexpensive tools.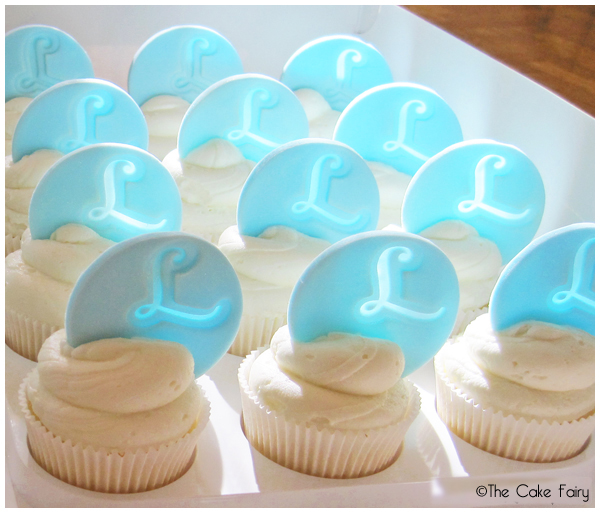 She says:
"My tip ended up more like a mini tutorial. But, these elegant monogram toppers are a breeze to make. Allow yourself a week for them to dry out completely on a parchment-lined cookie sheet before inserting them in your icing swirls."
I am sure we DON'T mind a mini tutorial… do we?
Step 1:
Here are the supplies you will need. You'll also need some corn starch, a rolling pin, fondant, and a 2.5 inch oval cookie cutter.
Step 2:
Here is a closer look at my letter stamp. I found these Inkadinkadoo Clear Letter Stamps and the acrylic block at my local craft store.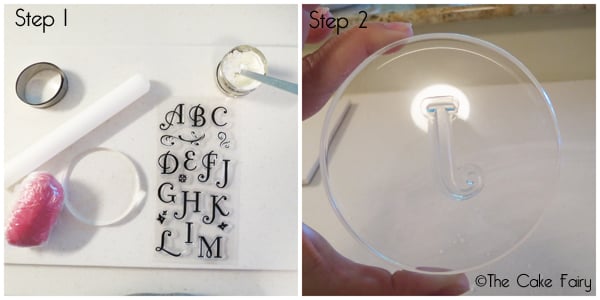 Step 3:
Dust your work area well with corn starch. Then roll out your fondant medium thin. Cover the fondant with a piece of plastic wrap. Press several letter impressions into the fondant with your stamp.
Step 4:
Remove the plastic wrap and cut out each letter impression. Leave some blank space at the bottom of the topper so the letter is not buried in the frosting swirl of your cupcake!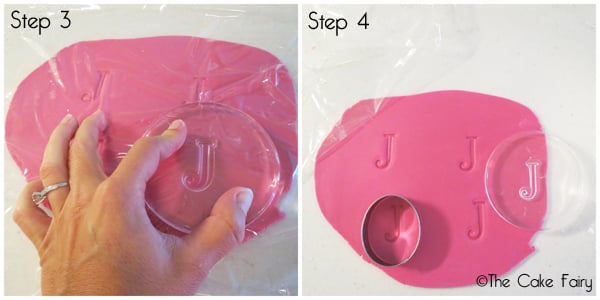 Step 5:
Carefully remove each topper and place them on a parchment-lined cookie sheet to dry. If you make them a week early, they will have enough time to dry completely. If you have fewer days, add some gum paste to the fondant for a quicker drying time.
Step 6:
The charm of these toppers is how the light shines through the thin monogram letter shape.
Firmly press the monogram toppers into freshly piped buttercream.
Finished cupcakes can be stored in a cake box in the refrigerator and taken out an hour before serving time.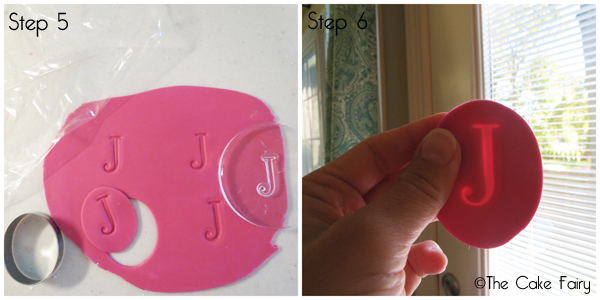 She also adds…
"There is always a lot of debate and uproar about using scrapbooking stamps and other craft supplies in cake decorating. For that purpose, I use the plastic wrap in my tutorial. That should end any concerns that may be raised since these stamps are not touching the fondant :)"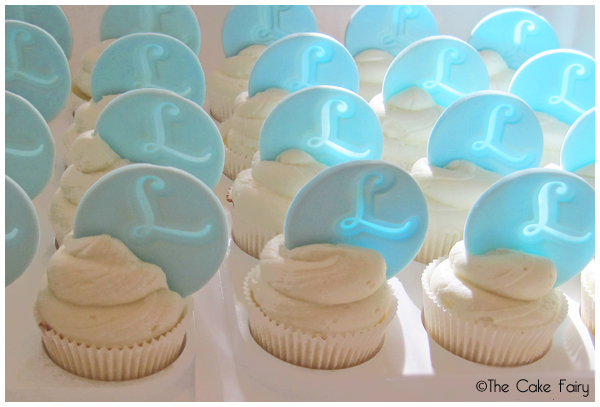 Very smart technique on making easy monogram toppers… Right?!
Well, that's all for today.
You may also like some of these other baking tips.
Until next time, tata my lovelies!