How to Make Piñata Cake (Robin Egg Cake)
Use this cake decorating tutorial to learn how to make piñata cake or an Easter robin egg cake filled with robin chick candies. It's easy, fun and requires simple ingredients and supplies.
*Thank you Domino® Sugar  for sponsoring today's post so that I can share this video tutorial on how to make piñata cake (robin egg cake) with all of you. As always, all opinions are mine.*
Easter will be here very soon and you should all celebrate with this beautiful Easter egg piñata cake.
I made a similar cake last year, and kids LOVED it!
If you do a Pinterest search or even a Google search, you will come across many EASY Easter cake ideas  and numerous piñata cake ideas, and they are all adorable.
I wanted to MERGE all those ideas together and put my own spin on it.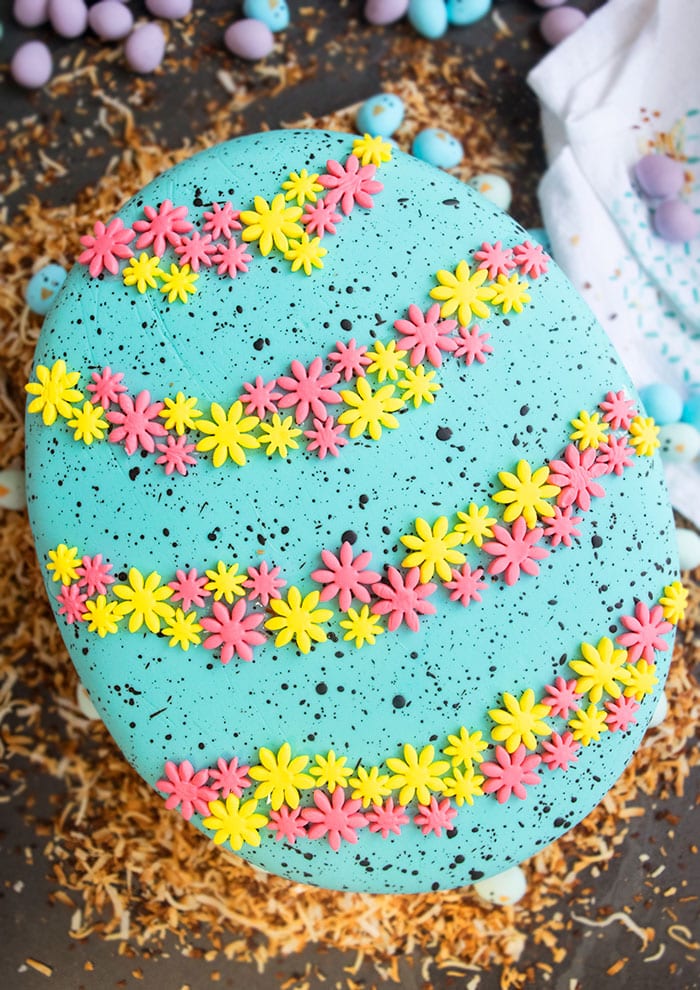 Since Domino® Sugar is celebrating all things Spring this Easter, I thought it would be super cool to make a SPECKLED robin egg cake and fill it with baby robin chick candies.
Once you slice the cake, all these robin chick candies fall out, which is AWESOME!
As for the flavor, I decided to make a chocolate citrus cake that's packed with orange, lemon and lime zest.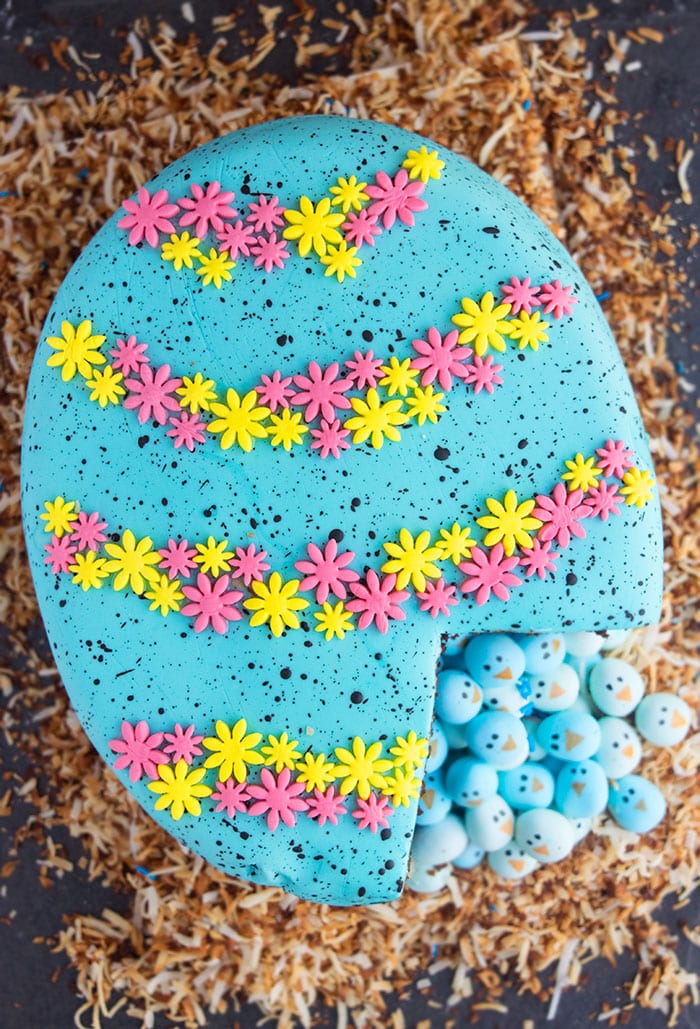 I used Domino® Light Brown Sugar, along with Domino® Granulated Sugar because their brown sugar adds a deeper flavor in cakes, plus it makes them very moist.
I have made this cake with both, Domino® Light Brown Sugar and Domino® Dark Brown Sugar and they both work very well. You can use whichever one you like.
It's the PERFECT cake flavor for Spring!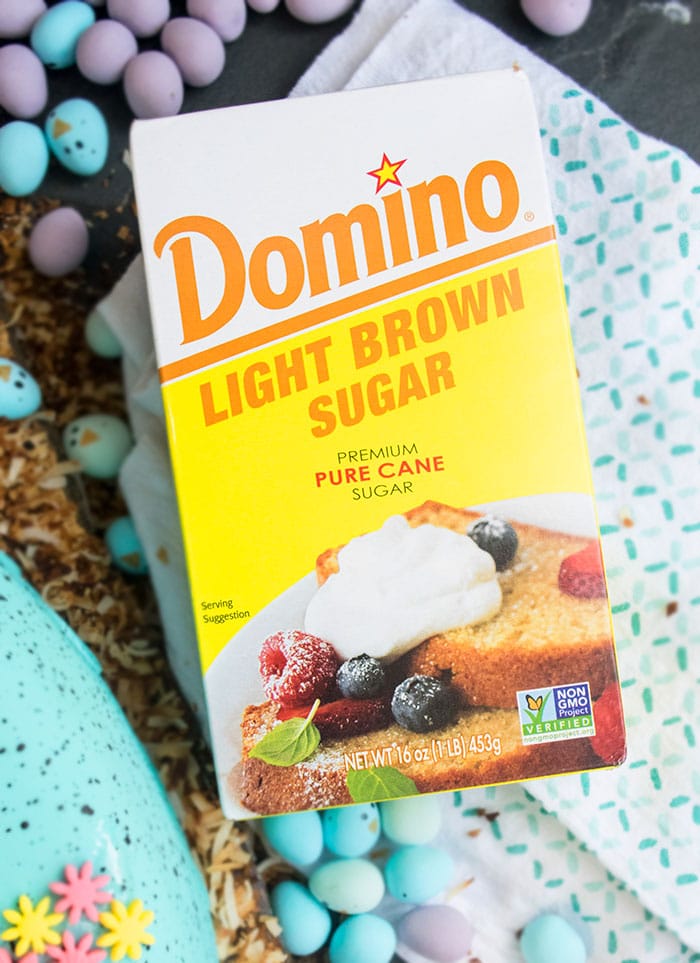 Here are some TIPS for making this Easter piñata cake:
Edible markers can easily be found at Michaels, Hobby Lobby or even Amazon. They are really CHEAP and so much fun to use. Check them out here.
It's easier to use edible markers on a matte surface rather than a glossy surface. I highly recommend using egg candies that have a MATTE coating.
Allow your cakes to fully COOL DOWN before you start frosting and assembling or else the frosting will start melting and it will become very messy.
You need 4 oval cakes in total (1 – 1.5 inch thickness). You can cut 1 big oval cake into 4 layers OR you can make 4 individual cakes. It's entirely up to you.
Out of the 4 cakes, 2 cakes will be hollow. To cut out the center, make an oval TEMPLATE out of cardboard and use a sharp knife to cut out the center of the cake.
DON'T replace all-purpose flour with whole wheat flour because that will change the texture dramatically.
DON'T replace oil with  butter because it makes the cake very dense.
The amount of zests can be ADJUSTED, based on your preference.
You can also omit zests to make a simple chocolate piñata cake.
The cake batter is thin and you don't need to worry about that.
If you are short on time, you can use STORE-BOUGHT fondant, frosting and fondant flowers.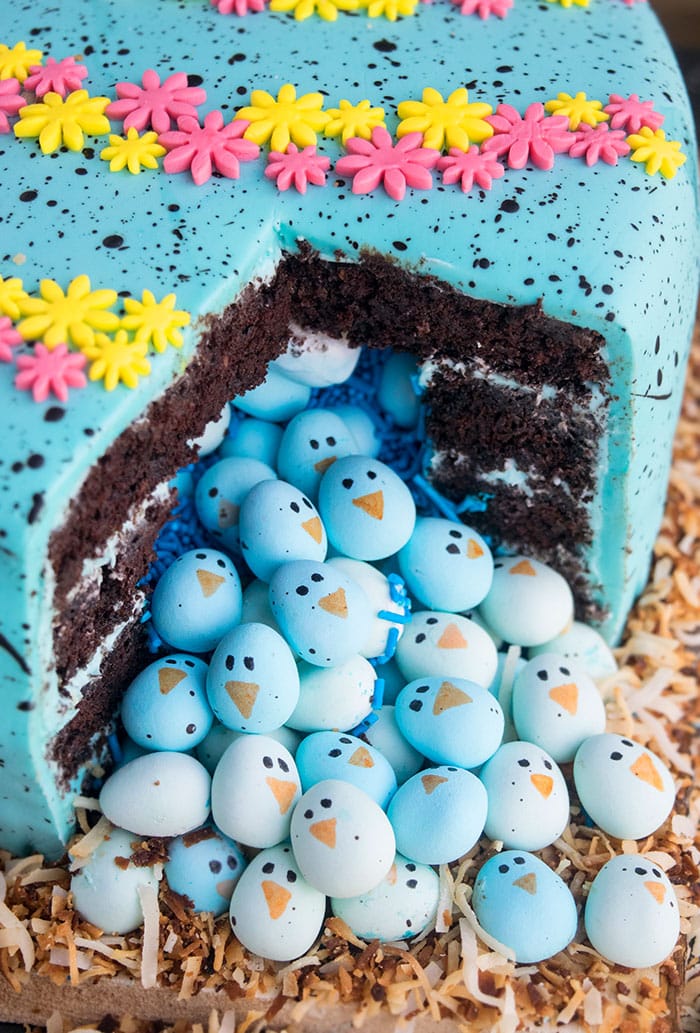 Here are some VARIATIONS you can try with this robin egg Easter cake:
You can make a SIMPLE round cake, frost it in blue icing and top it off with a small robin egg piñata cake topper. It's just another spin on this cake idea.
You can fill this cake with blue or pink candy eggs to make a GENDER REVEAL piñata cake. The whole family is always around on Easter and it's a fun way to make a big announcement in style!
You can a make rainbow piñata cake, using rainbow cake layers. It would be very cool and COLORFUL when you slice into it.
Here are some piñata cake FILLING ideas:
Sprinkles
Jelly beans
Chocolate chips
Chocolate candies
Colorful cereal
Fresh berries (not sliced)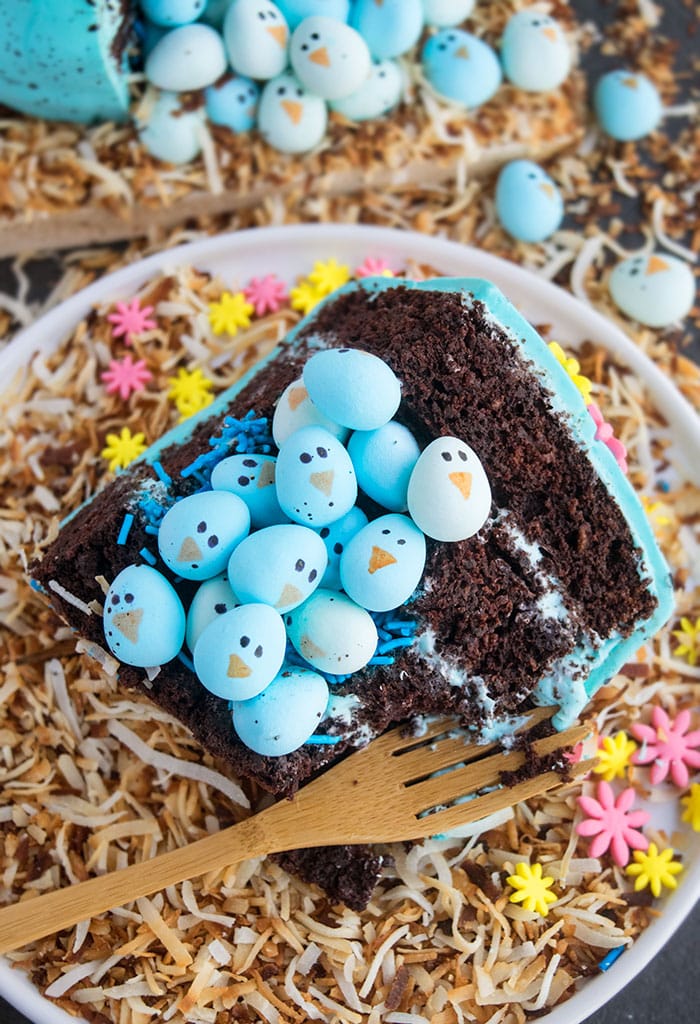 Here are the answers to some common questions that readers ask me about piñata cakes, in general…
How to make a piñata cake?
Bake 4 oval cakes (1 inch thick) and let them cool down.
Use an oval cardboard template to cut out the centers of two oval cakes.
Place one whole oval cake on a cake board and frost it.
Place one hollow cake on top of it and frost it.
Place the second hollow cake on top of it and frost it.
Fill the cake with sprinkles and candies.
Place the final whole cake on top and gently press it down.
Ice the entire cake in frosting.
Cover cake in fondant and remove excess fondant with a knife or pizza cutter.
Decorate the cake any way you like.
What is a piñata cake?
It's a cake with a hidden candy surprise inside the cake that's only visible once the cake is sliced.
How do you make piñata cookies?
It's made in a similar way. Instead of 4 cakes, you use 4 cookies – 2 are hollow and 2 are complete and you assemble them the same way to make a cookie box with a hidden surprise.
How do you make a gravity cake?
Piñata cake and gravity cakes are very different. Gravity cakes actually have something hanging on top of the cake to create the illusion of "defying gravity" while piñata cakes are just filled with a hidden surprise (usually candies) in the center of the cake.
I have also made this piñata cake video/ easy piñata cake tutorial so that you can follow along.
Well, that's all for today.
Easter decorated cakes and Easter cake decorations don't need to be hard. You just take a simple concept or design and give it your own spin.
If you liked this blue robin egg coconut cake, you may like some of these other Easter desserts too: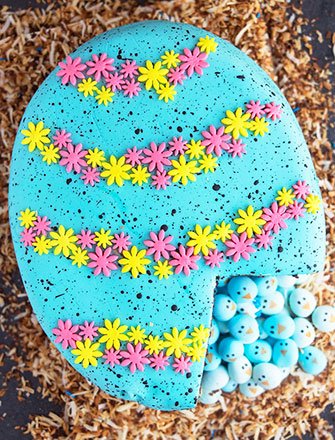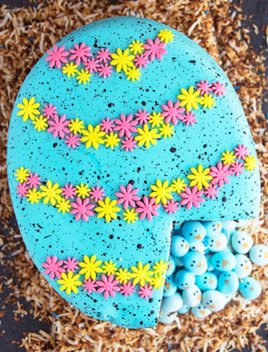 Pinata Cake (Robin Egg Cake)
Learn how to transform a chocolate citrus cake into a Easter robin egg piñata cake, filled with robin chick candies. It's easy, fun and requires simple ingredients and supplies.
Yield: Slices
Ingredients
Cake
2 Eggs, Large
1/2 cup Oil
1 tsp Vanilla extract
1 cup Milk, Whole
1 cup Coffee, Brewed, Strong
1.5 tsp Orange zest
1 tsp Lemon zest
1 tsp Lime zest
2 cups All-purpose flour
1 cup Domino® Light Brown Sugar
1 cup Domino® Granulated Sugar
3/4 cup Cocoa powder
1.5 tsp Baking powder
2 tsp Baking soda
Decoration
4 cups American Buttercream frosting, Light blue
1 cup Blue sprinkles
2 cups Blue egg candies, Mini size
Edible markers, Black and Orange
Fondant, Light blue
1 tbsp Cocoa powder
2 tbsp Vanilla extract
3 tbsp Corn syrup
50 Fondant flowers, Small
3 cups Coconut, Toasted
Instructions
Chocolate Citrus Cake
Add flour, brown sugar, granulated sugar, cocoa powder, baking powder, baking soda and mix until just combined.

Pour batter into 2 greased oval pans (Dimensions: 8x3).

Bake at 350 degrees for about 40 minutes or until an inserted toothpick in the center comes out clean.

Allow these cakes to cool down completely.
Assembling
When the cakes have fully cooled down, use an oval template to cut out the centers of 2 oval cakes. Leave the other 2 cakes intact.

Place one full oval cake on a serving dish and ice it with blue buttercream. You can frost the top completely or just the edges.

Place one hollow cake on top of the frosting and ice it with buttercream.

Place the second hollow cake on top of the frosting and ice it with buttercream.

Fill the center of the cake with half the sprinkles and spread them out.

Use black and orange edible markers to make eyes and beaks on the egg candies.

Add these mini robin eggs into the center of the cake too.

Add the remaining sprinkles and spread them out.

Place the final oval cake on top. Gently press it to stick everything in place.

Ice the entire cake in blue buttercream.
Tip: Chill the cake for 45 minutes so that the icing firms up a little and this makes it easier to cover it in fondant.

Roll out blue fondant and spread it over the cake and smooth it out with a fondant smoother or your hands.

Use a pizza cutter to cut off excess fondant around the base of the cake.

In a small bowl, mix together cocoa powder and vanilla extract until the cocoa powder is fully dissolved and you have a paint-like consistency.

Dip a paintbrush in this "chocolate paint" and flick your paintbrush all over the cake until it is covered in a speckled pattern. Let this dry for a few minutes.
Tip: If you are flicking too close to the cake, your splatter will be larger but if you are father away from the cake, the flicking will create smaller splatter (which is what I recommend).

Stick fondant flowers in a curved pattern on top of the cake, using corn syrup.

Spread toasted coconut around the base of the cake. Enjoy!
Notes
Read all my tips above. 
Leftovers can be stored in the fridge for up to 3 days. 
Nutrition
Calories: 738kcal, Carbohydrates: 114g, Protein: 5g, Fat: 30g, Saturated Fat: 9g, Cholesterol: 29mg, Sodium: 383mg, Potassium: 345mg, Fiber: 4g, Sugar: 88g, Vitamin A: 75IU, Vitamin C: 1.2mg, Calcium: 84mg, Iron: 2.7mg
Until next time, tata my lovelies!