Raspberry Lime Cupcakes
These easy and buttery raspberry lime cupcakes with lime cream cheese frosting are made from scratch. They even have a fresh raspberry stuffed inside them.
*Thank you Bob's Red Mill for sponsoring today's post so that I can share this raspberry lime cupcakes recipe with all of you. As always, all opinions are mine*
I spent most of last Summer enjoying these blueberry lime cupcakes since I am really fond of that flavor combination.
Actually, I am fond of anything with lime…hehe.
So this week, I made these REFRESHINGLY delicious raspberry lime cupcakes.
They are perfect for serving at Easter or Spring parties!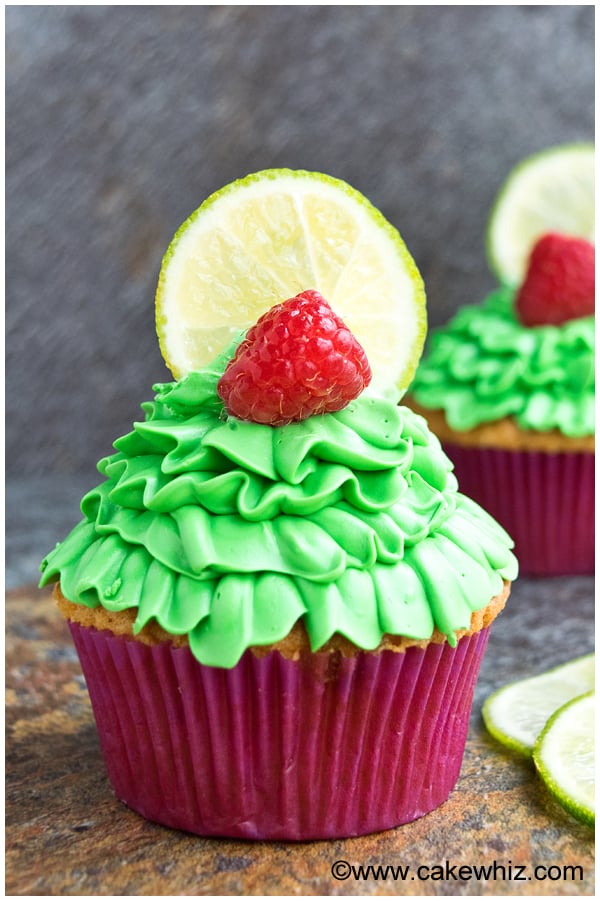 I even STUFFED these cupcakes with a fresh raspberry to really take them over the top.
That way, each bite will have a fruity kick!
If you like, you can even stuff a chocolate easter egg before baking and that would be ideal for Easter time!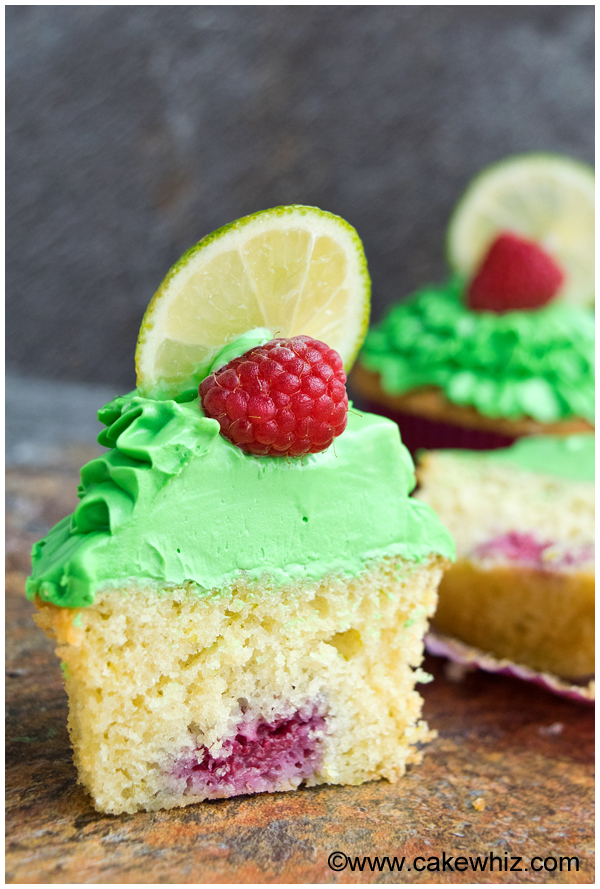 Many of you guys have been requesting gluten free cake/cupcakes recipes.
To be honest, I am still LEARNING how to bake with special flours but it's an exciting new adventure for me.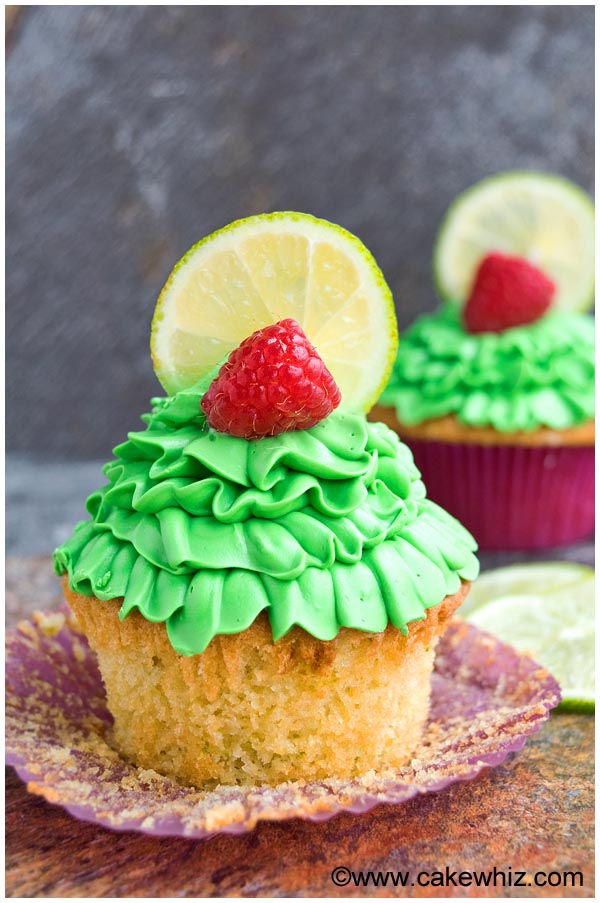 These cupcakes are made with a COMBINATION of Bob's Red Mill organic unbleached all-purpose white flour and almond flour.
The almond flour added a nice boost of proteins and vitamins to these cupcakes.
This organic all purpose flour is great because it's not enriched with any additives and it's also high in protein.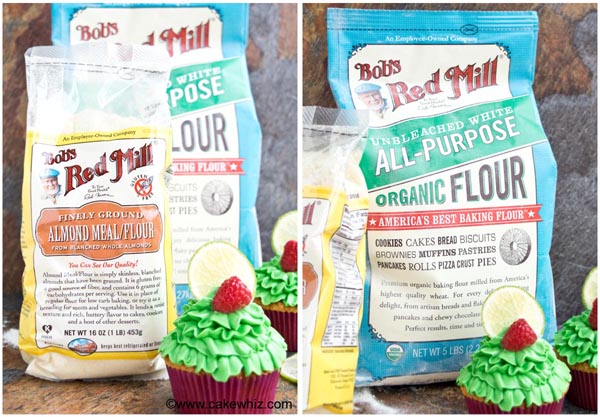 These buttery cupcakes are really AIRY and soft with a hint of lime.
I paired them with a lime cream cheese frosting.
Whatever you do, DON'T skip the frosting…It really takes these cupcakes up a notch.
Well, that's all for today.
If you liked this post, you may like these cupcake recipes too…
Best sugar free chocolate cupcakes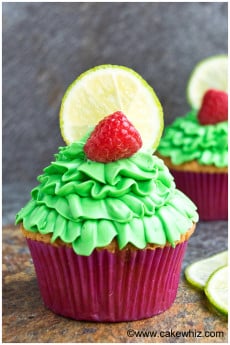 Raspberry Lime Cupcakes
These easy and buttery raspberry lime cupcakes with lime cream cheese frosting are made from scratch. They even have a fresh raspberry stuffed inside them.
Yield: Cupcakes
Ingredients
Cupcakes:
1 1/4 All-purpose flour
1/4 cup Almond flour
1 cup Sugar, Granulated
1/2 cup Butter, Unsalted
1/2 cup Milk, Whole
2 Eggs, Large
2 tbsp Lime zest
1 tbsp Lime extract
1 1/2 tsp Baking powder
1/2 tsp Baking soda
12 Raspberries, Fresh
Lime frosting:
1/2 cup Butter, Unsalted
8 oz Cream cheese
5 cups Sugar, Powdered
1 tbsp Lime extract
1 tbsp Lime zest, optional
Green gel coloring, optional
Decoration:
12 Limes, Cut into thin circular slices
12 Raspberries, Fresh
Instructions
Add eggs and mix again.

Add milk, lime zest and lime extract and mix everything until it's properly combined with no lumps.

In a separate bowl,

whisk

together the all purpose flour, almond flour, baking powder and baking soda.

Dump this dry mixture into the wet mixture and mix until just combined.

This will be a thick batter but DON'T over-mix!

Pour this batter into cupcake liners.

Place a raspberry in the center of each cupcake and add 1 teaspoon of of cupcake batter on top of the raspberries to cover them.

Bake at 350 degrees for about 20 minutes or until an inserted toothpick comes out clean.

Allow these raspberry lime cupcakes to cool down and make the icing...

Add the cream cheese, butter, lime zest (optional), gel coloring (optional) and

lime extract

in a deep bowl and mix everything properly until there are no lumps.

Then, start adding powdered sugar while continuing to mix.

Start with 1 cup of sugar and work your way up.

Frost your cupcakes with this icing and top them off with fresh raspberries and slices of lime. Enjoy!
Notes
Don't even bother eating these cupcakes warm or at room temperature. You need to frost them and chill them overnight to allow the zesty and fruity flavors to deepen over a span of few hours.
You can adjust the amount of sugar in the frosting, based on your preference. If you want a thicker consistency, add more powdered sugar and if you prefer a thinner consistency, add less powdered sugar.
If you are planning on piping on your cupcakes like I did, I suggest omitting the lime zest since it will clog your tips.
Nutrition
Calories: 640kcal, Carbohydrates: 109g, Protein: 3g, Fat: 24g, Saturated Fat: 13g, Cholesterol: 89mg, Sodium: 265mg, Potassium: 187mg, Fiber: 2g, Sugar: 102g, Vitamin A: 815IU, Vitamin C: 20.7mg, Calcium: 93mg, Iron: 0.8mg
Until next time, tata my lovelies!