How to Make Ladybug Cupcakes
Use this cupcake decorating tutorial to make easy fondant ladybug cupcakes for kids birthday parties. Homemade with simple ingredients and no fancy tools required! Great for Spring and Summer parties.
You will find so many cool cupcakes ideas when you do a quick search on Google or Pinterest but I think my version is the cutest and the easiest. It's just as simple as these Easy Dinosaur Cupcakes or even these Fondant Bumblebee Cupcakes.
I made these edible cupcake toppers with marshmallow fondant because I find the frosting ones to be very messy and quite frankly, a little scary looking. It really won't take long for you to decorate these cupcakes and the process is so simple that even kids can help. It's perfect for beginners!
These would make a great addition to a Backyard Kids Summer Party or Indoor Camping Party.
By the way, do you see those little red fondant flowers? They are so easy to make. Check out this 4th of July cake, where I shared a tutorial for making them. You can make them in advance and store them for months!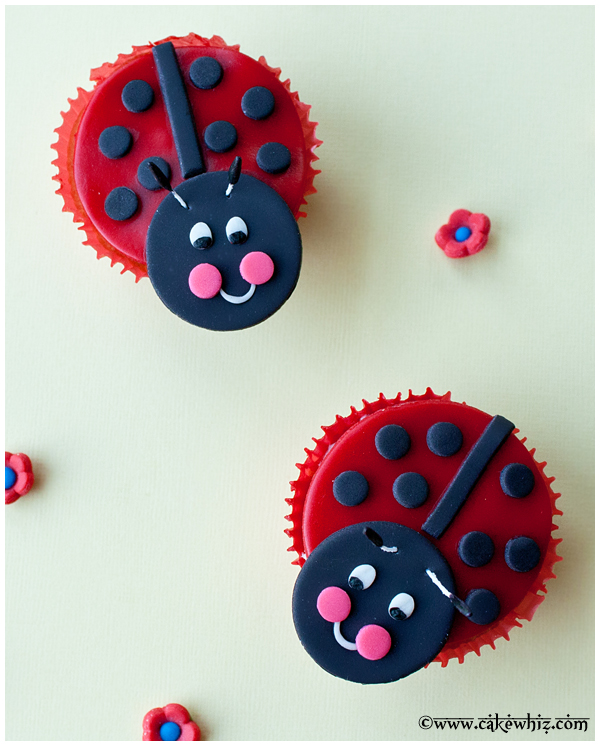 How to make easy ladybug cupcakes?
Bake cupcakes- And allow them to cool down completely.
Prepare icing- And color it if you like.
Cut out a big red fondant circle and a small black circle- Stick them together with water.
Add other details- Like spots, eyes, antenna and mouth with fondant too.
Let the topper dry- Until hard or partially hard.
Decorate- Ice cupcakes and place the little fondant critter on top.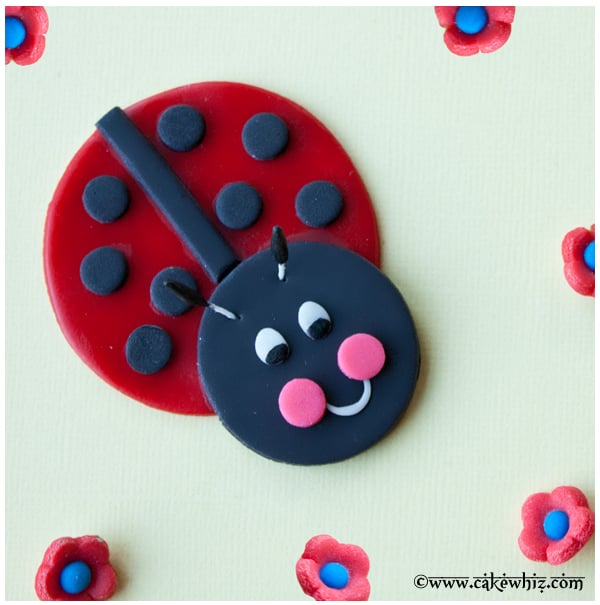 Tips and Variations for ladybug cupcake toppers
Make mini cupcakes- And follow the same instructions to make mini cupcake toppers.
Try different color combinations- You can make black and pink critters instead of black and red ones for girls birthday parties.
Ladybug cupcake cake/ Pull apart cupcakes- Arrange the cupcakes in a ladybug formation and then decorate the top with icing and fondant to create a giant bug.
Consider different cupcake flavors- Such as these Easy Orange Cupcakes or these Lemon Cupcakes. Those flavors are ideal for Summer parties.
Pair with other frosting flavors- Such as Mango Frosting or Lemon Frosting.
Fill cupcakes- With chocolate truffles, peanut butter, Nutella, ganache or Homemade Lemon Curd or even Homemade Strawberry Jam.
Don't frost or decorate warm cupcakes- Because the warmth will cause the icing and fondant to melt and make a sticky mess.
Homemade fondant vs. Marshmallow fondant- Either can be used. I prefer homemade fondant because it tastes really good and also smells amazing. Also, you can buy pre-colored fondant and that means less work for you.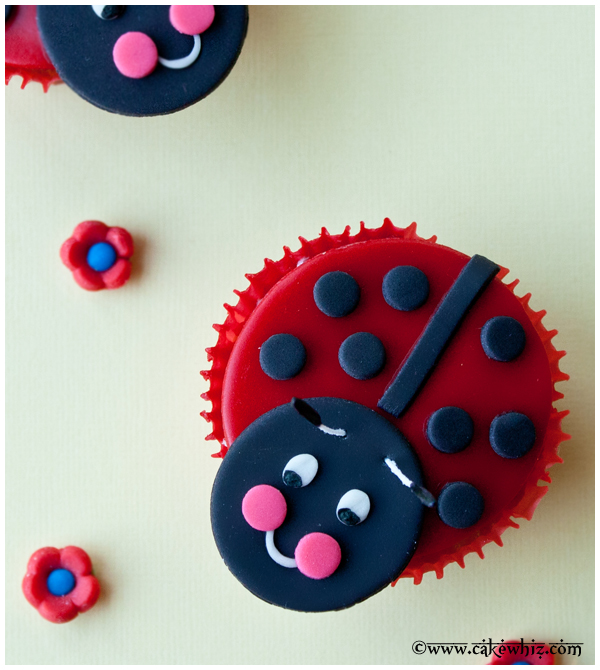 Storage
Room temperature- Sore decorated cupcakes in a covered box for up to 2 days
Refrigerate– Store in a covered box for 3-5 days.
Freeze– Decorated cupcakes cannot be frozen because when they thaw, the fondant decorations become sticky due to condensation.
More Cupcake Decorating Tutorials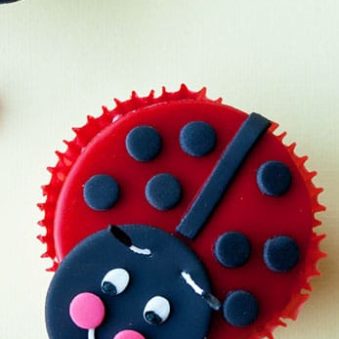 Easy Ladybug Cupcakes
Use this cupcake decorating tutorial to make easy fondant ladybug cupcakes for kids birthday parties. Homemade with simple ingredients and no fancy tools required!
Yield: Cupcakes
Instructions
Bake cupcakes and allow them to cool completely.

Prepare frosting and tint it with gel colors, if you like.

Roll out red fondant and use the big circle cutter to cut out a piece.

Roll out black fondant and use the small circle cutter to cut out a piece.

Brush water near the top of the red circle and place the smaller black circle on top of it until it sticks into place.

Use Wilton's Tip #12 to cut out tiny black circles. Also, use a knife to cut a thin black strip.

Brush water along the center of the red circle and stick the black strip here. Cut off the excess with a knife.

Stick the tiny black circles on the red body.

To make antennas, take 2 pieces of flower stamen and color the tips black with an edible marker. Use a scissor to cut them in half.

Attach these to the top of the ladybug's face.

Make 2 eyes with white fondant and black edible marker OR use store-bought candy eyeball sprinkles.

Draw a sweet smile with black edible marker.

Add little cheeks by sticking two round pink sprinkles on either side of the mouth.

Let these toppers dry for 1-2 hours.

Then, place them on top of your iced cupcakes.
Notes
Read all my tips above.
Leftovers can be stored in a covered box at room temperature for up to 2 days. 
Nutrition
Calories: 291kcal, Carbohydrates: 49g, Protein: 2g, Fat: 10g, Saturated Fat: 2g, Cholesterol: 1mg, Sodium: 198mg, Potassium: 51mg, Fiber: 1g, Sugar: 37g, Vitamin A: 22IU, Vitamin C: 1mg, Calcium: 57mg, Iron: 1mg