Pistachio Carrot Cupcakes
These tender and spiced pistachio carrot cupcakes with cream cheese icing have all the flavors of a classic carrot cake but in cupcake form. Easy to make!
*Thank you Vital Proteins for sponsoring this post so that I can make these pistachio carrot cupcakes. As always, all opinions are my own.*
I have eaten ALL sorts of carrot cakes and carrot cupcakes over the years…
With raisins/ without raisins
With walnuts/ without walnuts
With pecans/ without pecans
With pineapples/ without pineapples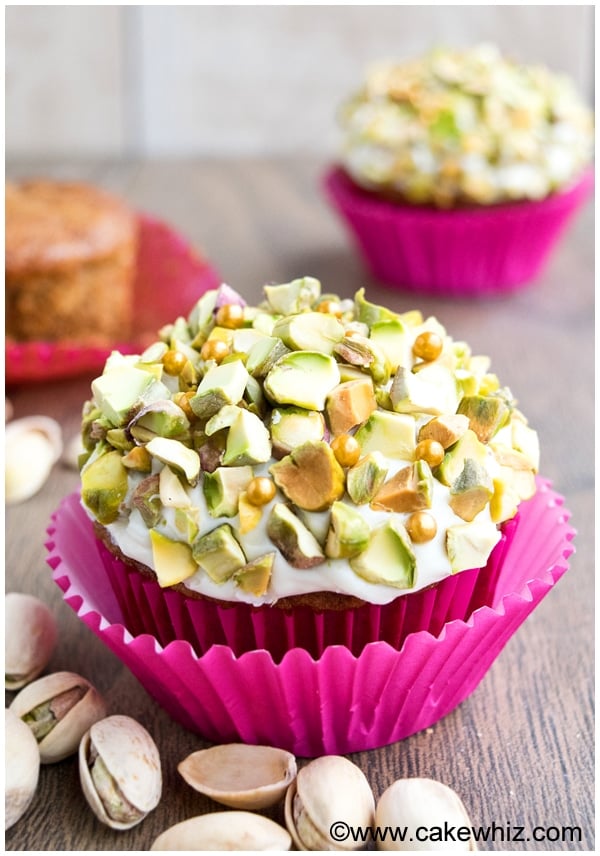 Each of those ingredients bring something extra to your cupcakes but I urge you to EXPERIMENT yourselves and figure out exactly what you like best.
My FAVORITE are pistachio carrot cupcakes.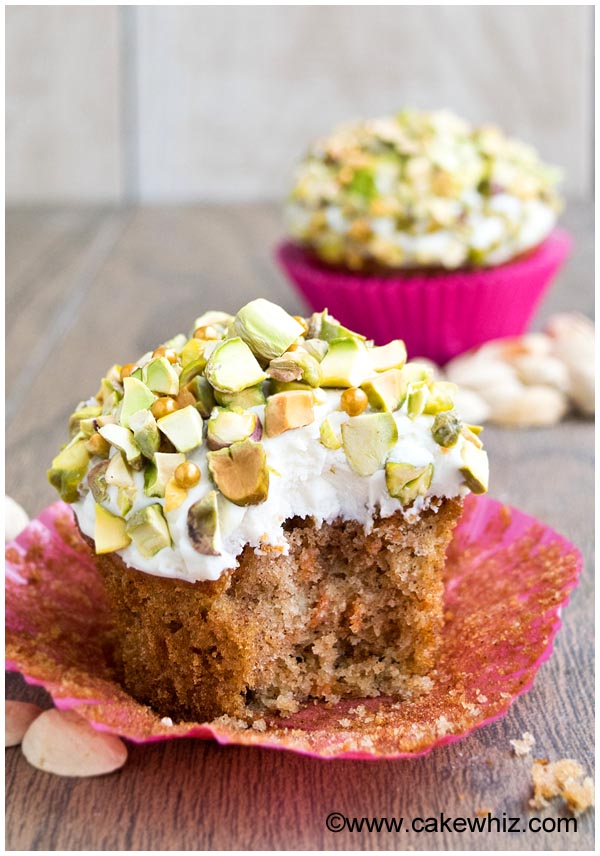 I honestly think that raisins, walnuts or pineapples taste fine in cakes but NOT it cupcakes.
Cupcakes are much smaller and those ingredients, together, become OVER-WHELMING!
There's just too much happening at once!
However, I LOVE pistachios and I feel like they COMPLIMENT the spiced carrot cake flavors perfectly.
Now, I don't add them into the cupcake batter coz they would get weird and soggy… EWWW! lol.
Instead, I like to frost my carrot cupcakes in cream cheese icing and cover them fully in chopped up pistachios…YUM!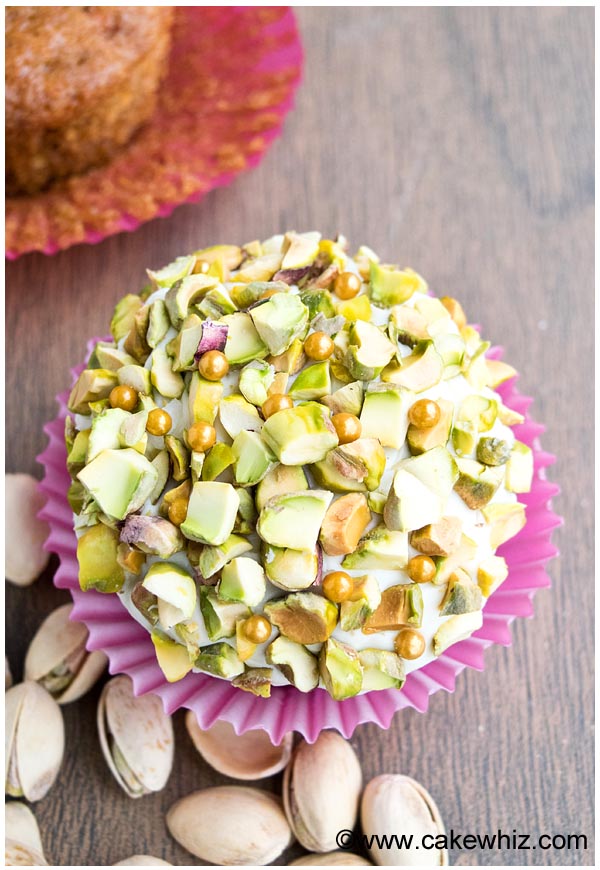 I used Vital Proteins collagen peptides in this recipe so as to increase the NUTRITIONAL value of these cupcakes.
I ADORE this powder… it's odorless and tasteless.
So, you can use it in most of your recipes without having to worry about anything!
You get a BOOST of vitamins and minerals in each bite without even realizing it.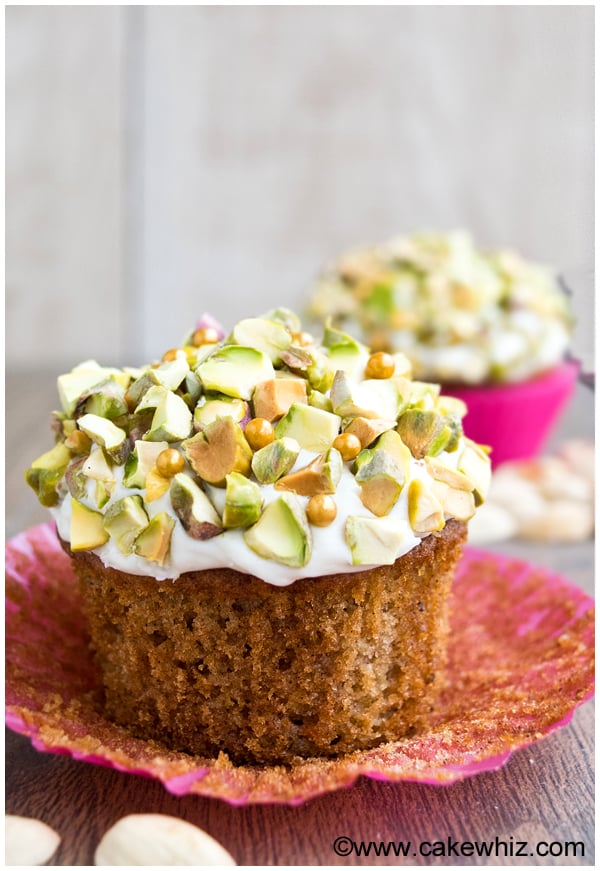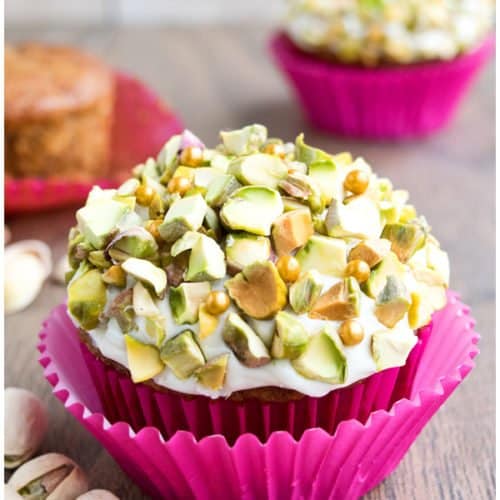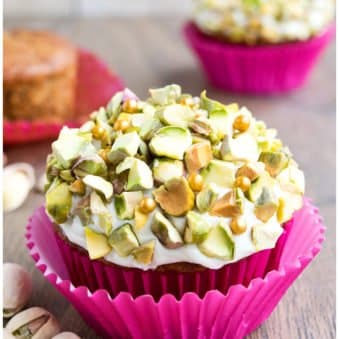 Pistachio Carrot Cupcakes
These tender and spiced pistachio carrot cupcakes with cream cheese icing have all the flavors of a classic carrot cake but in cupcake form. Easy to make!
Yield: Cupcakes
Ingredients
Cupcakes:
1 cup Flour, All-purpose
3 tbsp Protein powder
½ cup Sugar, Granulated
½ cup Brown sugar
1 cup Carrots, Shredded not pureed!
½ cup Oil
¼ cup Applesauce, Unsweetened
2 Eggs
1 tsp Baking powder
½ tsp Baking soda
1 tsp Cinnamon powder
½ tsp Allspice
½ tsp Nutmeg powder
½ tsp Vanilla extract
Cream cheese icing:
½ cup Butter, Unsalted
8 oz Cream cheese
1 tsp Vanilla extract
4-5 cups Sugar, Powdered
Toppings/Decoration:
2 cups Pistachios, Chopped
½ cups Golden edible pearls
Instructions
Mix for two minutes until everything is smooth and there are no lumps.

Add the shredded carrots and mix everything, until just combined.

In a separate small bowl,

whisk

together the flour, collagen peptides, baking powder, baking soda, cinnamon powder, allspice and nutmeg powder.

Dump this dry mixture into the wet mixture and mix until just combined. The batter will be thick but don't over-mix!

Pour this batter into cupcake liners and bake at 350 degrees for 20 minutes or until an inserted toothpick comes out clean.
While the cupcakes are cooling, prepare your cream cheese icing…
Add the cream cheese, butter and

vanilla extract

in a mixing bowl. Mix everything until there are no lumps.

Then, start adding powdered sugar, while continuing to mix. Start with 1 cup of powdered sugar and work your way up. More powdered sugar = thicker consistency of frosting. Less powdered sugar- Thinner consistency of frosting.

Once the cupcakes have cooled down to room temperature, frost them in cream cheese icing and cover them in chopped pistachios and golden edible pearls. Enjoy!
Notes
You can add ⅓ cup of mixed raisins, pecans and walnuts into the batter, if you like. If you are really fond of nutty/chewy cupcakes, you can increase that quantity to ½ cup.
Make sure to toss these "add-ins" in some flour so as to prevent them from sinking to the bottom of the cupcakes.
I like to add collagen peptides so as to increase the nutritional value of these cupcakes. You can easily order it online.
You can also replace protein powder with the same amount of all- purpose flour without any noticeable difference in these cupcakes.
Nutrition
Calories: 724kcal, Carbohydrates: 101g, Protein: 8g, Fat: 34g, Saturated Fat: 10g, Cholesterol: 68mg, Sodium: 211mg, Potassium: 380mg, Fiber: 3g, Sugar: 87g, Vitamin A: 2465IU, Vitamin C: 2.6mg, Calcium: 93mg, Iron: 1.9mg
Well, that's all for today.
If you liked this post, you may like some of these other recipes too…
Until next time, tata my lovelies!