Pull Apart Watermelon Cupcakes
Use this cake decorating tutorial to make easy watermelon cupcakes with buttercream frosting. These pull apart cupcakes are fun to serve at Summer birthday parties and picnics.
Since it's Summer and we are seeing watermelons everywhere,  I made these pull apart watermelon cupcakes.
These are GREAT for Summer parties and picnics! They are also really COOL and very simple to put together.
I also want to point out that this is NOT a fresh watermelon cupcakes recipe/ real watermelon cupcakes. These are actually watermelon decorated cupcakes or watermelon cupcake cake, as some people call them.

What is pull apart cupcake cake?
It's an ARRANGEMENT of cupcakes to create something BIG like a flower or a butterfly or anything else you like!
For my watermelon cupcake arrangement, the cupcakes with GREEN icing represent the outer rind of the watermelon…
Other watermelon cupcake ideas:
Make red cupcakes with mini chocolate chips and frost it with a swirl of green buttercream icing.
Make little fondant watermelon toppers with fondant and use that to decorate cupcakes.

Tips for watermelon cupcakes:
Make sure your icing is NOT too thick nor too thin because if it's thick, it will be hard to pipe and if it's thin, it will be too runny to create a proper design.
You can also use smaller cupcakes to make MINI watermelon cupcakes.
Red frosting is hard to make at home and usually ends up looking dark pink. It needs to rest for a few days for the color to develop. If you are short on time, you can just buy pre-made res frosting.
Use GEL colors instead of liquid food coloring to tint your icing because the colors are vibrant and more concentrated plus the consistency of icing does not change.
I used Tip 104 on these cupcakes but you can use any other decorating tip you like.
Make sure cupcakes fully cool down before you frost them or else the icing will melt.
Leftovers can be stored in a sealed container in the fridge for up to 3 days.
Other Summer cupcakes: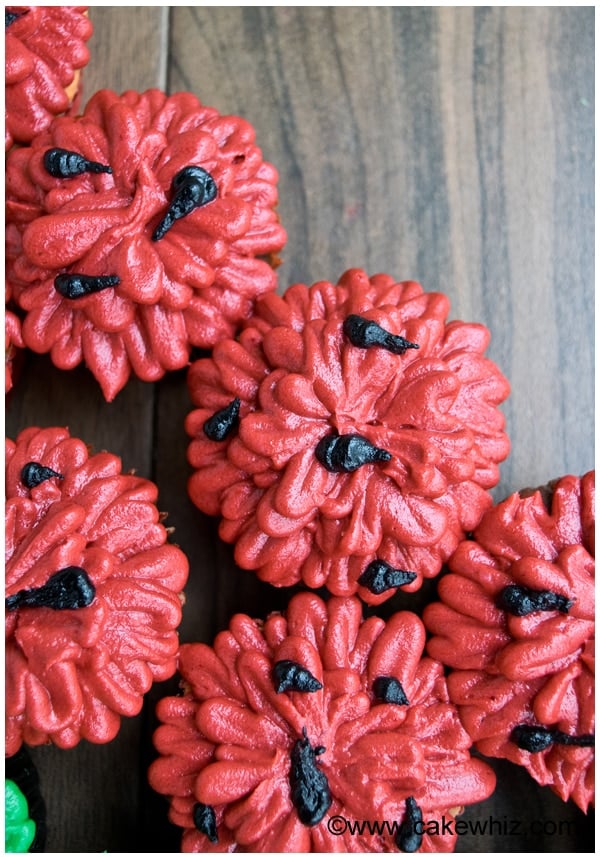 How to make watermelon cupcakes?
Ingredients/Supplies:
Vegan chocolate cupcakes
Vanilla cupcakes
Red buttercream icing
Green buttercream icing
Black buttercream icing
Wilton tip # 104
Wilton tip # 3
Piping bags
Instructions:
Fill three separate piping bags with green, red and black colored frostings.
Attach tip # 104 to the green and red piping bags.
Attach tip # 3 to the black piping bag.
Hold the red pining bag at a 45 degree angle along the edge of your cupcake.
Squeeze the bag and pull towards yourself and you will end up with a red "petal."
Continue to do this all around the cupcake until you have a full row of red petals.
Then, work your way inwards and make another row of red petals.
Finally, pipe a few petals in the center of the cupcake.
To make the seeds, hold the black piping bag at a 45 degree angle.
Squeeze the bag and then pull towards yourself.
Do this a few times randomly on each red cupcake.
Repeat steps 2-5 on a few cupcakes, using green icing.
Don't make the seeds on these green cupcakes.  
Arrange the cupcakes in the shape of a watermelon. Enjoy!
Well, that's all for today.
Until next time, tata my lovelies!