Mocha Cupcakes (Coffee Cupcakes)
Quick and easy mocha cupcakes recipe (coffee cupcakes) with mocha buttercream frosting/ espresso frosting combine the bold flavors of chocolate and coffee.
*Thank you Starbucks for sponsoring today's post so that I can share these mocha cupcakes/ coffee cupcakes with mocha frosting with all of you. As always, all opinions are mine.*
Every Christmas, all our family and friends meet for breakfast at our house and we spend the entire day together. It's a fun and lively day and a great way to RECONNECT with everyone. There are tables set up for kids and adults with EVERYTHING imaginable: cakes, cupcakes, cookies, sandwiches, coffee, hot cocoa and so much more.
This year, I have added these chocolate mocha cupcakes with espresso buttercream frosting a.k.a chocolate coffee cupcakes to our Christmas menu and I CAN'T wait till my family tries them.
These cupcakes are EPIC. They are filled with ooey gooey caramel sauce and topped off with a swirl of rich and creamy mocha frosting. I swear that mocha cream frosting is to die for and tastes just like a mocha latte.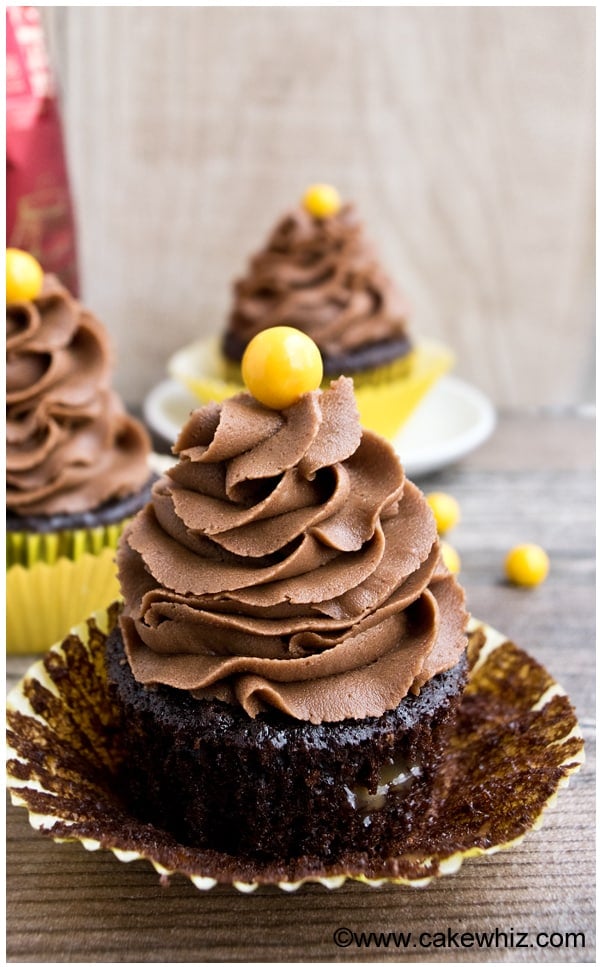 Tips for moist coffee cupcakes:
Use the best quality of coffee you can find because it really enhances the coffee flavor.
Make sure buttermilk and eggs are at room temperature because they will blend together smoothly.
Both, fresh brewed coffee and espresso powder are required in this recipe.
This cupcake batter will be fairly thin. That's the way it's supposed to be. Don't worry and don't try to thicken it by adding more flour.
Watch these cupcakes like a hawk after 20 minutes. They tend to look like they are ready but the centers may be soft and under-baked. Touch the center lightly and if it jiggles, let the cupcakes bake for a bit longer.
These cupcakes won't have a dome shaped top. They will be flat.
The flavor of this frosting deepens and the coffee flavor gets stronger after 24 hours. I suggest making the frosting a day before you are planning on serving these cupcakes.
Filling cupcakes with caramel sauce too far in advance will make them soggy. Only fill the cupcakes about an hour prior to serving.
After making 4 batches of mocha cupcakes, I REALIZED something => Adding coffee to chocolate cupcakes doesn't make them taste like coffee. Coffee actually intensifies the chocolate flavor and adds only a hint of coffee flavor! However, once you pair these mocha cupcakes with mocha frosting, everything works out PERFECTLY and you get a taste of both, chocolate and coffee, in every single bite.
I have done a video tutorial for filling cupcakes that would be helpful for anyone who's never done that before.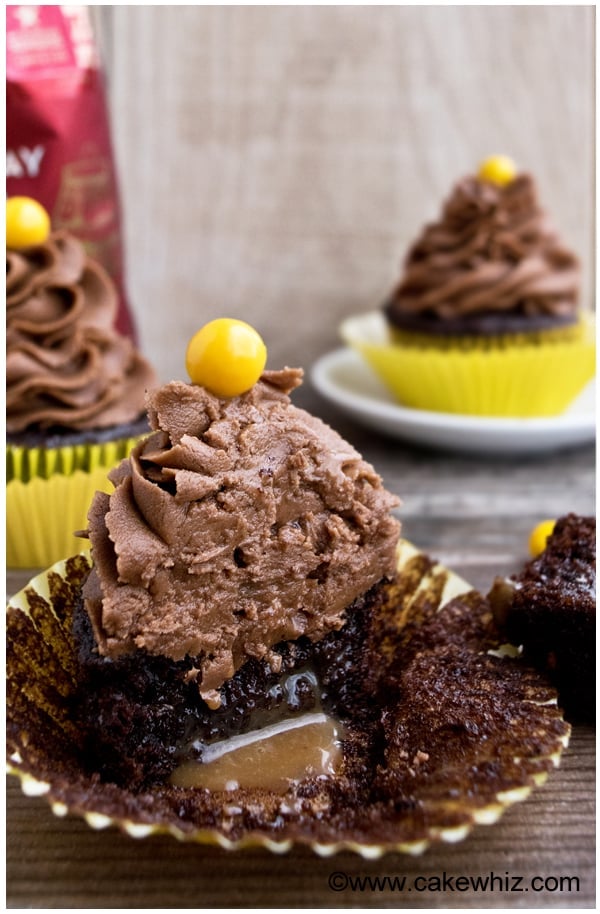 Flavor variations for mocha cupcake recipe/ coffee cupcake recipe:
To make mocha cupcakes from cake mix, use a chocolate cake mix and add 1-2 tbsp espresso powder and top off the cupcakes with coffee frosting.
To make white chocolate mocha cupcakes, replace fluffy mocha frosting with white chocolate buttercream frosting.
To make salted caramel mocha cupcakes, you can either frost each cupcake with salted caramel frosting or fill each cupcake with salted caramel, like I did.
To make peppermint mocha cupcakes, use peppermint frosting. This is great for Christmas!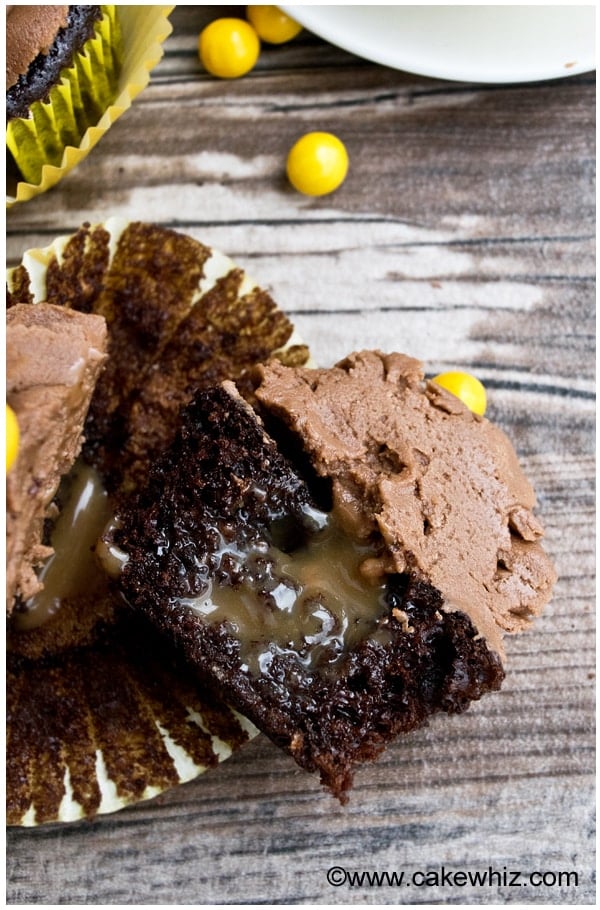 I used Starbucks Holiday Blend coffee along with Starbucks VIA espresso powder to really take these cupcakes over the top!
The holiday blend is PERFECT for this recipe because when you brew it for a while, it becomes very rich and flavorful.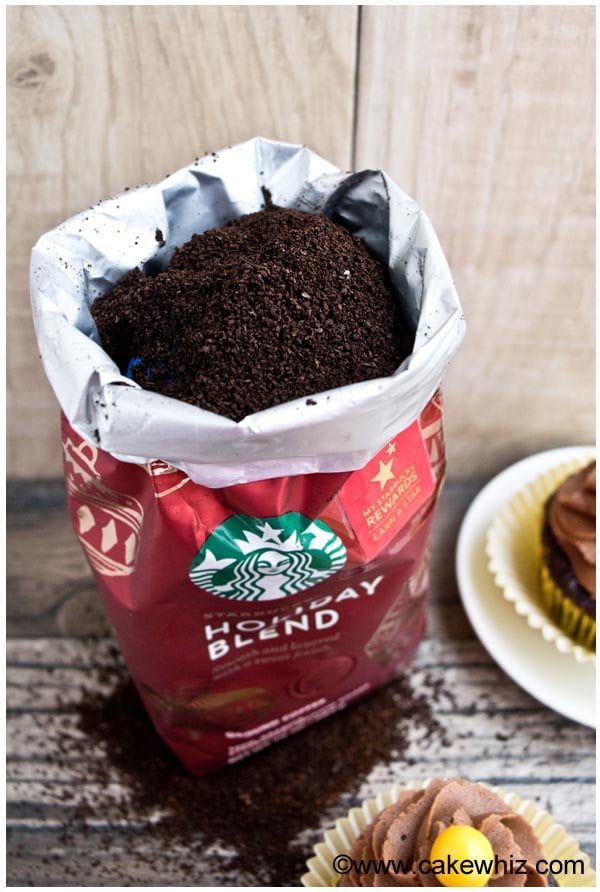 Other Mocha and Coffee Dessert Recipes: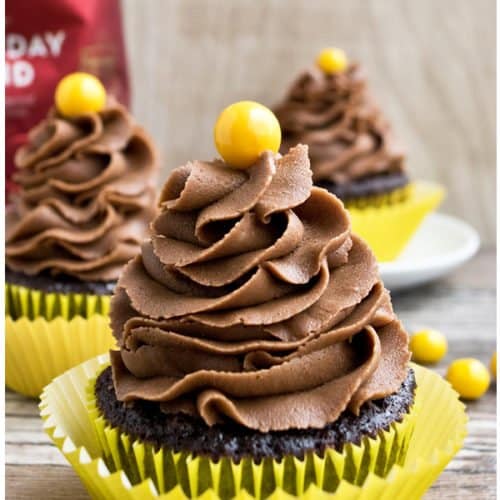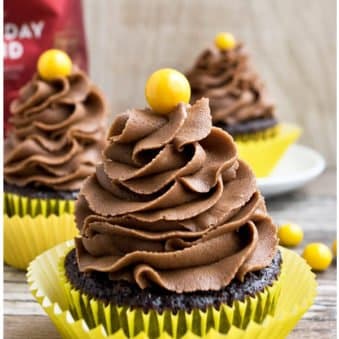 Mocha Cupcakes/ Coffee Cupcakes with Mocha Frosting
Quick and easy mocha cupcakes recipe (coffee cupcakes) with mocha buttercream frosting/ espresso frosting combine the bold flavors of chocolate and coffee.
Yield: Cupcakes
Ingredients
Filling and Decoration
Yellow Sixlets or small candy balls
Instructions
In a separate bowl,

whisk

the flour, sugar,

cocoa powder

,

espresso powder

, baking powder and baking soda together. Then, dump this dry mixture into the wet milk mixture.

Mix everything until just combined. DO NOT overmix!

Pour this batter into cupcake liners. Bake at 350 degrees for 18-20 minutes or until an inserted toothpick comes out clean.

While the cupcakes are baking, start preparing the frosting. In a mixing bowl, add butter and shortening. Mix until they are thoroughly combined.

Add cocoa powder, espresso powder and brewed coffee.

Mix until everything is smooth and creamy.

Add powdered sugar (1 cup at a time) and keep mixing.

Continue mixing until you end up with smooth and creamy icing.
Assembling
Use a big piping tip (e.g.

Tip 1M

) to make a hollow center in each cupcake.

Fill it with melted caramel. You can use store bought caramel sauce or melt some caramels in the microwave with some heavy cream.

Cover the top with the small cupcake piece you removed earlier.

Fill a piping bag with mocha frosting and attach Tip 1M. Pipe a swirly frosting design on top of the cupcake.

Finally, place a small yellow candy on the top. Enjoy!
Notes
Read all my tips above.
Leftovers can be stored in a sealed container in the fridge for up to 3 days. 
Nutrition
Calories: 371kcal, Carbohydrates: 52g, Protein: 2g, Fat: 18g, Saturated Fat: 5g, Cholesterol: 24mg, Sodium: 130mg, Potassium: 131mg, Fiber: 1g, Sugar: 41g, Vitamin A: 155IU, Calcium: 34mg, Iron: 1.1mg
Until next time, tata my lovelies!