Fondant Bumblebee Cupcakes
Use this cake decorating tutorial to make quick and easy bumblebee cupcakes with fondant. It can also be used as a cake topper for birthday parties.
These adorable fondant bumblebee cupcakes are sure to BRIGHTEN your day.
You DON'T need any fancy cutters or tools to make these cupcake toppers and it's also SIMPLE enough for beginners.
I used this fondant bumblebee as a cake topper too on this Spring cake.
There are many other edible bumblebee cake decorations/ bumblebee cupcakes ideas out there but this one is my FAVORITE.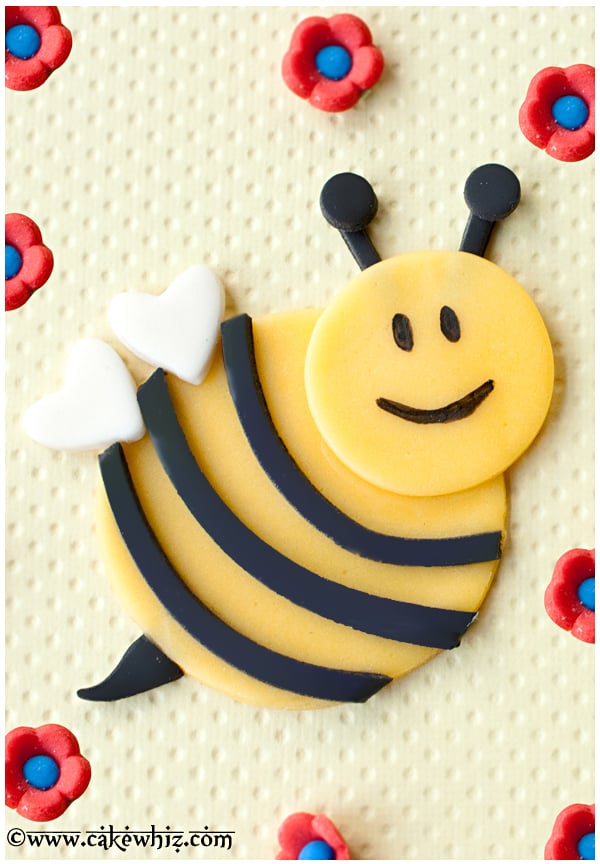 How to make bumblebee cupcakes?
Roll out yellow fondant and cut out big and small yellow circle pieces. Stick them in the formation of head and body. Stick black fondant stripes on the big circle and attach a black fondant stinger at the bottom of the big circle. Draw eyes and mouth with edible marker on the small circle. Stick white fondant heart pieces for the wings near the top. Allow everything to dry and use them as a bee cupcake toppers.
To make these fondant bumblebee cupcakes, you will need the following SUPPLIES:
Yellow marshmallow fondant

Black fondant
White fondant

Big circle cutter
Small circle cutter
Small heart cutter
Rolling pin

Pizza cutter
Knife
Paintbrush
Tip #12
Corn syrup

Black edible marker
These are the INSTRUCTIONS:
Roll  out yellow fondant and use the big and small circle cutters to cut out circular pieces.
Stick the small piece on top of the big one.
Roll out black fondant and use a pizza cutter to cut out a few thin strips and bend them a little so that they become curved.
Stick these strips on the big circle with water.
Cut off excess fondant with a knife.
Use a knife to cut out a small triangular black piece for the bumblebee's stinger and stick that at the end of the big circle.
Make antennas by cutting 2 small strips of black fondant and 2 tiny circles.
I used tip #12 to make these circles.
Stick the antennas behind the small circle with corn syrup.
Use black edible marker to draw out eyes and a mouth.
Finally, stick 2 little white heart fondant pieces near the top for the wings.
Let these bumblebee cupcake toppers dry for an hour or two and then, place them on your frosted cupcakes.
Well, that's all for today.
Until next time, tata my lovelies!