Football Pull Apart Cupcakes
Celebrate the big game by throwing a fun football party! This dessert table is packed with lots of yummy snacks and football pull apart cupcakes!
*This shop has been compensated by Collective Bias, Inc. and its advertiser so that I can make these football pull apart cupcakes. As always, all opinions are mine.*
The BIG GAME will be here soon and in preparation, I have put together a Football Party Dessert Table with the highlight being these FOOTBALL PULL APART CUPCAKES!
Basically, they are cupcakes arranged in the shape of a football and all the details are added with chocolate and vanilla frosting.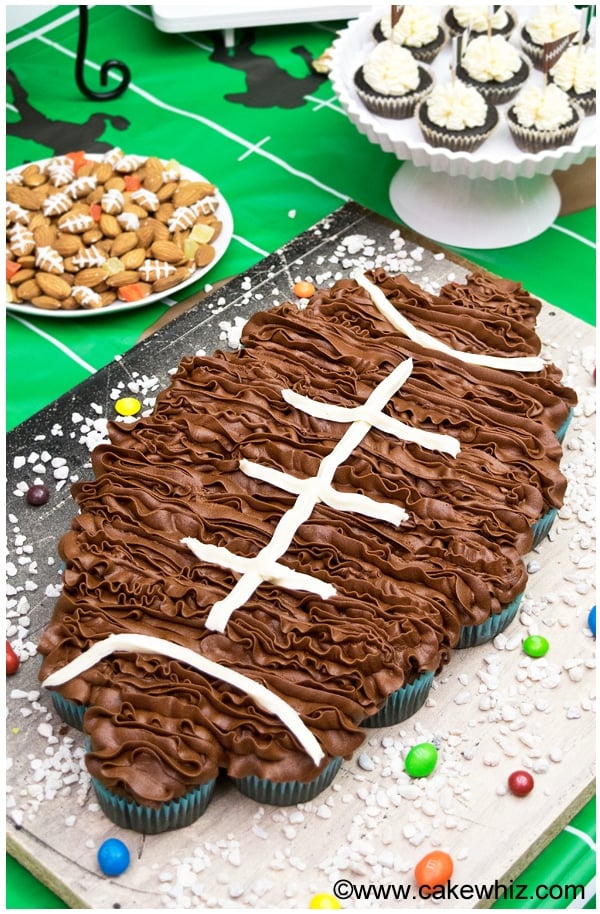 Rather than cutting into big football cake, your guests can just take one cupcake from the whole platter.
Soooo COOL… Right?! 😀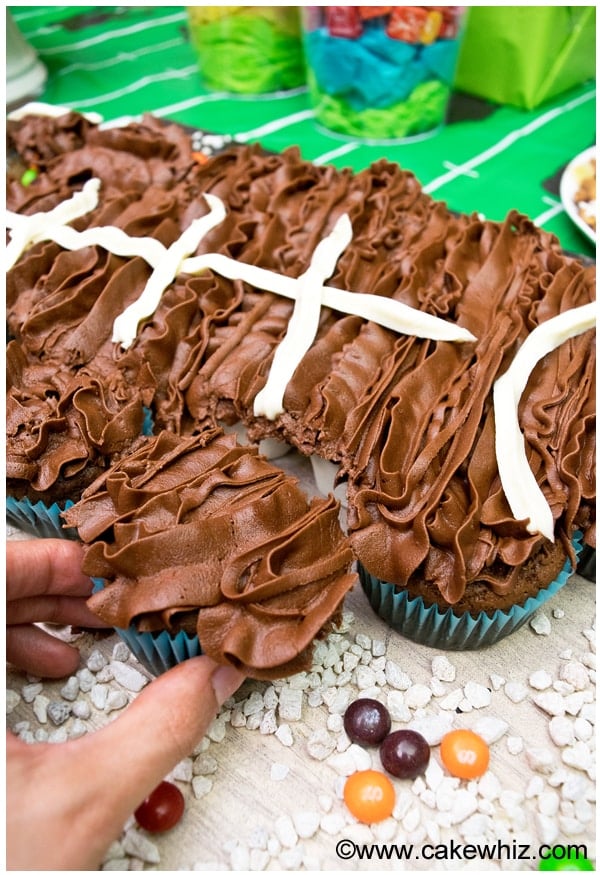 The FUN doesn't end there.
I hid candies in the center of each cupcake.
Some were filled with m&m and Skittles and others were filled with Snickers and Starburst.
My FAVORITE were the ones filled with mini Snickers 🙂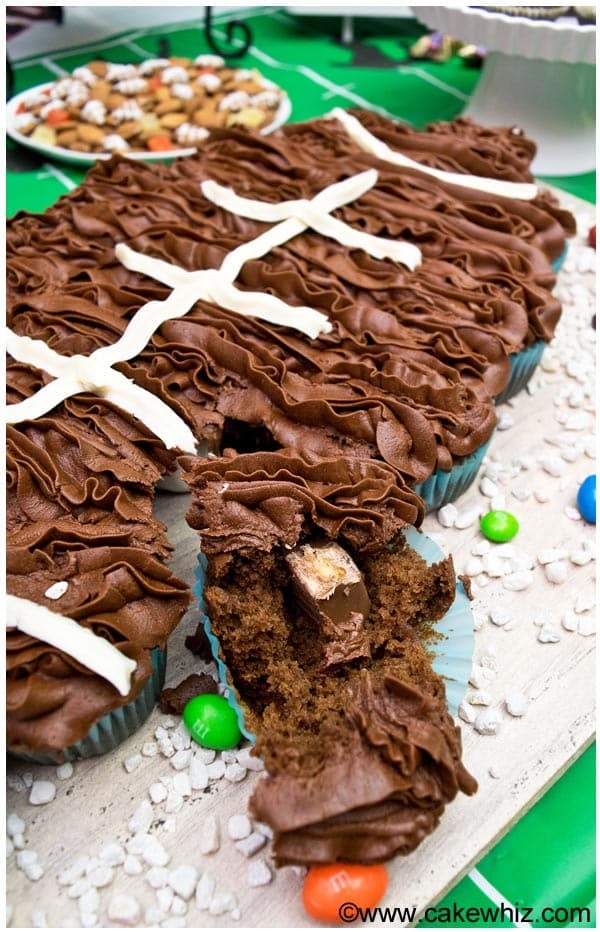 Just look at these gorgeous ruffles of chocolate frosting…
Mmmmmmmmmm!
Aren't these just PERFECT for a Super Bowl bash?! 😀
Speaking of Super Bowl, I dunno if you guys know this but Skittles, m&m's Starburst and Snickers are official sponsors of Super Bowl 50.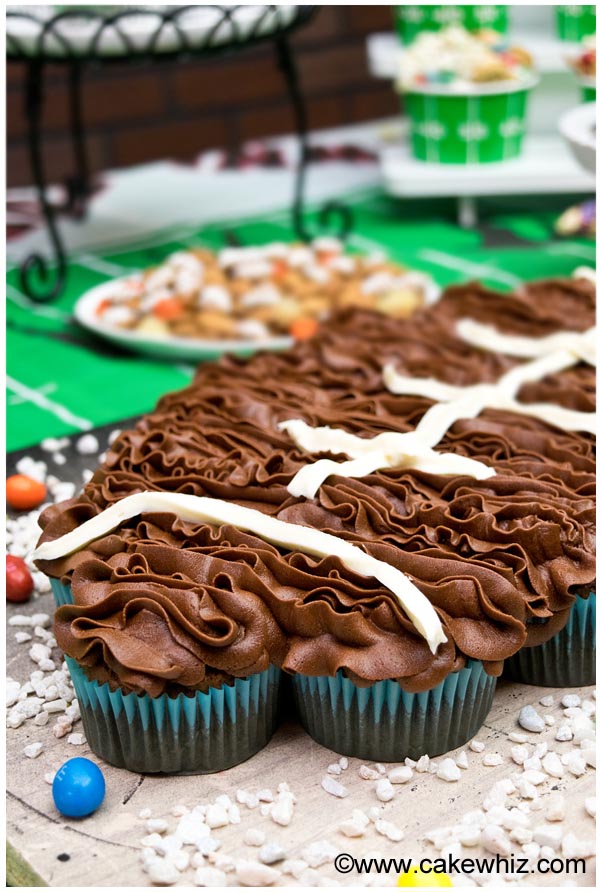 You are going to need a BIG tray or board to arrange your cupcakes.
If you want a smaller football cake, you can use MINI cupcakes.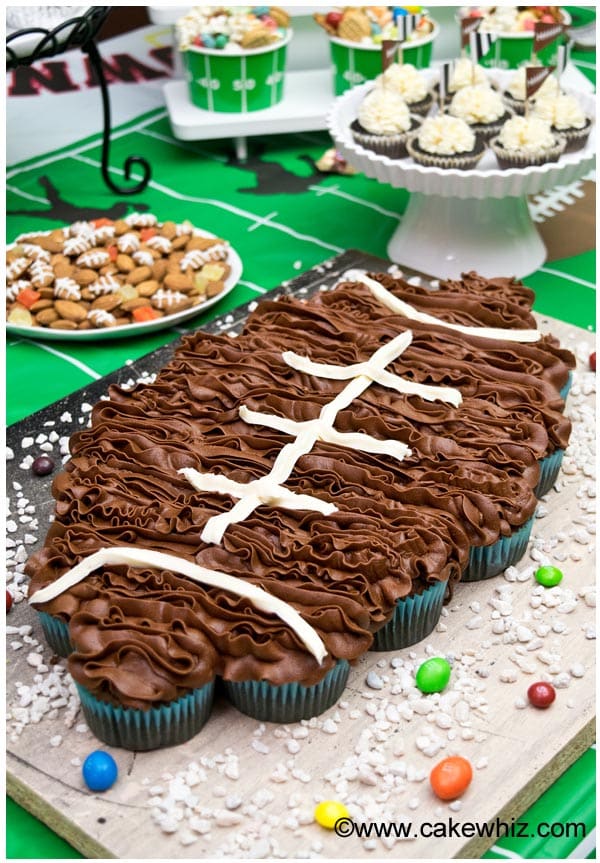 I did a video tutorial to show how YOU can make these Football Pull Apart Cupcakes.
You will need Tip# 1M and Tip# 366.
Just follow along and have FUN!
But, that's not all!
I went a little OVERBOARD with my party plans 😉
There was so much more DELICIOUSNESS happening at my football dessert table.
I used a long and rectangular table and covered it in a game day themed tablecloth.
I also arranged all the food items at varying heights… the taller stuff was at the back and the shorter stuff was near the front.
For the background, I used a RUSTIC backdrop coz it gave off a tough and manly vibe…hahah!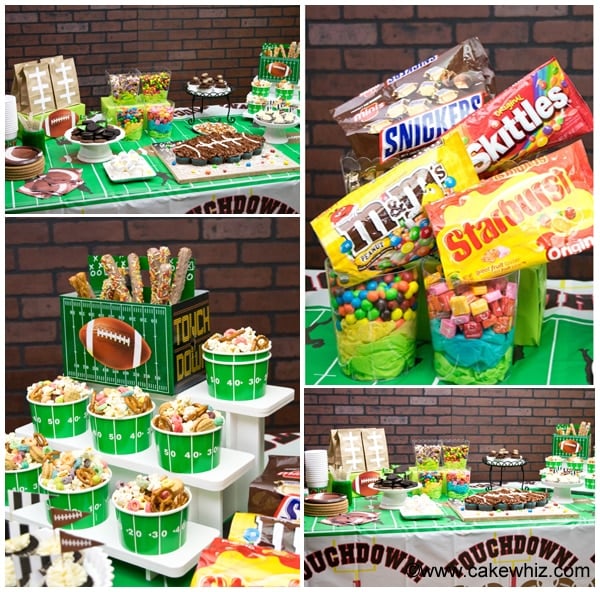 Let's take a closer look… Shall we?!
Now, this is what I like to call "Party Munch."
It's something I serve at all of my parties and it's always a HIT.
You just take one cup of DRY items that you like and mix them together in a big bowl.
For this party much, I threw in candies (m&m, Skittles, Starburst, Snickers), mini pretzels, colorful cereal, mini cookies and popcorn.
It was SWEET and SALTY and oh so CRUNCHY! 😀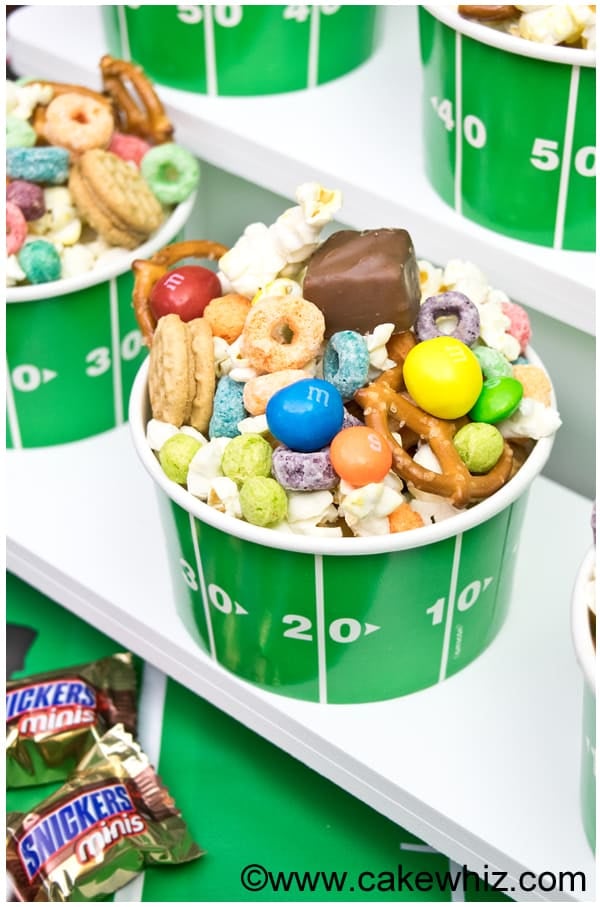 I thought these football marshmallows ended up looking really CUTE.
Just use edible markers to draw a football and goal post on fluffy marshmallows!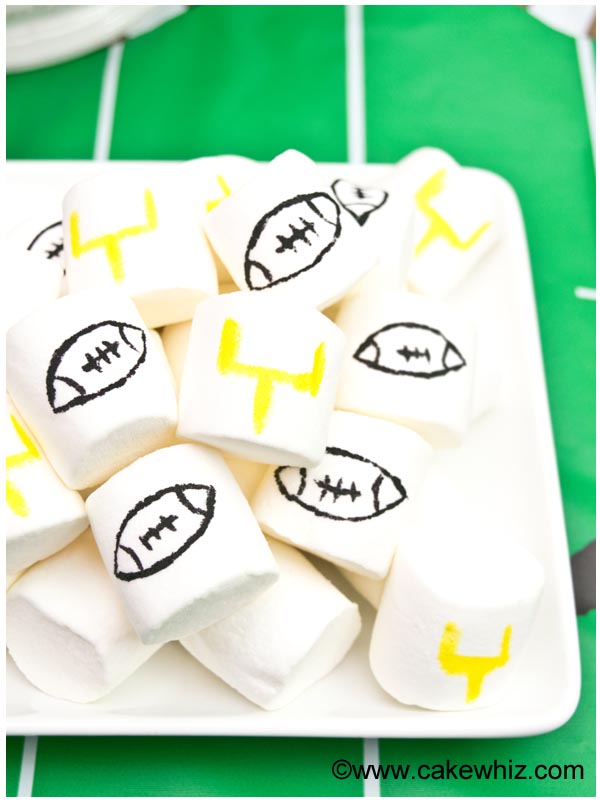 A party won't be complete without a platter of cookies and mini cupcakes.
Stick a few game themed toothpick FLAGS all over and you are set!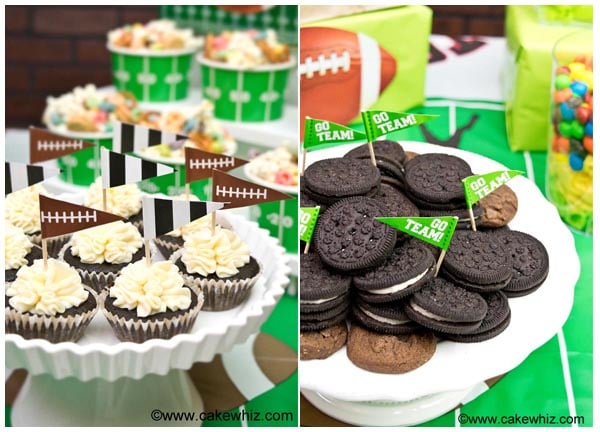 Candies are the best way to add a pop of COLOR on a dessert table.
Use clear containers and simply fill them up.
I like to fill the bottom of the containers with some colored tissue paper.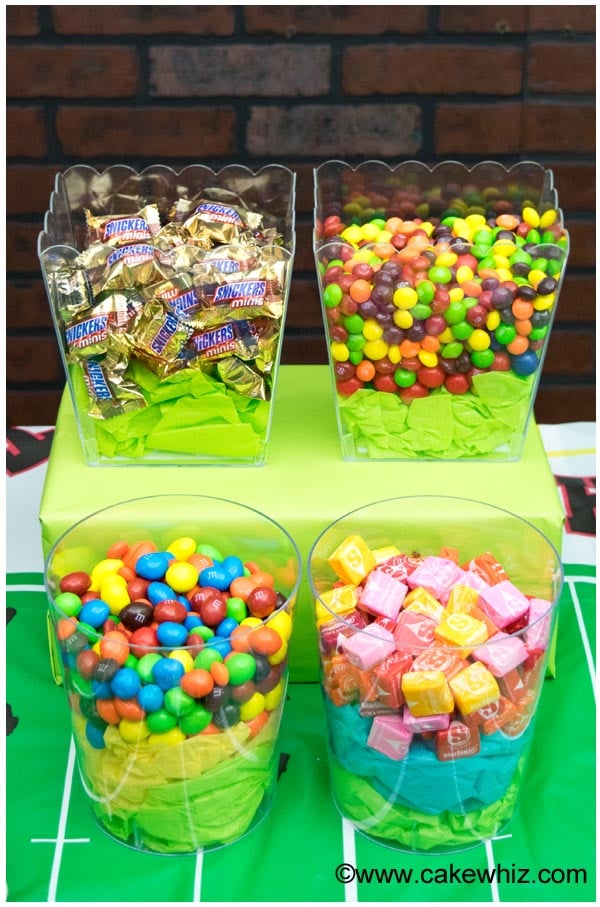 How about some football almonds?
I just used melted white chocolate to draw out the details on some almonds… EASY PEEZY!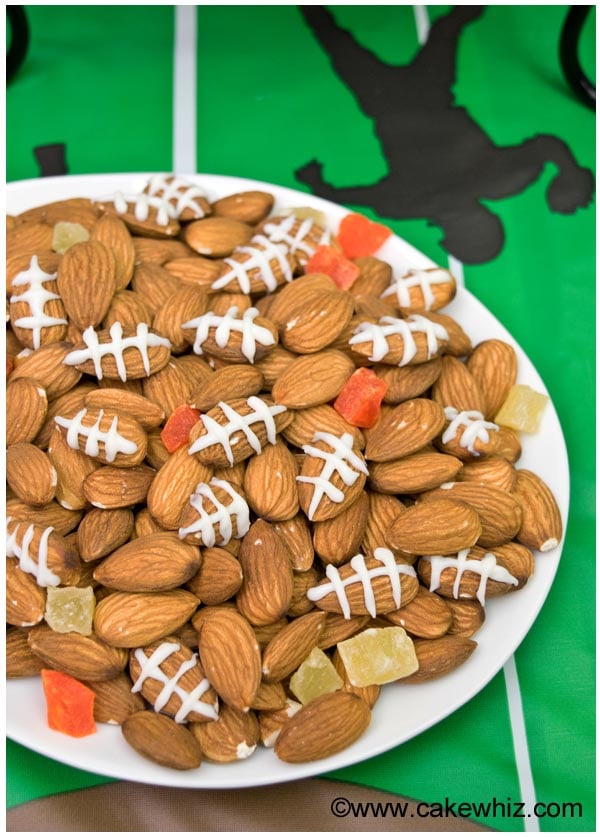 There's no decoration EASIER in this world than just using store bought cupcake toppers.
You can easily find these sugary football toppers at your local grocery store and they are so easy to use.
Just frost your cupcakes and stick them on top.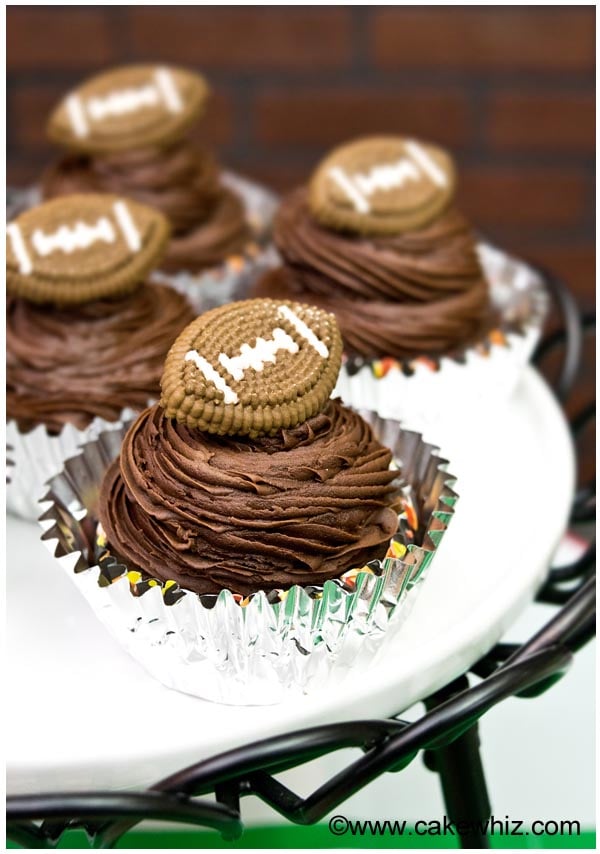 Every party needs goodie bags 😀
I got a little CRAFTY and cut out strips of white paper and glued them on brown paper lunch bags.
Now, they look like footballs! hehehe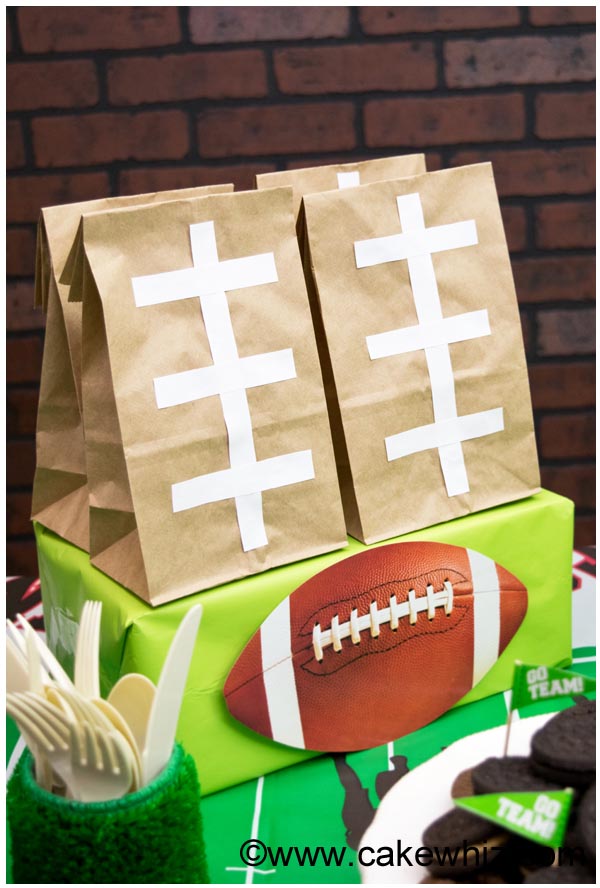 I put together this little Tic-Tac-Toe game that you can play with Starburst candies.
Just use a black edible marker to draw the X and O.
You guys are gonna have such a BLAST!
Click here to download the printable.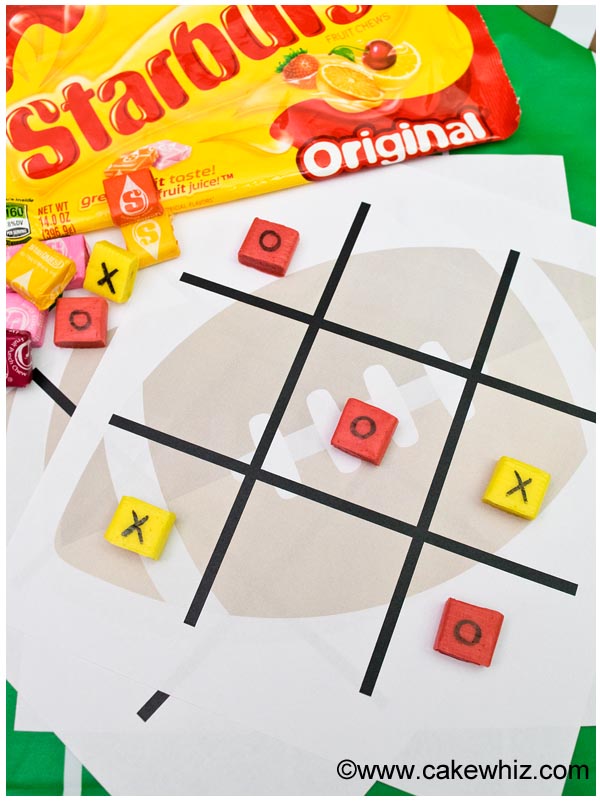 To make these chocolate banana cupcakes for your football pull apart cupcakes, you will need the following ingredients:
1 cup flour
3/4 cup sugar
1/3 cup cocoa powder
1/2 cup mashed ripe bananas (about 1 medium sized banana)
1/2 cup warm water (it must be warm and not boiling hot!)
1/4 cup whole milk
1/2 cup oil
1 egg
1 tsp vanilla extract
1 tsp baking powder
1/2 tsp baking soda
Decoration
Chocolate buttercream icing
Vanilla buttercream icing
Wilton Tip #1M
Wilton Tip #366
And here are the steps:
Step 1:
Add oil, egg, mashed bananas, warm water, milk, vanilla extract in a mixing bowl.
Mix everything until thoroughly combined.
Step 2:
In a separate bowl, whisk together the flour, sugar, baking powder, baking soda, cocoa powder.
Dump this dry mixture into the wet mixture and mix until just combined.
Step 3:
Pour the batter into cupcake liners and bake at 350 degrees for 18-20 minutes or until an inserted toothpick comes out clean.
Step 4:
Allow these cupcakes to cool down completely before decorating them in the shape of a football (video tutorial attached near the top of this post)
Well, that's all for today…I hope you make these football pull apart cupcakes.
Until next time, tata my lovelies!
*This shop has been compensated by Collective Bias, Inc. and its advertiser so that I can make these football pull apart cupcakes. As always, all opinions are mine.*