How to Decorate Cupcakes
Learn how to decorate cupcakes at home with this video tutorial. These easy cupcake decorating techniques require cupcakes, buttercream and decorating tips.
Today, we are talking about how to decorate cupcakes with buttercream frosting.
These techniques are SIMPLE and EASY and your cupcakes will look just as good as the ones you buy from bakeries.
Decorating cupcakes with buttercream doesn't have to be hard.
I agree that some designs are challenging but the designs I am sharing today DON'T require much experience .
In the videos below, you will see ideas of piping cupcakes for beginners.
I think the SWIRLS are great cupcake decorating ideas for kids.
You can also CHANGE the colors of the frosting to match the theme of your parties and these can become great cupcake designs for birthdays too.
You can use my chocolate buttercream frosting OR this classic American buttercream frosting.
I also have more frosting and filling recipes that you can check out in my archives.
Here are my FAVORITE cupcake recipes to use:
Two of the most COMMON requests I get from my lovely readers are:
"How do you make swirls on cupcakes?" AND "How do you make flowers on cupcakes?"
I will be answering both those questions today in these cupcake decorating VIDEO tutorials.
This is what a cupcake that's frosted with Tip 4B (big french tip) looks like…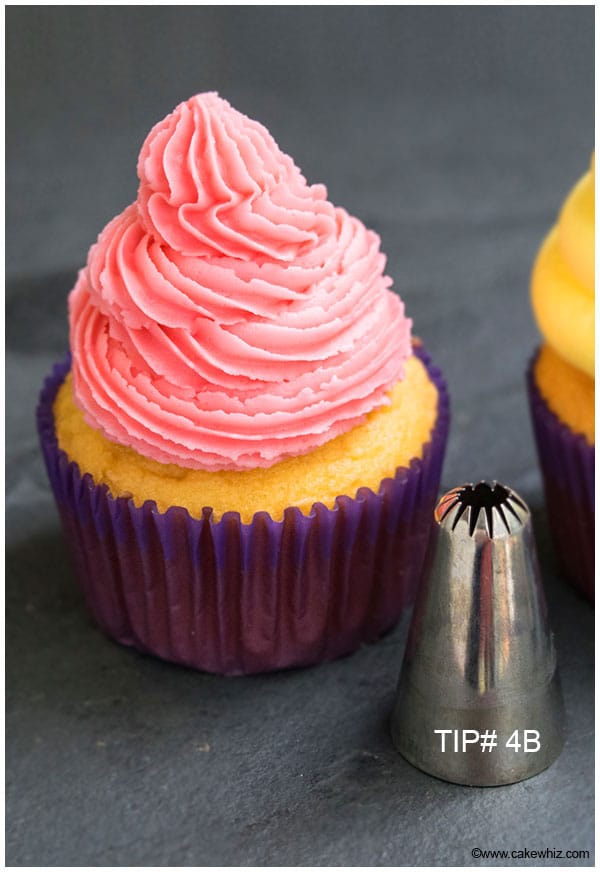 This is what a cupcake that's frosted with Tip 1M (big star tip) looks like…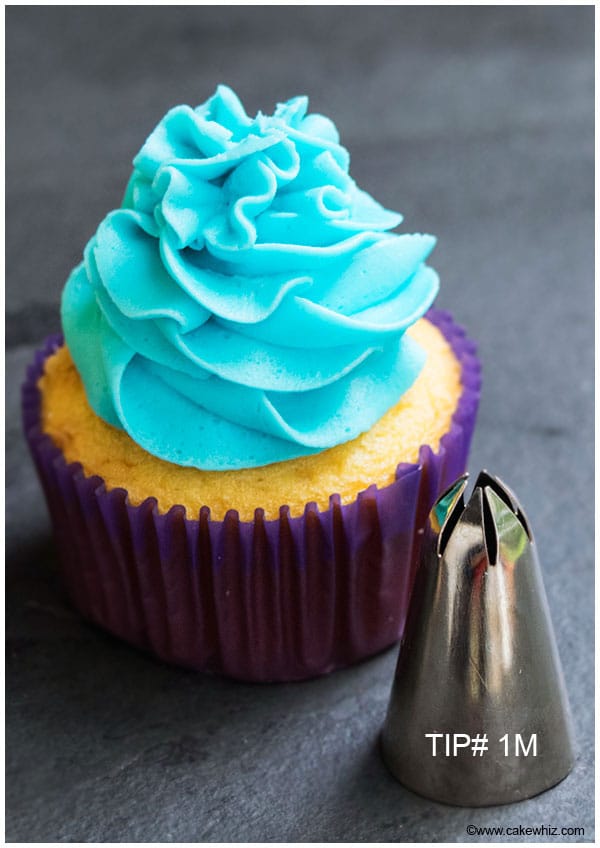 This is what a cupcake that's frosted with Tip 1A (big round tip) looks like…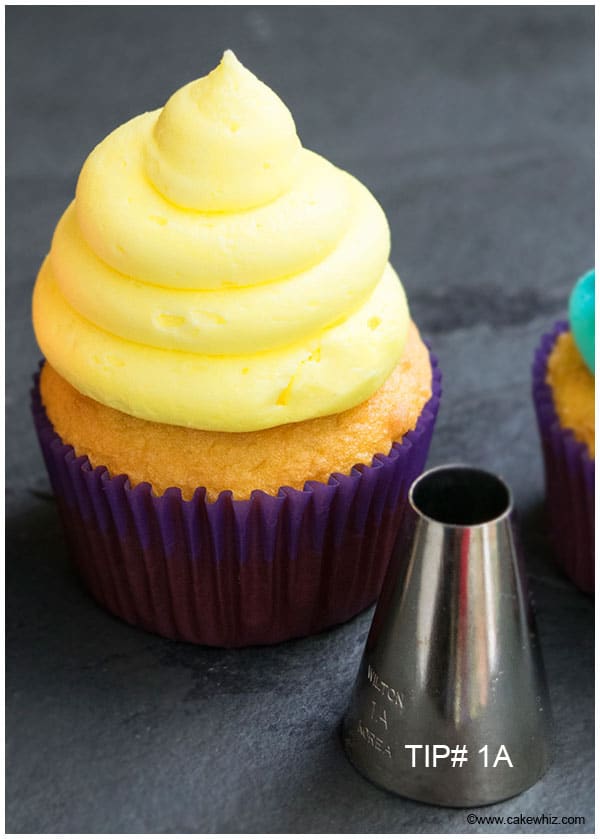 Most of these flower cupcakes are made with just the leaf tip.
That's all… just 1 tip (Tip 104)!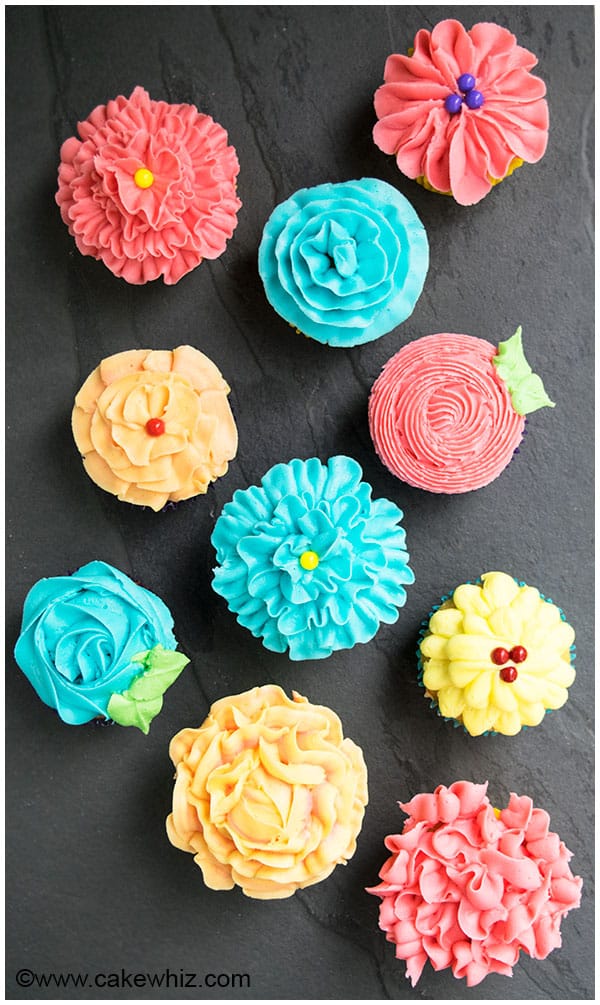 This one is my favorite and it's also made with Tip 104.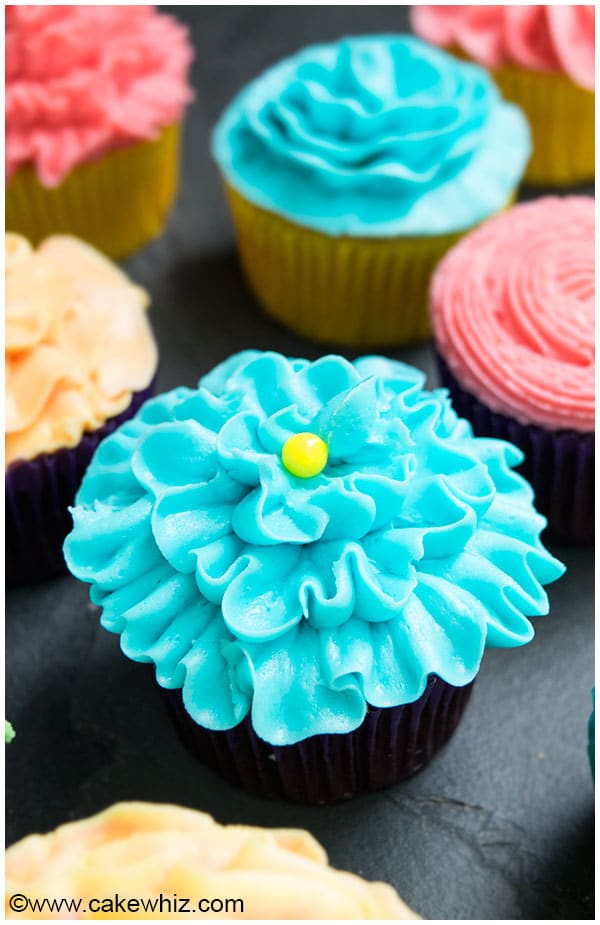 How to decorate cupcakes with canned frosting? With Ziploc bag? With piping bag?
My favorite method and the professional method is to decorate cupcakes with a piping bag, using homemade frosting. Canned frosting is good for spreading on cupcakes with a spatula because the consistency is so soft. I would not recommend it for making swirls or flowers on cupcakes. Some people also like to use ziploc bags but I highly recommend the piping bags. They are stronger and easier to hold and piping is much smoother with them. You can get disposable ones and just throw them out after decorating.
What do you need to use to decorate cupcakes?
Here are the supplies you need for decorating easy cupcakes:
Frosting
Gel coloring
Piping bags
Piping tips
Spatula
Can I decorate cupcakes the night before?
Yes, you can do this. Make sure to keep the decorated cupcakes in a box or cupcake container in the fridge overnight.
How to decorate cupcakes likes flowers?
You would need frosting and some decorating tips. My favorite one is the leaf tip (Tip 104). You can use it to make various designs of flowers. See the video below.
Here are some TIPS for decorating cupcakes for beginners:
Frosting consistency should be soft but firm. It should NOT be runny or else your swirls won't hold their shape.
Make sure your cupcakes have completely COOLED down before you start piping.
Decorated cupcakes should be STORED in a box in the fridge.
When I first started cupcake decorating, I would PRACTICE on sheets of wax paper and I highly recommend that.
Use GEL coloring to color the frosting since liquid coloring can make the icing too thin.
It's always NICE to have a handy guide on how to decorate cupcakes.
So, I took this picture with different cupcake swirls and their corresponding decorating tips.

And here's a handy guide showing you all the buttercream flowers you can make with Tip 104.
Well, that's all for today.
If you liked this video tutorial on how to decorate cupcakes, you may like some of these other baking and cake decorating tips too…
How to make homemade cake flour
How to make homemade confetti sprinkles
Until next time, tata my lovelies!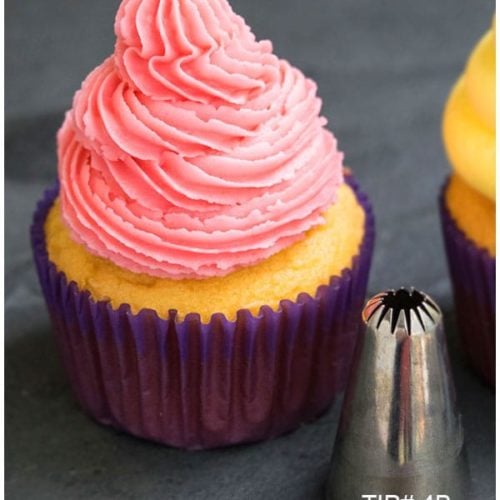 How to Decorate Cupcakes