Best Birthday Cake {Easy and Fun}
The best, easy birthday cake recipe, homemade with simple ingredients. Two chocolate cakes are layered with chocolate frosting and decorated with candies. Also known as "chocolate birthday cake."
Today's recipe is perfect for kids but will also wake up the inner child in any adult, just like these these Birthday Cookies and Birthday Cupcakes.
It is believed that the first birthday cake originated in Germany in the middle ages. It was made for children and would call the celebration "Kinderfest." A single birthday candle was lit and placed on the center of the cake to symbolize the "light of life." In the 17th century, cakes began to become more decorative and expensive, meaning that only the higher class were able to afford it.
Based on my research, another point of origin comes from the Ancient Greeks, who made them as an offering to the goddess of the moon, Artemis. The smoke from candle represents the wishes and prayers, raising up to the heavens for Gods to receive them.
Today, these cakes have become an affordable mainstream tradition to celebrate a person's special day of birth.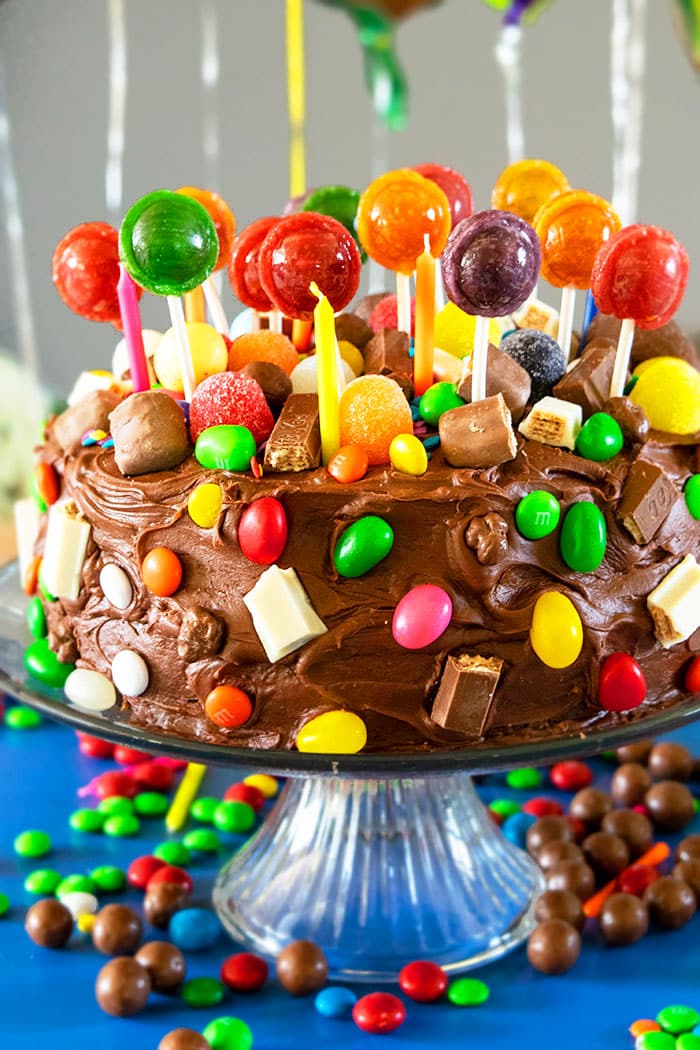 How to make birthday cake recipe?
Mix wet ingredients– In a large mixing bowl, add eggs, oil, milk, and vanilla extract until it becomes smooth
Mix dry ingredients– In another mixing bowl, whisk together flour, sugar, cocoa powder, baking powder and baking soda.
Combine wet and dry ingredients– Dump the dry ingredients in with the wet ingredients, along with hot water, and mix until fully combined
Pour into pans– Spread batter in two round cake pans. Make sure they are greased and floured.
Bake-At 350 degrees F for 30-35 minutes.
Cool– Allow the cakes to cool down completely.
Prepare frosting– While the cakes are cooling down, prepare chocolate frosting.
Assemble- Place one cake onto the cake stand, spread frosting on top, place other cake on top, gently press to secure the two cakes together. Frost the entire cake.
Make rustic pattern– Use a spoon to make an abstract pattern all over the cake.
Decorate– Stick candies all over the cake and push lollipops and candles on top of the cake. Enjoy!!
What is the best birthday cake flavor?
Funfetti Cake: Also called Confetti Cake. It is a yellow or white cake with rainbow sprinkles in the batter. It's fun and festive and really pleasing to look at, once sliced. It's typically paired with vanilla frosting.
Chocolate Cake: This is one of the most popular cake flavors out there, especially for kids and "chocoholics." Pair it with chocolate frosting to really take it over the top!
Yellow Cake: This is basically a Vanilla Cake Recipe and is probably the most classic and simple cake flavors out there. It's rich, sweet with a lovely yellow color. Pair it with chocolate frosting or vanilla frosting.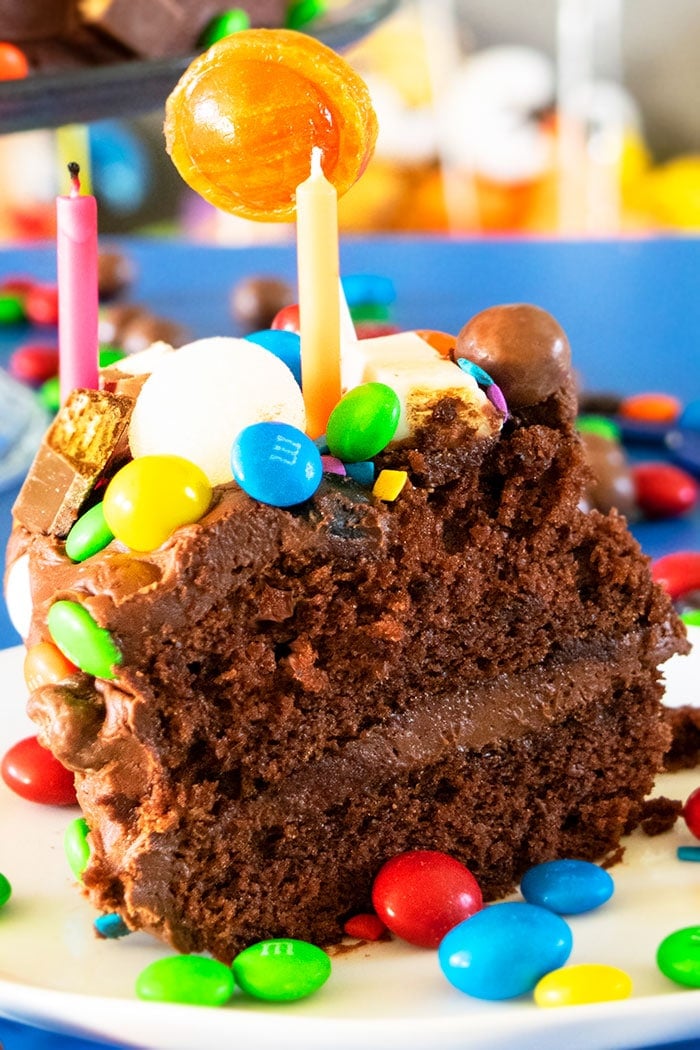 What can you have instead of a happy birthday cake?
Try a fun spin on a classic cake with some of these unique ideas:
Easy Cake Tower– After baking a sheet cake, cut into square slices and stack them in a rounded pyramid formation. Decorate any way you like.
Stacked Cookie Cake Tower– Stack large cookies between layers of Nutella or frosting. Make it as tall as you want!
Tiered Cookies and Cream Cake (Oreo Birthday Cake)– This is a fun cake that's made entirely of different flavored Oreos, arranged into a tower and topped with different candies.
Easy Waffle Cake– Want cake for breakfast? Then, make this! Stack waffles between layers of peanut butter and fresh fruits.
Cake Ball Cake– Make cake balls and use them to decorate another round cake.
Ice Cream Cake– Two layers of chocolate cake are sandwiched between a thick layer of ice cream. Then, it's covered in whipped cream and decorated with sprinkles. This is great for Summer parties!
How to make moist cake?
Oil, butter, milk and eggs are the main ingredients that add moisture to cakes. Make sure eggs are large and you are using whole milk. The higher the fat content in ingredients, the softer and moister the cake. That's why butter is usually a preferred ingredient in cakes and cupcakes. They have a higher fat content than oil.
Don't over bake because that will reduce moisture and make a cake dry.
Why is my cake dry?
The most common reason is the amount of flour added. Too much flour may have been added and inaccurately measured. When measuring flour, slide the excess flour off of the measuring cup with a spatula before adding it to the bowl.
Another possibility is that the cake was over-baked.
Why is my cake still raw in the middle?
There was perhaps too much liquid in the batter or the cake was not baked long enough. There is also a possibility that the oven temperature is not correct and high enough.
What are some cake frosting and filling ideas?
For traditional frostings, try this American Buttercream Frosting or Cream Cheese Frosting or Chocolate Buttercream Frosting or Peanut Butter Frosting.
If you are fond of more fruity and refreshing Summer frostings, try Orange Frosting or Lemon Frosting, or Maraschino Cherry Frosting or Strawberry Buttercream Frosting.
For fillings, try jams, preserves and spreads such as Homemade Strawberry Jam or Pumpkin Butter or Apple Butter or even peanut butter, Biscoff cookie butter and Nutella and of course, Lemon Curd.
Pie fillings also make a delicious filling. Try this Blueberry Pie Filling or Strawberry Pie Filling.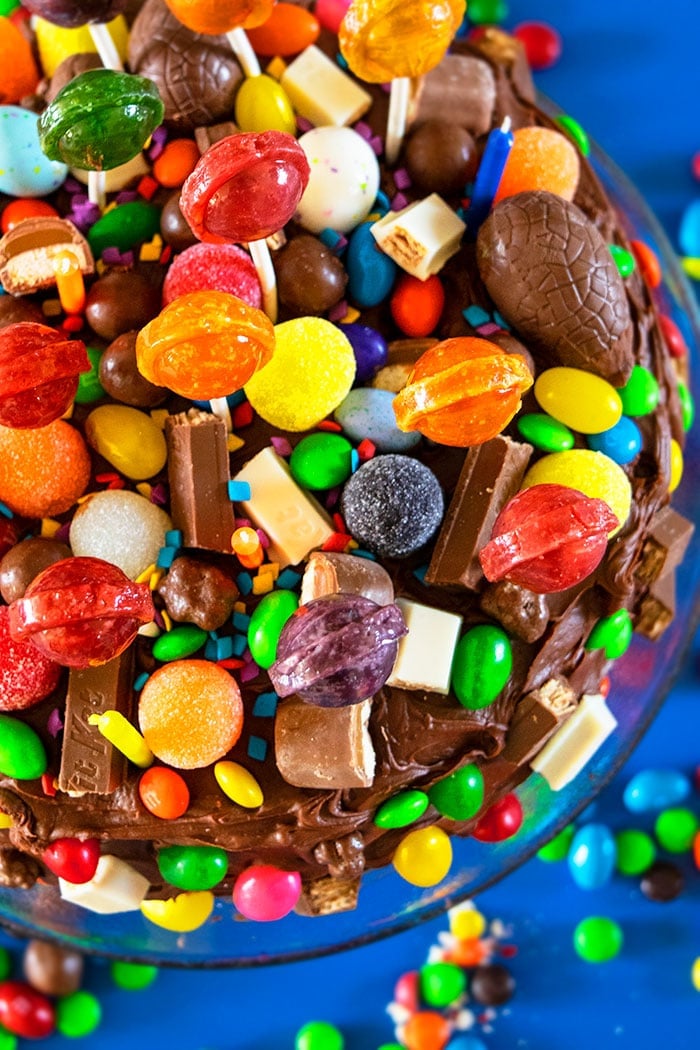 How to decorate birthday cake?
The choices are endless when it comes to decorating cakes. People love to put their own spin and typically match it to the theme of the party. They can be simple designs to completely uniquely creative designs that blow you away. Check out these Easy Cake Decorating Ideas (birthday cake ideas) for inspiration for kids (boys and girls) and even adults (men and women).
Frosting: This is the most common way to decorate a cake. There are many different piping designs that you can choose from like stars, swirls, ruffles, circles and so many more. Use gel colors to tint icing and create colorful patterns and designs. Use Russian piping tips, which are super popular these days. Check out this Russian Piping Tips Tutorial.
Sprinkles: These give cakes a pop of color and there are so many sizes, shapes and colors to choose from. There are edible pearls, glitter, sanding sugar, nonpareils, jimmies and so much more.
Small Toys and Figures: Buy any toy figure, wash it and stick it on the cake. Buy 2-3 inch ones to avoid them from becoming a choking hazard.
Candies and Cereal– There are so many flavors, shapes, sizes and colors to choose from. You can also stock up on unique seasonal candies and arrange them in fun ways.
Fresh Fruits: Arrange fresh fruits on an iced cake. Use strawberries, blueberries, blackberries, raspberries, kiwi, oranges, grapes, peaches, apricots, pineapples, cherries. If you are using sliced fruits, make sure to pat them dry first on paper towels to prevent their juices from leaking all over the cake.
Chopped Nuts: Roughly chop up any nuts you'd like and sprinkle them on the cake to give them a rustic look. Use cashews, pecans, macadamia nuts, almonds, walnuts, pistachios.
Sugar Decorations: These are easy to find online or at the baking aisle of most grocery stores. There are pearls, letters, cartoon characters, edible flowers, and piping gels.
Candles: There are several varieties to choose from. There are letter ones, number ones and they also come in so many colors.
Fondant and gum paste– You can make Homemade Marshmallow Fondant or buy it from stores. You can color it in any shade with gel coloring and use cutters and cake decorating tools to make fun shapes and edible figures. Let them dry and then stick them on cupcakes. Try these easy Fondant Monogram Toppers or these Fondant Pansies or Fondant Daisies. You can also Decorate the cake with Marbled Fondant, Fondant Buttons, Fondant Bows.
Wafer paper– You can cut it in any shape with scissors and color it with edible markers or edible petal dust. Check out my tutorial for Easy Wafer Paper Flowers. They are stunning and ridiculously easy and perfect for beginners.
Chocolate– You can use white chocolate, milk chocolate, semisweet and even dark chocolate. Use them in the form of chocolate chips or chocolate shavings. Melt it and use it as a drizzle on frosted cakes. Pipe cool designs with melted chocolate on a sheet of wax paper and when it sets, remove them and stick them on your cake. You can even tint melted white chocolate with oil-based food coloring or just use Candy Melts, if you are short on time.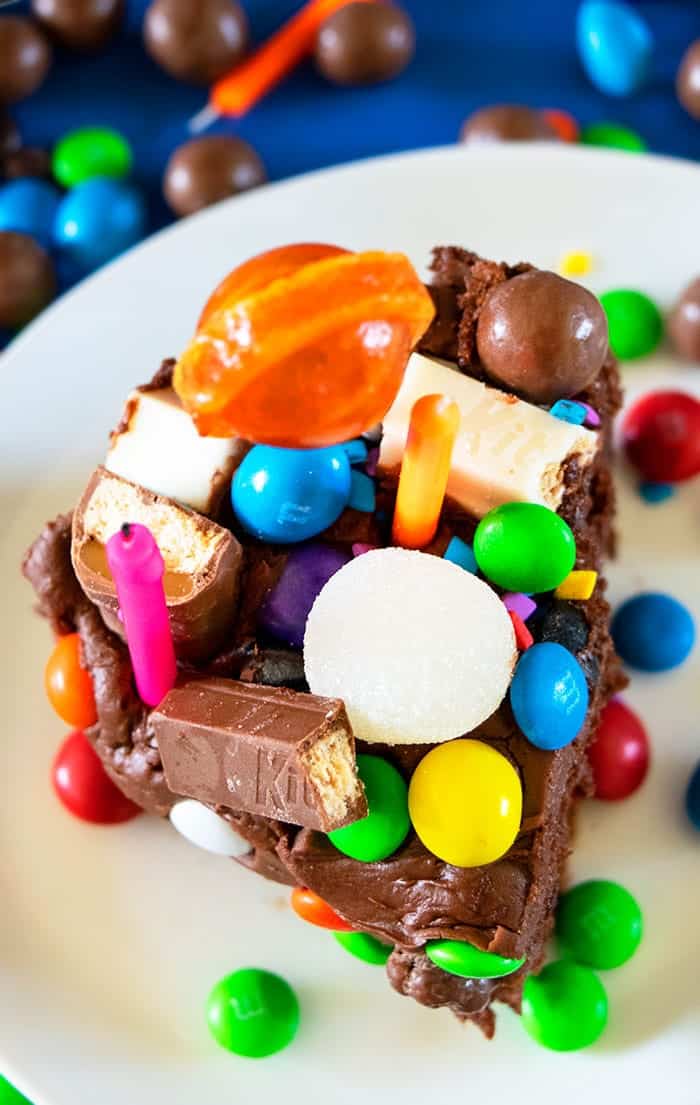 Tips and Techniques
Make ahead instructions- This cake can be made a day in advance and stored in a cake box in the fridge. Remove it from refrigerator 30 minutes before you are planning on serving.
Make a taller cake- Double this recipe and add more cake layers.
Can you freeze cake? Yes, unfrosted cakes can be frozen for up to 1 month. Wrap each cake tightly in plastic saran wrap to prevent them from getting frostbite.
Can I make cupcakes with this cake recipe? Yes, absolutely. This recipe will make 24 cupcakes and the baking time will be shorter between 15-20 minutes.
Don't frost warm cakes– They must cool down completely before you start stacking and frosting them or else the icing will melt and make a sticky mess.
Don't replace oil with butter– The oil gives this cake its fluffy texture and the butter made it denser.
Use hot water– It's not regular room temperature water. This hot water allows all the ingredients to come together smoothly.
Batter will be thin- Please don't extra flour to thicken it because that will alter the flavor and texture.
Grease and flour cake pans- This is very important because it prevents the cakes from sticking to the pan and makes their removal easy.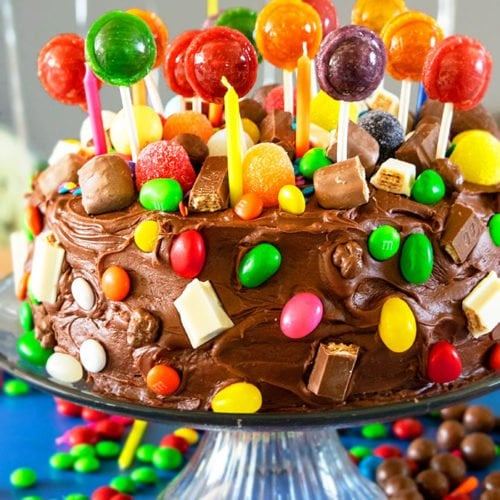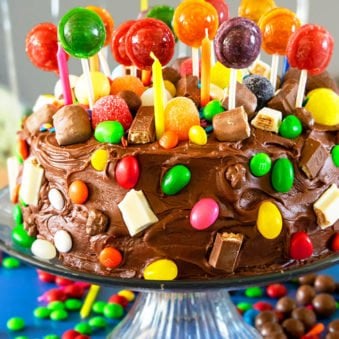 Easy Chocolate Birthday Cake
The best, easy birthday cake recipe, homemade with simple ingredients. Two chocolate cakes are layered with chocolate frosting and decorated with candies.
Yield: Slices
Ingredients
2 Eggs, Large
1/2 cup Oil
1 cup Milk, Whole or 2%
2 tsp Vanilla extract
2 cups All-purpose flour
2 cups Granulated sugar
3/4 cup Cocoa powder
2 tsp Baking powder
1.5 tsp Baking soda
1 cup Water, Boiling hot
2-3 cups Various candies, Such as lollipops, M&M candies, Kit Kats, Twix, Rolo, Sprinkles, Chocolate chips, gum drops e.t.c.
5 cups Chocolate ganache frosting, Double this recipe
Instructions
In a large mixing bowl, add eggs, oil, milk, vanilla extract and mix until smooth.

In another mixing bowl, whisk together flour, sugar, cocoa powder, baking powder, baking soda.

Dump this dry mixture into the wet mixture and mix until just combined.

Pour hot water in the batter and mix until smooth.

Spread batter in 2 greased and floured round cake pans (Dimensions: 9×2).

Bake at 350 degrees F for 30-35 minutes or until an inserted toothpick in the center comes out clean.

Allow the cake to cool down completely.

While they are cooling, prepare the chocolate frosting.

Place one cake on a cake stand.

Spread frosting on top of the cake with a spatula

Place the other cake on top of the frosting and gently press it to secure the two cakes together.

Frost the entire cake in icing.

Use a spoon to create a rustic pattern all over the cake.

Stick candies all over the cake and push lollipops on top of the cake. Enjoy!
Notes
Read all my tips above.
Leftovers can be stored in a sealed container in the fridge for up to 3 days. 
Nutrition
Calories: 699kcal, Carbohydrates: 113g, Protein: 5g, Fat: 28g, Saturated Fat: 6g, Cholesterol: 29mg, Sodium: 352mg, Potassium: 409mg, Fiber: 3g, Sugar: 88g, Vitamin A: 75IU, Calcium: 81mg, Iron: 3.3mg
Until next time, tata my lovelies!