Lemon Frosting (Lemon Buttercream)
The best quick and easy lemon frosting recipe, homemade with simple ingredients. Loaded with tangy cream cheese, lemon juice, zest, extract. Soft, fluffy, creamy! Perfect for summer cakes, cupcakes, cookies. It's firm, stable, holds its shape and perfect for cake decorating.
I love frosting and have an archive of Frosting Recipes for all occasions and seasons. Today, I am adding this zesty icing to that growing collection. It can be used on cakes, cupcakes and cookies. Also, please note that this is NOT a Lemon Glaze, which is typically used for drizzling on top of bundt cakes or pound cakes.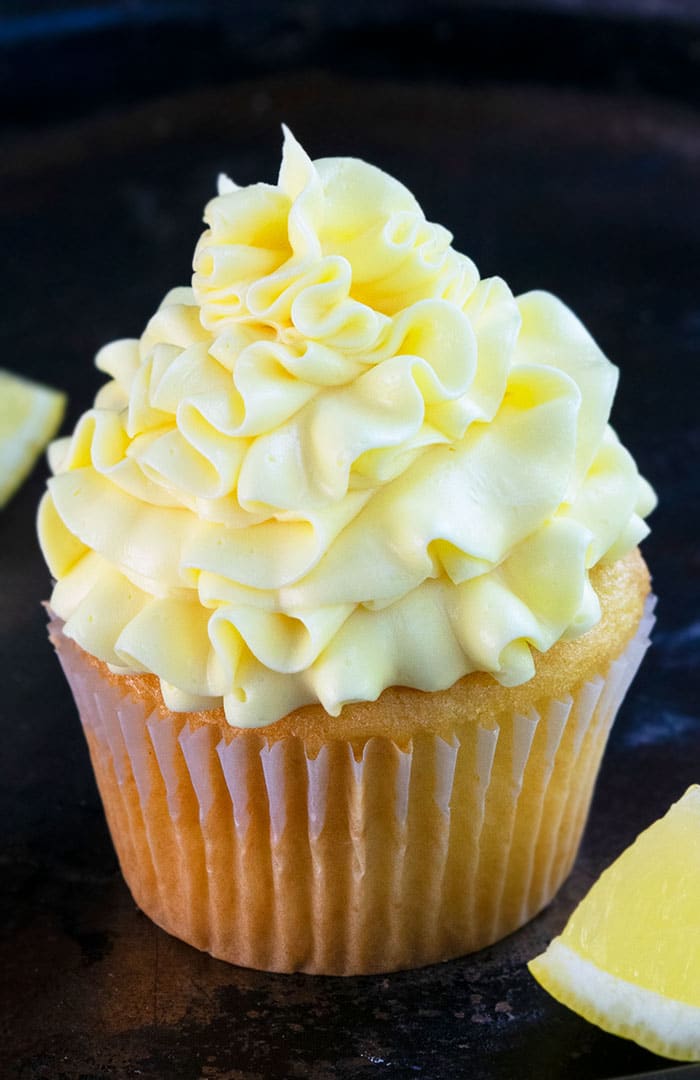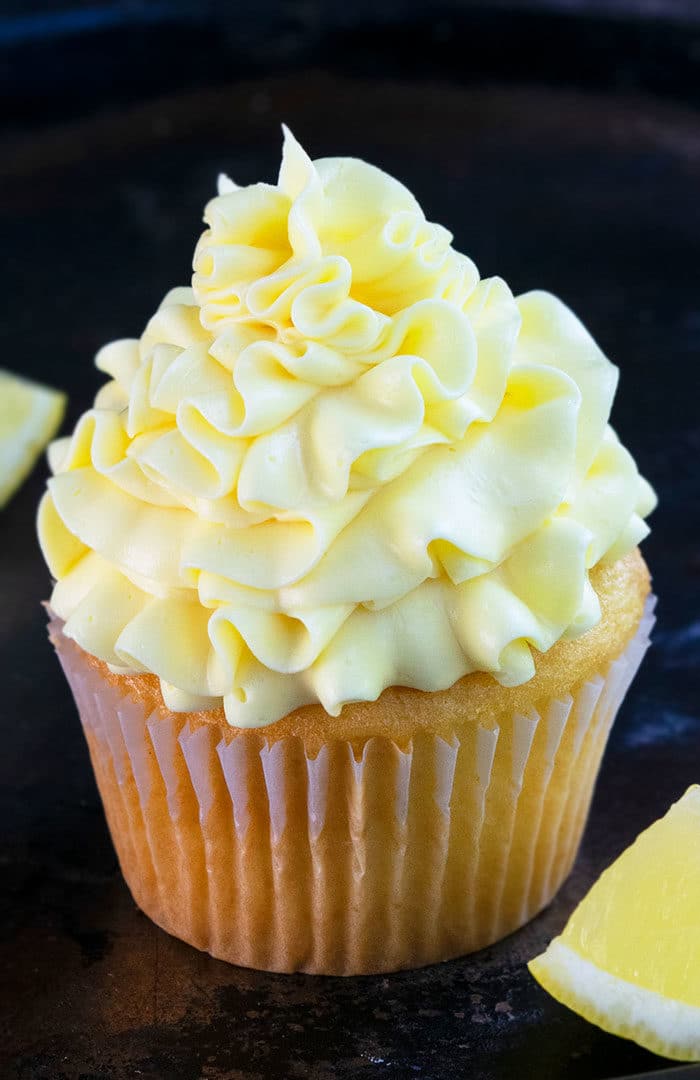 How to make easy lemon frosting recipe from scratch?
Mix ingredients– This includes cream cheese, butter, lemon juice, zest and extract.
Add powdered sugar- Do this gradually while continuing to mix.
Add yellow color– Mix until evenly distributed.
Key ingredients
Butter– This should be unsalted and at room temperature.
Cream cheese– This adds creaminess and tanginess.
Lemon extract, juice and zest– This intensified the citrus flavor.
Powdered sugar- This adds sweetness and also thickens the icing.
Food coloring- This adds a subtle yellow shade to make the icing pretty.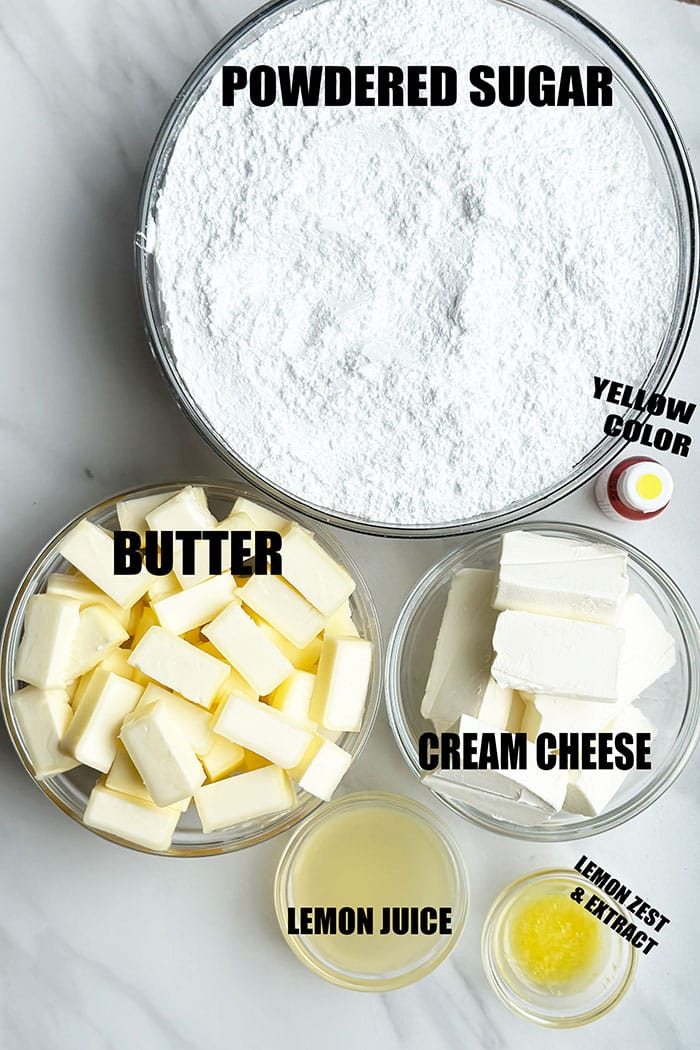 Can I add lemon juice to store bought frosting?
Yes, you can add some lemon extract, zest and juice to store bough vanilla icing. However, the juice will thin out the frosting and you will need to mix in some more powdered sugar to thicken it.
Does lemon icing need to be refrigerated?
Yes, it needs to be refrigerated because it's made with cream cheese and that can go bad and spoil, if it sits out at room temperature for too long.
What flavors go well with lemon cream cheese frosting?
Anything that's fruit-based typically compliments lemon very well. Berries, such blackberries, strawberries, raspberries are phenomenal and very popular. Other citrus fruits like oranges, limes, grapefruit also harmonize wonderfully with lemon. Mangoes and peaches also have a subtle tanginess that work well with lemon flavor. You can also use spices and herbs like ginger, vanilla, cardamom, lavender, mint to create a more exotic flavor combination.
Pair with these cakes: Cherry Cake or Yellow Sheet Cake. For cupcakes, pair with Raspberry Cupcakes or Lemon Cupcakes.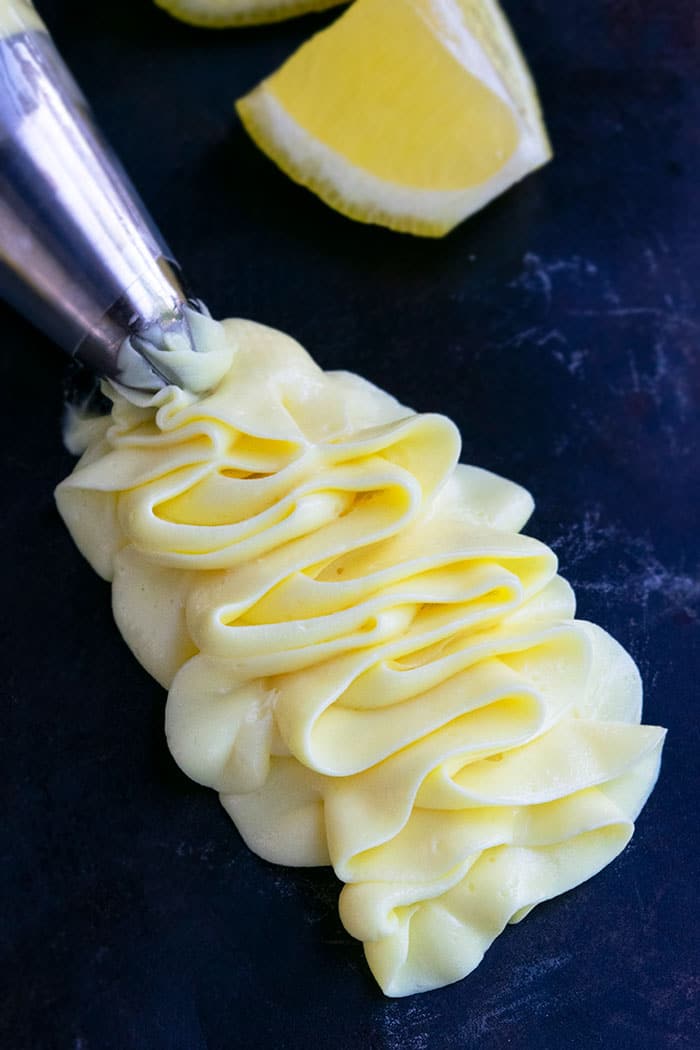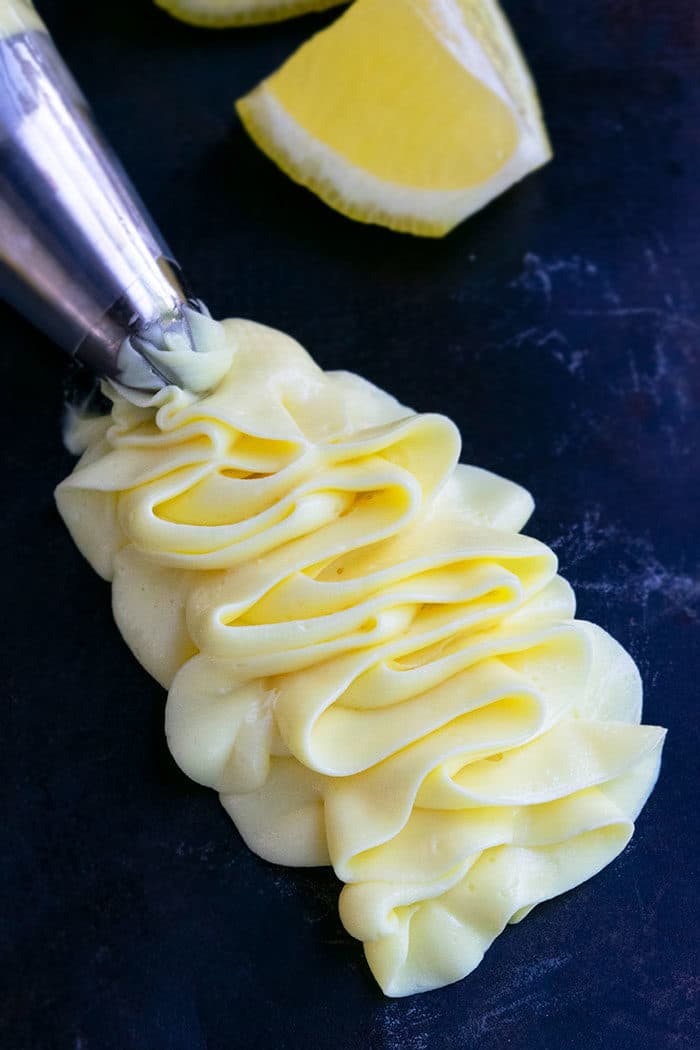 How much frosting do I need for cakes and cupcakes?
This will vary greatly on how you are icing them. If you are making tall swirls on cupcakes, you will be able to frost about 15 cupcakes with this recipe. If you are simply spreading frosting on cupcakes with a spatula, this recipe is sufficient for 24 cupcakes. With regards to cakes, if you are doing a thin filling and thin coating, you can easily ice an 8 inch round cake with two layers but if you want a thicker coating and filling, I suggest doubling this recipe (You will end up with some leftovers).
Tips and Techniques for lemon buttercream icing
Use full fat ingredients- Because it makes this frosting very rich and creamy. Do not use fat free or low fat ingredients!
Use unsalted butter– Because this prevents the frosting from becoming too salty.
Can I use shortening or margarine? I don't recommend margarine because it doesn't taste that great but you can a combination of half shortening and half butter. Shortening helps make the frosting more stable, especially at warmer temperatures.
Use gel coloring- I recommend using gel instead of liquid food coloring because it's thicker and more concentrated and won't affect the consistency of the icing. Too much liquid food coloring can thin out the frosting and you would need to thicken it with more powdered sugar. You can also omit the color altogether. It will simply be a white icing with lemon flavor.
Do I need to use lemon extract? I highly recommend it because it really enhances the overall zesty flavor.
Let the frosting rest– Even though you can use the frosting as soon as it's prepared, I suggest letting it rest in the fridge overnight because the flavor develops and deepens over time.
Icing consistency– If frosting is too thin, mix in more powdered sugar to thicken it. If icing is too thick, add more lemon juice to thin it out to your desired consistency.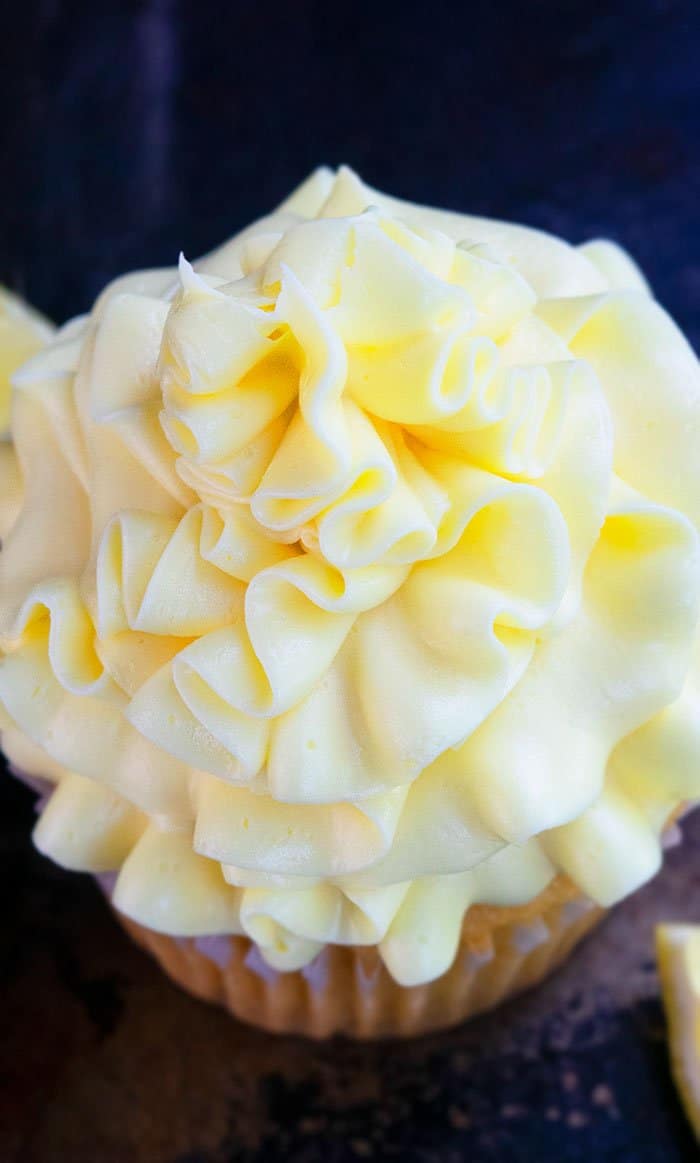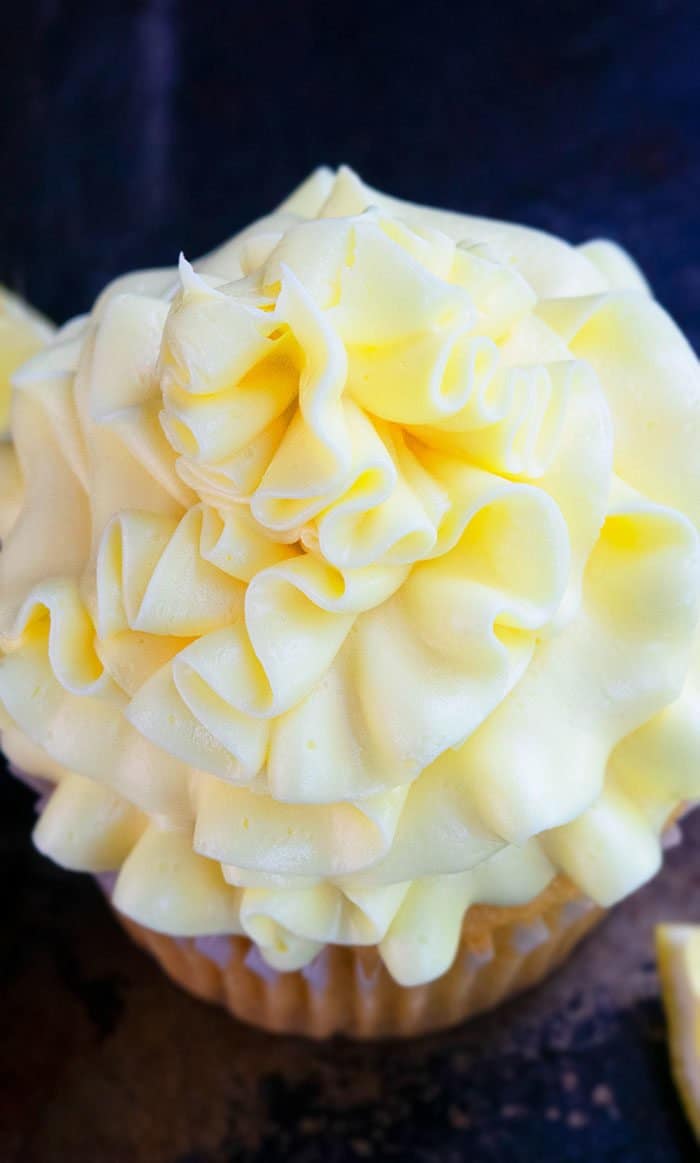 Storage
Refrigerate– Store in a sealed container for up to 1 week.
Freeze– Store in a sealed container for up to 1 month. When you are ready to use it, thaw to room temperature and whip again.
More Lemon Desserts
This is probably one of the most popular Summer flavor. Here are numerous desserts that are all very popular with family and friends who are major lemon lovers!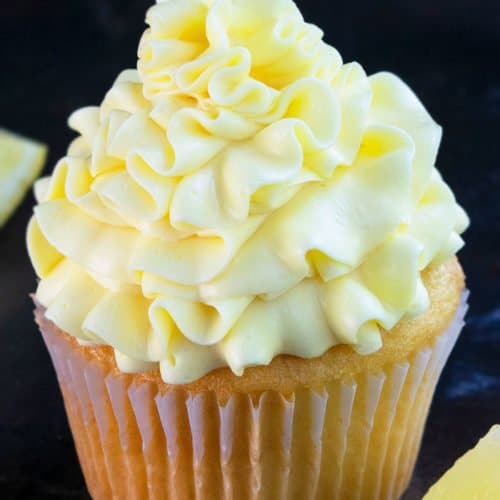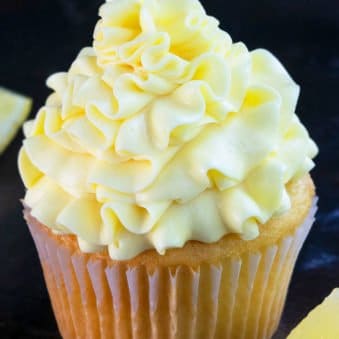 Lemon Frosting Recipe
Quick and easy lemon frosting recipe, homemade with simple ingredients. Loaded with tangy cream cheese, lemon juice, zest, extract. Soft, fluffy, creamy!
Yield: cups
Instructions
In a large mixing bowl, mix together butter and cream cheese until smooth.

Add lemon extract, lemon juice, lemon zest and mix until combined.

Gradually mix in powdered sugar (1/2 cup at a time) until frosting is smooth and creamy.

Add some yellow gel coloring (quantity is based on how intense you want the yellow shade) and mix until color is evenly distributed.

Cover bowl and chill in the fridge for 20-30 minutes to make it slightly firmer, which makes easier to pipe perfect swirls. This is an optional step but I do this with most of my frostings. Enjoy!
Notes
Read all my tips above.
Leftovers can be stored in a sealed container in the fridge for up to 5 days. 
Nutrition
Calories: 1056kcal, Carbohydrates: 201g, Fat: 30g, Saturated Fat: 19g, Cholesterol: 81mg, Sodium: 275mg, Potassium: 20mg, Sugar: 196g, Vitamin A: 945IU, Vitamin C: 10.5mg, Calcium: 9mg, Iron: 0.1mg