Chocolate Chip Cookie Cake (With Cake Mix)
The best quick and easy chocolate chip cookie cake recipe, homemade with simple ingredients. Rich, soft, chewy and starts off with a yellow cake mix. Decorated with chocolate frosting and sprinkles.
This homemade version is better than any cake you will get at the grocery store bakery aisle! They are decorated for every Holiday or occasion. It really is one of the easiest cakes you will ever make, just like this Cookies and Cream Cake (Oreo Cake). Plus, it's fun to make for kids birthday parties.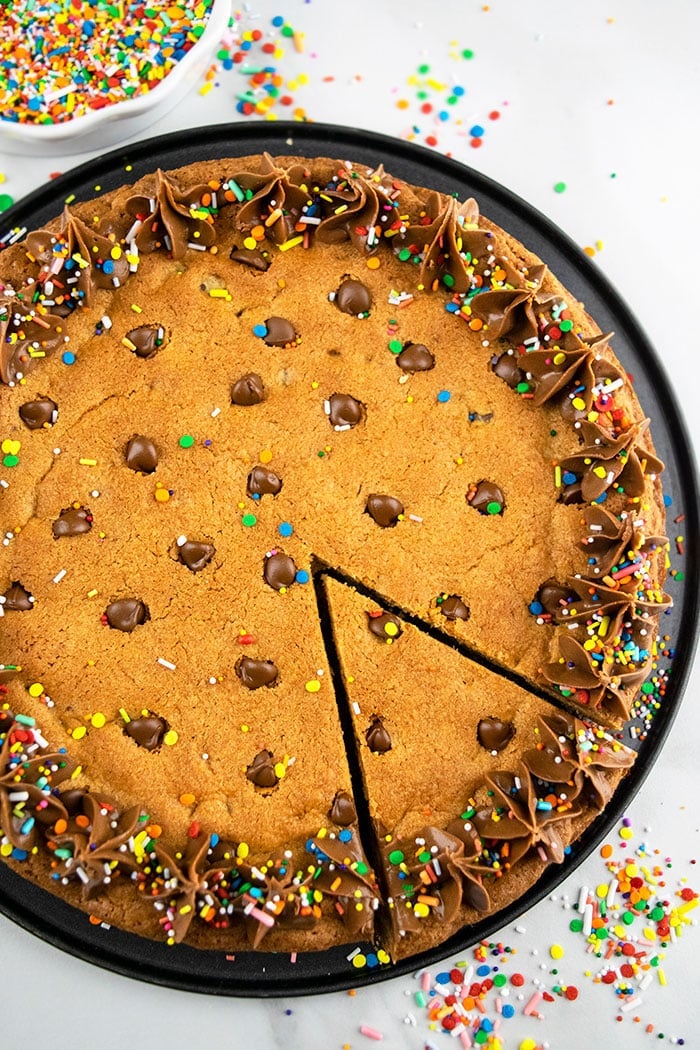 How to make cookie cake?
Mix eggs and butter– Until smooth.
Add cake mix– And mix it until combined.
Stir in chocolate chips– Until evenly distributed.
Spread dough in pan– Use a greased and floured round cake pan.
Bake– Until an inserted toothpick in the center comes out clean.
Decorate- Pipe chocolate frosting stars all around the outer edges and then, toss sprinkles
Enjoy! Cut slices and serve with a scoop of ice cream and chocolate fudge sauce.
How to decorate chocolate chip cookie cake recipe?
Frostings- This is the most common way to decorate a cake. There are many different piping designs that you can choose from like stars, swirls, ruffles, circles and so many more. Use Russian piping tips, which are super popular these days. Check out this Russian Piping Tips Tutorial.
Sprinkles– Add any sprinkles of your choice. There are so many colors, shapes and sizes to choose from these days.
Colored icing– Tint American Buttercream Frosting with food coloring or gel coloring.
Fresh fruits– Top off the cake with fresh fruits such as strawberries, bananas, blueberries, raspberries, black berries, peaches e.t.c.
Small toys and figurines– Buy small 3 inch toys to avoid choking. Make sure to wash them before sticking them into the cake.
Candies– Top off the cake with M&Ms, Reese's Pieces, crushed Twix, crushed Butterfingers, Milky Way, Hershey's kisses and more.
Chopped nuts– Roughly chop up any nuts of your choice and sprinkle them on top of the cake. Try cashews, pecans, macadamia nuts, almonds, walnuts, pistachios.
Sugar decorations– These can be found online or at the baking aisle of most grocery stores. There are pearls, letters, cartoon characters, edible flowers, and piping gels. They are great for writing messages like "Happy Birthday" and "Congratulations!" too.
Ice cream– Prior to serving, top it off with big scoops of ice creams.
Sauces– When you are ready to serve, top it off with a drizzle of Homemade Caramel Sauce or Homemade Dulce De Leche or chocolate fudge sauce or even Nutella Syrup.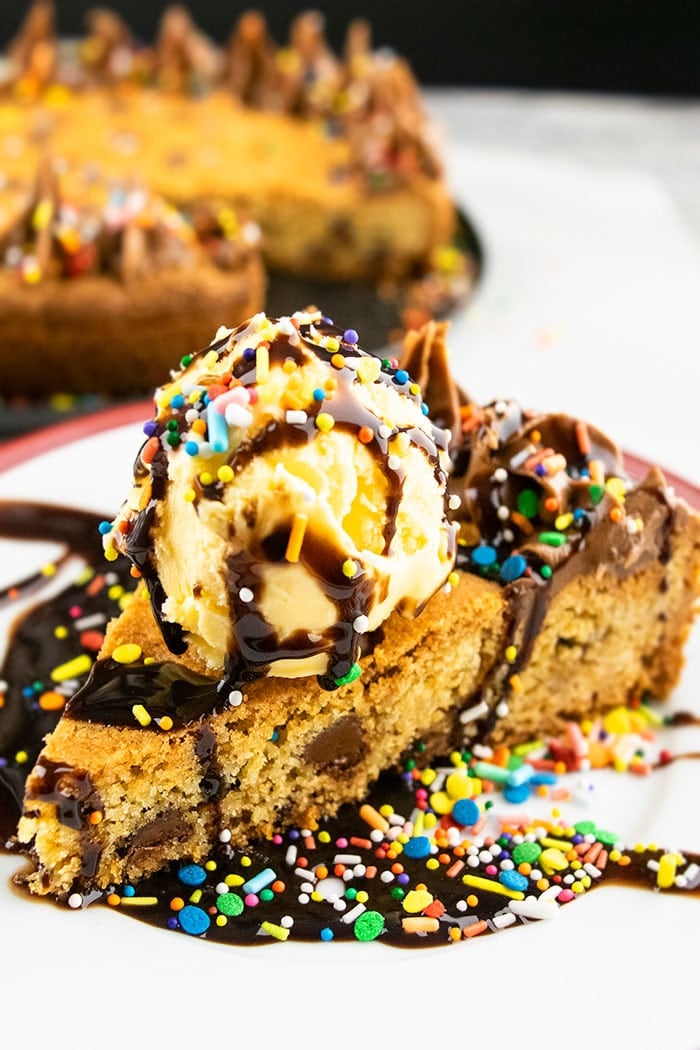 Variations
Try other frosting flavors- I used chocolate frosting but you can also try White Chocolate Buttercream Frosting, Marshmallow Frosting.
Cake batter cookies /Rainbow birthday cookie cake– Use funfetti cake mix and decorate with rainbow frosting.
Cookies and cream cake– Mix in chopped Oreos in the batter and also, decorate with mini Oeros and Oreo frosting.
Double chocolate– Use either Devil's food or chocolate cake mix.
Red velvet– Use red velvet cake and pair with Cream Cheese Frosting.
Fruit flavors– Use lemon cake mix and top it off with candied lemons or fresh fruits. Also, pair it with a fruit-based frosting like Lemon Frosting or Maraschino Cherry Frosting.
Add other chocolate chip flavors– Such as white chocolate chips, dark, milk or even peanut butter chips.
Layer cake– Make 3 cakes and stack them on top of one another with a layer of frosting between each layer. Top it off with more frosting, lots of sprinkles and candies.
Storage
Refrigerate– In a sealed container for up to 3 days. It can be reheated in the microwave to make it warm and gooey again.
Freeze– Unfrosted cake can be wrapped tightly in saran wrap and frozen for up to 1 month. When you are ready to enjoy it, let it thaw at room temperature for about 45 minutes or overnight in the fridge. Then, decorate with chocolate buttercream and sprinkles.
Tips and Techniques
How do you know if cookie cake is done baking? Insert a toothpick in the middle of the cake and if it comes out clean, it is done. The edges will be firm and golden brown and the center will still be a little soft.
Don't over-bake- Because that will make the cake dry and hard.
Don't over-mix cookie dough– Because that will make a very tough cookie.
How do you keep cookie cake moist? This cake does not have to be refrigerated. You can store this cake in a sealed container to keep the cake moist or wrapped in plastic wrap.
Can you make cookie cake ahead of time? You can freeze the cake and let it thaw in fridge overnight. Once it is thawed, add on the frosting.
Use unsalted butter– Because it prevents this dessert from becoming too salty.
All ingredients should be at room temperature– That's because everything blends together smoothly and evenly.
What brand of cake mix to use? I have used Duncan Hines, Betty Crocker, and Pillsbury successfully.
Grease and flour cake pan– Because that prevents the cake from sticking to the pan and also makes removal easy.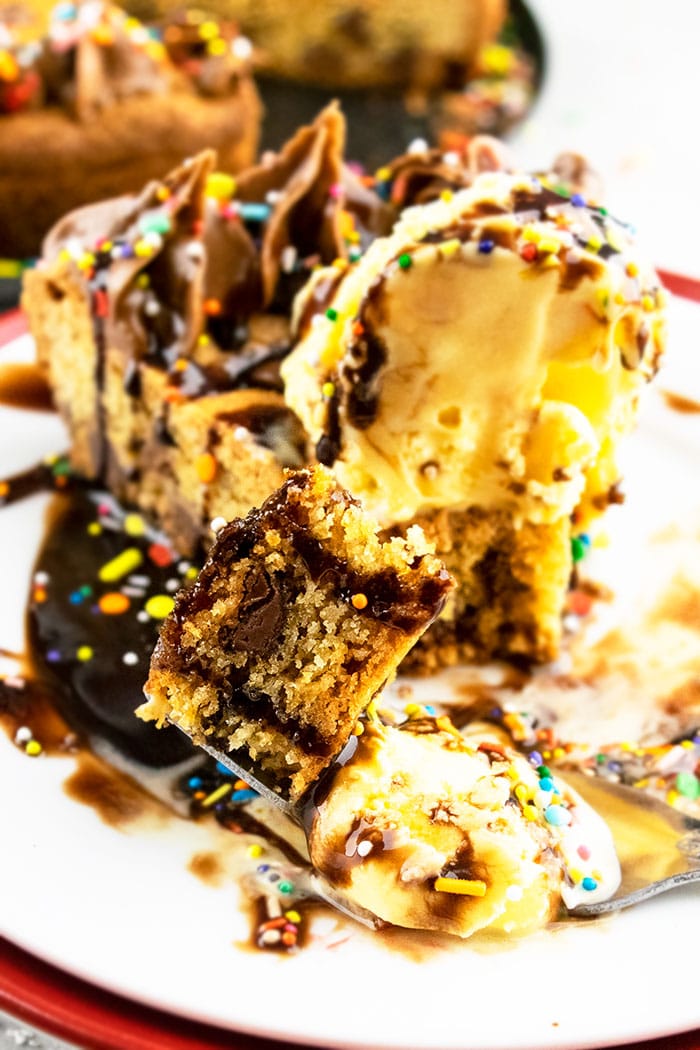 More Chocolate Chip Desserts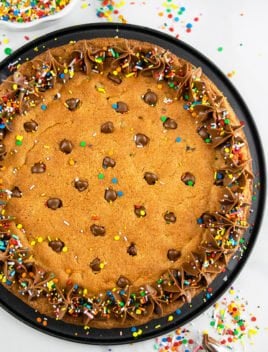 Easy Cookie Cake (With Cake Mix)
The best quick and easy chocolate chip cookie cake recipe, homemade with simple ingredients. Rich, soft, chewy and decorated with chocolate frosting and sprinkles.
Servings: 9 Slices
Course: Dessert
Cuisine: American
Keyword: homemade chocolate chip cookie cake
Calories: 620 kcal
Ingredients
2 Eggs Large
1/2 cup Butter Unsalted, Melted
1 box Yellow cake mix
2 cups Chocolate chips Semisweet
1 tbsp Sprinkles
Instructions
In a large mixing bowl, add eggs and butter and mix until smooth.

Add cake mix and mix until just combined.

Spread cookie dough in a greased and floured round cake pan (Dimensions: 9×2).

Bake at 350 degrees F for 30-35 minutes or until an inserted toothpick in the center comes out clean.

Allow it to cool down completely.

While it's cooling, prepare chocolate frosting.

Fill a piping bag with icing and attach Tip # 1M (Star tip).

Pipe stars all around the outer edges of the cake.
Recipe Notes
Read all my tips above.
Leftovers can be stored in a sealed container in the fridge for up to 3 days. Reheat in the microwave for 10-15 seconds if you like your cookies soft and ooey gooey. 
Nutrition Facts
Easy Cookie Cake (With Cake Mix)
Amount per Serving
% Daily Value*
* Percent Daily Values are based on a 2000 calorie diet.