Depression Cake (Wacky Cake)
This vintage depression cake recipe (wacky cake recipe) is quick and easy to make with simple ingredients in 1 bowl! It has no butter, no milk, no eggs.
Depression cake OR vegan wacky cake OR crazy cake OR poor man's cake OR war cake. This cake goes by many names!
My mom used to make this cake for me every weekend, while growing up and her mom used to make it for her and now, I love making it for my family.
This simple chocolate cake recipe was developed during the Great Depression era.
My understanding of this depression cake history/wacky cake history is that milk, eggs and butter were very expensive during that time and most people could not afford to buy them.
Desserts were considered to be an item of luxury but everyone still wanted to enjoy cake and thus, our brilliant ancestors came up with this affordable alternative cake recipe without eggs, butter or milk.
You would think that without those key ingredients, this cake would be dry BUT it's actually very soft and moist due to the use of baking soda and vinegar. I promise you can't even taste or smell the vinegar once this cake has baked.
Also, this one bowl chocolate cake comes together in the cake pan itself!
That means no more mixing bowls and paddle attachments to wash up…YAY!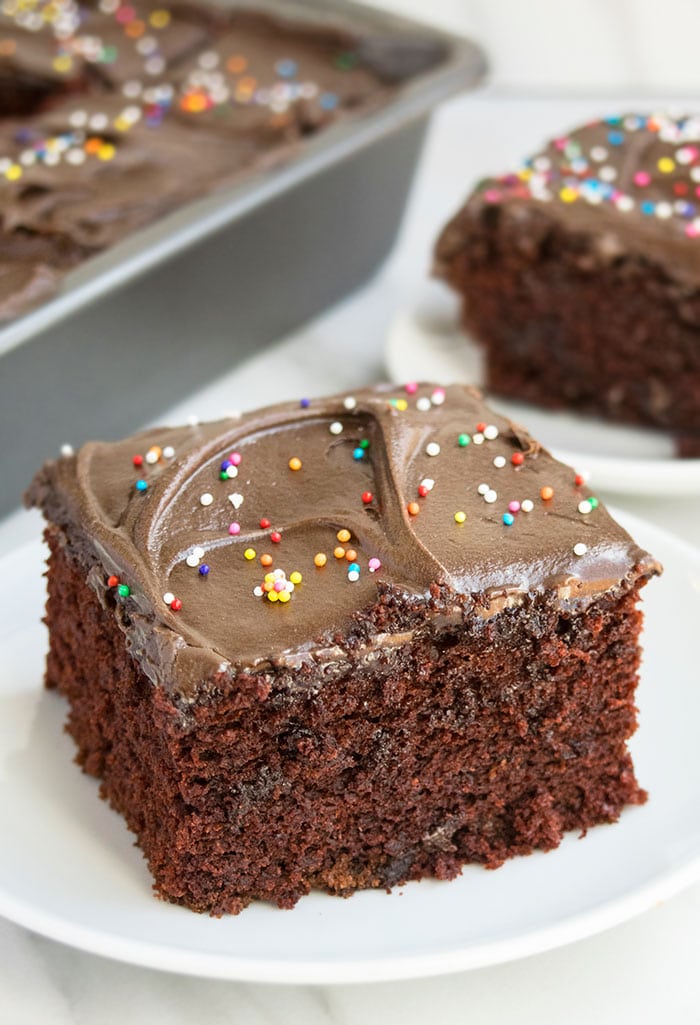 The original recipe does nothave any frosting and it was enjoyed as is or with just a dusting of powdered sugar.
To be honest, there is NO such thing as a depression cake frosting or wacky cake frosting or even a wacky cake glaze because most frosting recipes use butter, which was not readily available during that era.
Now, thankfully we have an abundant supply of butter and I like to top off this cake with my very simple chocolate buttercream icing, some sprinkles and sometimes, even decorate them with pretty royal icing flowers.
Over time, people have tweaked this recipe even further and made numerous wacky cake recipe variations such as vanilla depression cake/vanilla wacky cake or lemon depression cake. I have even seen  depression cake cupcakes/wacky cake cupcakes and depression cake in a mug that's made in the microwave.
TIPS for depression chocolate cake or wacky chocolate cake:
Make sure you are using unsweetened cocoa powder.
Your cake pan must be ungreased.
Don't replace all-purpose flour with whole wheat flour because the result is an awful cake texture.
I have heard you can make gluten free depression cake/ gluten free wacky cake by using the Bob's Red Mill 1 to 1 flour but I have personally not tried it.
You can double the recipe to serve a larger crowd and make wacky cake (9×13)/ depression cake (9×13).
Mix the batter in a bowl and use that to fill cupcake liners and enjoy some cupcakes.
Try different extracts in this recipe to come up with new flavors.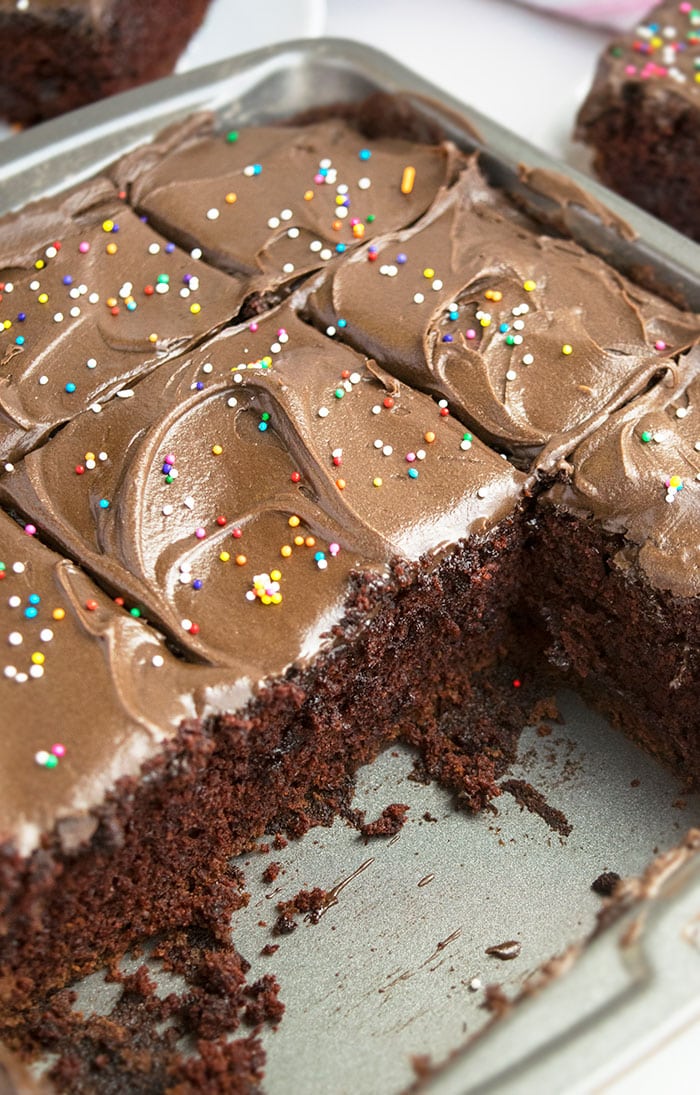 How to make depression cake?
In a square cake pan, whisk together the flour, sugar, cocoa powder, baking soda. Then, make 3 holes. In one hole, add oil. In the second hole, add vinegar. In the third oil, add vanilla extract. Pour water over everything and mix until just combined. Bake and enjoy!
What is depression cake?
This was an affordable cake recipe that was developed during the Great Depression era around Worl War 1. It's made with no eggs, no butter and no milk, which were not readily available during that time and also very expensive.
More Vegan Desserts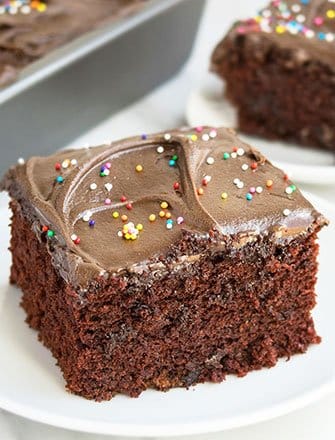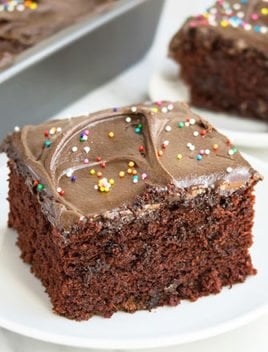 Crazy Wacky Depression Cake
This vintage depression cake recipe (wacky cake recipe) is quick and easy to make with simple ingredients in 1 bowl! It has no butter, no milk, no eggs.
Yield: Slices
Ingredients
Chocolate Frosting (Optional)
Instructions
Cake
In a square cake pan (Dimensions: 8×8- Ungreased), add flour, cocoa powder, sugar, baking soda, salt and whisk everything together.

Use your finger to make 2 small holes and 1 large hole in this dry flour mixture.

Pour oil in the large hole.

Pour water over everything.

Mix everything together until just combined. Don't worry if you have some lumps. Just don't over-mix or else you will end up with a rubbery cake.

Bake at 350 degrees for 30 minutes or until an toothpick inserted in the center comes out clean.
Chocolate Frosting
Add powdered sugar (1 cup at a time) until smooth and creamy.

Pour this frosting over your entire cake and let it set in the fridge or freezer for 15-20 minutes.

Toss some sprinkles on top of the cake and enjoy!
Notes
Keep in mind that since you will not be lining your pan with wax paper or using oil spray, the cake will stick to the pan slightly. No need to panic! You can still EASILY cut slices with a knife and use an offset spatula to remove them from the pan and serve them in plates.
Leftovers can be stored in a sealed container in the fridge for up to 2 days.
Nutrition
Calories: 233kcal, Carbohydrates: 39g, Protein: 2g, Fat: 8g, Saturated Fat: 6g, Sodium: 271mg, Potassium: 58mg, Fiber: 1g, Sugar: 22g, Calcium: 6mg, Iron: 1.3mg
Until next time, tata my lovelies!