Chocolate Brownie Cake
This rich and fudgy chocolate brownie cake recipe from scratch with chocolate frosting, chocolate ganache, chocolate candies is easy to make with simple ingredients.
This dessert is great for kids birthday parties and definitely a chocoholic's dream come true. Use lots of candies that you like and just have fun with it. Cake decorating has seriously never been easier!
This loaded brownie layer cake is very rich, fudgy, dense and super ooey gooey. It's composed of three layers of brownies with chocolate frosting between each of them. It's finally topped off with homemade chocolate ganache and lots of candy bars.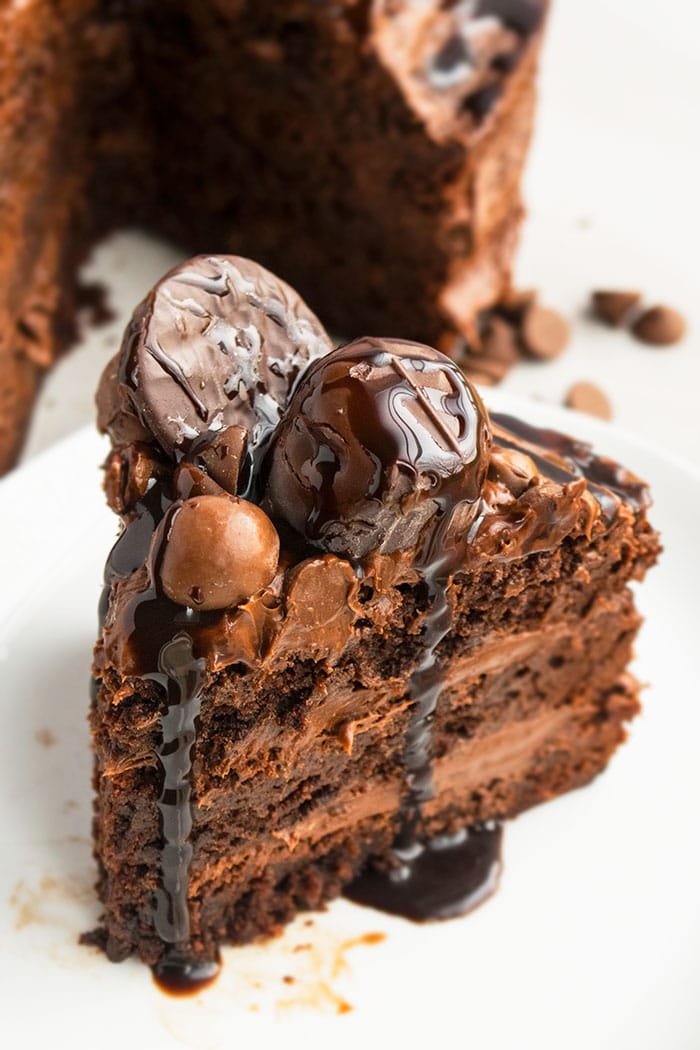 How to make brownie cake?
Bake brownies in 3 round pans.
Prepare chocolate frosting.
Prepare chocolate ganache.
Place one brownie on cake stand.
Spread frosting on top.
Place second brownie on top.
Spread frosting on top.
Place third and final brownie on top.
Spread frosting again.
Decorate with chocolate candies.
Drizzle chocolate ganache all over the cake.
Serve and enjoy.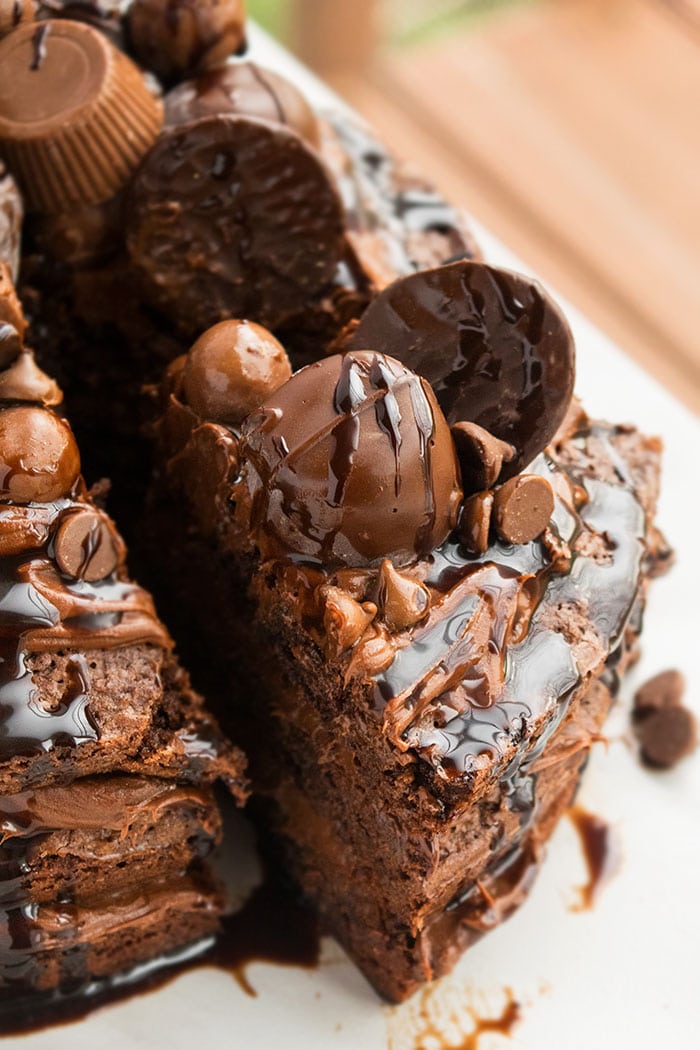 Variations
Try different frosting flavors– I wanted to make a loaded chocolate cake and thus, used chocolate icing. However, get creative and pair this cake with a simple Homemade Whipped Cream or Classic American Buttercream Frosting or this Marshmallow Frosting. You can even try fruit-based frosting because chocolate and fruits go hand in hand. Try this Maraschino Cherry Frosting or this Blackberry Buttercream Frosting.
Brownie cookie dough cake– Replace chocolate icing with Edible Eggless Chocolate Chip Cookie Dough between each layer. You can even use Eggless Peanut Butter Cookie Dough.
Brownie ice cream cake– After you have layered the cake, place scoops of chocolate and vanilla ice cream on top and then decorate with all the chocolate candies. Serve immediately before the ice cream melts.
Brownie birthday cake– Toss colorful candies on the cake, along with a variety of sprinkles. You can even stick those cute little birthday candles.
Try different drizzles-  Instead of drizzling ganache over the cake, drizzle Homemade Caramel Sauce or warm Nutella or warm peanut butter or even chocolate fudge sauce.
Add nuts– You can chopped nuts (walnuts, almonds, pistachios, pecans) in the batter or sprinkle them between each layer and also sprinkle them on top. It will give this cake a nice subtle crunch.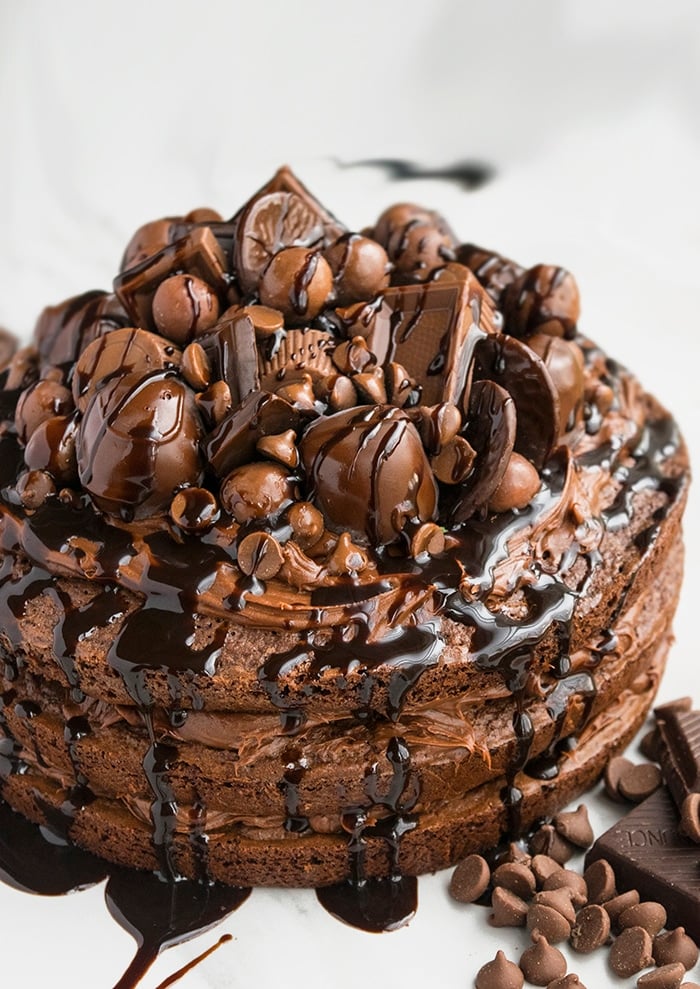 Tips and Techniques
Enhance chocolate flavor- This can be done by adding a a little espresso powder (1-2 tsp) in the brownie batter and ganache. It also helps cut the sweetness of this rich cake.
How to make fudgy brownies? My best advice is that it's best to UNDER-BAKE than over-bake. The brownies are ready when a toothpick is inserted in the center and comes out with some wet crumbs. It should not come out dripping with brownie batter.
Use sharp knife for slicing–  This makes really clean-cut slices and prevents the layers from digging into each other. Please note that you will have to remove some of the chocolate decorations to make it easier to slice this cake.
Add layers or reduce layers- If you don't want to make a triple layer cake, you can easily make one batch of brownies and use that to make a single layer cake.
Use a variety of chocolate candies– For the best appearance and consistent brown color theme, use only semisweet or milk chocolates but in a variety of shapes. I even tossed some chocolate chips.
Don't assemble or decorate a warm cake– Make sure everything is at room temperature or else the frosting will start to melt and you will end up with sticky dripping mess.
Box Brownies vs. Homemade Brownies- You can use either. A box is always a great option when you are short on time. Also, if you don't have a brownie box, you can try my delicious recipe for Cake Mix Brownies. If you do have time, you really must check out this entire category of  Brownies and Bars and choose any recipe you fancy.  There are lots of recipes there from scratch, just like the one that was used in this specific cake.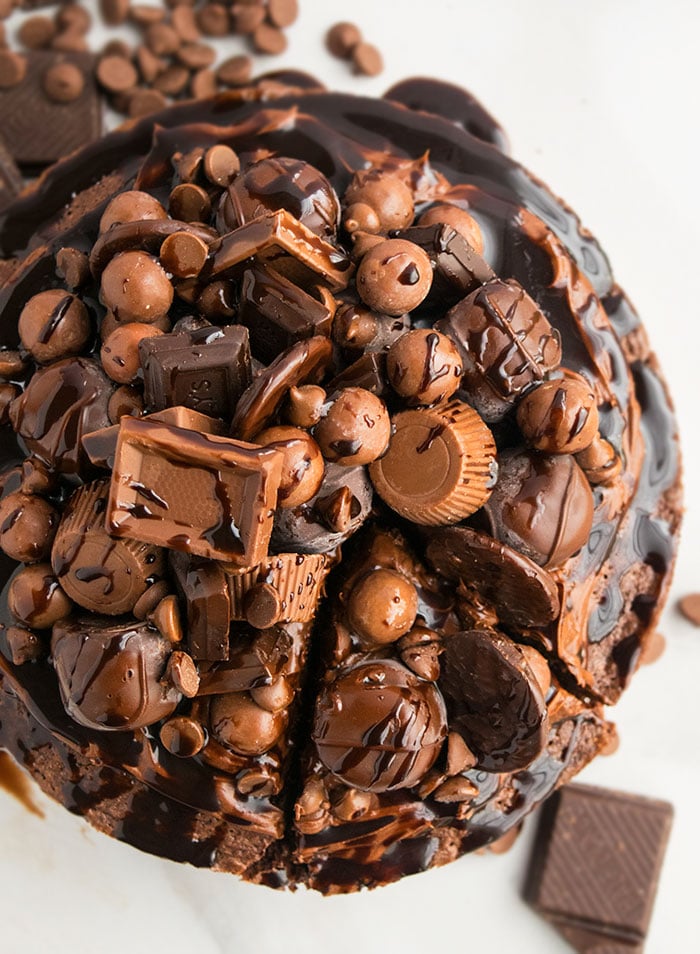 More brownie recipes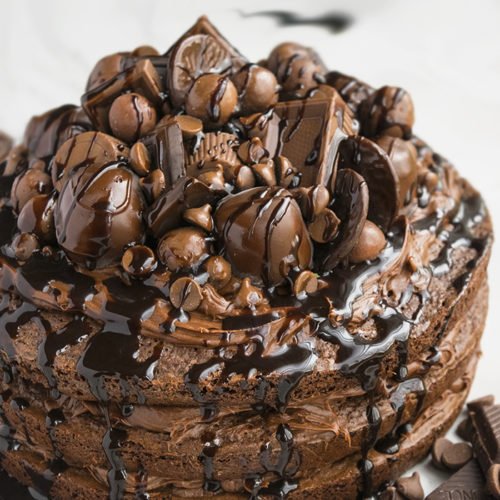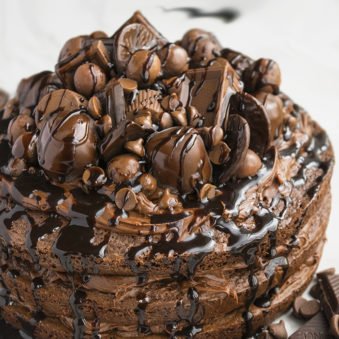 Easy Brownie Cake Recipe
Easy chocolate brownie cake recipe from scratch with chocolate frosting, chocolate ganache, chocolate candies. Rich and fudgy, requires simple ingredients.
Yield: slices
Ingredients
Frosting
Chocolate Ganache
1 cup Chocolate chips, Semisweet
1 cup Heavy cream
1 tbsp Butter, Unsalted
Decoration
1 cup Chocolate candies, Use a variety of shapes and flavors
Instructions
Double the brownie recipe and divide the batter in three 8 inch round pans. Bake and let the brownies cool down completely.


While the brownies are baking and cooling, prepare chocolate frosting.

Also, make the chocolate ganache: In a microwave-safe bowl, add chocolate chips, heavy cream and butter. Heat in the microwave at 30 second increments, mixing after each interval. Continue doing this until you have a smooth and creamy mixture. Keep aside.


Place the other brownie on top of the frosting and gently press it to secure it

Place the final brownie on top and spread frosting again.

Stick chocolate candies.

Drizzle chocolate ganache all over the assembled cake. You don't have to use all the ganache and you will end up with leftovers to use on other desserts. Enjoy!
Notes
Read all my tips above.
Leftovers can be stored in a sealed container in the fridge for up to 3 days.
Nutrition
Calories: 527kcal, Carbohydrates: 65g, Protein: 2g, Fat: 30g, Saturated Fat: 14g, Cholesterol: 43mg, Sodium: 182mg, Potassium: 177mg, Fiber: 1g, Sugar: 59g, Vitamin A: 480IU, Vitamin C: 0.2mg, Calcium: 54mg, Iron: 1.3mg
Until next time, tata my lovelies!