American Buttercream Frosting
Quick and easy classic american buttercream frosting recipe, requiring 4 ingredients. It holds its shape. Great for cake decorating and cupcake decorating!
This classic American buttercream frosting recipe is what most of us grew up eating, especially here in the States and Canada.
It's made with just FOUR simple ingredients: butter, powdered sugar, vanilla extract and milk.
It's FIRM and holds its shapes and is perfect for cake decorating (especially wedding cakes) and cupcake decorating.
It's also very soft and fluffy and really SWEET, which compliments rich chocolate cupcakes flawlessly.
It's also easy to PIPE, easy to color and very EASY to make.
MY OTHER RECIPES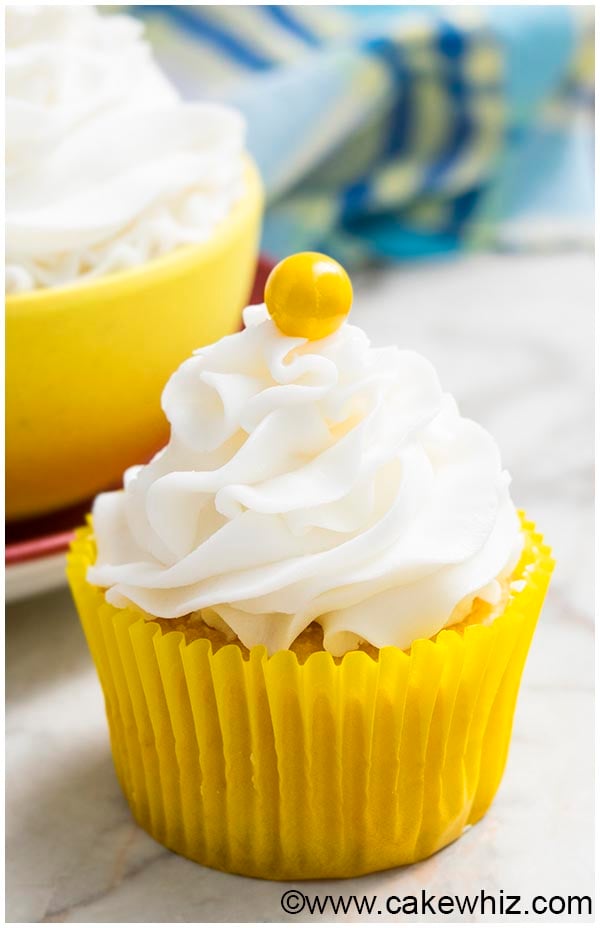 Here are a few questions that I have gotten about classic American buttercream frosting and their corresponding answers…
What is American buttercream frosting? How to make American buttercream frosting?
Also known as "Buttercream" or "American buttercream" or "AMBC" or "American frosting" or "Crusting buttercream," it's simply icing that is made by creaming butter and powdered sugar with some milk and vanilla extract.  The resulting mixture is very light and fluffy. It's used for decorating cakes, cupcakes, brownies and all sorts of desserts.
Can I use shortening instead of butter in American buttercream frosting?
Traditionally, this frosting was made with powdered sugar and butter. But nowadays, there seem to be two types of frostings: 1)American buttercream with shortening (Crisco) and 2) American buttercream without shortening. Some people like to use just shortening and others like to use a combination of butter and shortening. This is mainly done because shortening adds stability to a frosting recipe and that's great for using in places where temperatures are really hot and humid.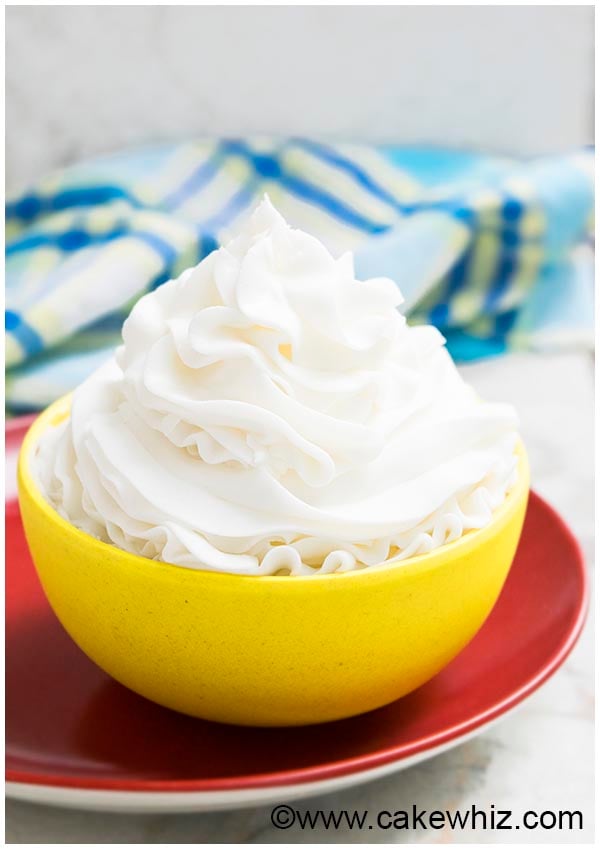 Can you color American buttercream?
Yes, this frosting can easily be colored or tinted with food coloring. Gel colors are highly recommended since they are more concentrated and they also won't affect the consistency of your icing.
Is American buttercream white? How/Why is American buttercream white?
If you are using shortening, this will be a pure white frosting. But, if you are  are using butter, the icing will have a very subtle yellow color (barely noticeable!) and you can easily add a few drops of white gel coloring to make it white.
Swiss meringue buttercream frosting vs. American buttercream frosting… Are they the same?
No, they are not the same at all. Swiss meringue is made in such a way that egg whites are sugar are cooked on a double boiler and then whipped into a stiff meringue and then butter is mixed into it. It's more time consuming than American buttercream and it's also less sweeter.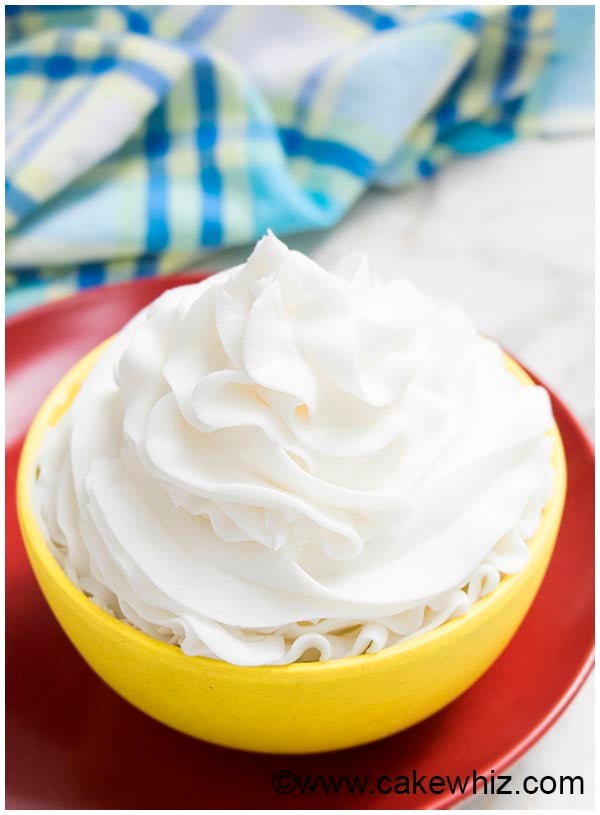 Why is my American buttercream gritty?
There can be 3 reasons: 1) It was not mixed properly and the powdered sugar hasn't incorporated into the butter that well. 2) Your powdered sugar was not sifted and had little lumps, resulting in gritty frosting 3) You did not use enough liquid (milk or water).
How to store American buttercream icing?
This icing should be stored in a sealed container in the refrigerator.
How long does American buttercream last?
Since milk is used in most recipes (although some people like to replace that with water), use this frosting within one week.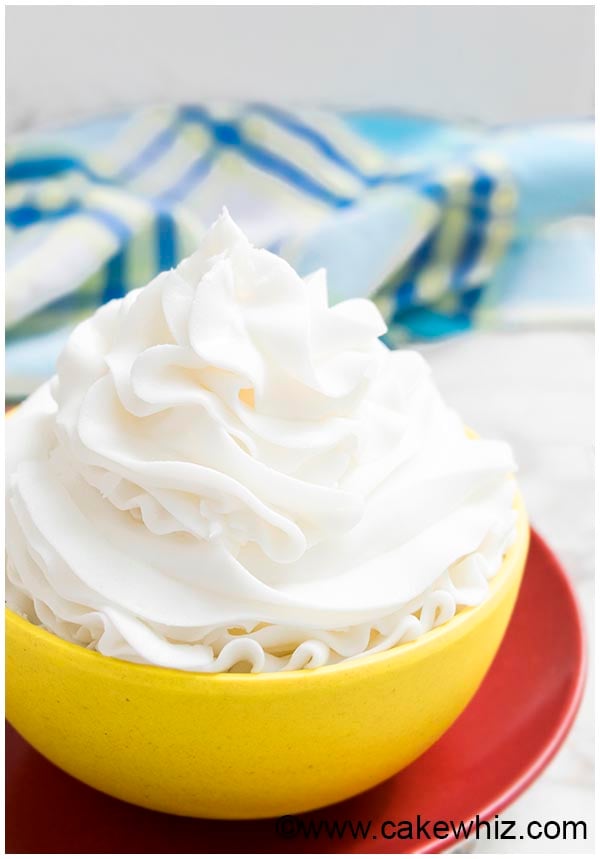 Well, that's all for today.
If you liked this post, you may like some of these other frosting recipes too…
Cooked flour buttercream (Ermine frosting)
Also, check out my entire category of frosting and fillings… Lots of recipes there to satisfy all your cravings!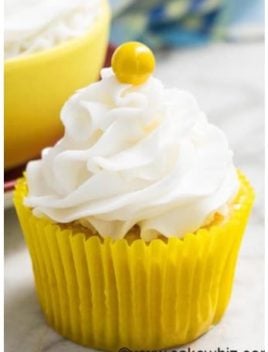 Nutrition Facts
American Buttercream Frosting
Amount Per Serving
Calories 1779 Calories from Fat 828
% Daily Value*
Total Fat 92g 142%
Saturated Fat 58g 290%
Cholesterol 246mg 82%
Sodium 825mg 34%
Potassium 56mg 2%
Total Carbohydrates 241g 80%
Sugars 236g
Protein 1g 2%
Vitamin A 57.5%
Calcium 5.3%
Iron 0.8%
* Percent Daily Values are based on a 2000 calorie diet.
American Buttercream Frosting
Quick and easy classic american buttercream frosting recipe, requiring 4 ingredients. It holds its shape. Great for cake decorating and cupcake decorating!

Servings: 2 Cups
Course: Dessert
Cuisine: American
Calories: 1779 kcal
Ingredients
1 cup Butter Unsalted
1 tbsp Vanilla Extract
4 cups Powdered sugar
3-4 tbsp Milk or Heavy cream More or less depending on the consistency you want
Instructions
In a mixing bowl, mix butter and vanilla extract together.

Add powdered sugar (1/2 cup at a time), while continuing to mix.

Add milk (1 tbsp at a time), while continuing to mix until you reach the desired consistency.

Frost your cakes/cupcakes and enjoy!
Recipe Notes
Read all my tips above.
If you want a pure white frosting, replace butter with shortening.
This icing is enough to frost 24 cupcakes and one 8x2 round cake.
Store leftover icing in the fridge in a sealed container and use within 1 week
Until next time, tata my lovelies!