Crockpot Apple Butter
The best, easy homemade crockpot apple butter recipe from scratch, homemade with simple ingredients. Spiced with cinnamon, nutmeg, cardamon. Great as a spread, filling or topping. Rich, thick and smooth. Perfect for Fall and Thanksgiving breakfast and brunches.
Breakfast is considered to be the most important part of they day. So, why not indulge in this delicious butter or my Baked Apple Cider Donuts and Apple Fritters (One 30 Mins).
Today's recipe is an awesome way to use up a surplus of apples, especially if you just went apple picking.
It's fresh plus smells and tastes amazing! Even though it's called butter, it doesn't have any butter in the recipe. It's mostly used as a spread, similar to how you would spread butter.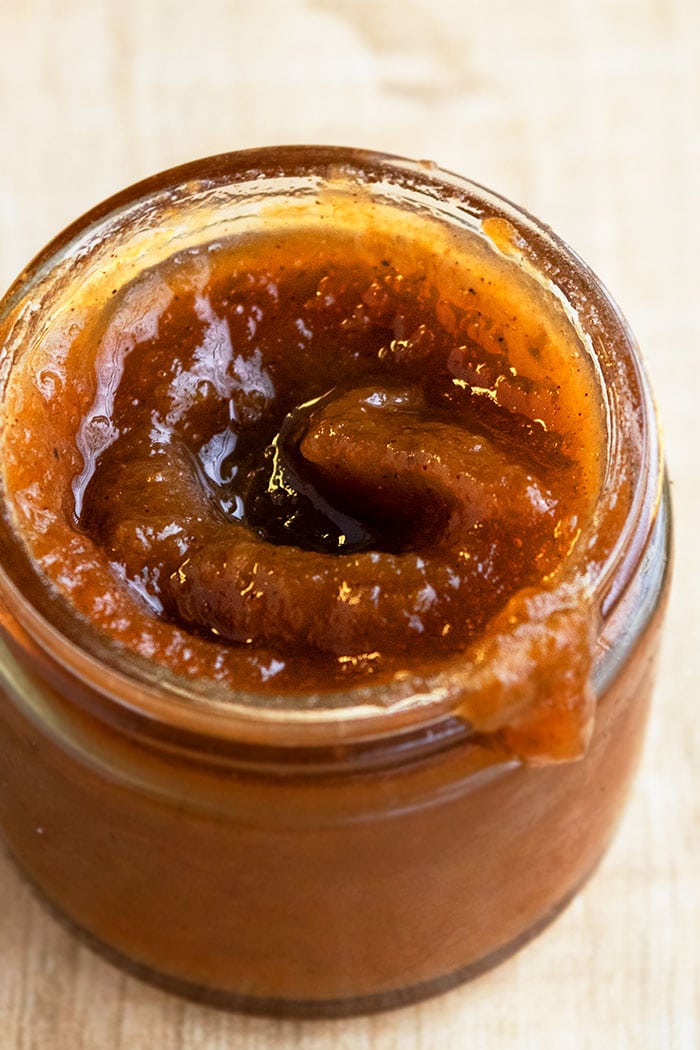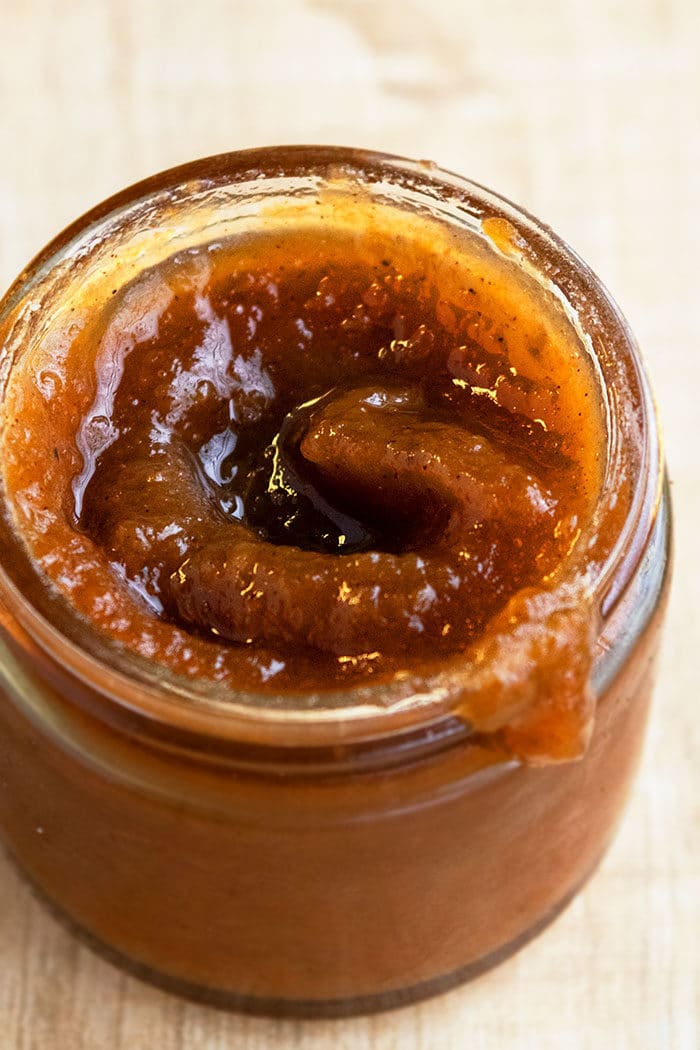 What is apple butter?
It's a very concentrated form of apple sauce that's created by cooking apples long and slow until the sugar in the apples caramelizes and turns a deep brown color. It's typically used as a spread but can also be used as a topping or filling or even glaze.
How to make apple butter in crockpot? Stovetop?
Slow cooker instructions– Add apples, sugar and spices in crockpot. Mix, cover and cook on Low heat for 10 hours. Add vanilla. Puree until smooth. Uncover and cook on Low heat for 2 hours until thickened and you are done.
Stovetop instructions– Add all the ingredients plus 1 cup apple juice or apple cider in a large nonstick pot. Cover and cook on Low heat until apples are very soft. The, uncover and puree with a hand-held immersion blender until smooth. Cook uncovered for a bit longer until butter is thickened and reduced to your desired consistency.
What is the difference between applesauce and apple butter?
Both of them are slow cooked apples with spices. However, the butter is cooked for longer. This causes the sugar in the apples to caramelize and turning a deep brown color. It's smoother, thicker and has a more intense apple flavor than applesauce. It's basically a concentrated version of applesauce. The butter also has a longer shelf life of about 2 weeks than compared to simple applesauce.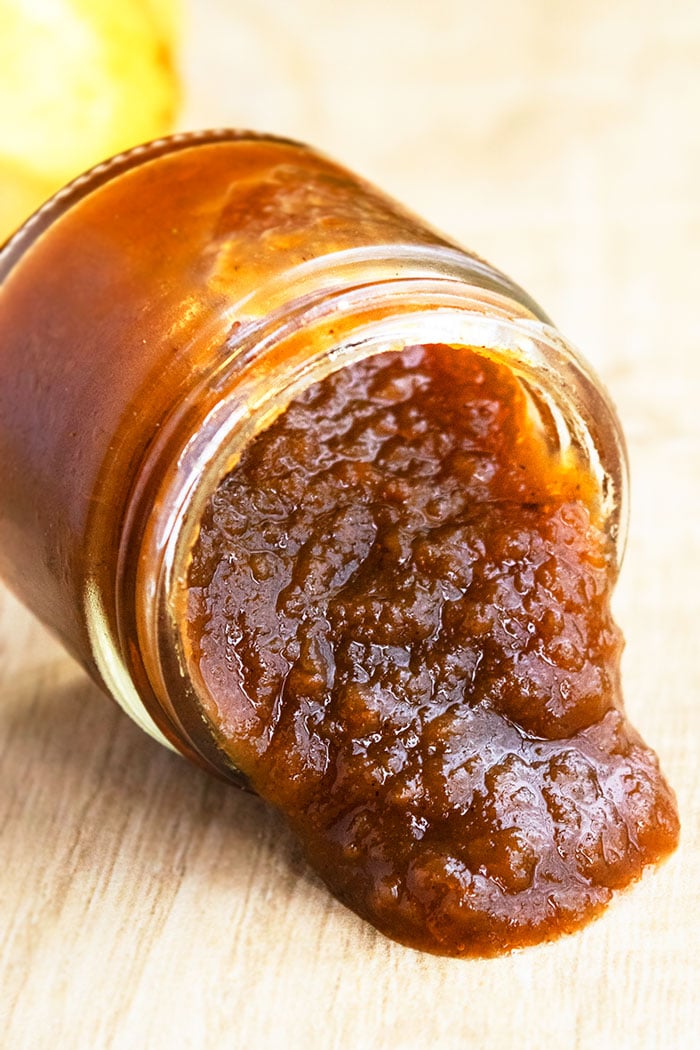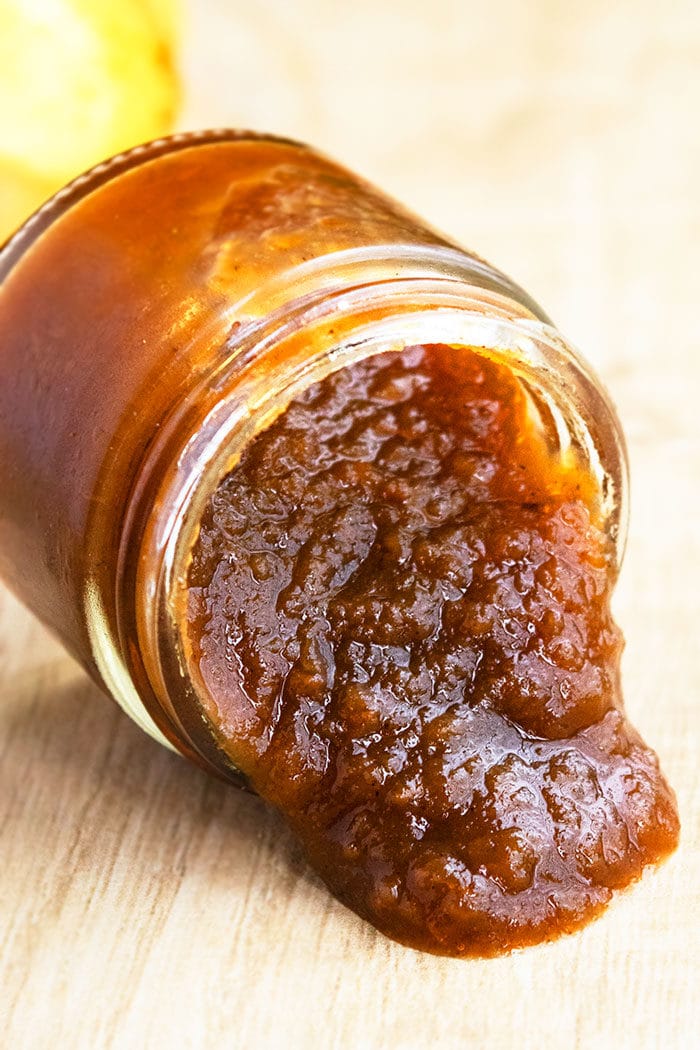 What are the best apples for this recipe?
Typically, you should use your favorite apples or ones whose flavor you like the most. I prefer using a combination of various apples such as Granny Smith, Fuji, McIntosh and Honey Crisp. You can also use Golden Delicious, which are softer.
What is homemade apple butter used for?
There are are so many uses:
Spread– On breads, bagels, muffin, scones, biscuits.
Filling- In cakes, cupcakes, cinnamon rolls, pies, tarts.
Topping– On pancakes, waffles, crepes, oatmeal, ice cream.
Flavor enhancer- To give smoothies, teas, coffees, milkshakes and other drinks an apple kick.
Glaze– For savory dishes like pork chops and steak
How to store slow cooker apple butter?
Once it comes to room temperature, store in sealed container or jar in the fridge for up to 2 week.
You can also freeze this in a sealed container for up to 1 month. Let it thaw overnight in the fridge.
Canning apple butter is another option. Just follow the typical canning method and store in a cabinet and you can enjoy it months later. Fill sterilized jars with butter, screw on lids and and submerge in boiling water for about 10 minutes. As the jars cool, the lids will suction down and pop, becoming airtight.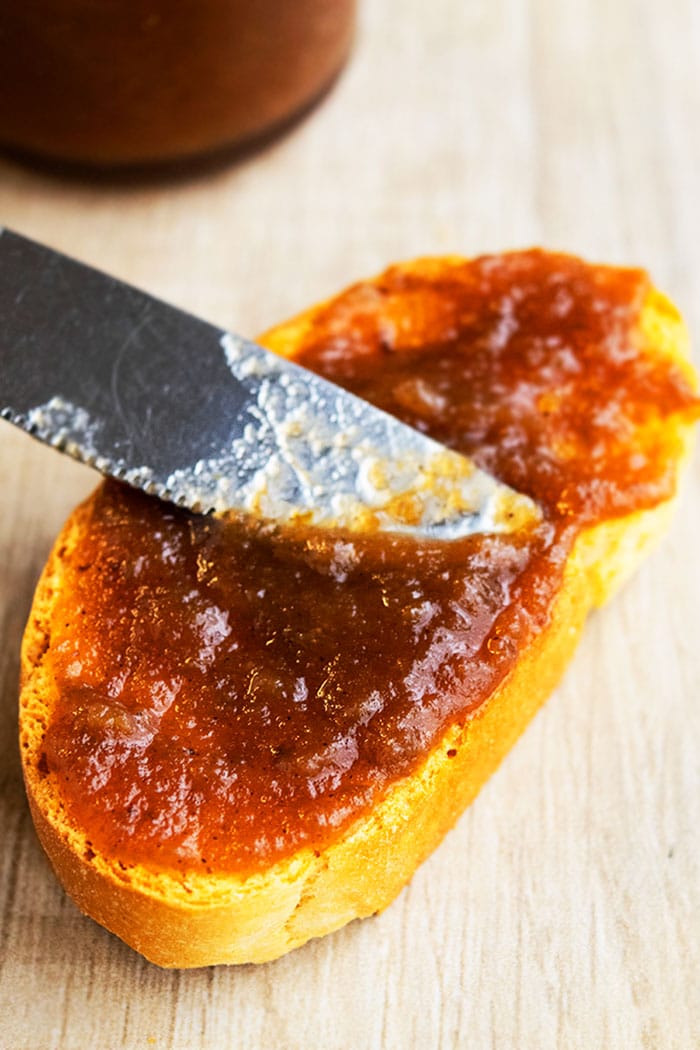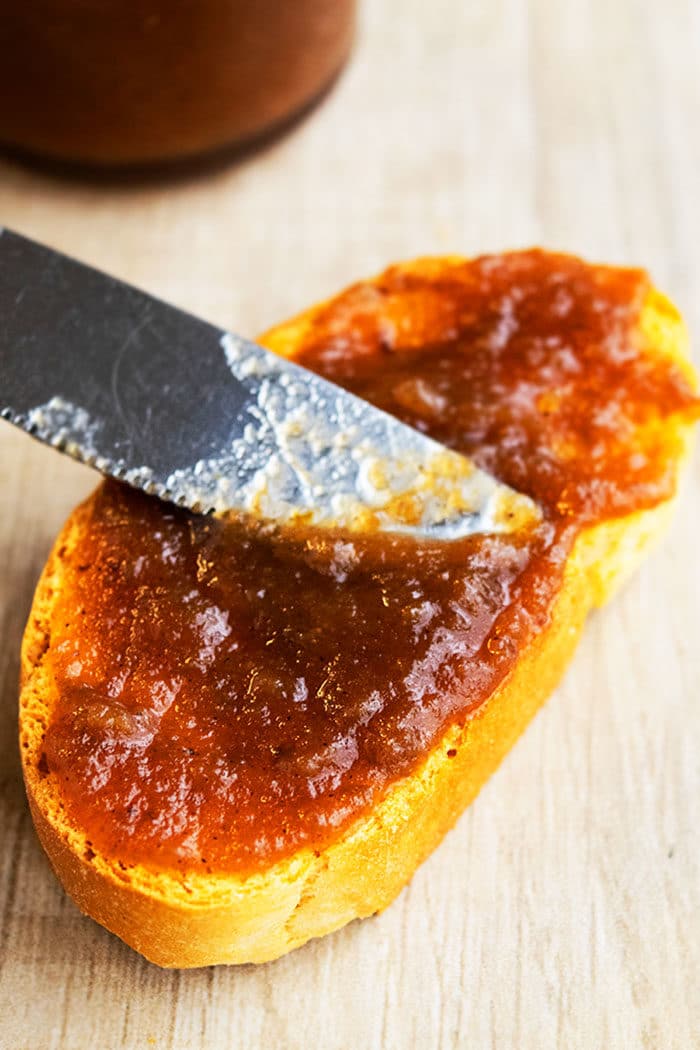 Tips and Techniques
Cook overnight- Since you are cooking "long and slow" for 12 hours, just dumping everything in the crockpot before going to bed and enjoy it in the morning for breakfast.
Adjust amount of sugar- Some people like this sweet while others don't. Add more or less sugar, based on your preference. Use both, granulated and brown sugar for best flavor profile.
Stir often– Because it allows everything to cook evenly.
How do you know it's done? The apples will become very soft and would have broken down. The color would have also changed to dark brown. That's when you know it's ready and can be pureed.
How to make it smooth? Use a hand-held immersion blender or you can use a regular blender too.
Apple and peanut butter– Mix in a little peanut butter in this recipe at the end to add a rich nutty flavor.
Do you peel apples? I always do it because the peel takes longer to break down during cooking. The flavor DOES NOT change whether you peel or don't peel apples. It's your choice! Traditionally, the peel is not removed.
Use a spice blend- Such as pumpkin pie spice or apple pie spice instead of the spices mentioned below.
Can I make this without sugar? Yes, you can omit all sugars from the recipe but obviously, the end result won't be as sweet. You can also use artificial sweeteners. If you are planning on using no sugar at all, I highly recommend using sweeter apple varieties like Gala, Red Delicious and McIntosh.
How to thicken butter? Just cook it uncovered for longer to reduce the liquid further. It also thickens as it cools.
More apple desserts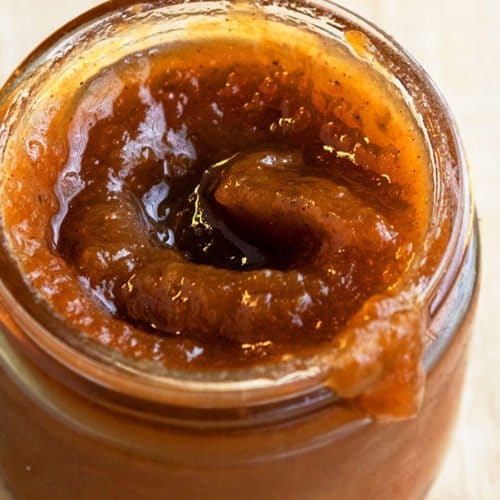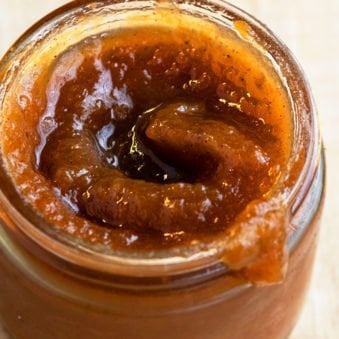 Crockpot Apple Butter
Easy homemade crockpot apple butter recipe, homemade with simple ingredients. Spiced with cinnamon, nutmeg, cardamon. Great as a spread, filling or topping.
Yield: Cups
Instructions
Add the apples, brown sugar, granulated sugar, cinnamon, nutmeg, cardamom in slow cooker.

Mix everything together.

Cook on Low for about 10 hours, stirring often, until the mixture becomes thick and brown.

Then, continue cooking uncovered on Low for about 2 hours, stirring often.

Enjoy!
Notes
Read all my tips above.
Leftovers can be stored in a sealed container or jar in the fridge for about 2 weeks. It can also be frozen in sealed containers for up to 1 month and thawed in the fridge overnight. 
Nutrition
Calories: 447kcal, Carbohydrates: 116g, Protein: 1g, Sodium: 12mg, Potassium: 521mg, Fiber: 11g, Sugar: 99g, Vitamin A: 245IU, Vitamin C: 20.9mg, Calcium: 63mg, Iron: 0.8mg
Until next time, tata my lovelies!