Baby Einstein Caterpillar Birthday Party
Check out these tips for throwing a fun and colorful Baby Einstein caterpillar birthday party for a boy! Lots of recipes and decor ideas included!
Our kid finally turned 1 and we threw him a Baby Einstein caterpillar birthday party. 
Since his arrival, our life has changed for the better with so much JOY and HAPPINESS.
I don't even have proper words to describe this AMAZING journey so far.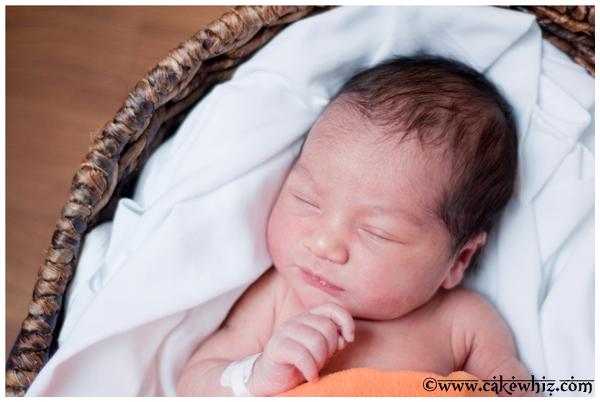 The INSPIRATION came from his Baby Einstein Caterpillar toys.
Those were the FIRST toys he ENJOYED playing with and they are still the only toys he likes to play with…hehe.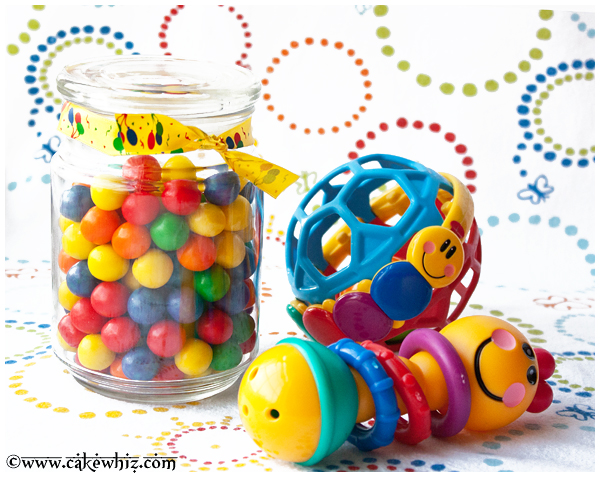 Once we had a theme in mind, I got started with the party invites. 
I was SOOO happy with how they turned out. CUTE and COLORFUL… 
Making these was quite the learning experience…
I figured out how to use many Photoshop tools that I had never bothered using before…lol.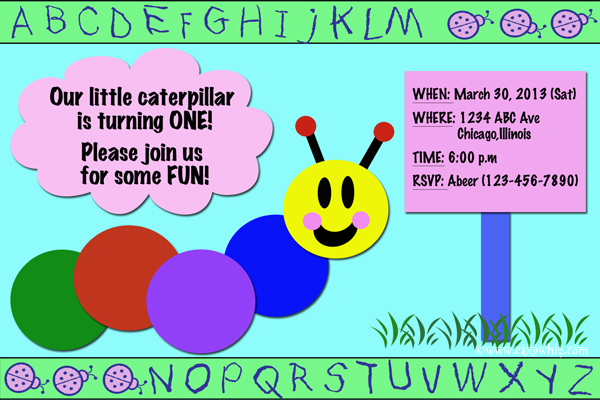 Since I was already making those invites, I used the same design to make cupcake toppers, party favor labels as well as labels of all the desserts that would go in the DESSERT SHELF.
Yes! Along with a massive caterpillar cake, I also prepared a dessert shelf with all sorts of GOODIES!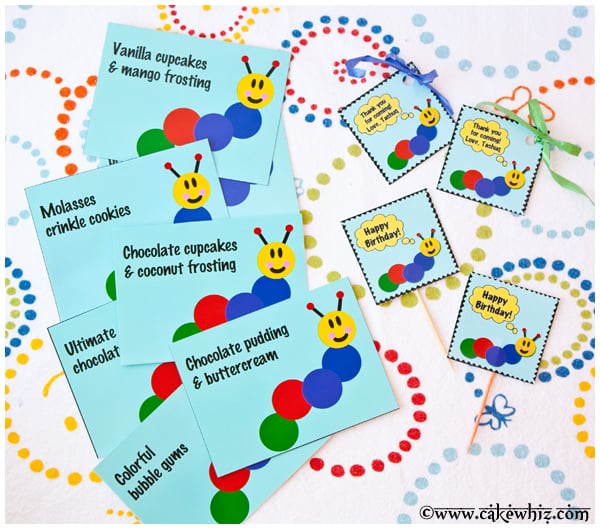 Next, it was time to come up with a MENU. 
This was super CHALLENGING coz this birthday party was ALSO going to be a dinner party.
So, I had to prepare a cake, multiple dessert items and a proper dinner. YIKES!!!!
Let's just say that by the end of this party, I was EXHAUSTEDDDDD!
But, everyone loved the food and that made me happy.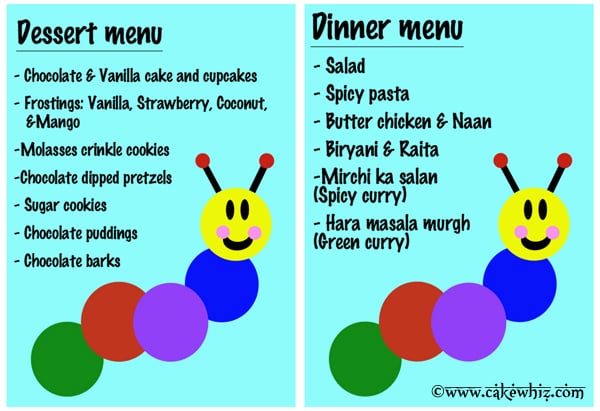 By the time I was done decorating that GINORMOUS birthday cake and preparing everything else for the party…I didn't have time to do a proper photo shoot of the cake.
But to give you an idea… this cake was HUGE!
Probably as big as my son…hahah. The dimensions were about 33 inches by 22 inches! 
My dear husband was nice enough to take a few pictures quickly before guests started arriving.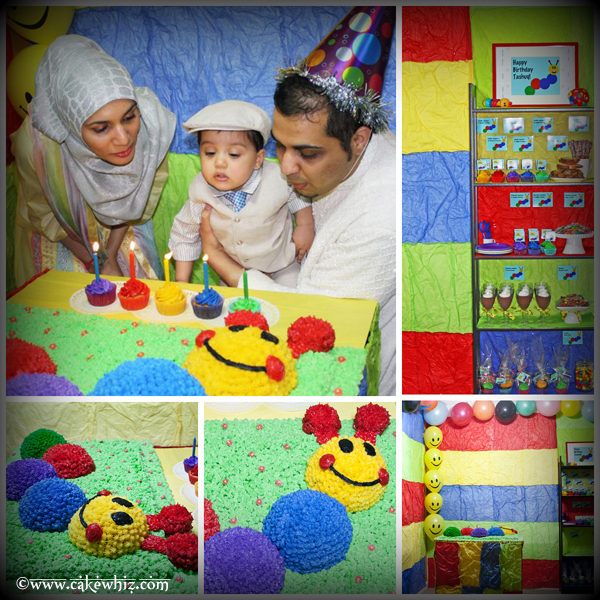 However, the next day…I made my little prince a small SMASH cake.
It was like having another small Baby Einstein caterpillar birthday party for him but this one was more relaxed and laid back.
This cake was a MINI REPLICA of his big caterpillar birthday cake… Ain't it just darling?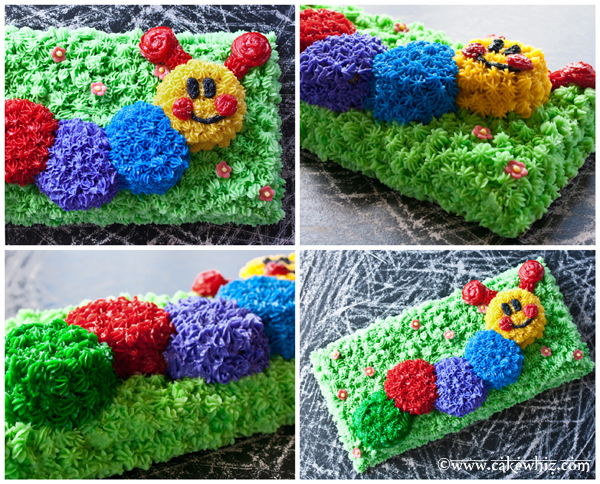 And this time, we did a photo shoot…
I think my son was more MESMERIZED by the darn candle than the actual cake…hahaha.
After I got rid of the candle, however, he dug into that cake and made the biggest MESS ever
It was so much FUN seeing him truly enjoy himself.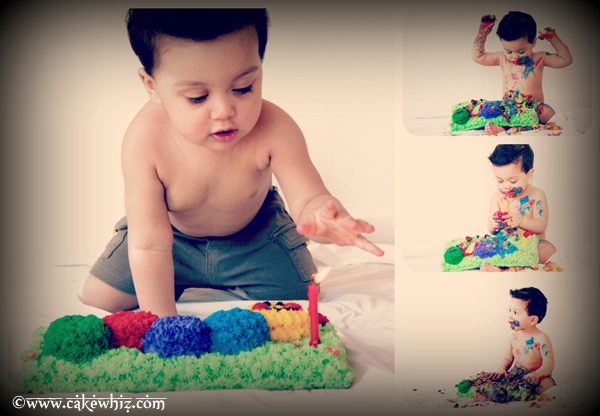 After the party, I had some LEFTOVER stuff from the dessert shelf. So, I took pictures of those.
Prepare to DROOL like never before…lol.
These chocolate barks with candies, sprinkles, cashews and pecans were SINFUL!!!!!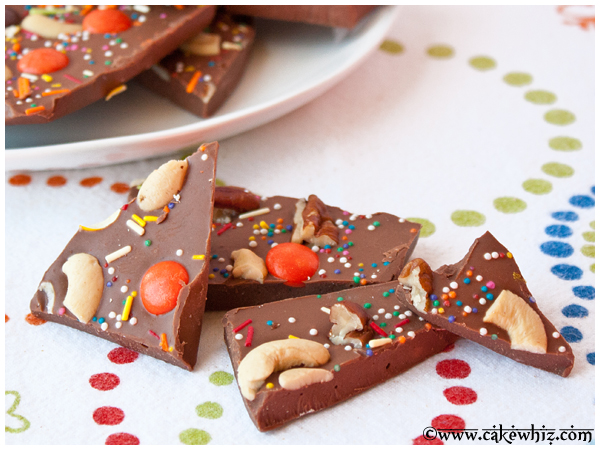 A party won't be complete without PRETZELS… right?
Chocolate dipped pretzels to be exact…
These are definitely a CLASSIC.
Sweet, salty, crispy….Mmmmmm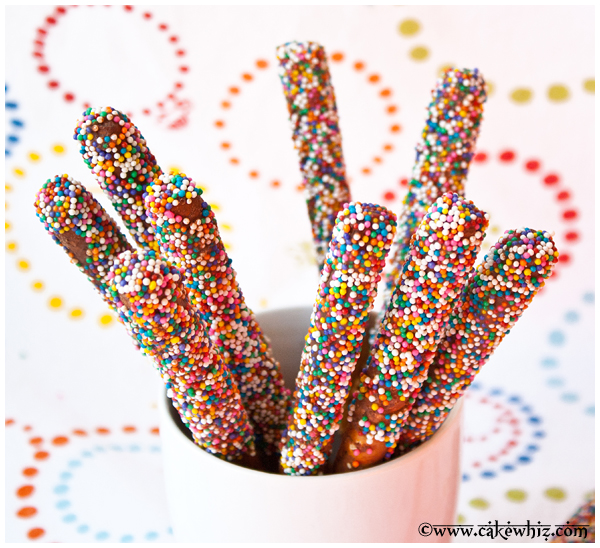 I also made some small and crispy rainbow sugar cookies dipped in chocolate and sprinkles.
I thought they looked ADORABLE!
My son is currently obsessed with these…heheh.
He likes to scratch those sprinkles off the cookies…lol.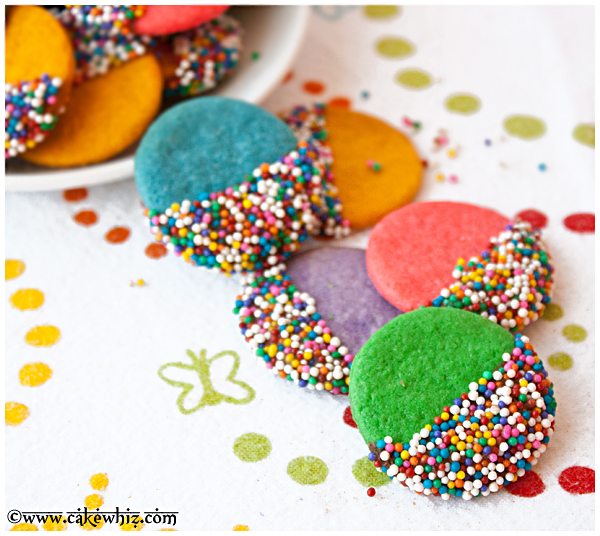 My dear husband requested I make these molasses crinkle cookies. They are his FAVORITE!
The recipe is very similar to Swedish ginger cookies BUT with a few minor changes… NO ginger and more spices!
They almost look the same too… sparkly, sugary and crinkly!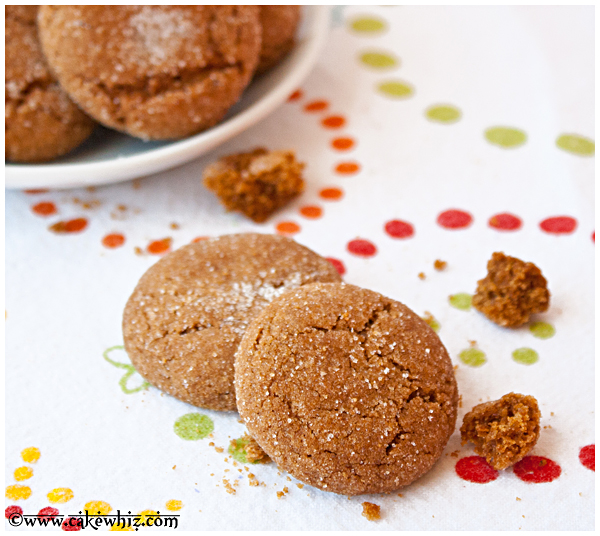 Every kiddie party needs CANDIES.
I filled a jar with colorful candies for everyone to enjoy…
By the way, that blue candy tastes AWFUL! You have been warned!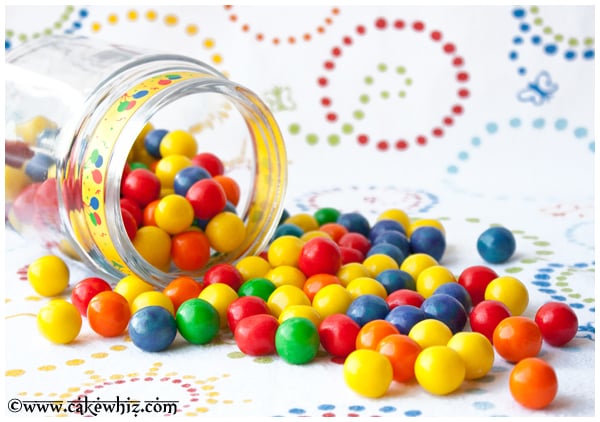 My cousins went CRAZY for these chocolate puddings…lol. 
Surprisingly, my son really liked these too.
Needless to say, after all that chocolate and sugar, he was super HYPER and didn't sleep till wayyyyyyy after midnight…hahah.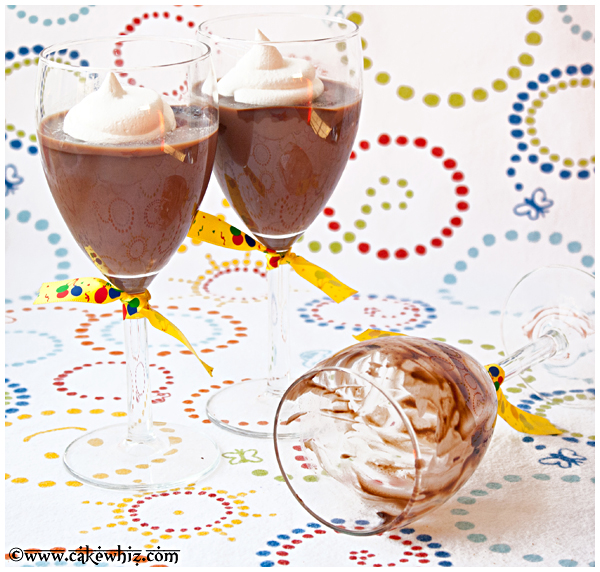 Most people put candles on birthday cakes to blow out. But, I thought that was RUINING the look of the cake. 
So, I placed 5 chocolate cupcakes and vanilla cupcakes near the cake and inserted a candle into each cupcake.
The colors of the candles and cupcakes CORRESPONDED to the colors of the Baby Einstein caterpillar.
Pretty neat…Eh?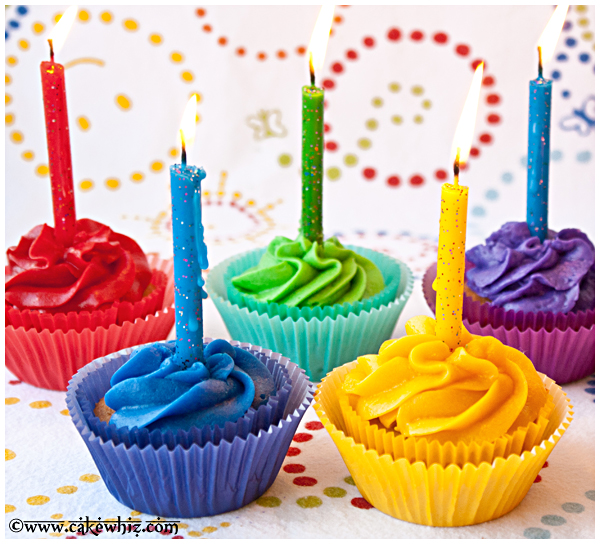 I finally made a successful batch of RED colored frosting. Thanks Gill (from Jillybean Cake Couture).
She gave me her directions and they worked like a charm. 
By the way, this STRAWBERRY frosting was "finger lickin good."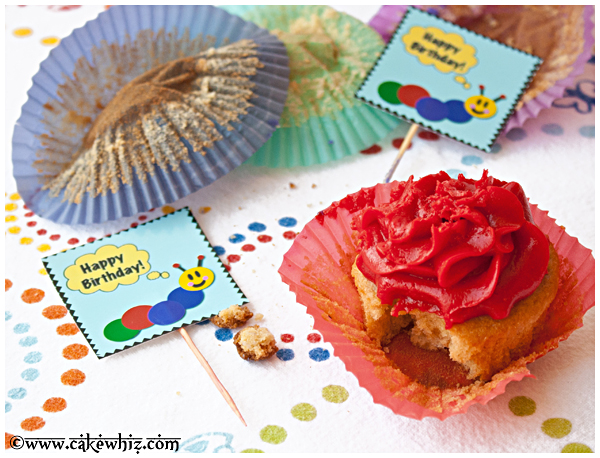 Speaking of frostings, this yellow MANGO frosting was apparently a HUGE hit among all the guests!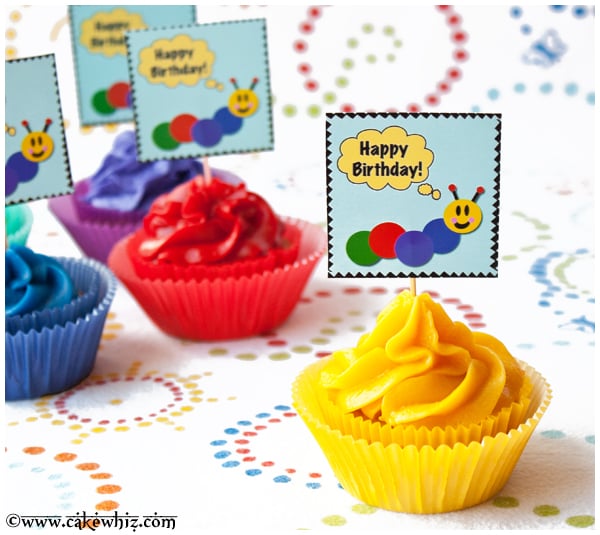 It's surprising how something as simple as cupcake toppers, colorful frostings and colorful liners can take your cupcakes from ORDINARY to EXTRAORDINARY!
Don't you agree?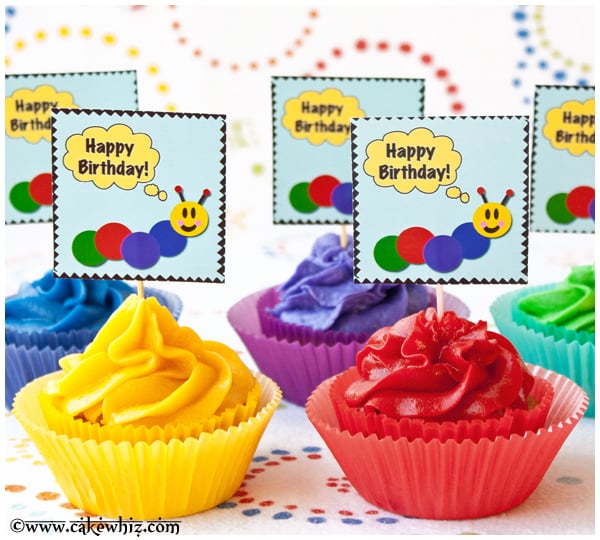 We weren't sure what to give as PARTY FAVORS because most of our family and friends don't have little kids.
So, giving toys made NO sense.
We made little goodie bags for the FEW kids that came.
But otherwise, everyone got a nicely packaged CUPCAKE!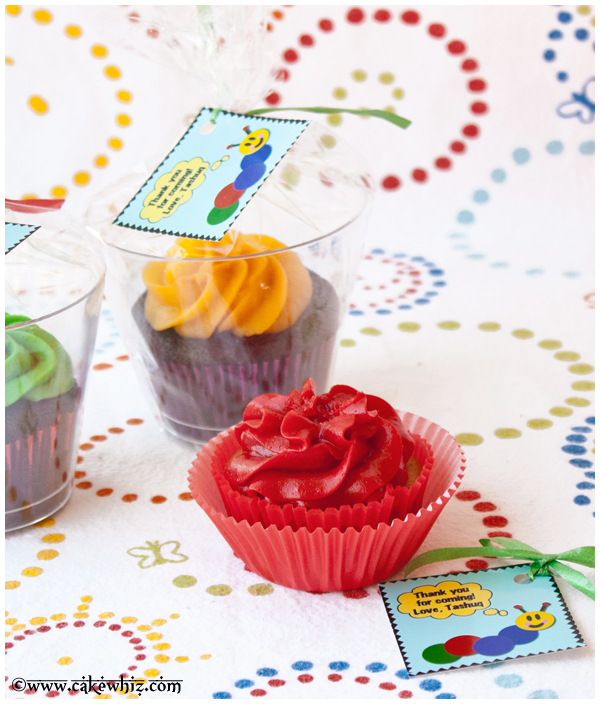 I don't think hubby and I could have pulled off this Baby Einstein caterpillar birthday party if it wasn't for ALL these lists!
We had lists for everything (Trust me… EVERYTHING!!!lol) pasted on the fridge…
Yes… we are both obsessed with lists.
It helps us MICRO-MANAGE everything…lol.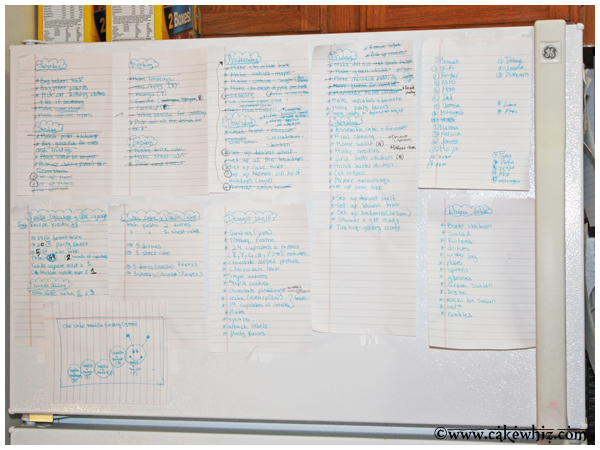 If you are planning a birthday party, here are a few tips: 
– Plan ahead! You never know what trouble you can encounter…
– Get organized. 
– Make lists for everything! Dinner, desserts, groceries, chores e.t.c.
– Know the exact number of guests that would be coming. That would help you figure out if a recipe needs to be doubled or tripled.
-Always have extra ingredients on hand. Halfway through decorating my cake, I ran out of green icing. I had to make another batch. Thankfully, I had all the ingredients on hand or else I would have had to make a trip to the grocery store and that would have been such a waste of time.
– Also, always have some extras for everything you have made (e.g. few extra cookies, few extra cupcakes e.t.c. You never know when an accident can occur…)
– Things like cookies, frostings and pretzels can be made a few days beforehand. So, don't leave those till the last minute. 
And finally… Expect the unexpected BUT don't forget to have fun! 
Well, that's all for today. 
I hope you were inspired by this Baby Einstein caterpillar birthday party.