Indoor Camping Party
Throw a fun indoor camping party for kids when it's too cold to go out camping in the woods. Great activity for Summer time or even boys birthdays.
*Thank you Clever Girls and Nestlé® Drumstick® S'mores for sponsoring today's post. As always, all content and opinions expressed here are all my own.*
I love throwing parties. One of my favorites is this Backyard Kids Summer Party and last weekend, I threw my son an indoor camping party.
He has been asking to go camping for two months but it has been so cold here in Chicago that it's not possible to go camping just yet.
Until the weather warms up, we are going to be camping indoors!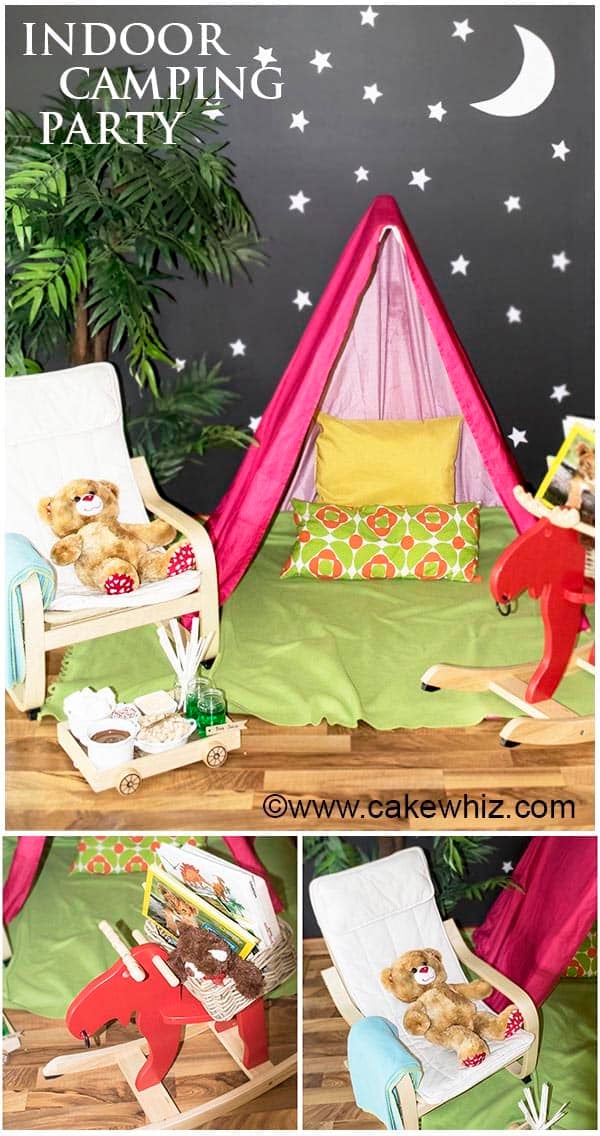 To set up this indoor camping party, I started out by spreading a small carpet in my living room and covering it in a green fleece blanket.
I placed the tent in the center and tossed a few pillows inside to make it comfortable….
Oh by the way, this tent is basically an Ikea chalkboard set up in a triangle shape and covered with a bed sheet… Smart! Eh???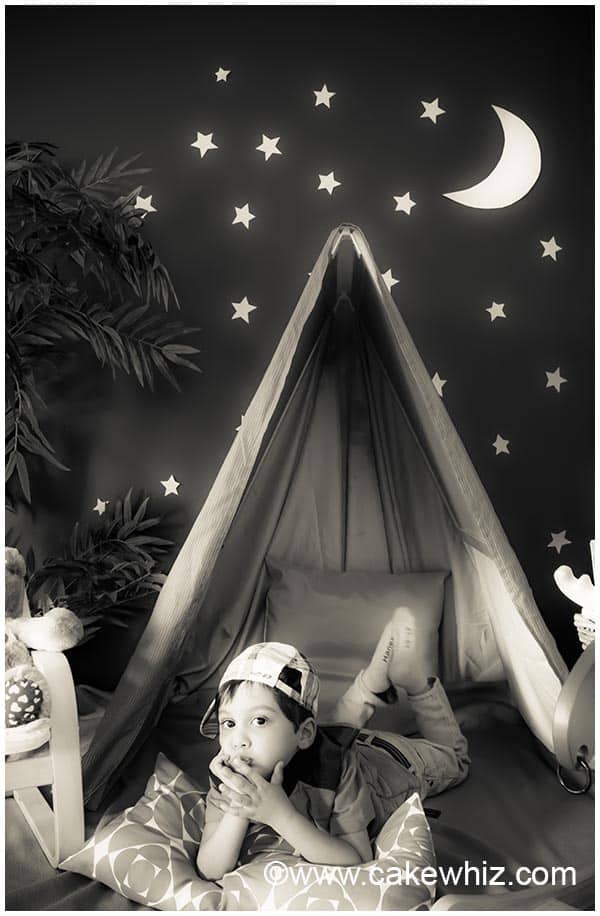 I even taped some sparkly white stars and a moon on the black wall to give everything the feel of night time.
Near that tent, I set up some artificial plants, his comfy chair and a basket with books.
Setting up this indoor camping party was so much fun!
Next time, I might add some LED light strings too coz they would look like shining stars…hehe.
Now, let's get into all the yummy food details, starting with these indoor s'mores.
A camping trip just isn't complete without s'mores.
But, I wasn't comfortable setting up a real fire. I didn't want any accidents.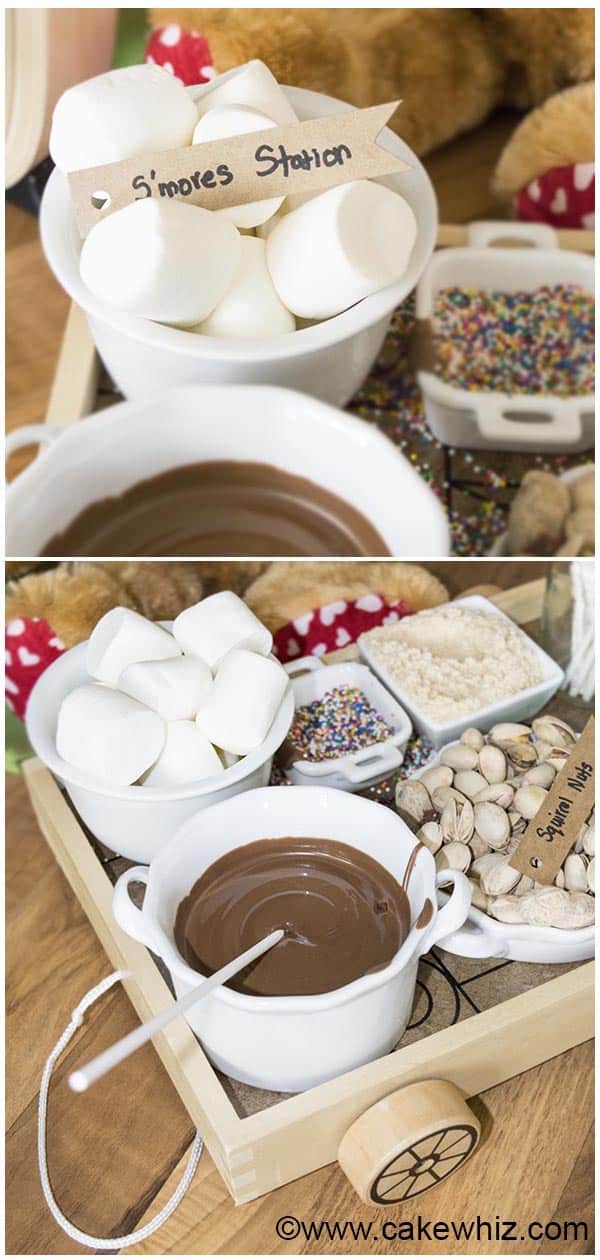 So, we made easy s'mores by dipping marshmallows in melted chocolate and covering them in graham crackers/ sprinkles.
The little one had a blast!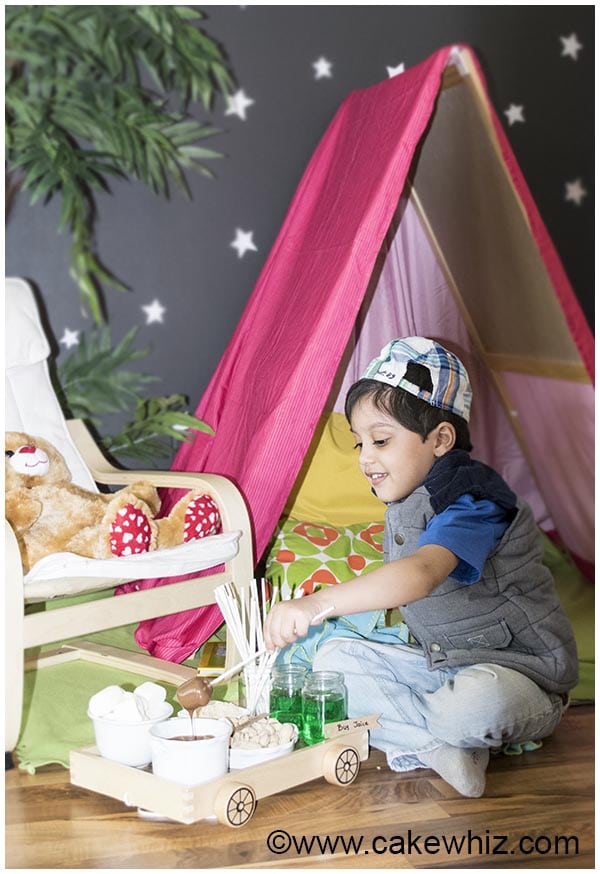 Every camping party obviously needs ice cream. So, we picked up a box of Nestlé® Drumstick® S'mores.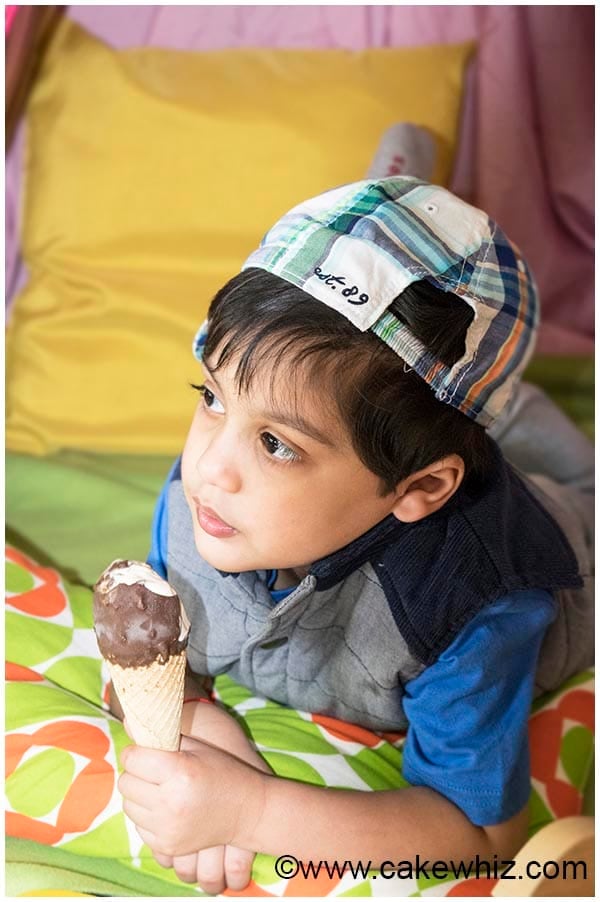 There are three flavors in the box: Toasted marshmallow with fudge, Toasted marshmallow and Chocolate marshmallow. Our favorite was the one with Fudge. Mmmmmmm.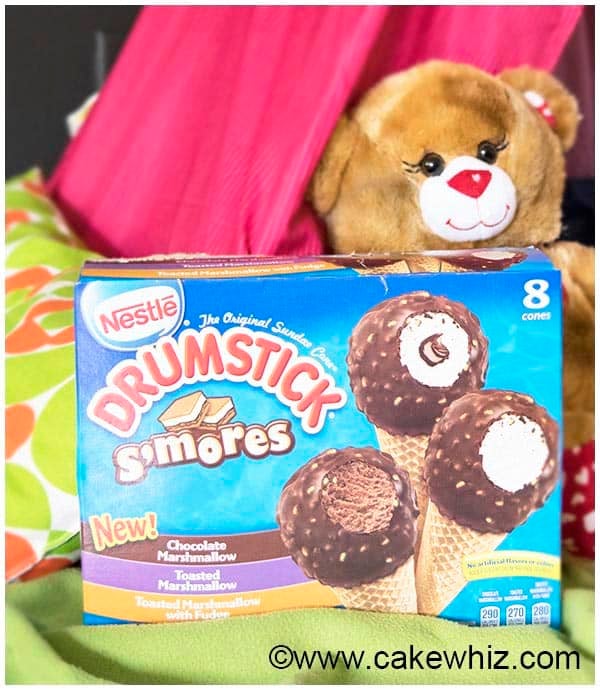 My little munchkin even shared his ice cream with teddy and his dear Mama. So darn cute!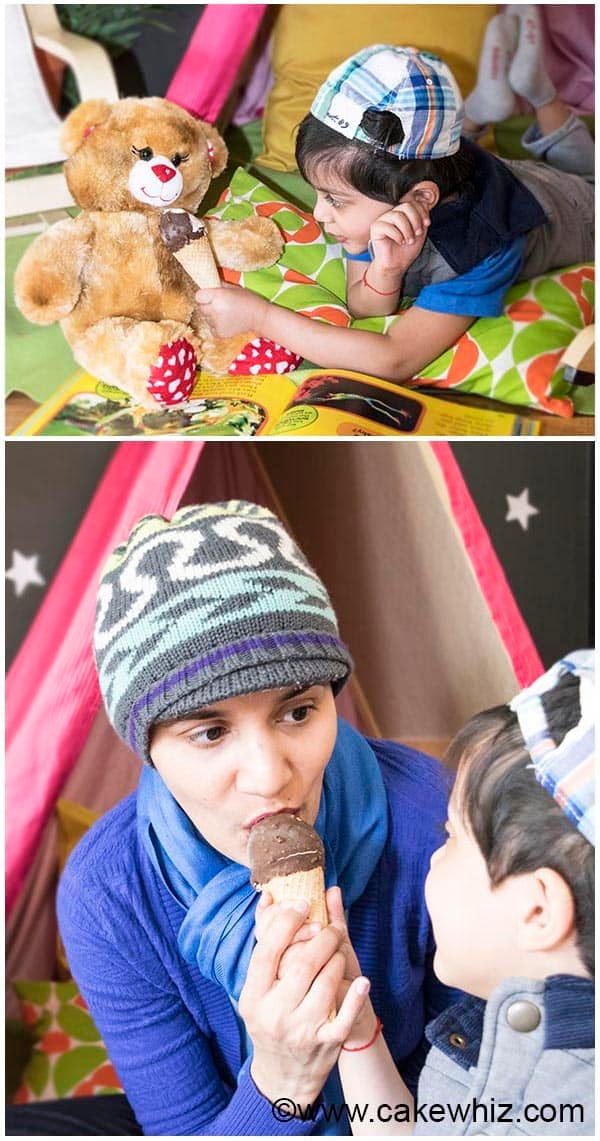 And for drinks, we sipped on "green bug juice" in little jars.
You can add green fruit powders in water or just add green food coloring in water or you can make my delicious kid-friendly green punch. Printable recipe can be found at the end of this post.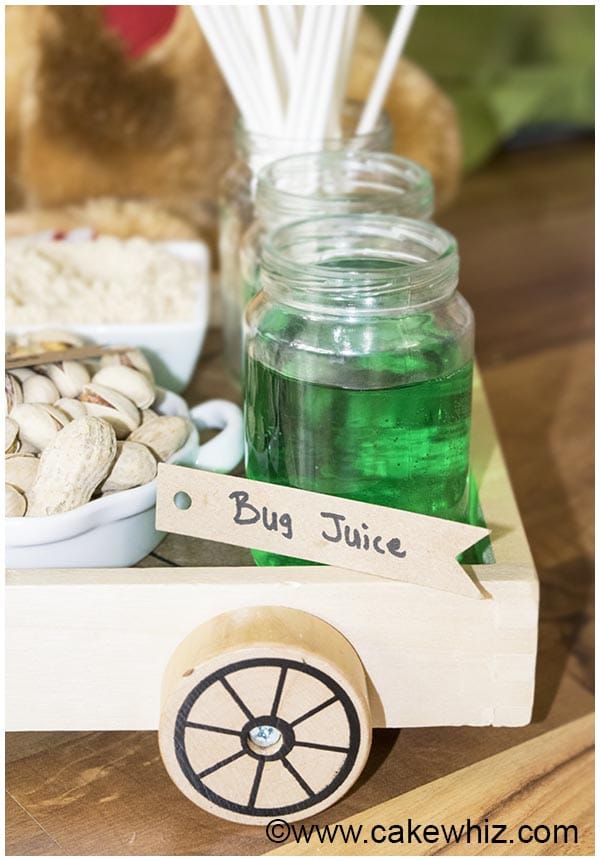 Campsites always have squirrels.
So, we gathered some "squirrel nuts" to eat and also share with the wild animals.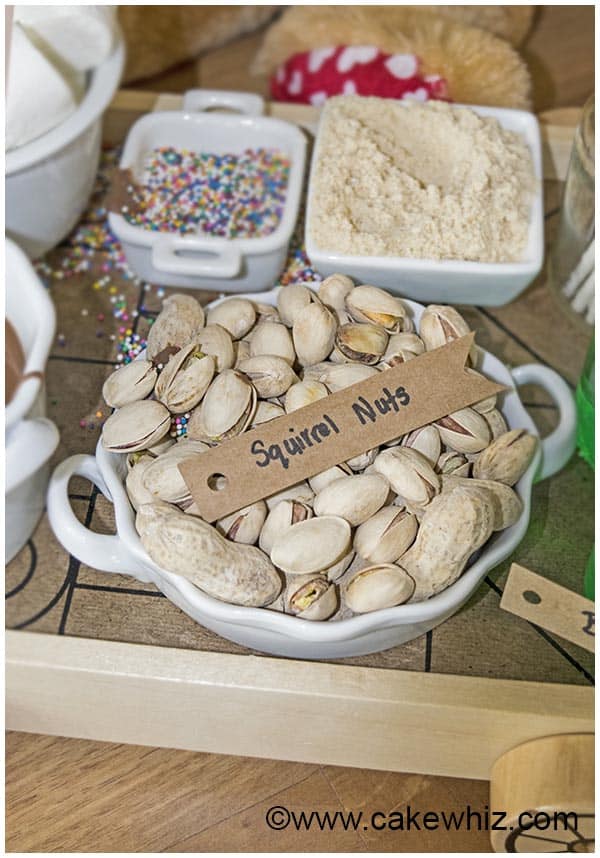 We also kept ourselves busy with some activities. We made a big animal puzzle together.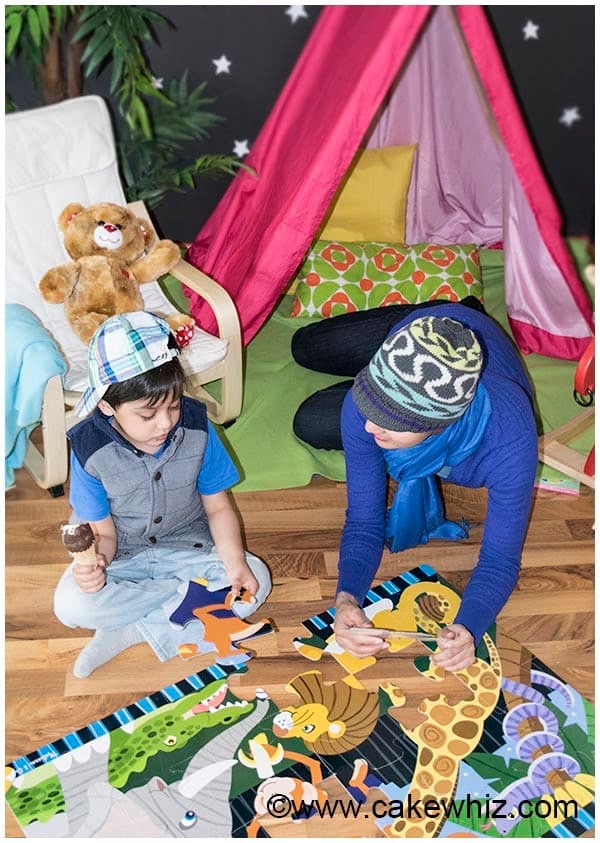 We also read animal books and my little one pointed out all the animals that can be found in the woods.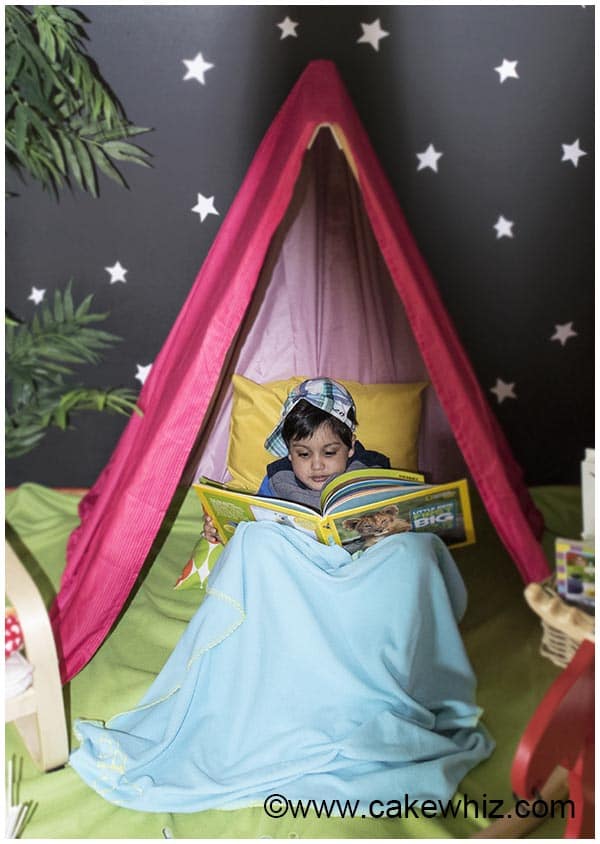 I told him funny camping stories from my childhood.
This camping party was a big success and we had a great time. High five!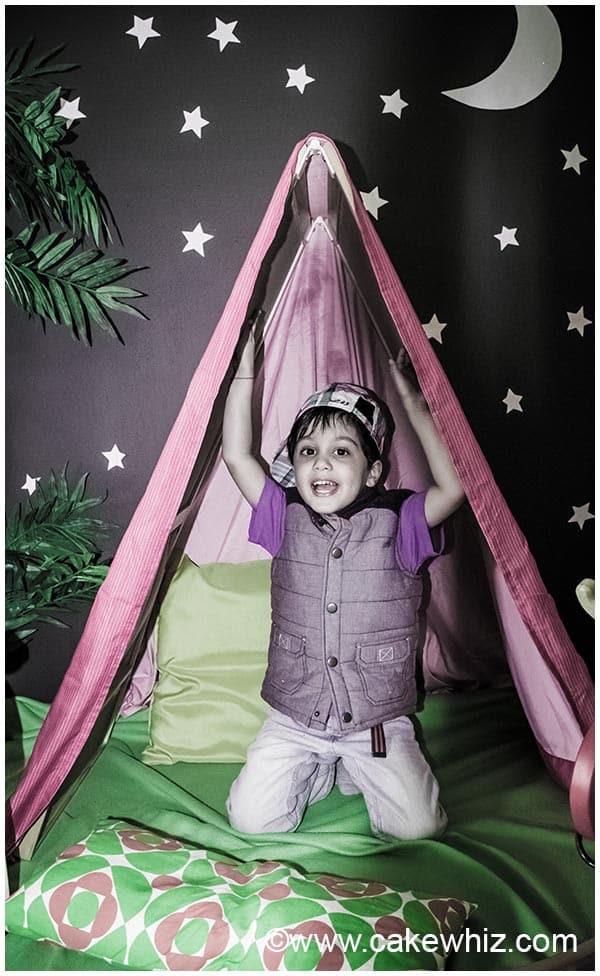 More Party Ideas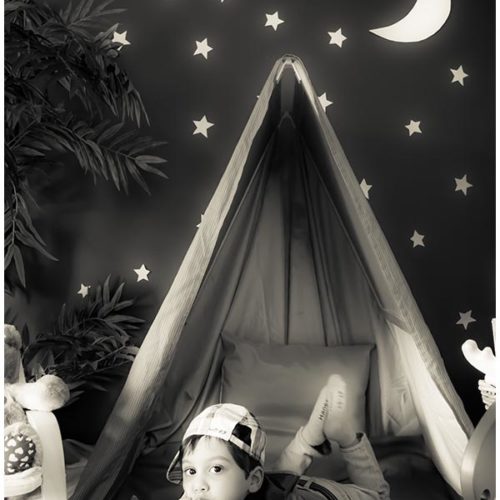 Indoor Camping Party Kids Green Punch (Bug Juice)
Throw a fun indoor camping party for kids when it's too cold to go out camping in the woods and make this green punch or "bug juice". Great activity for Summer time or even boys birthdays.
Yield: People
Ingredients
1 gallon Green Berry Rush Hawaiian Punch, Chilled
2 cans Pineapple juice, 6 oz. can each, Chilled
1 bottle Sprite, 2 litre bottle
Instructions
Combine all the ingredients in a large punchbowl or punch dispenser.

Serve immediately and enjoy.
Notes
Tastes best when served immediately because it will start to go flat and lose its fizziness, as time goes on. 
Nutrition
Calories: 14kcal, Carbohydrates: 3g, Protein: 1g, Sodium: 3mg, Potassium: 1mg, Sugar: 3g, Vitamin A: 1IU, Vitamin C: 1mg, Calcium: 1mg, Iron: 1mg