This rich and creamy vegan chocolate pudding is dairy free, egg free and so easy to make. Perfect dessert or snack for people with dairy allergies!
Apparently, yesterday was National Chocolate Pudding Day… Did you guys know that?
I must live in a BUBBLE coz I missed it…lol.
Well, one DOESN'T need a special day to ENJOY luscious vegan chocolate pudding…Right? 😉
I usually avoid vegan desserts coz quite frankly, I have the WORST luck with anything vegan :S
Seriously, NOTHING ever turns out good…lol.
So, I was prepared for a VERY BIG disappointment when I started playing with a chocolate pudding recipe from Silk.
But thank God I gave this recipe a shot coz I am in LOVE! 😀 
This pudding is SOOOO smooth and creamy and TOTALLY chocolicious! 😉

MY OTHER RECIPES
So far, I have made it with coconut milk, soy milk and even almond milk.
My FAVORITE is coconut milk but the rest of the milks taste darn good too!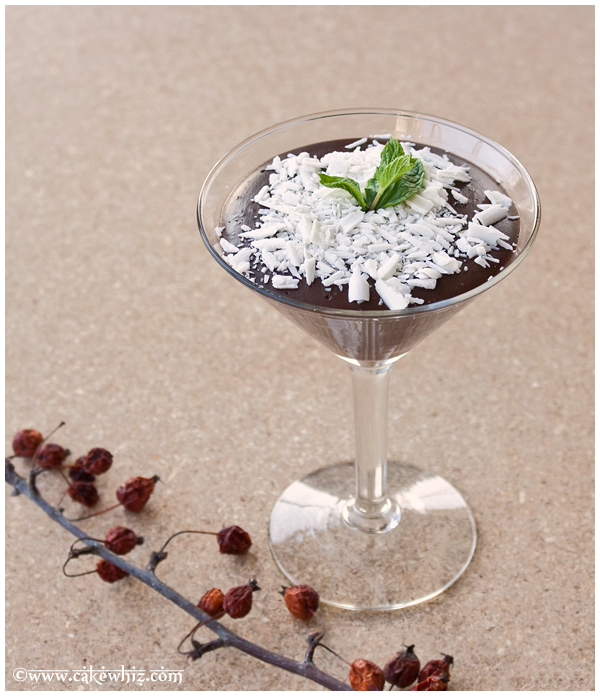 To make this pudding, you will need the following ingredients:
3 cups milk (almond or coconut or soy)
3/4 cup sugar
1/3 cup unsweetened cocoa powder 
1/4 cup  cornstarch
1 tbsp vanilla extract
2 tbsp vegan butter/margarine
And here are the steps: 
Step 1:
In a non-stick saucepan, add 2 cups milk sugar, cocoa powder. Mix everything and let it cook on medium heat.
Step 2:
Now, in a separate bowl, add the remaining 1 cup milk and cornstarch. Mix with a spoon until it dissolves. 
Step 3:
Pour the cornstarch mixture into your saucepan and continue mixing with a wooden spoon on medium heat for about 10 minutes.
Step 4:
When your pudding gets thick and starts sticking to your spoon, remove the saucepan from the heat. Add butter/margarine and vanilla extract. Mix everything one last time.
Step 5:
Pour this pudding into a few small bowls or one big bowl (whatever you like). Chill for 1-2 hours until it's completely firm.
And you are done…
Sprinkle some white chocolate shreds and ENJOY!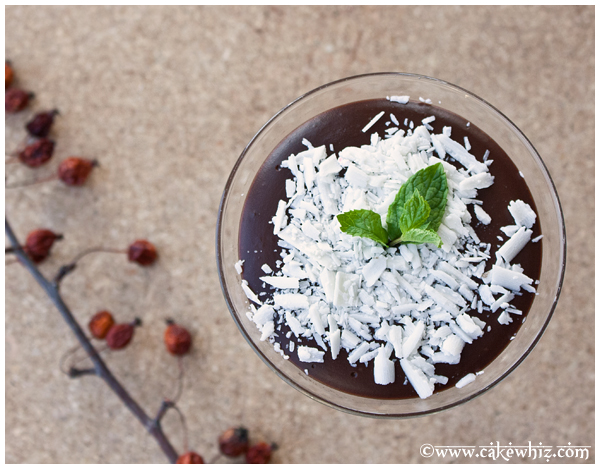 Well that's about it for today.
It's wayyy after midnight here and I am super sleepy…
Until next time, tata my lovelies 🙂