Vegan Chocolate Pudding
This rich and creamy vegan chocolate pudding is dairy free, egg free and so easy to make. Perfect dessert or snack for people with dairy allergies!
I am sure you can go out and buy a vegan chocolate pudding mix but there is nothing better than my HOMEMADE vegan chocolate pudding recipe.
It's RICH and CREAMY and has a strong chocolate flavor.
It also requires very LITTLE prep time/ cook time.
Also, I bet you already have the BASIC ingredients that are required for this easy dessert: milk, sugar, cocoa powder, cornstarch, vanilla extract.
Now, I have tried recipes for vegan chocolate pudding with:
Tofu (silken tofu)
Avocado
Banana
Almond milk
Coconut milk
I found that milk makes the BEST chocolate puddings and banana makes the WORST pudding, hands down!

How to make vegan chocolate pudding? How do you make pudding with almond milk?
In a saucepan, add almond milk, sugar, cocoa powder and cook on medium heat. Then, dissolve cornstarch is some more milk and slowly pour that into the saucepan, while whisking. Continue whisking until the pudding thickens. Remove from heat and stir in vanilla extract and butter. Pour into small dessert bowls. Chill until it sets and enjoy!
Can you make pudding without milk?
Yes, you can use any vegan milk you like:
Almond milk
Soy milk
Coconut milk
Cashew milk
Vegan milk blends

Here are some TIPS for making this EASY vegan pudding recipe:
Use a NON-STICK saucepan to prevent the pudding from sticking to your pan plus it's easier to clean.
Use almond milk, coconut milk, soy milk or even cashew milk  that come in milk cartons and NOT from cans.
DON'T use light or reduced fat milk because that reduces the creamy texture.
After you add cornstarch mixture into the milk, you must continue whisking to PREVENT any lumps from forming in your pudding.
If you end up with lumps in your pudding, use a hand-held emersion blender in your saucepan to smooth everything again.
You can GARNISH this pudding with vegan coconut whipped cream, chocolate shreds or chocolate chips, chopped nuts, mint leaves and even sprinkles.
You can use this recipe as a FILLING for vegan chocolate pudding pie or tarts too.
This is NOT a raw vegan chocolate pudding nor is it a vegan chocolate pudding cake recipe, which are both entirely different.
Here are some FLAVOR VARIATIONS you can try with this chocolate pudding:
For coffee chocolate pudding, add 1 tsp espresso powder.
For chocolate orange pudding, add 1.5 tsp orange extract.
For mint chocolate pudding, add 1.5 tsp mint extract.
For coconut chocolate pudding, add 1.5 tsp coconut extract.
*Adjust the amount of extracts, based on your preference.*

Now that I have mastered this quick vegan chocolate pudding with no eggs and no butter, I will be working on perfecting my vegan vanilla pudding recipe and sharing that recipe with you very soon.
Well, that's all for today.
If you liked this dairy free chocolate pudding recipe, you may like some of these other pudding recipes: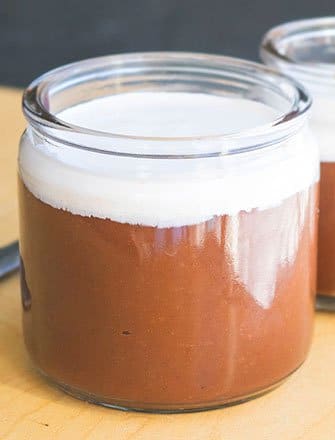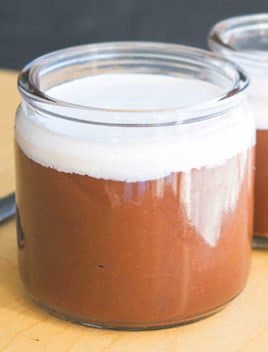 Vegan Chocolate Pudding
This rich and creamy vegan chocolate pudding is dairy free, egg free and so easy to make. Perfect dessert or snack for people with dairy allergies!
Yield: Servings
Instructions
In a non-stick saucepan, add 2 cups milk, sugar and cocoa powder. Mix and let everything cook on medium heat.

In a separate bowl, add the remaining 1 cup milk and cornstarch. Mix until it fully dissolves.

Pour this cornstarch mixture into your saucepan, while constantly whisking for a few minutes to prevents any lumps from forming.

Continue cooking and whisking until your pudding gets thick and starts sticking to your whisk.

Remove saucepan from heat and add butter as well as vanilla extract. Mix everything one last time.

Pour this pudding into 6 small dessert bowls.

Chill in the fridge for 1-2 hours or until pudding fully sets.

Prior to serving, top off with whipped cream, if you like and enjoy!
Notes
Read all my tips above.
Leftovers can be stored in a sealed container in the fridge for up to 2 days. 
Nutrition
Calories: 235kcal, Carbohydrates: 38g, Protein: 4g, Fat: 7g, Saturated Fat: 3g, Cholesterol: 12mg, Sodium: 84mg, Potassium: 233mg, Fiber: 1g, Sugar: 31g, Vitamin A: 375IU, Calcium: 144mg, Iron: 0.7mg
Until next time, tata my lovelies!