Best Chocolate Cupcake Recipe
Classic, quick, easy, best chocolate cupcake recipe, homemade from scratch with simple ingredients. Topped off with chocolate frosting. Rich, soft, moist and fluffy.
After sharing my Best Vanilla Cupcake Recipe a few weeks ago, I am so excited to share my favorite chocolate cupcakes today. I am not sure why I waited so long because I have been making these for years for all of our family events, especially birthday parties.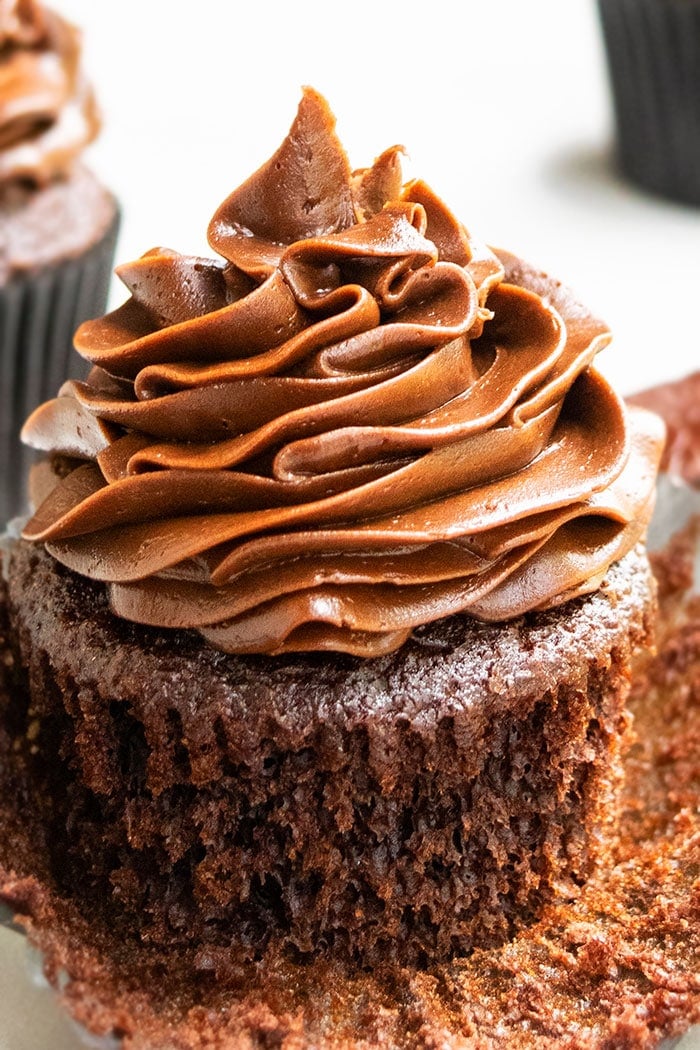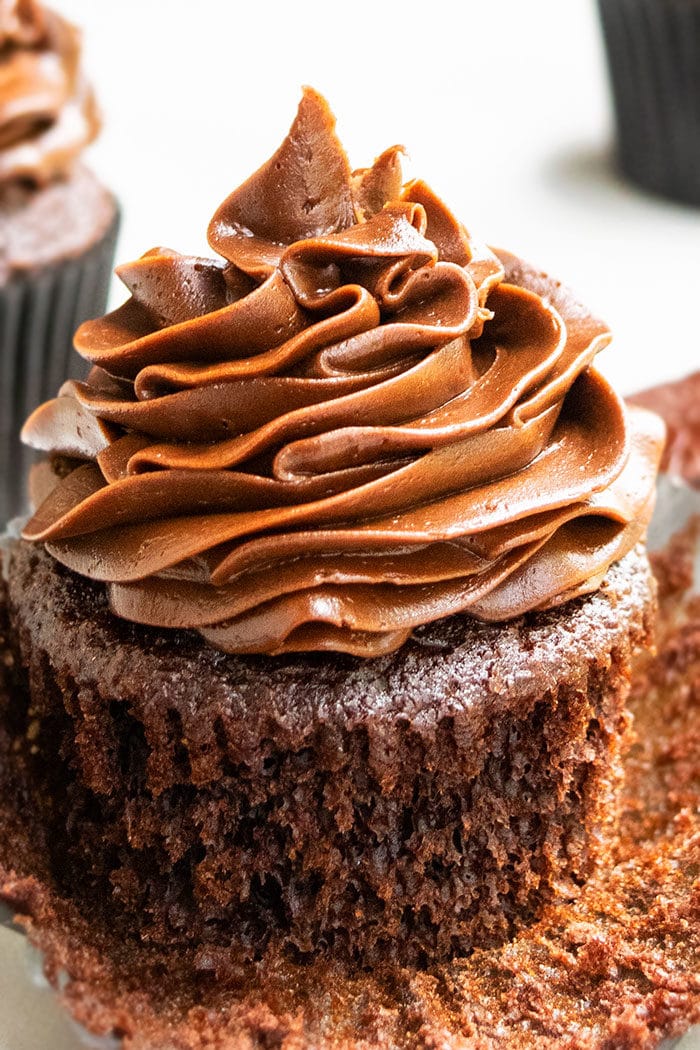 How to make chocolate cupcakes?
Mix together wet ingredients (eggs, oil, buttermilk, coffee, vanilla).
Mix together dry ingredients (flour, sugar, cocoa powder, baking powder, baking soda).
Dump dry mixture into wet mixture and mix.
Pour batter in cupcake liners.
Bake.
Ice cupcakes.
Enjoy!
How to make moist chocolate cupcake recipe?
Moisture comes from rich ingredients that are high in fat. So, use full fat ingredients. Use whole milk or buttermilk instead of fat free or low fat milk. Use butter instead of oil, although today's recipe is an exception and requires oil.
What makes best homemade fluffy cupcakes?
That's a result of the air bubbles that you whip into the batter that end up expanding in the oven, during baking. However, if the batter is over-mixed, those bubbles end up collapsing and the cupcakes don't fully rise and can sink too. That's why you should only mix the cake batter until just combined.
Also, measure ingredients properly because baking is science and those measurements and ingredients combine together to create the best fluffy texture.
Can you freeze cupcakes?
Yes. Unfrosted cupcakes can be stored in an air-tight, sealed freezer bag or container for up to 1 month. Let them thaw in the fridge or at room temperature and then ice them with frosting.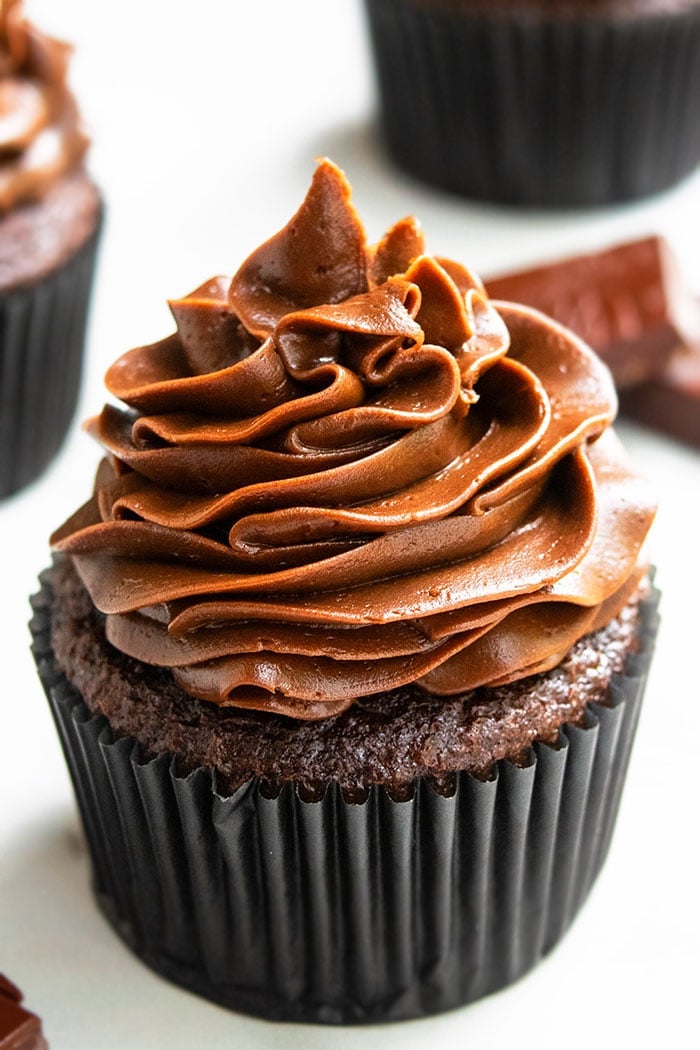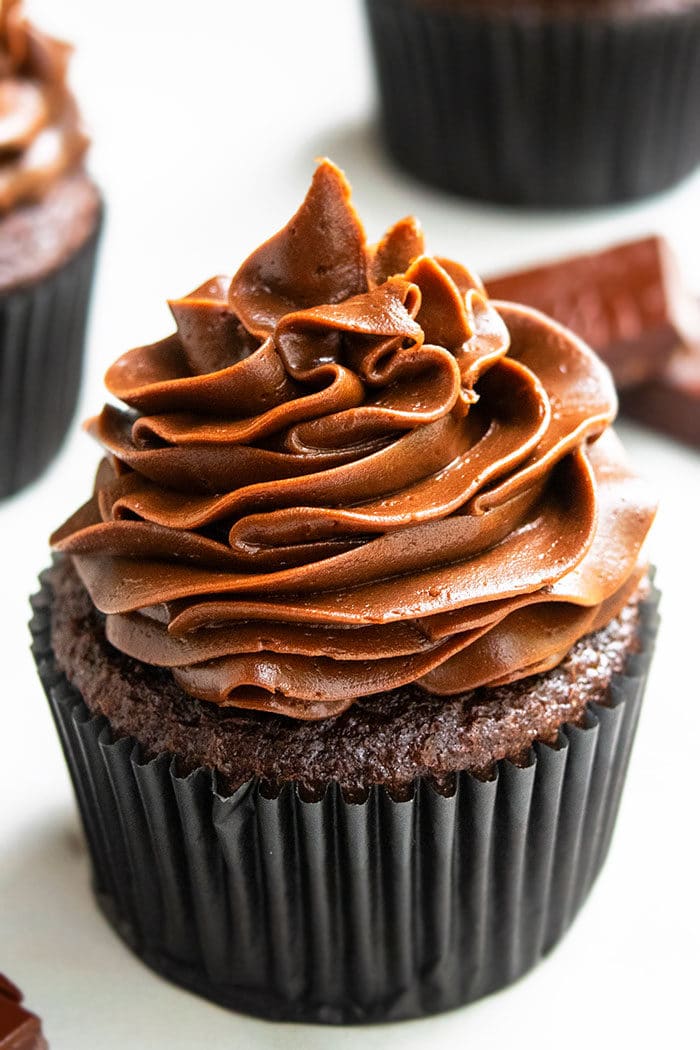 Easy chocolate cupcake frosting
The classic choice is obviously chocolate buttercream frosting. I also have a very fudgy Coconut Cream Chocolate Frosting that's amazing. However, there are are many other delicious flavor combinations. Try out some of these pairings:
For a fruity flavor combination, try any of the following fruit-based frosting recipes:
Filled cupcakes
The classic choice is obviously chocolate ganache because it truly enhances the chocolate flavor. It's also super rich and creamy.
You can also try other fillings like various flavors of jams and spreads such as this Homemade Strawberry Jam or peanut butter and other nut butters and even Nutella.
You can even fill them with fresh berries (e.g. raspberries, strawberries, blackberries e.t.c.). Let's not forget about pie fillings such as this Raspberry Pie Filling or this Cherry Pie Filling or this Strawberry Pie Filling. All of these fillings can be homemade or store-bought.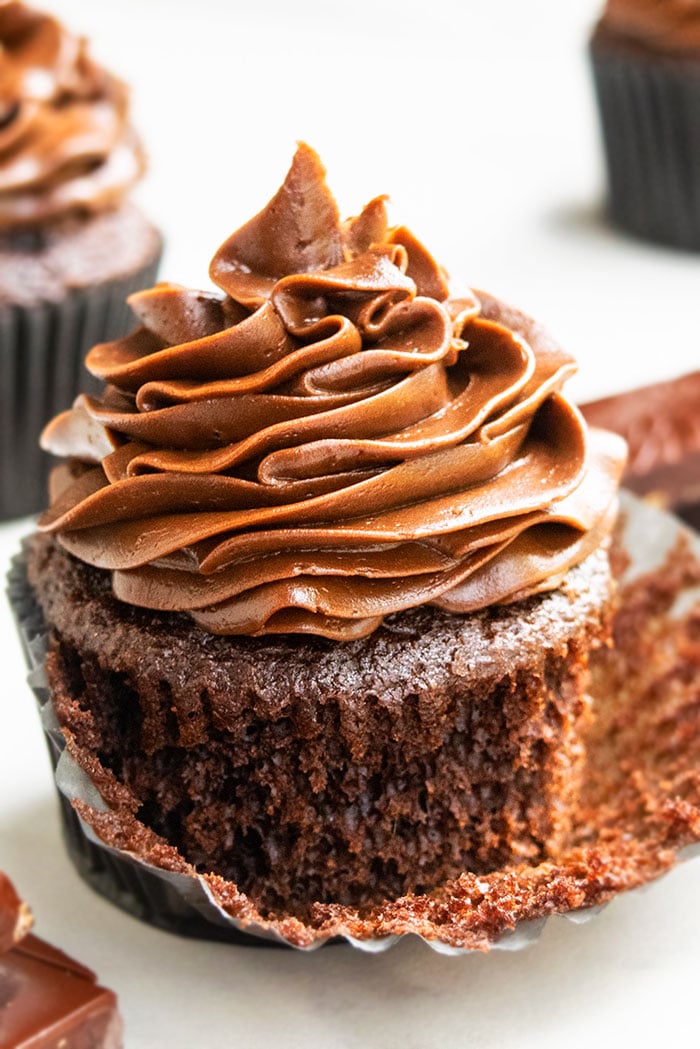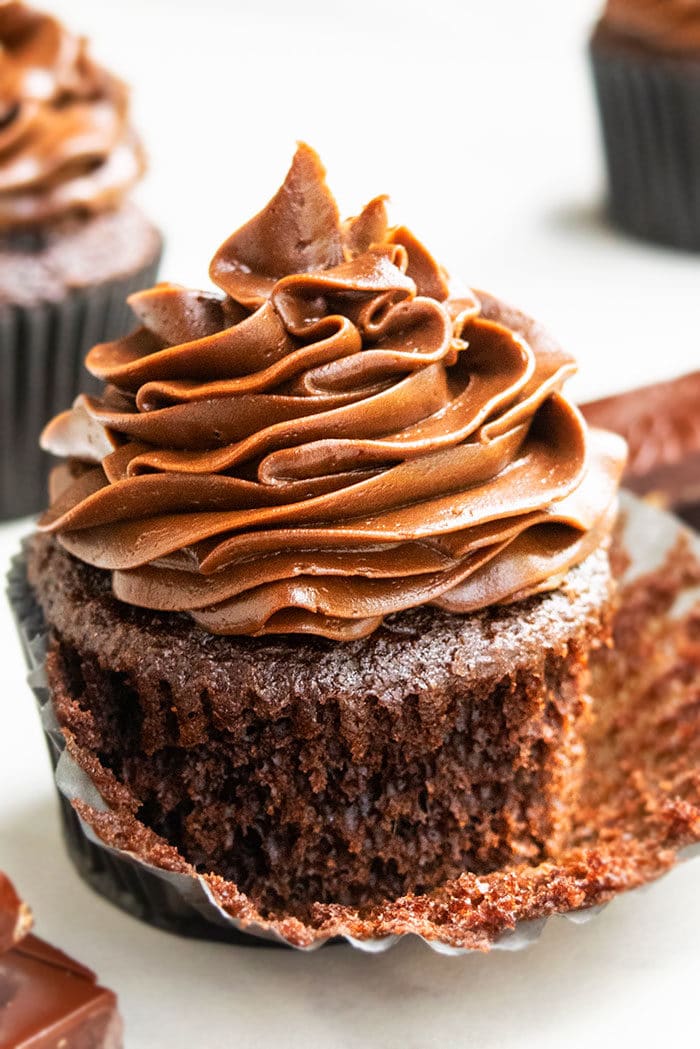 Variations
German chocolate cupcakes– Pair these cupcakes with a classic coconut pecan frosting.
Vegan chocolate cupcakes– Use this recipe instead of modifying the recipe below.
Sugar Free Chocolate Cupcakes– Use this recipe instead of modifying the recipe below.
Chocolate chip cupcakes– Stir in 1/3 cup mini chocolate chips in the cupcake batter and also top off the frosted cupcakes with mini chocolate chips.
Chocolate peanut butter cupcakes- Pair these cupcakes with peanut butter frosting and a drizzle of melted peanut butter and finally, top off with chopped roasted peanuts.
Mini cupcakes– Use a mini cupcake pan to make smaller cupcakes. Watch them closely while baking to prevent them from becoming over-baked and dry.
Decorate it! I kept it simple and decorated with a simple swirl of frosting but you can toss chocolate chips, chopped candies, chocolate shreds, sprinkles and even fresh flowers.
Tips and Techniques
All ingredients must be at room temperature– Because this allows them to blend together smoothly and evenly.
Only use all-purpose flour– Don't replace all-purpose flour with any other flour because it does not yield the same good results. I have various other flours, including whole wheat and gluten-free and neither tasted great. The only other flour that still yielded good results was Homemade Cake Flour.
Don't over-mix cupcake batter– Because that will yield very tough cupcakes and there is a higher probability of them sinking in the center, during baking.
Frost cool cupcakes– Allow the cupcakes to fully cool down before frosting them because that prevents the frosting from melting all over the cupcakes and making a mess.
Serve a crowd– Recipe can easily be doubled to serve more people. You will have to bake in batches though, if you don't have multiple ovens.
Oil vs. Butter– Typically, I am a big fan of butter but in order to make these cupcakes fluffy, oil has to be used to give them an airy texture. Butter tends to make them very dense.
Both, baking powder and baking soda, are required– Don't replace one with the other because that will alter the texture of this cake.
Use warm brewed coffee- Because if it's too hot, it will start cooking the eggs in the batter. It cannot be boiling hot.
Don't use dark chocolate– This is with regards to cocoa powder because it makes the cupcakes too bitter.
How to make homemade buttermilk? I know this is not an ingredient many of us have on hand, all the time but no worries. Make a great buttermilk substitute at home by mixing together 1 cup whole milk with 1 tbsp vinegar or lemon juice. Let it sit for 5 minutes. Mix and then, use in this recipe.
Don't replace buttermilk with whole milk- Because buttermilk adds a lot of moisture to the cupcakes and makes it super soft.
More Cupcake Recipes
More Chocolate Desserts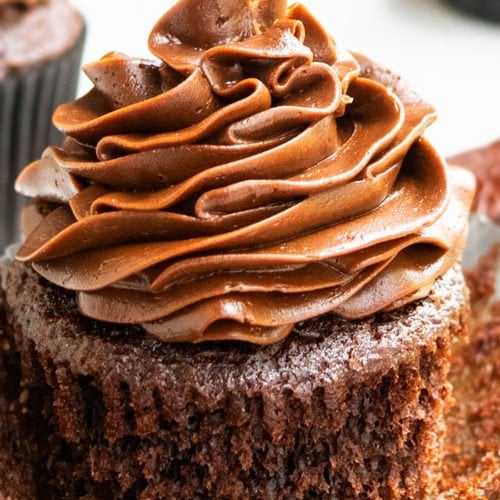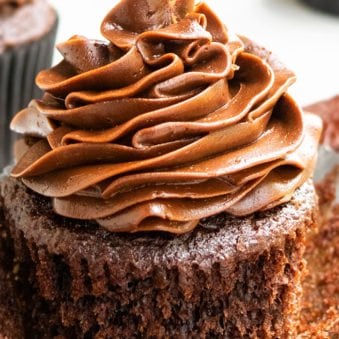 Best Chocolate Cupcakes From Scratch
Quick, easy, best chocolate cupcake recipe, homemade from scratch with simple ingredients. Topped off with chocolate frosting. Rich, soft, moist and fluffy.
Yield: Cupcakes
Instructions
In a large mixing bowl, whisk together eggs, buttermilk, oil, water, vanilla extract until smooth. Keep aside.

In a separate mixing bowl, whisk together flour, sugar, cocoa powder, baking powder, baking soda.

Dump this dry mixture into the wet mixture and mix until just combined.

Pour batter in cupcake liners.

Baker at 325 degrees for 20-25 minutes or until an inserted toothpick in the center comes out clean.

Allow the cupcakes to cool down completely.

While the cupcakes are baking and cooling, prepare chocolate frosting.

Fill a piping bag with chocolate buttercream and attach a large star tip (e.g. Tip # 1M) and frost a swirl on top of each cupcake. Enjoy!
Notes
Read all my tips above.
Leftovers can be stored in a sealed container in the fridge for up to 3 days. 
Nutrition
Calories: 264kcal, Carbohydrates: 44g, Protein: 2g, Fat: 10g, Saturated Fat: 2g, Cholesterol: 14mg, Sodium: 161mg, Potassium: 162mg, Fiber: 1g, Sugar: 34g, Vitamin A: 30IU, Calcium: 27mg, Iron: 1.4mg
Until next time, tata my lovelies!