Wedding Cake Tutorial
Learn how to make wedding cake with step by step wedding cake tutorial. This tiered cake is decorated in white fondant, white flowers and silver pearls.
I shared this royal wedding cake tutorial in Snippets magazine when Prince William and Kate Middleton were about to get married, 
This royal wedding cake took me god knows how many hours to make. Obviously, it doesn't look as extravagant as Prince William's actual wedding cake but I was VERY happy with it!

I would have shared pictures of this cake sooner but I wasn't able to, due to my crazy nausea. But, better late than never… right?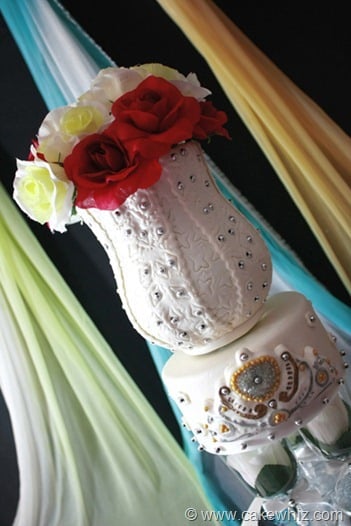 The cake was entirely made of styrofoam cake dummies since it was not for a real wedding and I did not know what I would do with all that cake…lol.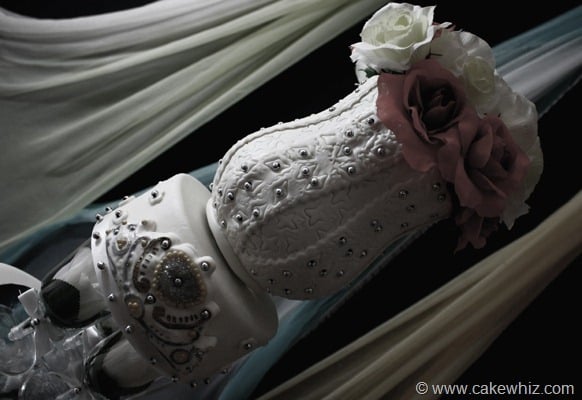 Even though this cake is not edible, it's one of those cakes that I am really proud of. I LOVED how it turned out and felt that all those hours of work paid off in the end.
I took lots of pictures so that I can share this wedding cake tutorial with all of you.
I usually start off with a sketch when making a cake but in this case, I made three sketches before I decided on the final design for this royal wedding cake tutorial.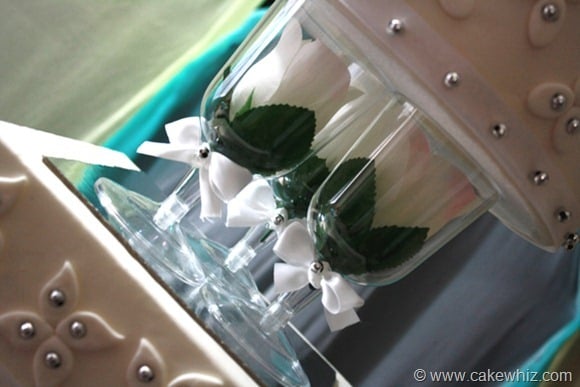 Here is the step by step wedding cake tutorial: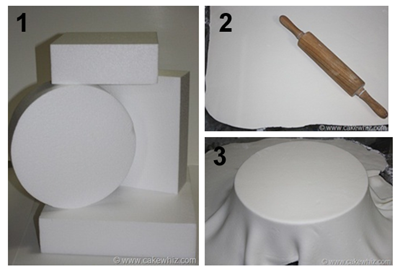 Step 1:
Buy cake dummies or bake your cakes. Your will need the following sizes:
Round cakes (12×3 inch, 10×3 inch and 8×3 inch)
Square cakes (12×3 inch, 10×3 inch and 8×3 inch)
Step 2:
Roll out your white marshmallow fondant.
Tip: Make sure your table is sprinkled with lots of powdered sugar or else the fondant will stick to the table.
Step 3:
Cover your cake dummy in shortening or cover your actual cake in frosting. Then, spread the rolled fondant on top of it.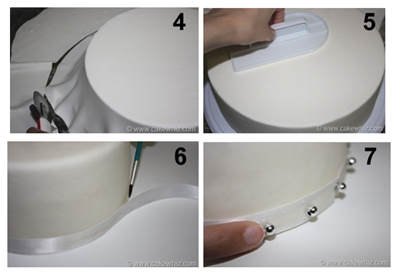 Step 4:
Use a pizza cutter to trim the excess fondant around your cake.
Step 5:
Now use a fondant smoother and press it all over your cake to smooth out fondant. This will give your cake a clean look.
Follow the same steps to cover the rest of your cakes or dummies. Also, don't forget that if you are using real cake, each cake should be sitting on sturdy a cake board.
Step 6:
Once the cakes are covered in fondant, I like to give them a border. I find it very classy. So, bring out your white satin ribbon. Brush some royal icing around the bottom of the cake and stick your ribbon along this area.
Step 7:
Since this cake is going to have a silver and white theme, use a glue gun to stick silver beads around the ribbon.
A few tips:
-Use a ruler to keep the distance between each bead consistent.
-You can omit this step ENTIRELY if you have fancy white and silver beaded ribbons.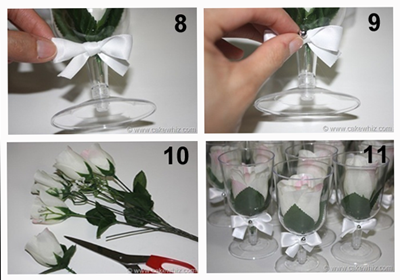 Step 8:
I wanted to try a different approach for cake separators. There are various separators sold online and in stores but it feels totally cool when you can take something as simple as a champagne glass and give it your own touch. Here is how I made these:
Make little bows out of white satin ribbon.
Bring out your champagne glasses and use a glue gun to stick the bow in place.
Tip: I think crystal glasses would look so much better than that the plastic ones but I didn't have as many crystal glasses so I used these plastic ones to give you guys an idea. Keep in mind that if you are using crystal glasses, you would obviously wrap the ribbon around the glass instead of gluing it.
Step 9:
To complete the look, glue a single bead on the center of the ribbon.
Step 10:
Bring out your silk flower bouquet and cut out individual roses using scissors. I think using fresh roses would look even better!
Step 11:
Place each rose into an individual champagne glass and you have successfully made your own cake separators!
Looks beautiful…eh? I think it's really all about the little details that takes a cake from looking ordinary to extraordinary!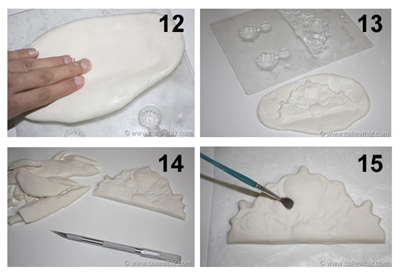 Step 12:
Bring out your crown chocolate mold and sprinkle some powdered sugar in the crown cavity. Sugar prevents the fondant from sticking to the mold.
Roll out some fondant pretty think and place it over the crown cavity and press gently.
Step 13:
Then flip over your mold and the embossed fondant should fall out.
Step 14:
Use a sharp exacto knife to cut out excess fondant until you are left with a smooth fondant crown.
Step 15:
Brush off all that powdered sugar. At this point, I placed this crown on a sheet of parchment paper/wax paper just so that it doesn't stick to my table.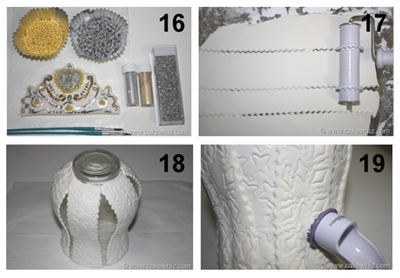 Step 16:
Now, start painting on the crown. The mold has already embossed the entire design. You just need to paint on those bumps and cracks. To make gold paint, mix very little gold pearl dust with vodka or clear vanilla extract and use this thick paste to paint. To make silver paint, do the same thing. Add silver dragees and small golden pearls around the crown and let it all dry.
Tip:
– Practice on some scrap fondant before working on the actual crown. This will give you a chance to get used to the paintbrush.
– To make the gold slightly deeper, I added some copper pearl dust to my gold paint.
Step 17:
After I made the crown, I made the vase. I found this to be the hardest part of the cake. For this, mix some fondant with gum paste or you can use just gum paste too. Roll it out and use Wilton's fondant cutter with the zigzag edges to cut strips that are 1 inch wide.
Step 18:
Use some shortening to hold these strips on a glass vase. After these strips dry, they would have the shape of this vase. I needed 12 strips to make this vase. So, I used 2 of these glass vases and let the strips dry. They took about a week to completely dry. I used Wilton's decorative fondant punch to create these fancy impressions on my strips.
Step 19:
After a week, I removed all the strips from the vase and pasted them together with royal icing. Make sure to handle these trips gently or else they break or bend and lose their shape.
Tip: Once these strips are dry, don't try to use the decorative fondant punch again on these strips. I made this mistake (as seen in the picture) and that strip cracked and then completely broke.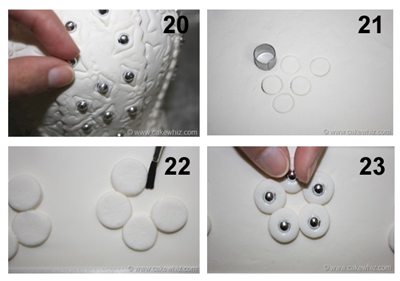 Step 20:
Use royal icing to stick silver dragees randomly around this vase.
And your vase is now complete. Keep it in a dry place until you need it.
Step 21:
Decorating 6 tiers takes a long time but you can always divide your work over a few days. I did 3 tiers on one day and 3 tiers the next day. On each tier, I used a specific cutter to make a flower cluster arranged in a random manner.
For the circle flower cluster, roll out fondant and cut out circle shapes.
Step 22:
Arrange those circles into a flower cluster. Brush water where you want these clusters to be positioned and stick them.
Step 23:
Brush some water on top of each circle and stick a silver dragee into each circle. The water helps to stick it in place.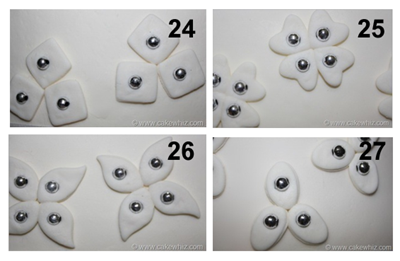 Step 24:
Follow steps 21-23 for the other shapes.
This is what the square flower cluster would look like.
Step 25:
And the heart flower clusters…
Step 26:
And the leaf flower clusters…
Step 27:
And the oval flower clusters…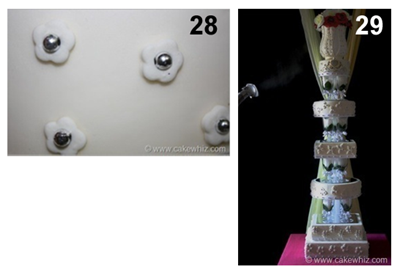 Step 28:
And finally, I used the basic flower cut outs on the very top tier so that the focus is on the crown and vase.
Step 29:
Time to put it all together (Trust me, we are finally near the end of this wedding cake tutorial)
Stick the crown on side of the 8 inch round cake with royal icing. It should stick within a few minutes.
Now, place the 12 inch square cake at the bottom and place the 10 inch square cake on top of that. Make sure your cakes are sitting on cake boards. Also, you need to use dowels in each tier to provide your cakes with support.
Next, place 4 champagne glasses on top of a silver cake board. Now place the 12 inch round cake on top of these glasses. Place 3 more champagne glasses and place the 8 inch square cake. Then, place the 10 inch round cake and 8 inch round cake with champagne glasses in between them. Finally, place the vase on the top tier. Fill it with red and yellow flowers.
Give everything a steam with a steam iron. This makes the wedding cake smoother and shinier. And you are done!
Phew! This was my longest posting yet!
Hope you enjoyed this royal wedding cake tutorial.