How to Make Chocolate Bark
Learn how to make chocolate bark recipes with 2 simple ingredients. Lots of toppings and variations possible. Great as homemade gift for Christmas holidays.
This is quite possibly one of the most popular desserts to make during the holiday season. It's so quick and easy just like these Christmas Candy Cones or even these Christmas Candy Cane Sleds. Fun for both, kids and adults!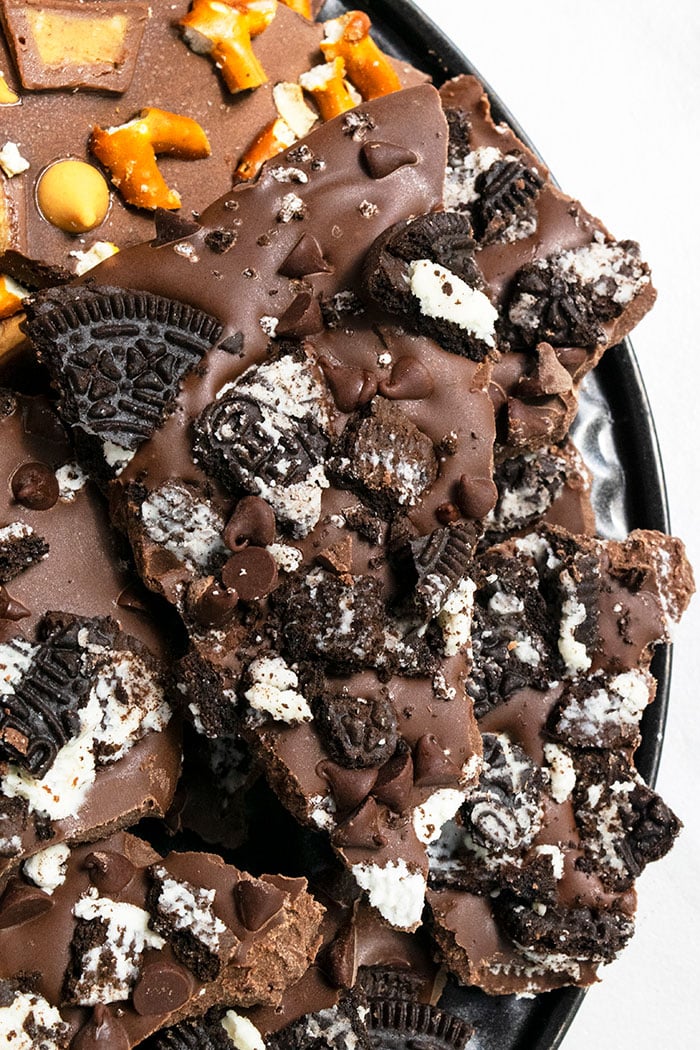 What is chocolate bark?
It is simply a sheet of chocolate that's covered in a variety of toppings and broken up into smaller pieces. It's a popular dessert during the holiday season and even given to family and friends as a homemade gift.
How to make chocolate bark?
Melt chocolate– Use a microwave or double boiler for this.
Spread chocolate evenly– Make sure pan is lined with wax paper.
Sprinkle topping– Such as candies, cookies, nuts, sprinkles e.t.c.
Enjoy! Let chocolate set, break into small pieces and dig in!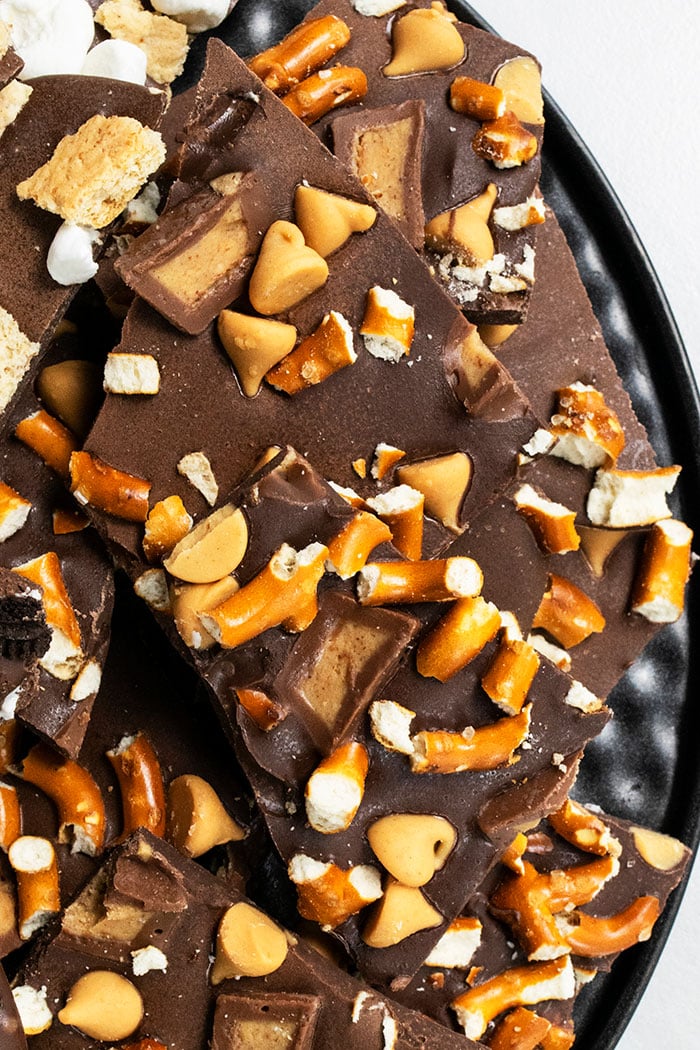 Variations and Toppings
Chocolate almond bark– Almonds are a chocolates best friend. You could sprinkle about 1/4 cup chopped almonds to the chocolate before letting it set.
White chocolate bark– Use white chocolate in place of semisweet chocolate.
Chocolate peppermint bark– Sprinkle some crushed peppermint candies or candy canes on top of melted chocolate, preferably white chocolate for a beautiful Christmas dessert.
Chocolate pretzel bark– Crush some pretzels, preferably the thin kind and sprinkle them on top. The sweet and salty combination is incredible!
Candies– M&M's, Reese's Pieces, Mini Peanut Butter Cups, Twix, Snickers, Rolos, caramel, or any type of candy you can think of. The options are endless.
Chopped up cookies– Oreo cookies or chocolate chip cookies are good additions for chocoholics.
Nuts– Such as almonds, walnuts, cashews, pecans or pistachios will give the bark more of an earthy element. Also, you can sprinkle crushed Peanut Brittle or these Candied Nuts.
Dried fruits– Such as shredded coconut, chopped up apricots, or dried cranberries will give a slight chewy sweet component to the chocolate.
Marshmallows– Use mini size ones and any flavor you like.
Sprinkles- Any color or shape of your choice!
Peanut butter, Nutella or any other nut butter– Heat until warm and have a thinner consistency. Then, swirl them all over the melted chocolate with a toothpick into a beautiful abstract pattern. You really must try this Peanut Butter Chocolate Bark.
Use barks to decorate a cake– Such as this stunning Chocolate Bark Cake.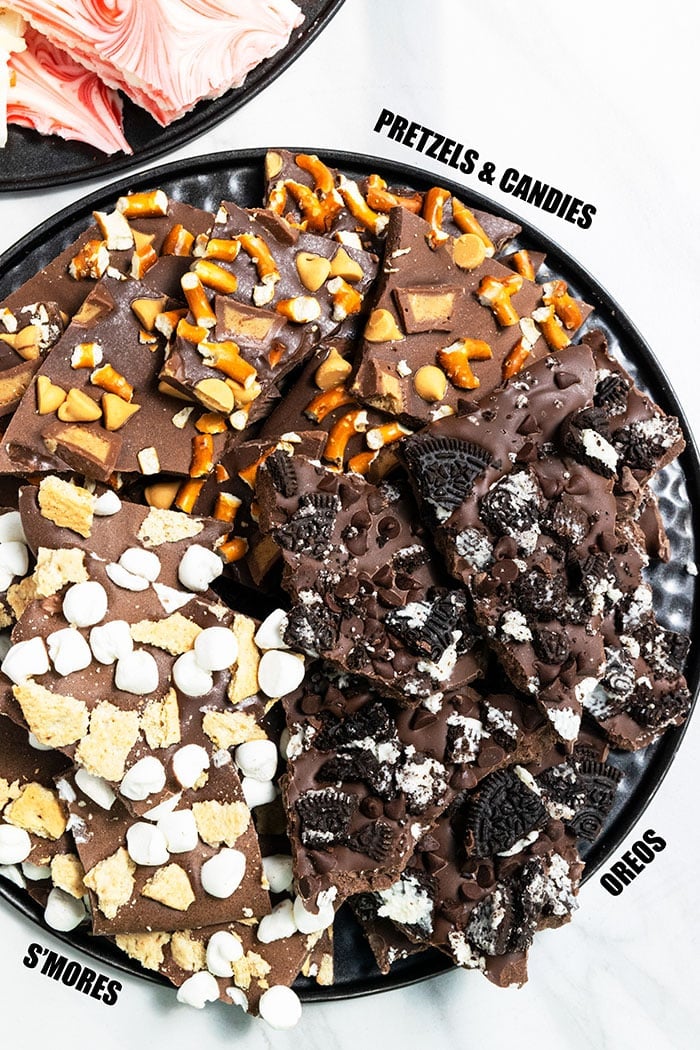 Storage and Packaging
How to store chocolate bark? It is best to store them in a sealed container at room temperature for up to one week.
Can you freeze bark? Freezing os not recommended since thawing it will create little condensation marks on top, which is very unattractive.
How to package bark for homemade gift? Place the pieces in small gift box, that's been lined with wax paper. Wrap a ribbon around the box and you are done. You can also pack a few pieces in small candy bags.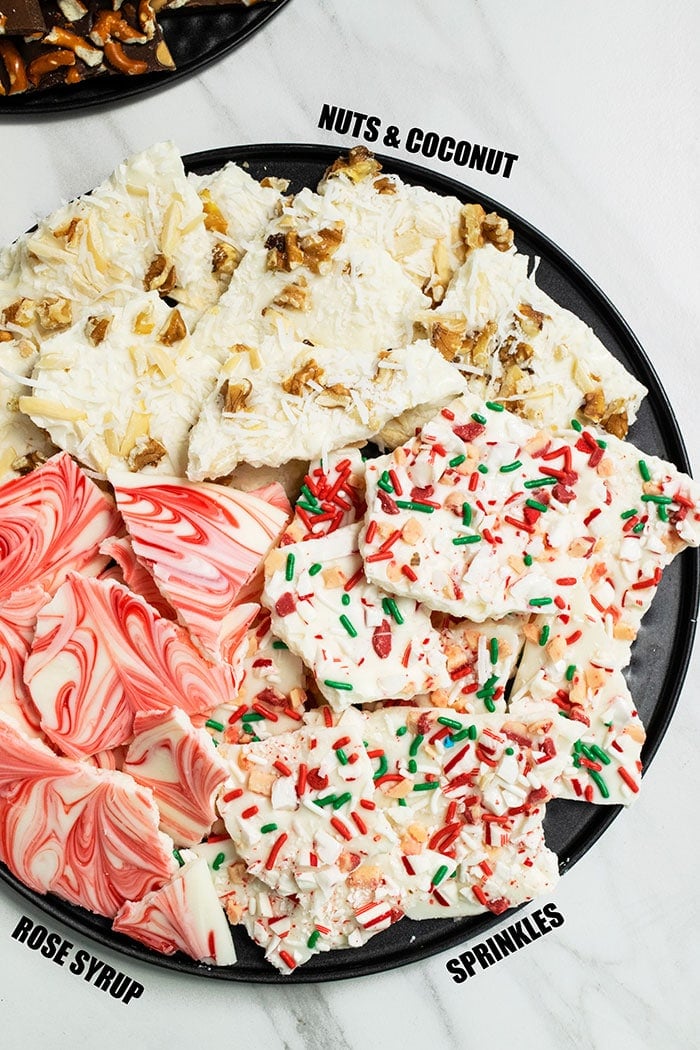 Tips and Techniques
How to cut chocolate bark? Use your hands to just break them up into random pieces. Make sure there are some small pieces and some big pieces. Some people like to use a sharp knife for cleaner cuts. It's entirely up to you!
Why is my bark soft? The chocolate probably has not had enough time to set yet. Let it sit undisturbed at room temperature for a bit longer.
Why is my bark grainy? Chocolate may have overheated and burnt or there may have been an accidental contamination with water that causes chocolate to seize. Bowls, spatulas should be absolutely dry.
How thick to spread chocolate? It is best to spread the chocolate out as evenly as possible at about 1/4 inches. It would be really hard to bite into it, if it is too thick.
Lining with wax paper is important- This is crucial because it will keep the bark from sticking to the pan.
Don't chill bark in the fridge– Because it can can develop some light condensation on the surface, which leads to unattractive little swirls on top, known as sugar bloom.
How to melt chocolate? You could use a double broiler or a microwave. If using a microwave, make sure to stir regularly until the chocolate it is melted completely and smooth.
Some toppings go stale faster than others- Candy toppings last longer than pretzels or cookies, which tend to get stale and soggy. Consider that when you are making this treat.
Use high quality chocolate– Godiva, Scharffen Berger, Lindt, and Ghiradelli chocolates are the best. Nestle Toll House is a cheaper alternative.
Bark must be firm before breaking– Don't break bark into smaller pieces until chocolate fully hardens. That's because if the chocolate is still too soft, it will create finger smudges when you are breaking it up and look very messy and unprofessional.
Work quickly– Melted chocolate will start to set and harden quickly after you spread it. Make sure your toppings are already prepared beforehand so that you can sprinkle them quickly before that happens.
More Homemade Candy Recipes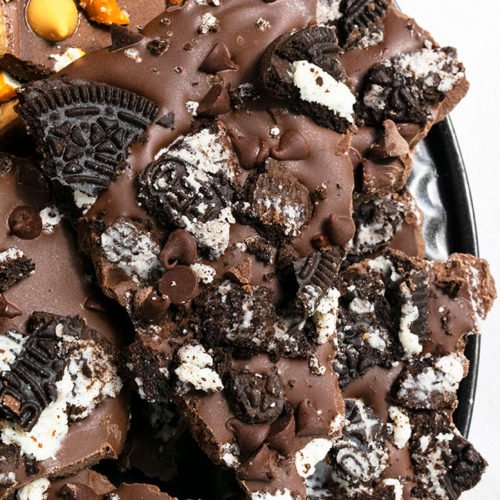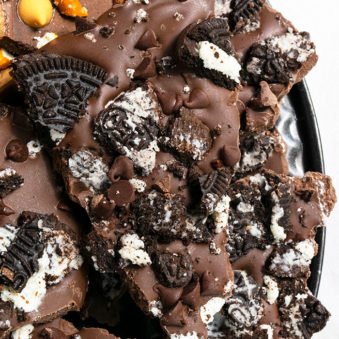 Easy Homemade Chocolate Bark
Learn how to make chocolate bark with 2 simple ingredients. Lots of toppings and variations possible. Great as homemade gift for Christmas holidays.
Yield: People
Ingredients
3 cups Chocolate chips, Semisweet, Milk, Dark, or White
3/4 cup Toppings of your choice, Chopped up nuts, dried fruits, candies, coconut, pretzels, mini marshmallow e.t.c
Instructions
Stir often until chocolate is fully melted and smooth.

Pour chocolate on a cookie tray (Dimensions 10×15), lined with wax paper.

Use a spatula to spread it out evenly at a thickness of about 1/4 inches.

Sprinkle toppings of your choice.

Let the chocolate set and harden at room temperature (about 20-30 minutes).

Peel the chocolate away from the wax paper.

Break it up into random pieces and enjoy!
Notes
Read all my tips above.
Leftovers can be stored in a sealed container at room temperature for up to 1 week. 
Nutrition
Calories: 903kcal, Carbohydrates: 123g, Protein: 8g, Fat: 42g, Saturated Fat: 26g, Cholesterol: 27mg, Sodium: 122mg, Fiber: 4g, Sugar: 112g, Vitamin A: 405IU, Vitamin C: 1.1mg, Calcium: 209mg, Iron: 2.2mg
Until next time, tata my lovelies!