30+ Halloween Sweet Savory Treats
This is a roundup of some of the best Halloween sweet savory treats. There is  something in here for everyone to make their Halloween party a success!
I recently contacted some of my FAVORITE bloggers and asked them to share their favorite spooky treats, which resulted in this roundup of Halloween sweet savory treats.  
Thanks to them, I have OVER 30 treats to share with you today.
Trust me…There is something in today's roundup for everyone.
Whether you are looking for something SWEET or SAVORY…I have got you covered!  
Let's not waste any time and check out this Halloween sweet savory treats roundup…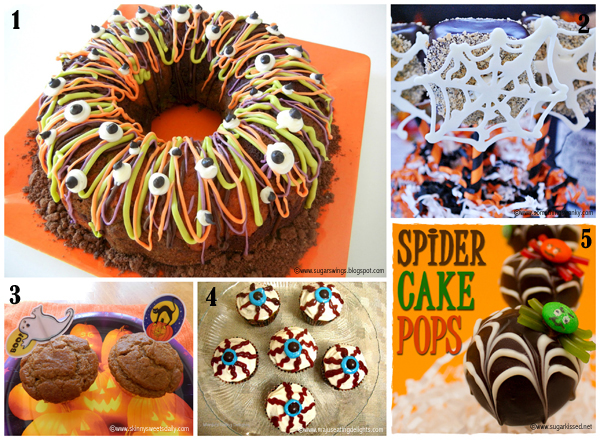 1. Tri-Color Bundt Cake with Eyes from Sugar Swings
What a fun way to spruce up a basic bundt cake!
2. Spooky Spider web S'mores Pops from Something Swanky
I know exactly how I am gonna be eating my s'mores on Halloween
3. Low Fat Pumpkin Spiced Muffins from Skinny Sweets Daily
This just goes to show we can indulge in a Fall flavored cupcake without all the guilt plus we can spook it up a little with simple Halloween toppers
4. Scary Eyeball Pumpkin Cupcakes from Manju's eating delights
These are classic Halloween cupcakes. Halloween just won't be complete without some eyeball cupcakes 😉
5. Spider Cake Pops with Webs from Sugarkissed
Seriously, how cute are those itty bitty spiders?!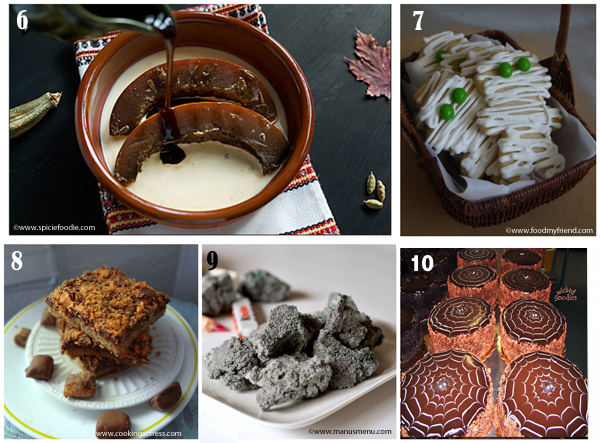 6. Mexican Candied Pumpkin (Calabaza En Tacha) from Spicie Foodie
I am all for traditional Halloween treats and this is a wonderful one that I am dying to try!
7. Gingerbread Mummies from Food my Friend
Oh my goodness! How cute. Plus, it's a great way to use a gingerbread man cutter that only tends to gets used in Christmas time.
8. Butterfinger Fudge Cookie Bars from Cooking Actress
A  mouth-watering recipe for using up all those Butterfingers you gathered trick-or-treating 😉
9. Sweet Coal (Carbone Della Befana) from Manu's Menu
Another traditional treat that has an adorable Italian folktale that you really need to read about. 
10. Chocolate Glazed Spider Webs from Wicked Goodies
Such a simple technique but such a strong impact… Wouldn't you agree?!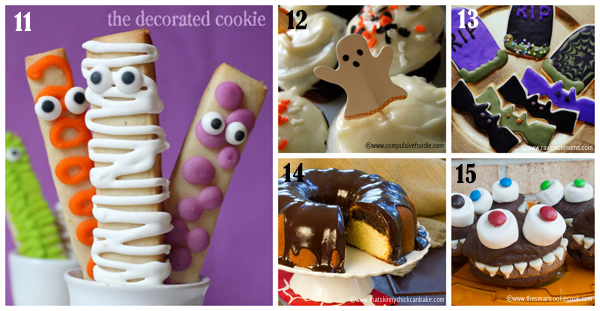 11. Monster Cookie Sticks from The Decorated Cookie
Omg…Cuteness overload!!!
12. Red Velvet Cupcakes with Spooky Toppers from Compulsive Foodie
Everyone needs a red velvet cupcake recipe in their collection, which can be spooked up with cute ghost toppers!
13. Spooky Bat and Tombstone Cookies from Ravienomnoms
Such creativity that I am lost for words… 
14. Tunnel of Doom Cake from That Skinny Chick Can Bake
I am loving the name of this bundt cake and would have a slice just for the sake of its ultra cool name: "Tunnel of Doom" …heheh 
15. Monster Whoopie Pies from The Smart Cookie Cook
These are adorable and so easy to make that even kids can help!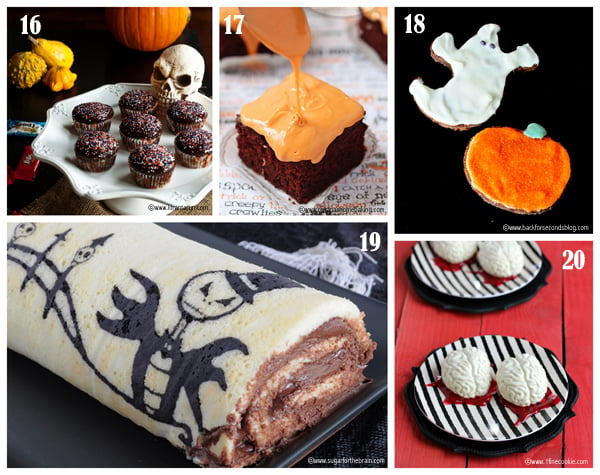 16. Vegan Whole Wheat Chocolate Cupcakes with Ganache from Kiran Tarun
Another amazing and healthy recipe, spruced up with spooky presentation and Halloween sprinkles! 
17. Pumpkin Chocolate Cake from Roxana's Home Baking
The color of that luscious glaze drizzling down this cake gives such an "eerie" look that I can't stop admiring it.
18. Nutella Fudge Brownie Ghosts & Pumpkins from Back for Seconds
Who says brownies have to be boring?! Even they can get a spooky makeover.
19. Jack Skellington Cake Roll from Sugar for the Brain
WOW! WOW and WOW! Best of all, there is a tutorial. So, all of us can make an artistic cake roll this Halloween!
20. Panna Cotta Brains with Blood Sauce from 1 Fine Cookie 
This is so cool and I can't believe how realistic it looks!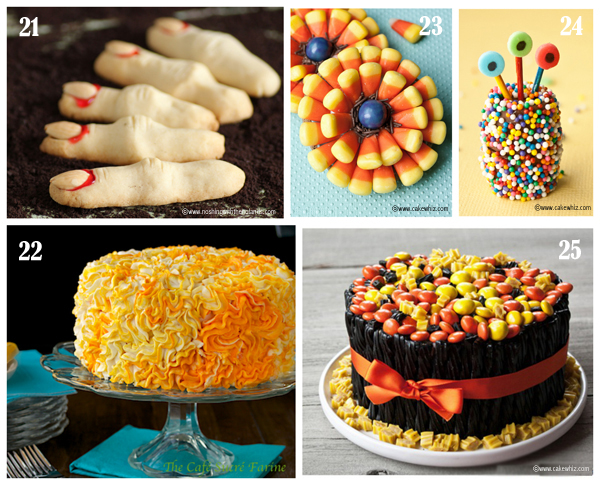 21. Witch Fingers from Noshing with the Nolands
I think witch fingers are another one of those classic treats that everyone should make on Halloween 🙂 
22. Vanilla cake with a Whimsical Orange Buttercream Decoration from The Cafe Sucre Farine
I am in love with this cake. Isn't it just gorgeous?! The colors of the frosting and whimsical ruffles give it a subtle spook factor!
23. Candy Corn Flower Cookies from yours truly.
I had to add a few of my Halloween treats to fill up space…lol.
These cookies covered in candy corns are sure to be loved by all the candy corn fans out there.
24. Rolo Candy Monsters from me again.
These sprinkly monsters are anything but scary!
25. Twizzler and Candy Cake from me again.
This is my most popular Halloween cake ever and it's my favorite too!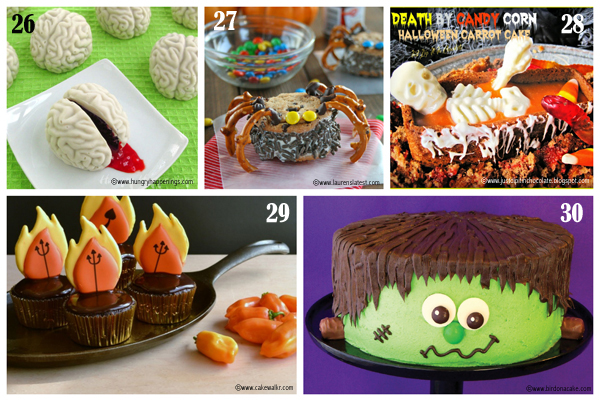 26. Cake Ball Brains from Hungry Happenings 
Yes! Another treat that looks like a fantastic brain but this one's made with cake balls!
27. Ice Cream Sandwich Spiders from Lauren's Latest 
Spiders couldn't possibly look any cuter 😉
28. Death by Candy Corn Carrot Cake from Just Dip it in Chocolate 
Another treat for a the die hard fans of candy corns!
29. Devil's Fire Cupcakes from Cakewalker 
So creative and there's a tutorial for you as well 😀
30. Frankenstein's Monster Cake from Bird on a Cake 
I am totally making this cake on Halloween! It's just begging to be made 😛
And if you are looking for savory treats, check out these awesome ideas…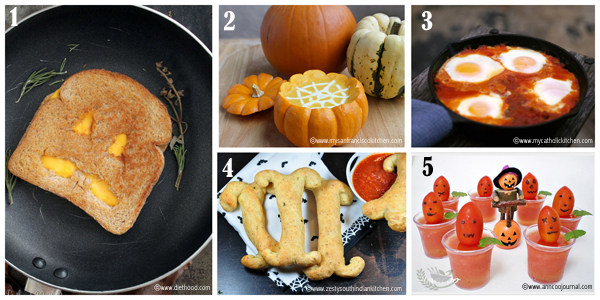 1. Jack O'Lantern Grilled Cheese Sandwiches from Diethood
Even simple sandwiches can be given a spooky makeover. Kids would love this! 
2. Coconut Pumpkin Soup from My San Francisco Kitchen
What a brilliant way to present soup! 
3. Eggs in Purgatory from My Catholic Kitchen
Loving the name of this treat and it looks "spook-tacular" 😉 
4. Herbed Bread Stick Bones from Zesty South Indian Kitchen
I never would have thought of making bread in the shape of bones… smart idea indeed! 
5. Devil's Tomato Glasses from Anncoo Journal
These tomatoes are so cool! Even the pickiest person wouldn't mind having one of these glasses 😛
Now, wasn't that FUN?! 
I hope you enjoyed checking out ALL those Halloween sweet savory treats. 
And obviously, a BIG thanks goes out to all my blogger friends who made today's roundup possible. You guys ROCK! 😀
Before I head out, I just wanted to share this collage of ALL the Halloween sweet savory treats you saw today.
Feel free to SHARE it and INSPIRE others this Halloween 🙂

Well, that's all for today's roundup of Halloween sweet savory treats. 
Until next time, tata my lovelies.