Use this step by step tutorial to make a cute but spooky Oreo spiders and Twizzler spider web cake for Halloween! Easy and fun to make with kids!
My love for Twizzler and Oreos runs deep… Very deep! 
But, I am sure you know that by now..hehe 😉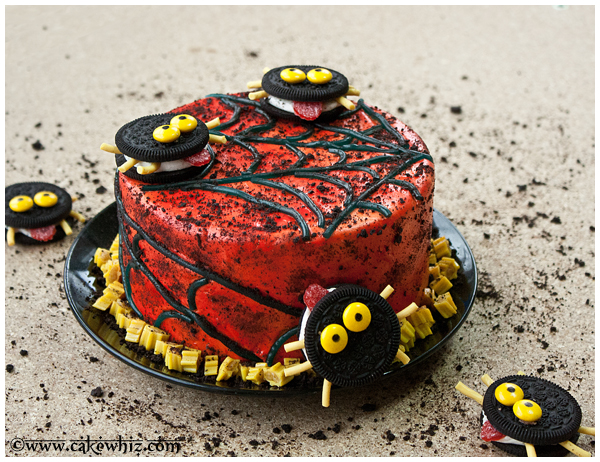 Last year, I used Oreo cookies to make sprinkly spider cookies.
As if that wasn't enough, I used black and yellow Twizzlers to make my very POPULAR Twizzler cake!
This year, I am COMBINING Twizzlers and Oreos into ONE epic Oreo spiders and Twizzler spider web cake!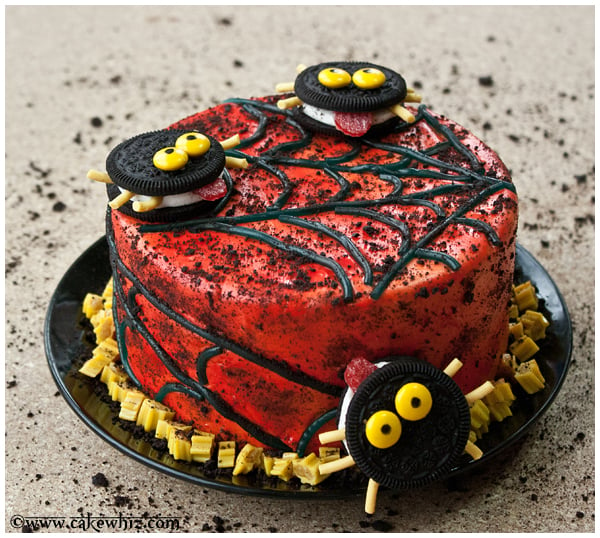 Yes… Yes…

MY OTHER RECIPES
Thank you very much… I know I am a GENIUS! hahah.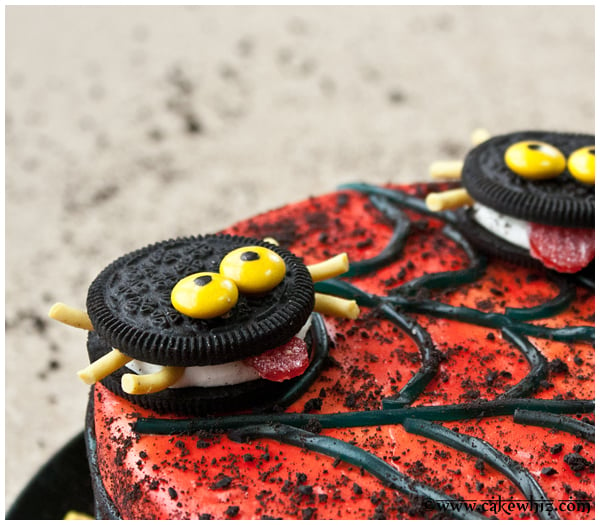 I used Oreo cookies to make the spiders…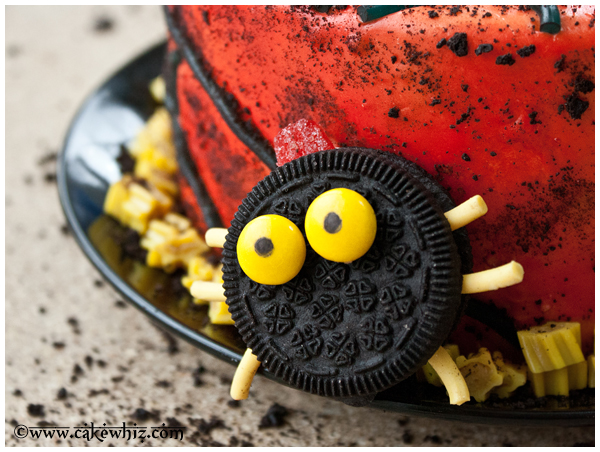 and Twizzler ropes to make spider webs…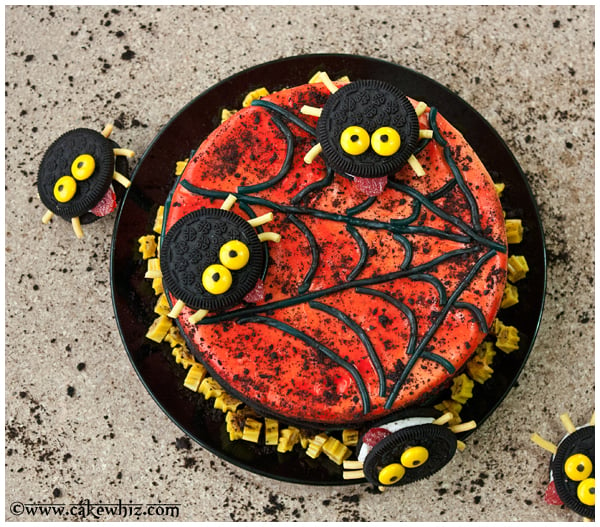 Then, I SCATTERED a bunch of crushed Oreo cookies all over the cake to make it look "dirty"
That's coz spiders are mostly found in dusty, messy areas…Right? 😉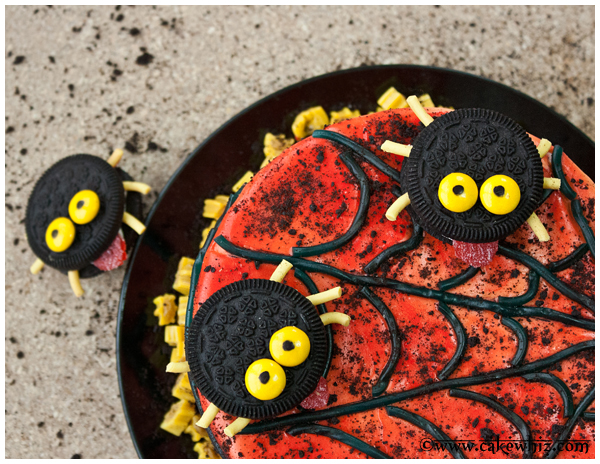 Just look at those itty bitty spiders CRAWLING around the web with their tongues sticking out…heheh.
I just LOVE them and couldn't stop snapping pics of them!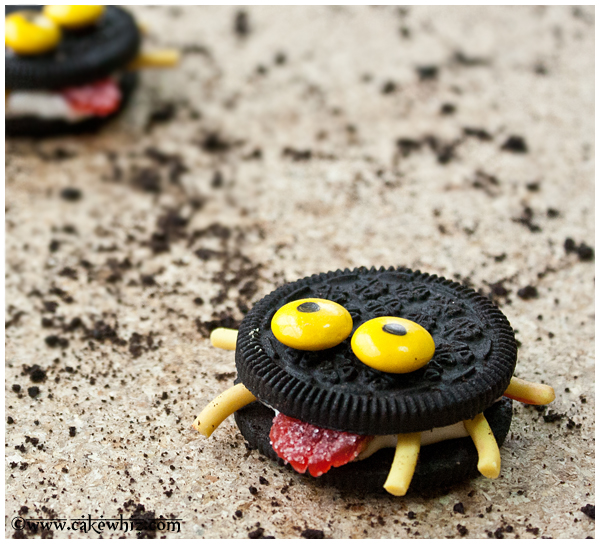 To make this Oreo spiders and Twizzler spider web cake, you will need the following supplies:
Round cake (I made a carrot cake)
Red fondant (Or you can use white marshmallow fondant and just spray it red with the red Wilton edible spray like I did).
Oreo cookies
Yellow Twizzlers
Knife or Scissors
Twizzler ropes in a dark color (I believe the ones I used were called "Pull-n-Peel")
And here are the steps:
Step 1:  
Use scissors or a sharp knife to cut different sizes of Twizzler ropes.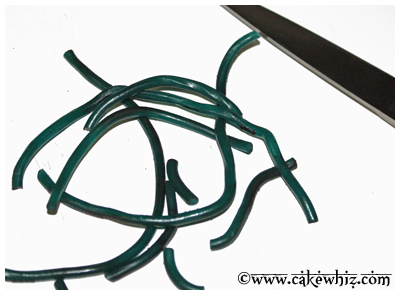 Step 2:
Separate your Oreo cookies and discard or rather, eat the creamy side…lol.
Crush the non-creamy side with your hands until you are left with Oreo cookie powder. 
Step 3:
Make cute and sassy Oreo spider cookies.
Just omit the step where you cover them in sprinkles unless you want sprinkly spiders…hehe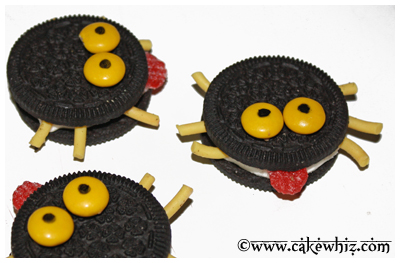 Step 4:
Ice your cake and cover it in fondant. I used white marshmallow fondant and sprayed it red.
Arrange the Twizzler rope pieces into the shape of a spider web on the top of your cake.
Press them until they stick into place. 
You can stick them more securely by brushing some water.
Sprinkle some crushed Oreos all over the cake.
Cut up some yellow Twizzlers and place them around the base of your cake as a cool border.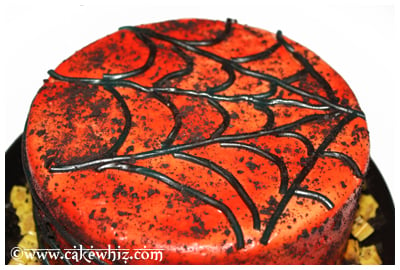 Step 5:
If you like, you can also make a spider web with Twizzler ropes along the side of your cake.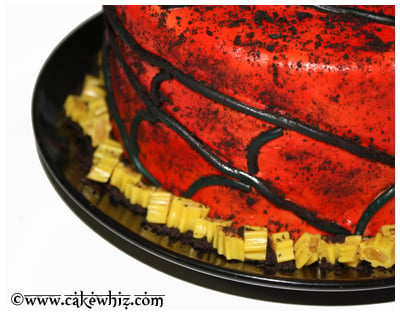 Step 6:
Place your Oreo spider cookies on top of your cake and the sides or wherever else you like.
You can stick them securely into place with some royal icing.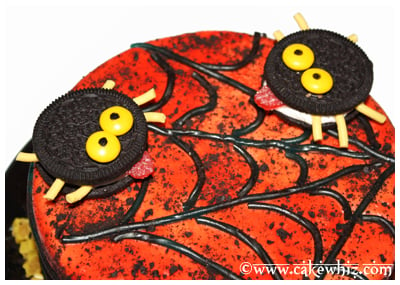 And you are done!
Make this cake on Halloween…
Better yet, make it with your kiddos and get them to HELP with assembling the spiders and the spider web. 
Then, they can BRAG that they made the cake all by themselves 😉
Well, that's all for today.
Until next time, tata my lovelies 🙂