Halloween Glove Treat Bags
Kids love these cheap & easy Halloween glove treat bags. You can fill them with any candy you like! They also work great as party favors for spooky parties.
When I went trick or treating as a kid, I remember getting Halloween glove treat bags one year from one of our neighbors.
I thought it was the COOLEST idea ever!
Plus, the kids were going CRAZY for them! 
I remember our neighbor's gloves were clear.
But, I used semi-transparent gloves from Walgreens and I think these look even BETTER!
I FILLED them up with colorful gum balls, candy corns, peanut butter chips and Mike and Ike candies.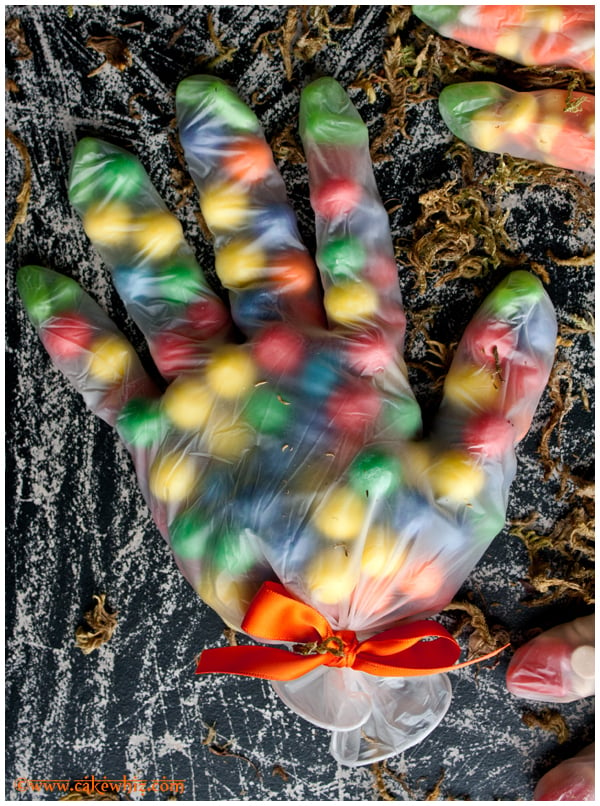 I think these would be fun to give to kids on Halloween parties.
They can also be a great party favor at Halloween parties, where kids can fill them with whatever candies they like from a big bowl.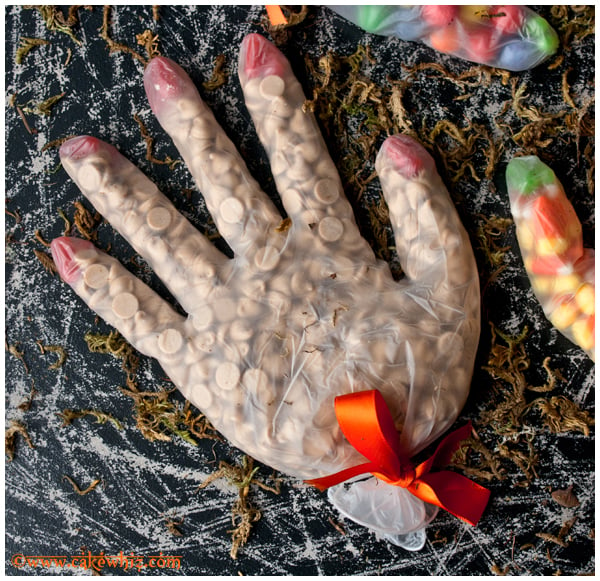 I tied up the gloves with orange ribbons, which was the PERFECT final touch to these gloves.
Lovely color with somewhat of a "spook" factor.
You can also stick a plastic toy spider on them, if you like.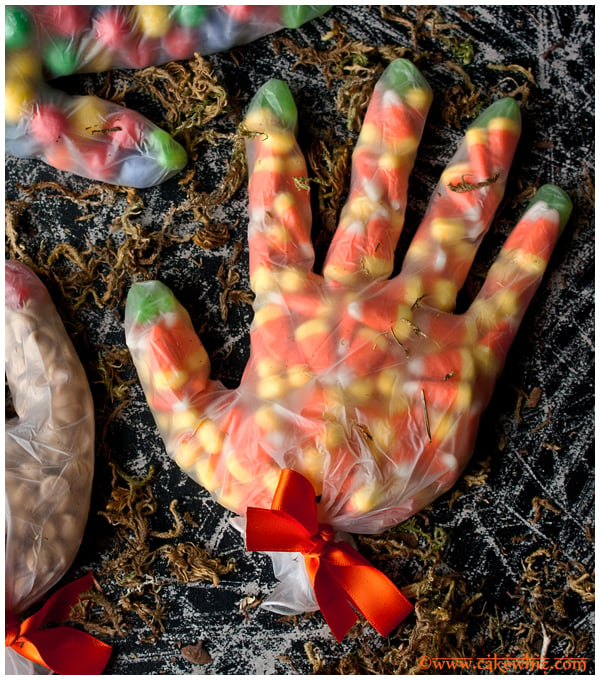 To make these Halloween glove treat bags, you will need the following SUPPLIES:
Non-latex medical gloves (I got them from Walgreens)
Orange ribbon
Candies (candy corns, gum balls or anything else you like)
These are the INSTRUCTIONS:
Step 1:
To make gum ball gloves, just dump a bunch of gum balls inside your glove and move it into the finger pockets until they get filled up.
Tie up the glove with an orange ribbon so that candies don't fall out.
Step 2:
To make peanut butter chip and candy corn gloves, put a red or green candy into each finger pocket first and then dump all your candies.
This way, your gloves will have finger nails. Tie up everything securely with an orange ribbon. 
And you are done!
Make as many glove bags as you like and fill them up with any candy you like.
Well, that's all for today.
If you liked this post, you may like some of these other Halloween treats too…
Until next time, tata my lovelies!