Kids Halloween Party
There are many amazing halloween party ideas/ themes that I have come across in books, magazines, Google searches and Pinterest searches. All of that research inspired me to put together these halloween party ideas for kids.
If you have a kids whose birthday happens to falls on the 31st of October, want to throw a "not so scary halloween birthday party," this is it!
What is a Halloween party?
It's a party that's thrown on Halloween (October 31st) with lots of spooky and creepy games and food. It can be geared towards kids or adults.
How do you plan a Halloween party?
Start off with making lists– Make guest list, menu list, grocery list, decor list, games list, music list, party favors list, chores list such as cooking, cleaning e.t.c. You need to be organized, in order for the event to take off smoothly.
Go shopping– Cross off everything on your lists as you buy them or as you complete those tasks.
Send out invitations– You can design Halloween party invitations and flyers on Photoshop or you can easily buy them on Etsy, Amazon, Dollar Stores, Target and even Party City. They are quite cheap and affordable and there are many designs to choose from. Send them out to your family and friends via email, text or good old-fashioned snail mail.
Set up– Decorate home, set out all the food, set up music, photo booth area. Keep it all organized.
Enjoy– Have lots of fun, take lots of pictures and make spook-tacular memories!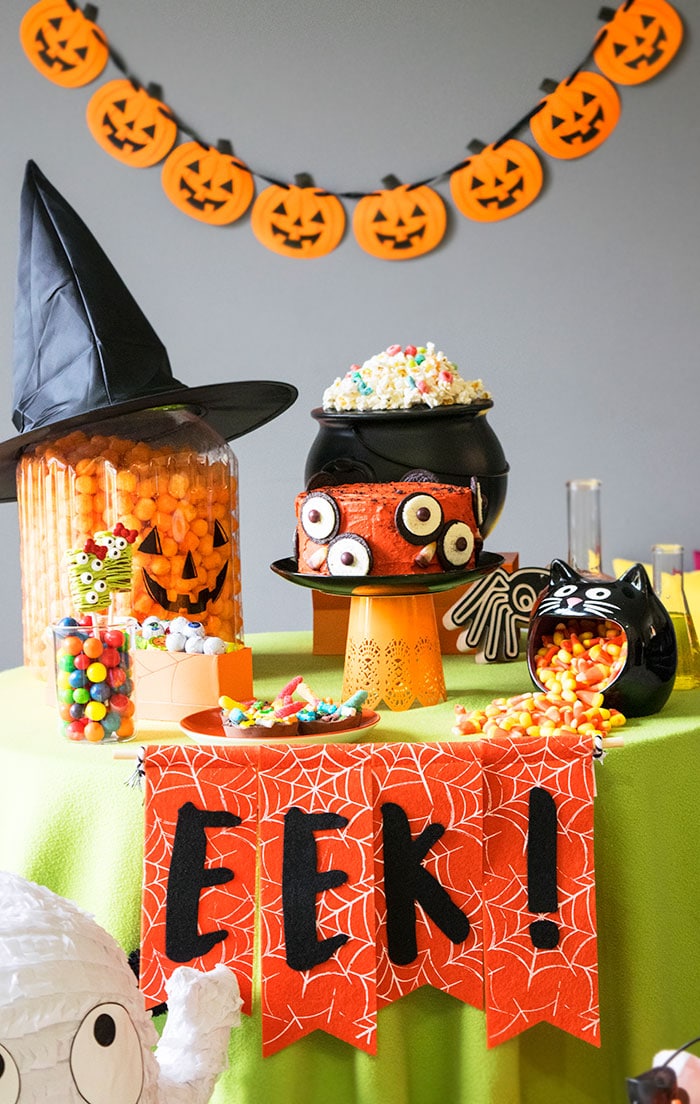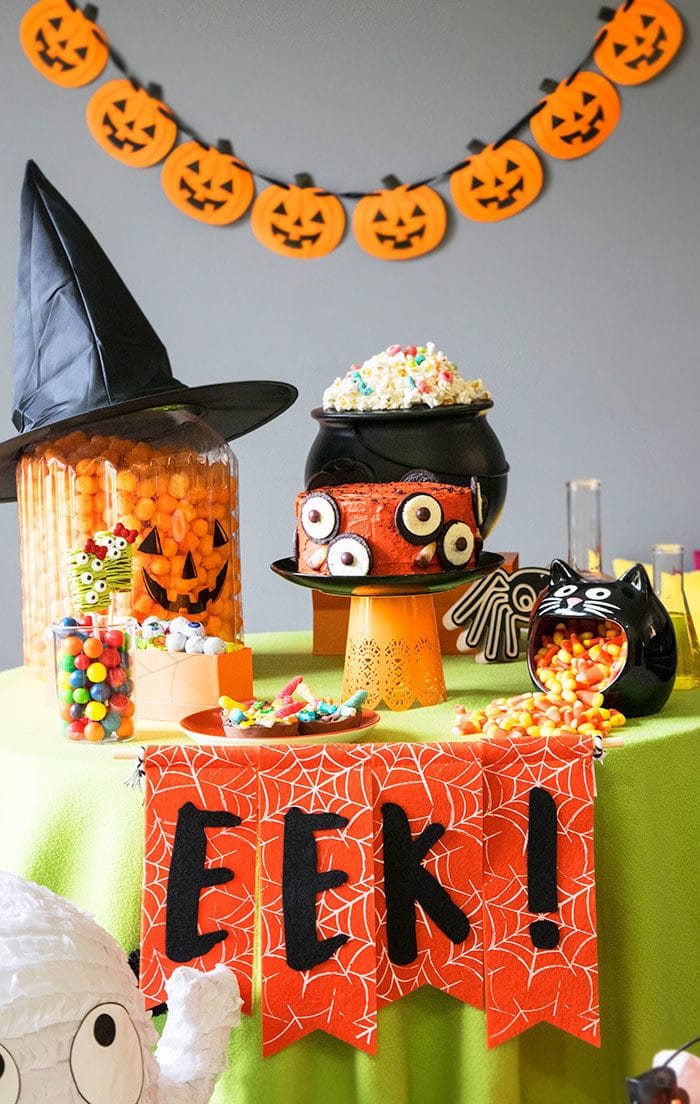 What do you buy for a Halloween party?
This would be a typical shopping list for this kind of party:
Napkins
Paper plates
Disposable utensils
Paper cups
Serving dishes
Party favors
Decorations (Such as balloons, streamers, banners, lots of pumpkins, Jack O'Lanterns, candles, smoke machine, fake cobwebs, paper bats e.t.c.)
Scary music
Table covers
Food (more details below)
Halloween party decorations ideas
You can get as creative as you like! Keep it simple or go over the top. For kids parties, I recommend keeping it fun, lively and simple.
Use balloons, streamers, banners, plastic spiders, paper bats, fake spider webs, smoke machines, lots of pumpkins, Jack O' Lanterns, cloth ghosts, spooky red or green lights, fake blood, photo booth with props, cauldrons, lanterns, candles, inflatables, hanging decorations like paper lanterns, fake eyeballs, plastic teeth.
I suggest using a banner in front of the table and on the wall, behind the table. It creates the best overall look!
Be sure to use colors that compliment each other. Since this party is geared towards kids, use bright colors like red, green and orange and don't pick anything too scary.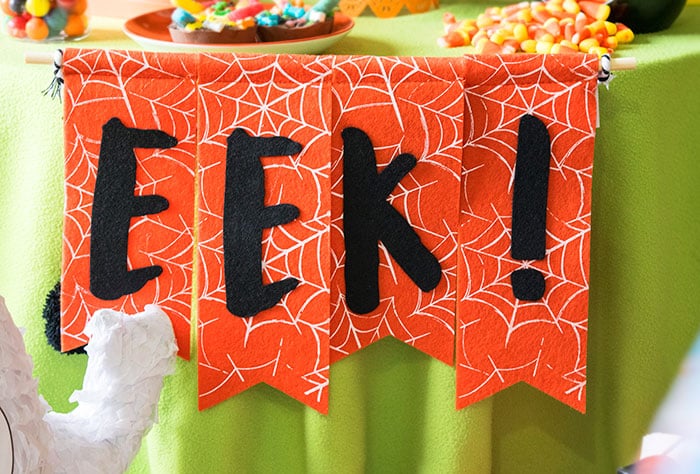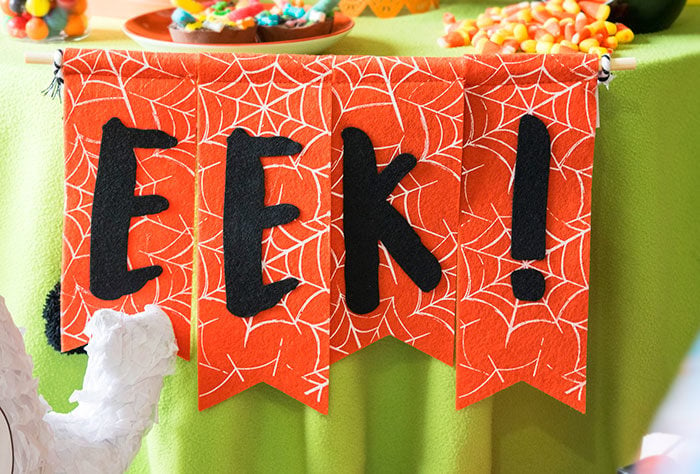 Halloween party food ideas and snacks- Desserts
This is my favorite category. When it comes to desserts, think of cakes, cupcakes, cookies, brownies and bars. These would be your usual recipes but given a creepy makeover. Try some of these ideas:
Chocolate is an ingredient you can use in so many fantastic ways. Try these Rolo Chocolate Spiders or Rolo Chocolate Monsters or Chocolate Caramel Apples or Spooky Eyeball Candies or even Candy Corn S'mores.
Serve various chocolates and candies in scary containers such as a coffin box. You can find this at the Dollar Store.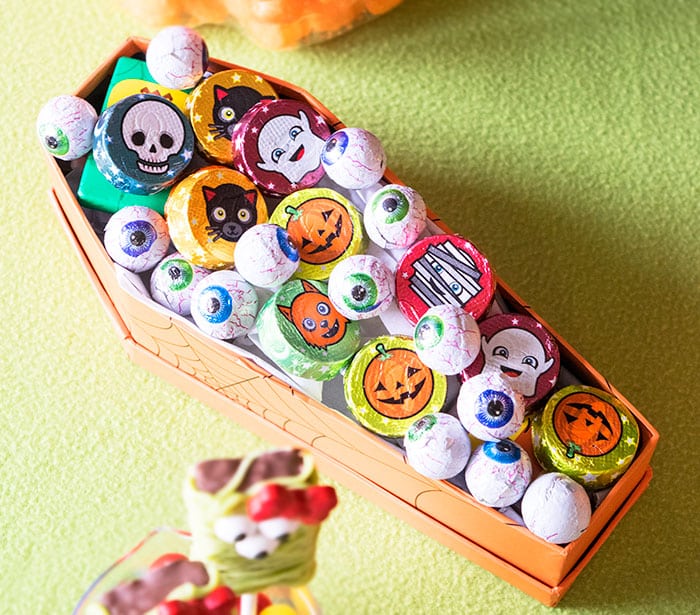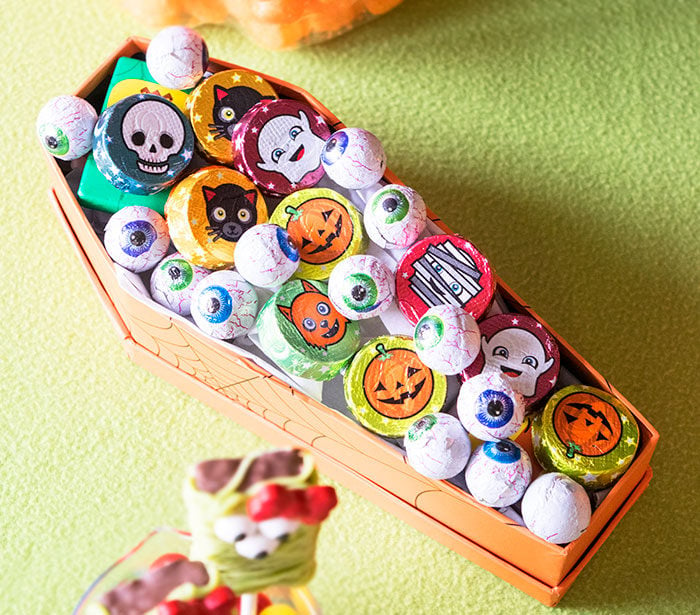 Or get a creepy cat container and stuff it with candy corns. It looks like the cat is puking.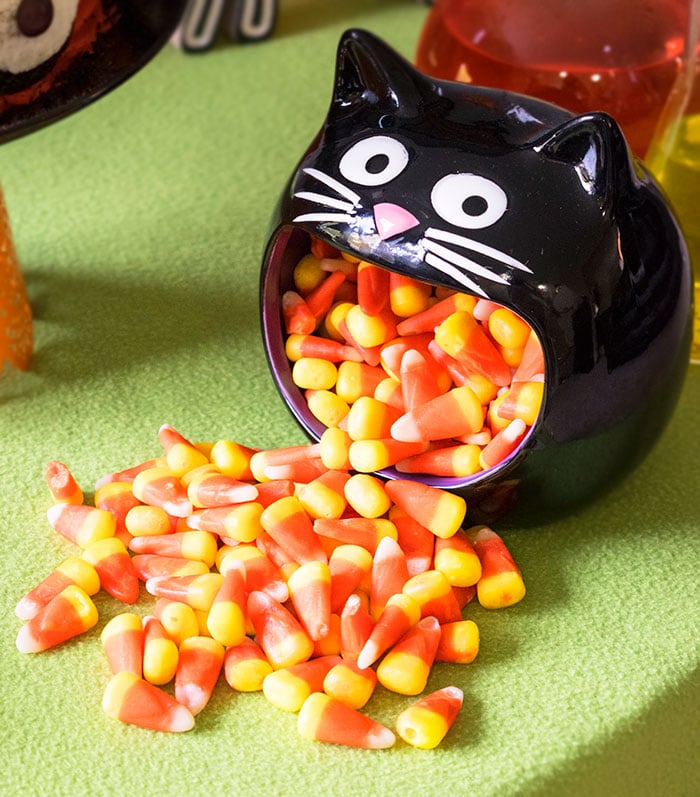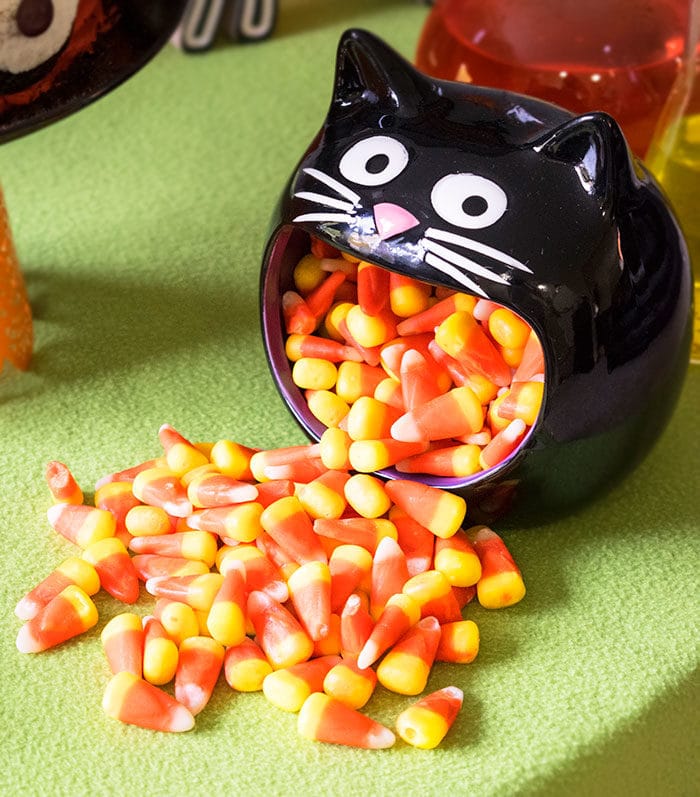 Here's another idea: Fill silicon cupcake molds with melted chocolate and add a variety spooky candies like eyeballs, gummy worms, bones. Let this set, remove from molds and enjoy!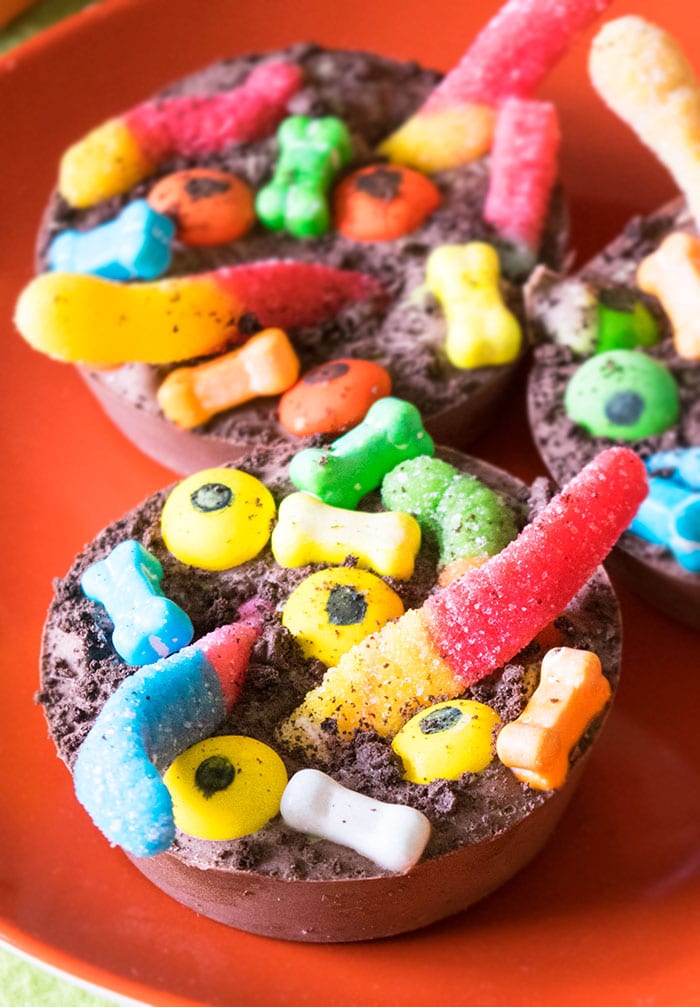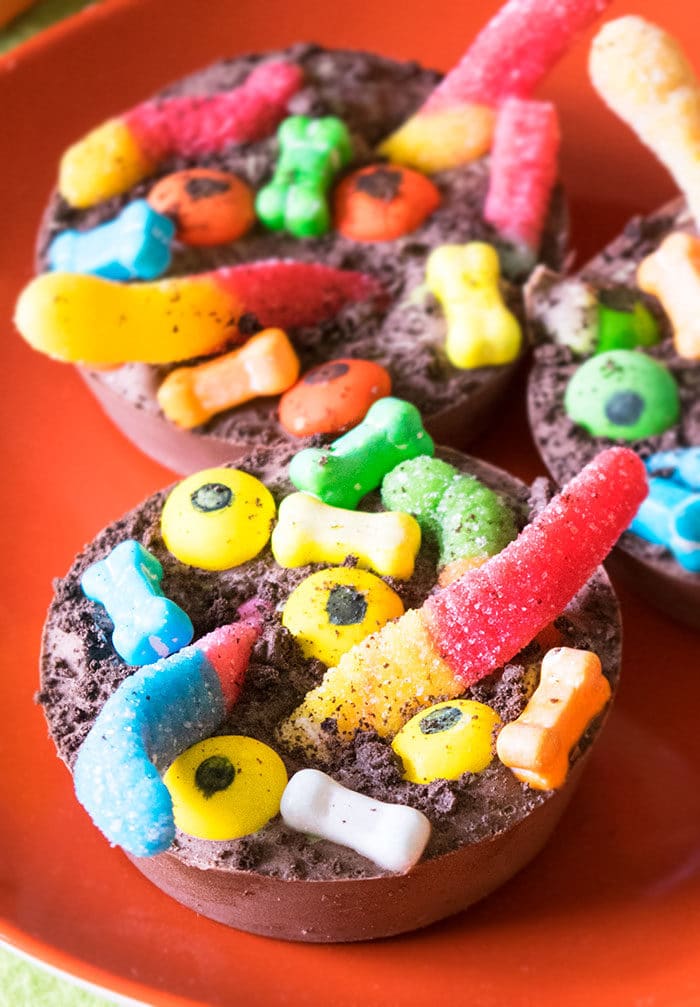 Cookies are an easy addition to any party and you can get very creative with them, especially if you are good at piping but these are some easier ideas that don't require any special skills: Spider Cookies, Candy Corn Monster Cookies, Dracula Cookies (Vampire Cookies), Leftover Halloween Candy Cookies, Frankenstein Cookies
Cakes are the main feature of any party and dessert table. There are so many cool ideas to choose from but this one was the easiest and something that kids can even make with you. Just frost the cake in orange icing and stick Oreos and candy corns all around the sides to make it look like "owl eyes."
Here are some more Halloween cake ideas: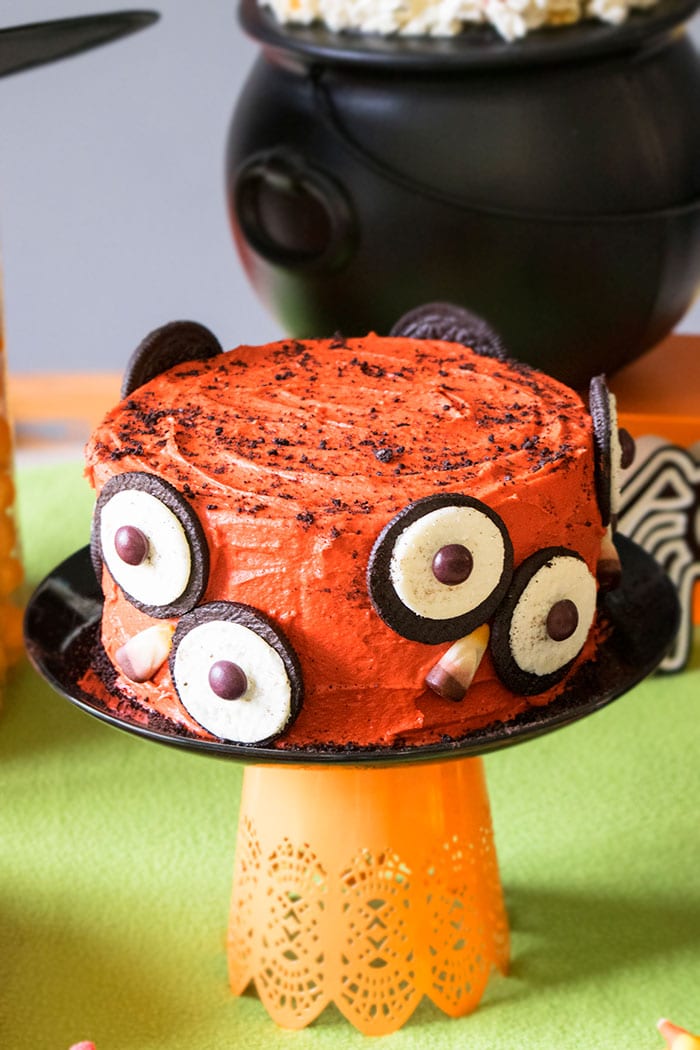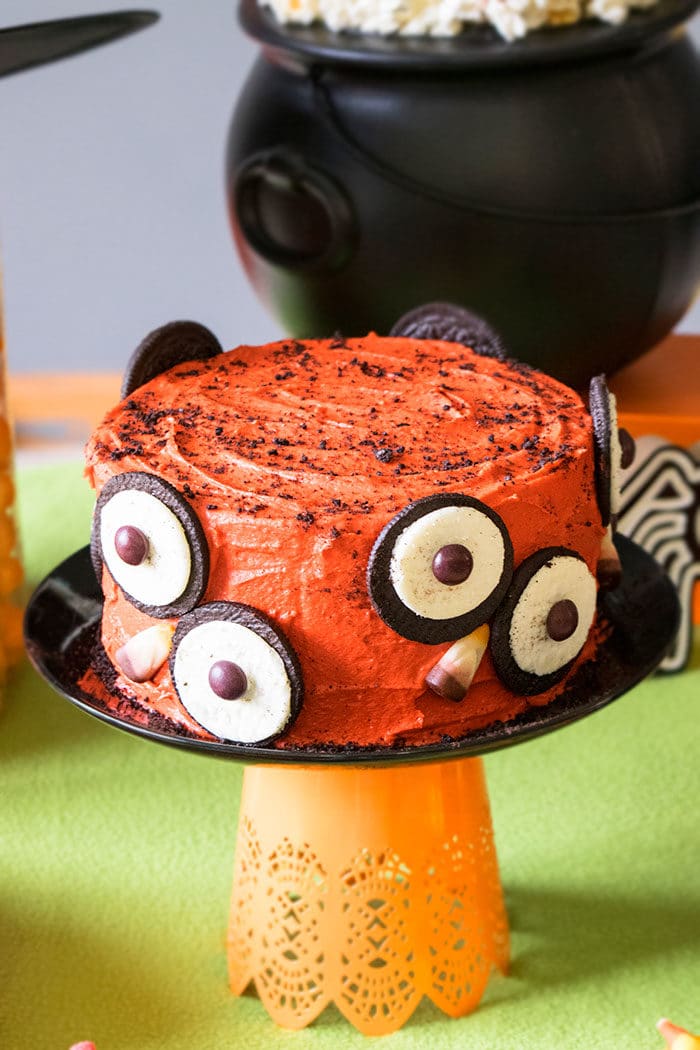 Desserts on a stick are super popular. Try cake pops or these granola bars on a stick. Make them at home or buy them at stores. Then, push a lollipop stick through them. Drizzle green melted chocolate and stick eyeball candies. I also added some cute bow sprinkles (They are from Wilton).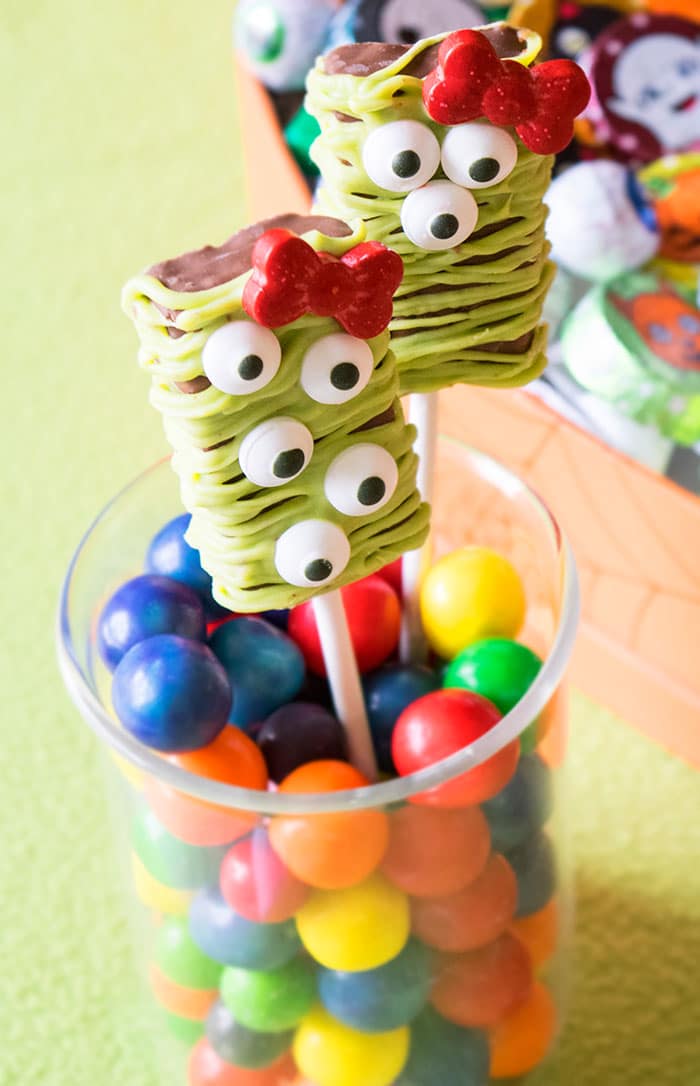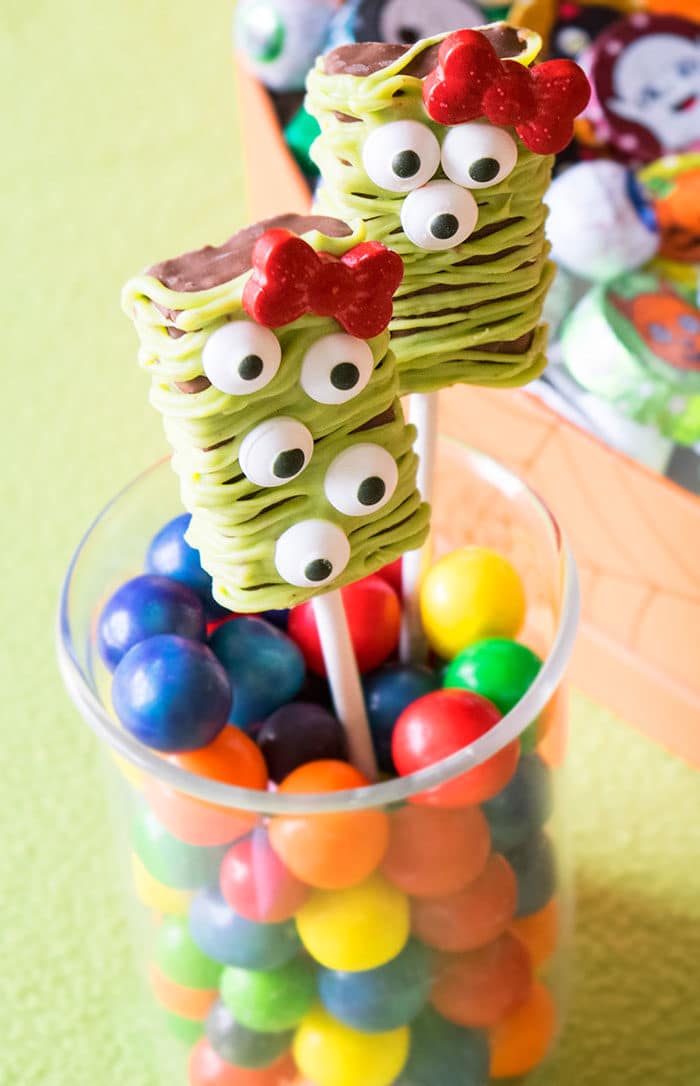 Halloween Drinks
In terms of drinks, glow in the dark punch or other fun colored drinks are always a hit. Make it even scarier by using dry ice to create smoke. Serve them in beakers and flasks to make it even more fun!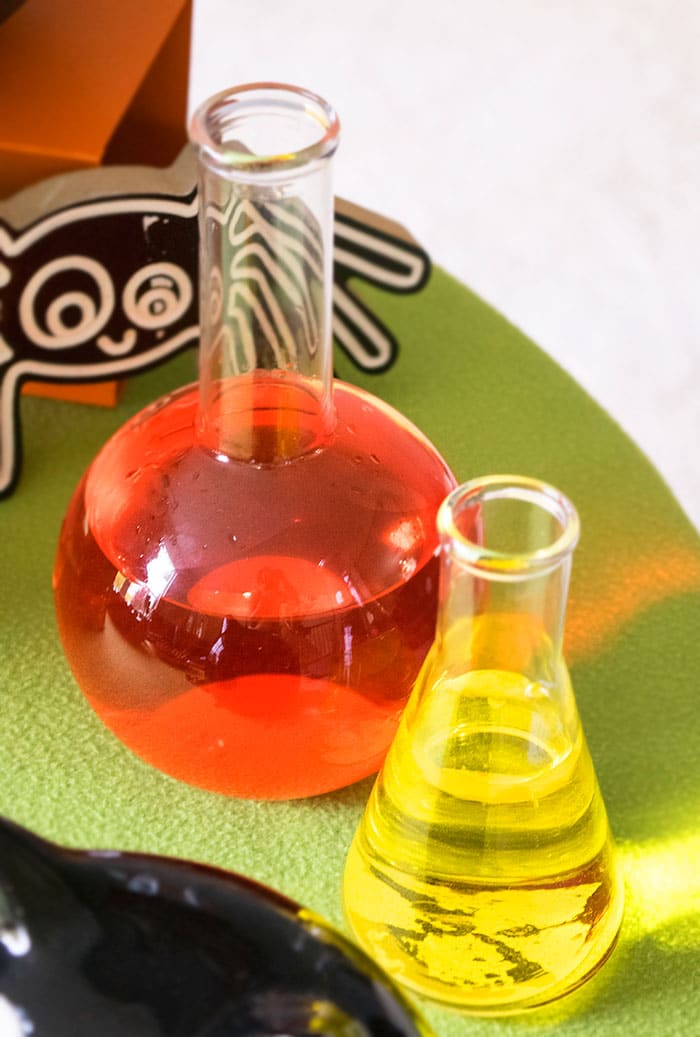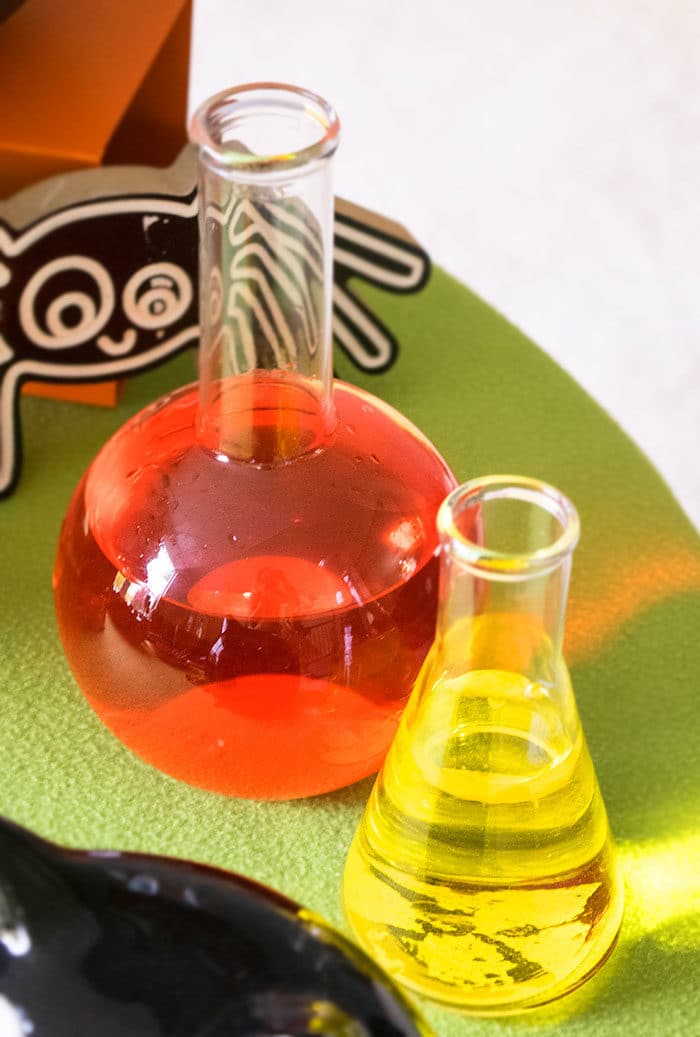 Halloween Savory Food- Main course & Appetizers
This should mostly be finger food and other items that can easily be eaten while you are mingling with friends. Here are some ideas:
Pizza– Make it in the shape of Frankenstein or Jack O'Lantern or make little spiders all over them with black olives.
Sandwiches and sliders- Stick funky Halloween toothpicks. Make sure they are small so they are easier to eat.
Fries and chips– Buy limited edition Halloween ones from grocery stores.
Breadsticks– Make them in the shape of witch fingers or use gel coloring to color them green, orange, red or black.
Dips and Tortillas– Use Halloween cookie cutters to cut out fun tortilla shapes. You can also use seasonal tortilla chips which have cool shapes and colors. If you are serving a dip that's white in color, consider adding a few drops of red or green food coloring.
Nuggets– Buy Halloween shaped ones.
Deviled eggs– Color them black or red to make them super spooky.
Salads– Individual salad cups in seasonal cups are awesome!
Pigs in a blanket– Make them look like mummies.
Cheese and crackers– Cut out cheese with Halloween cookie cutters like ghosts or bats.
Cheese balls– Mold it into a shape of a pumpkin, mummy, ghost, Frankenstein or a bat.
Buy a big container of cheese balls and decorate the container with a Sharpie marker to make it look like a Jack O'Lantern. Don't forget to put a witch hat on top!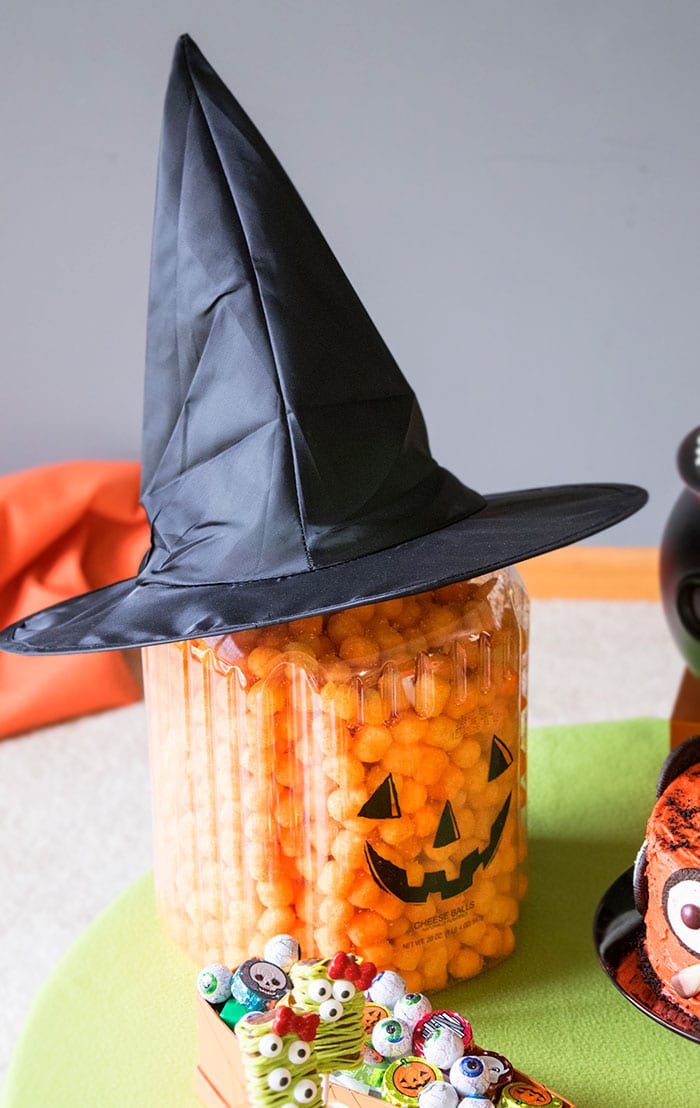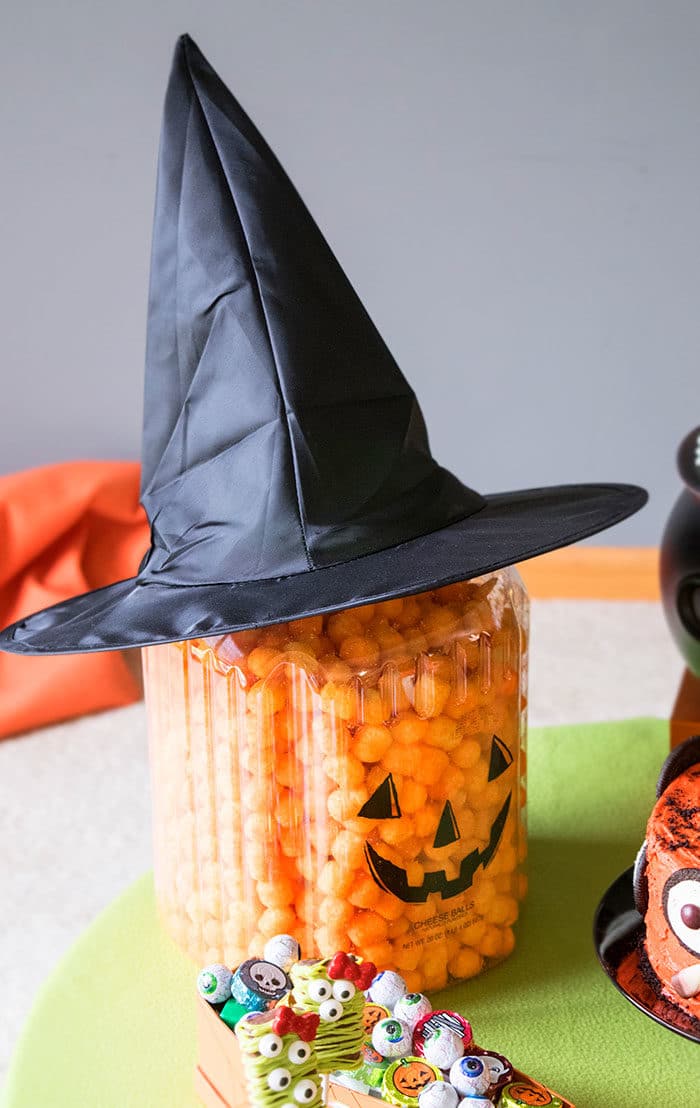 Fill a cauldron with popcorn munch, which is a combination of popcorn, cereal, pretzels, and candies. Kids love this!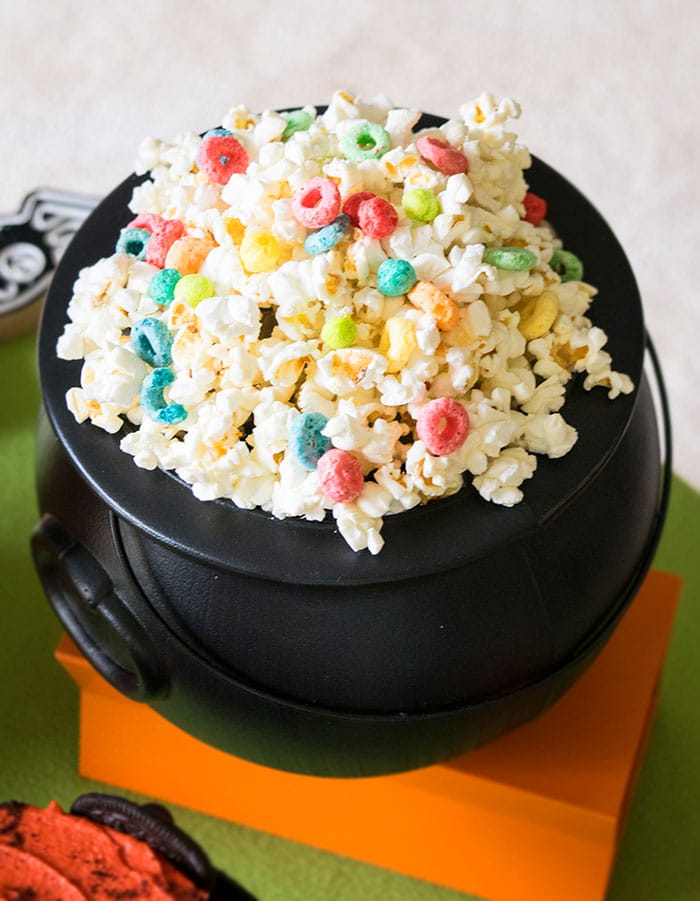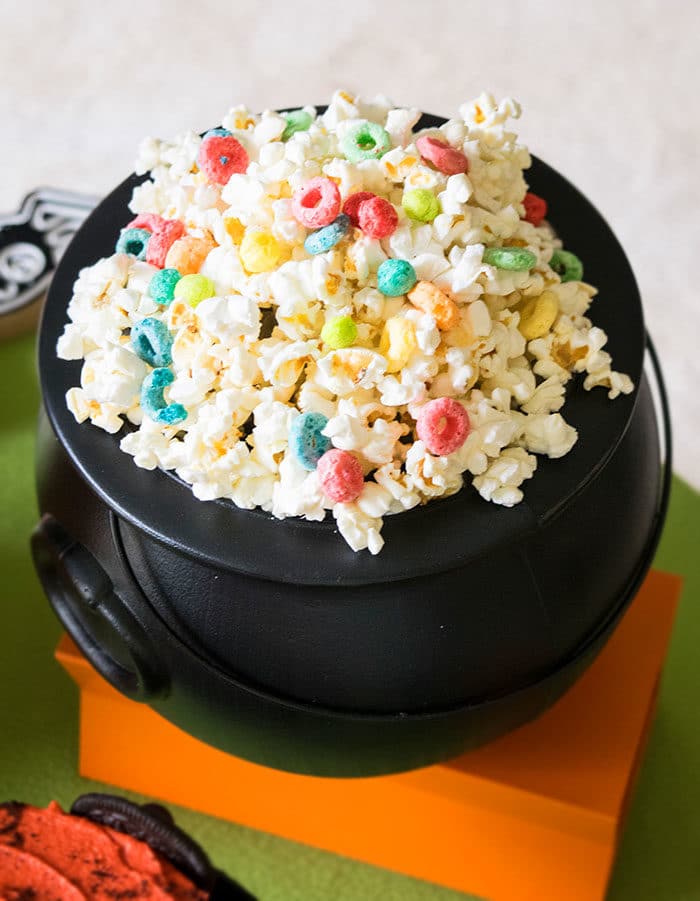 As far as games are concerned, I set up a ghost piñata and kids had a blast! You can also set up a coloring station, board games and other simple games to keep the little ones busy.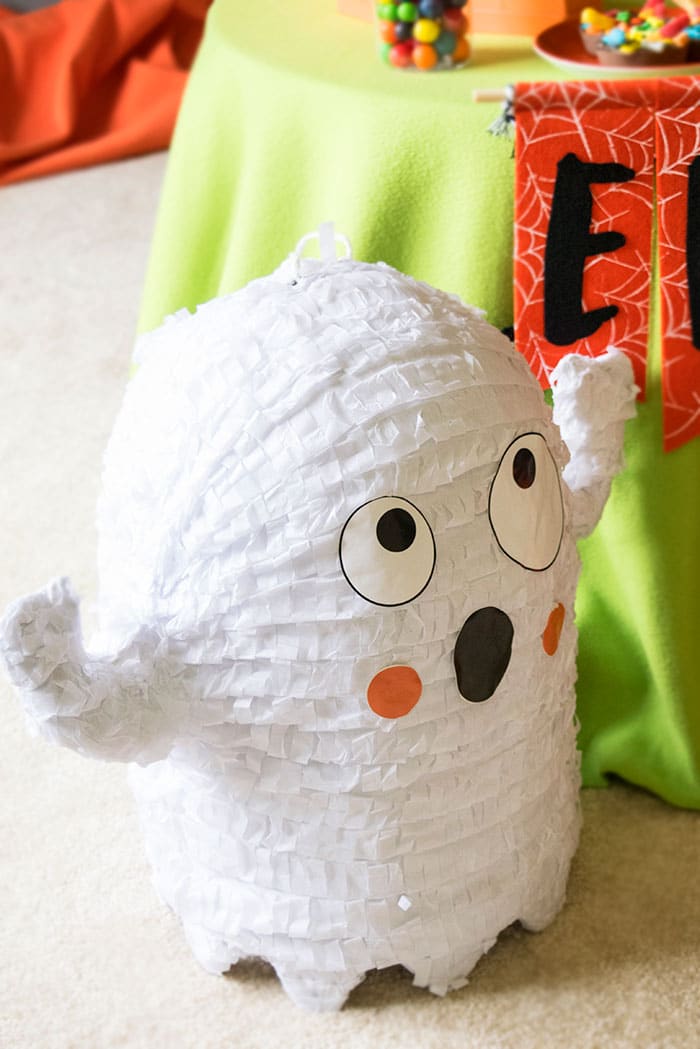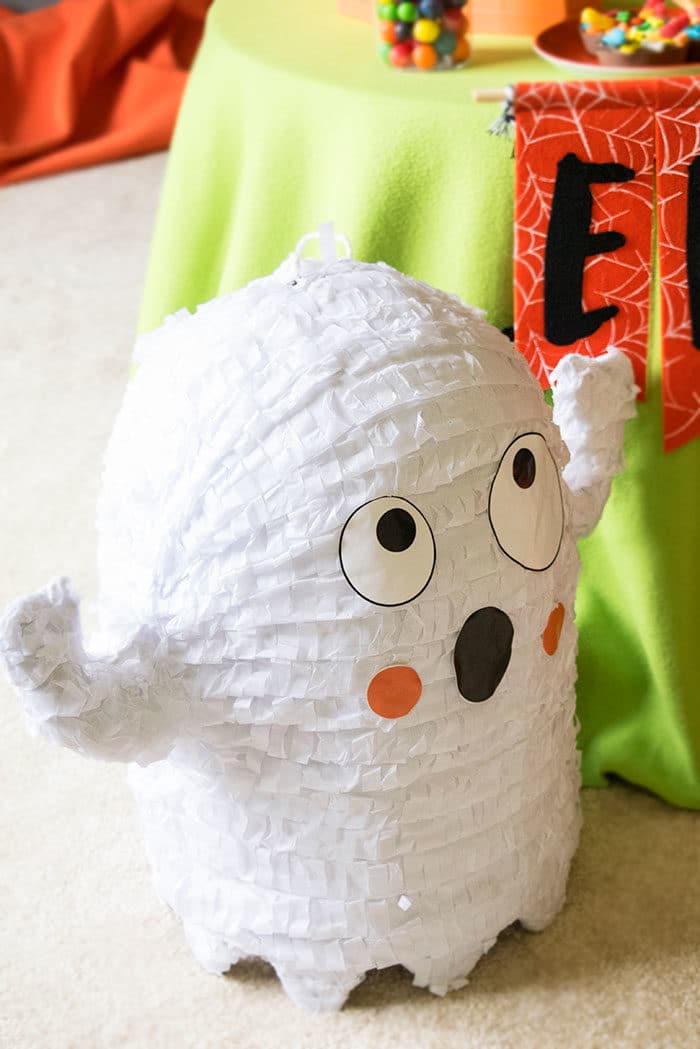 When it comes to party favors, I kept it simple and gave each kid these light-up pumpkins and bats. You can also make these Halloween Glove Treat Bags.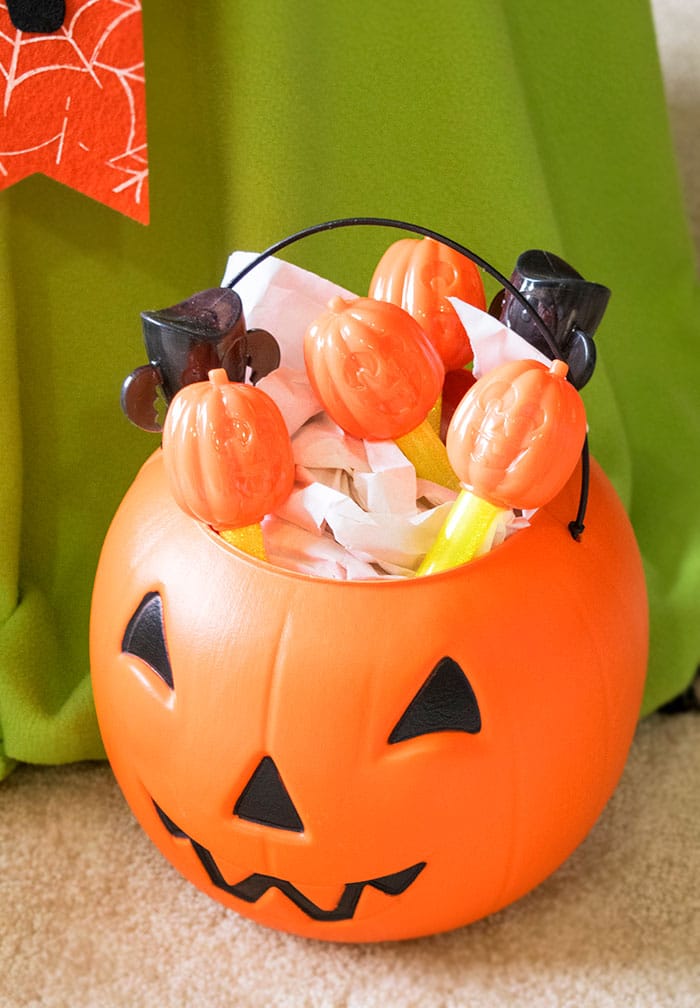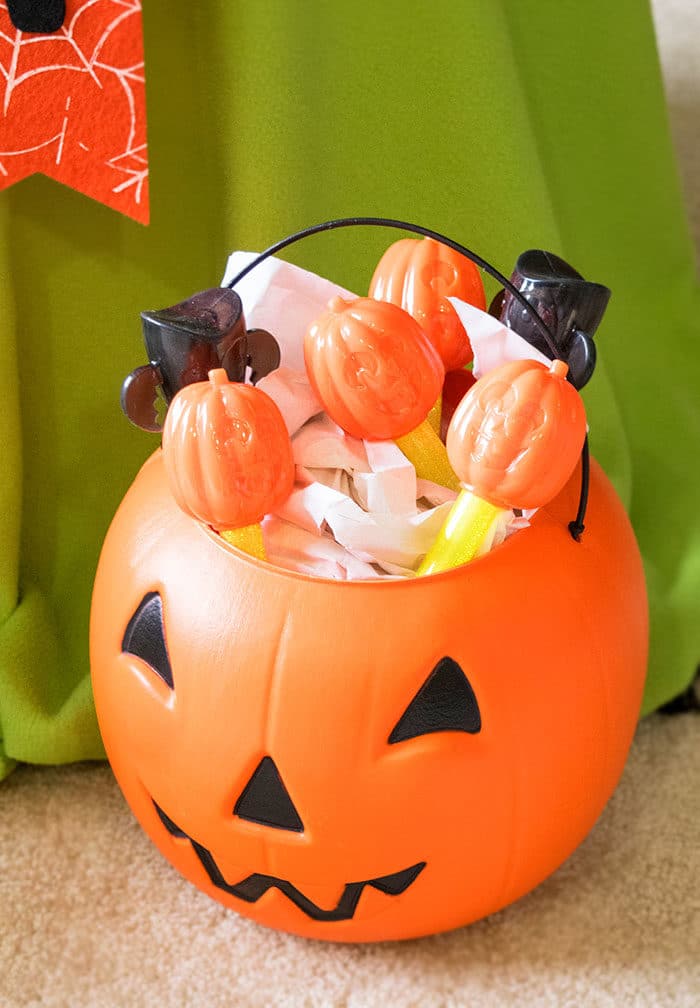 Until next time, tata my lovelies!