Easy Mint Frosting
Quick and easy mint frosting recipe, homemade with simple ingredients. Rich, creamy, fluffy, silky smooth, stable, holds its shape. Great for spreading, piping, cake decorating. Flavored with mint extract and colored with green food coloring.
Everyone needs to have a collection of icing recipes that they can use on various types of desserts. I have a whole Frosting and Fillings category, which you should check out.
Today's green frosting is great for Christmas time or even St. Patrick's Day festivities.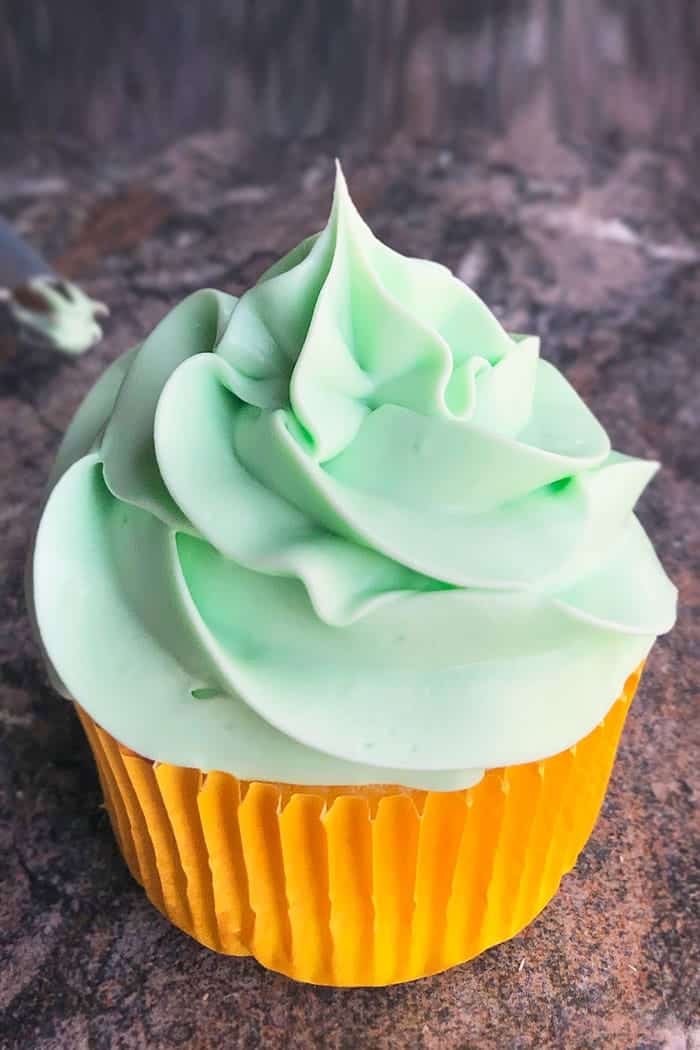 How to make mint frosting?
Cream together butter and shortening– Mix them together until they are and smooth.
Add mint extract– Mix until combined.
Add powdered sugar– Do this gradually and add 1/2 cup at a time.
Add milk or heavy cream- Add enough that the icing has the perfect spreadable consistency
Mix in green coloring– Use gel coloring and you are done.
What goes well with mint buttercream frosting recipe?
You can use it on cakes, cupcakes, cookies, brownies and bars. You can spread it with a spatula or use decorator tips for piping swirls and doing fancy cake decorating.
Chocolate and mint is a fantastic flavor combination, followed by vanilla and mint. Keep that in mind when you try these pairings below.
Cakes
Cupcakes
Cookies
Brownies and Bars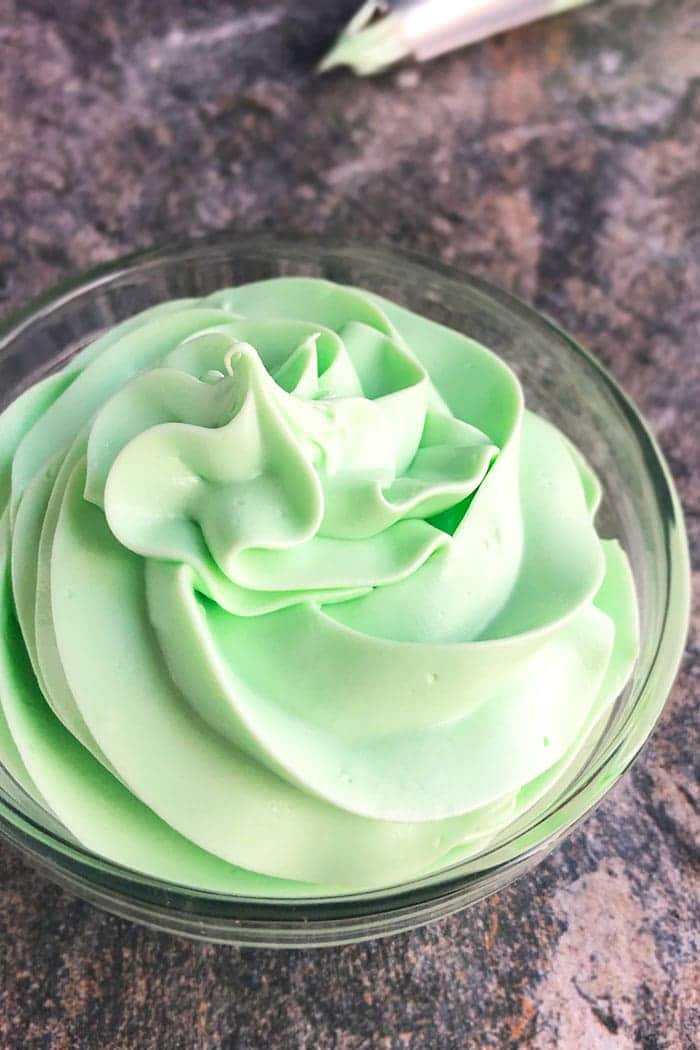 Frosting Consistency
How to thicken frosting? Mix in some more powdered sugar or a small amount of cornstarch.
How to make frosting thinner? Mix in more milk or heavy cream to the frosting so that it is still soft but also firm enough to holds its shape and pipe.
How much frosting is needed for cakes and cupcakes?
This will vary greatly on how you are icing them. If you are making tall swirls on cupcakes, you will be able to frost about 15 cupcakes with this recipe.
If you are simply spreading frosting on cupcakes with a spatula, this recipe is sufficient for 24 cupcakes.
With regards to cakes, if you are doing a thin filling and thin coating, you can easily ice an 8 inch round cake with two layers but if you want a thicker coating and filling, I suggest doubling this recipe. You will end up with some leftovers that you can use on other desserts.
How to make mint green icing color?
That perfect mint green color is achieved through the use of food coloring. Use gel colors because they are very concentrated and a little amount goes a long way without altering the consistency of the icing.
You can either use green gel coloring or mix in some blue and yellow colors to create a green shade. If it becomes too dark, add a little while coloring to lighten it.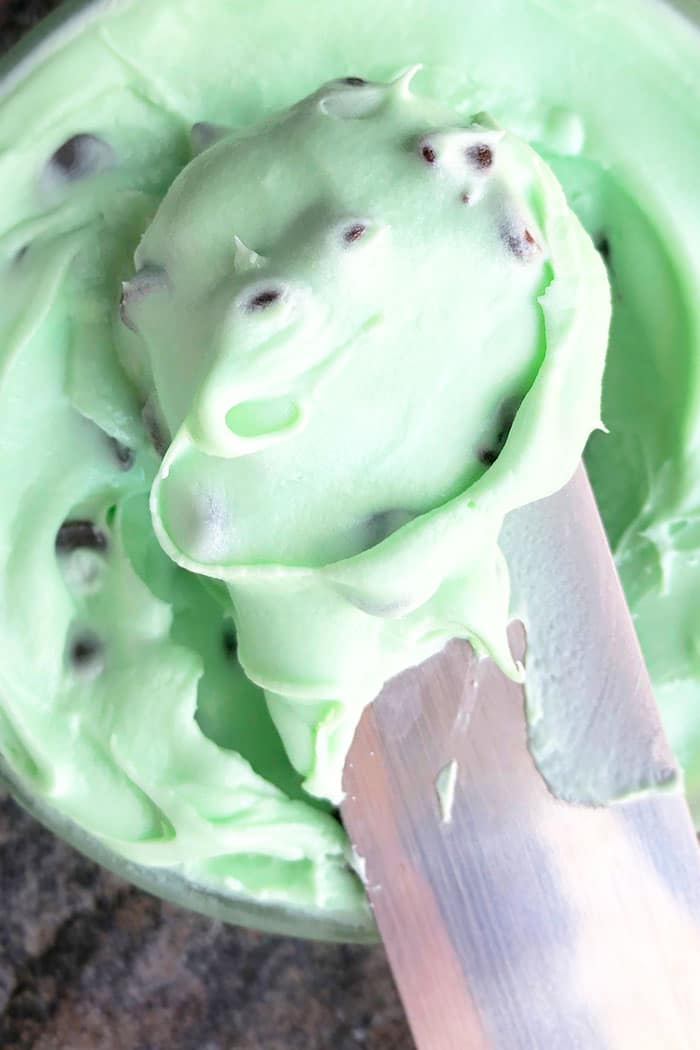 Variations
Chocolate mint frosting– Add mini chocolate chips, cocoa powder, or chocolate shavings.
Andes mint frosting– Chop up Andes chocolate roughly and mix that into the icing.
Use fresh mint– Finely chop fresh mint leaves and mix that into the icing. However, it will take some time for the mint flavor to deepen. So, chill buttercream in the fridge overnight.
Mint cream cheese frosting– Mix in a little cream cheese, which adds tanginess and cuts the sweetness.
Tips and Techniques
Make ahead instructions– This frosting can easily be made a day in advance and stored in the fridge until you are ready to use.
Can you freeze this frosting? Yes. It is perfect to make ahead of time for when an event draws near and it is ready. Just let it thaw in the fridge overnight and then whip it again to make it fluffy.
Does this icing need to be refrigerated? Yes. It must be stored in an airtight container or else it will dry out. It also has some heavy cream/ milk, which can go bad, if it sits out at room temperature for too long.
Can you add mint extract to canned frosting? Yes. Vanilla flavoring frosting will work the best.
Use unsalted butter– Because that prevents this icing from becoming too salty.
Don't replace shortening with butter– Both shortening and butter are used in this recipe because shortening adds stability to the icing. It is firmer than butter.
Milk vs. Heavy cream– Either can be used. Their main purpose is to thin out the icing. Heavy cream obviously has a higher fat content and is richer. If you are using milk, try to use whole milk but 2% will work fine too.
Chill frosting prior to piping- I highly recommend doing this because it firms up and holds its shape really well.
Sift powdered sugar– Because this gets rid of any lumps in the sugar, yielding the smoothest frosting ever.
All ingredients should be at room temperature– Because they blend together smoothly.
Adjust mint flavor– This depends on your preference. For a stronger flavor, add more extract. For a milder flavor, add less.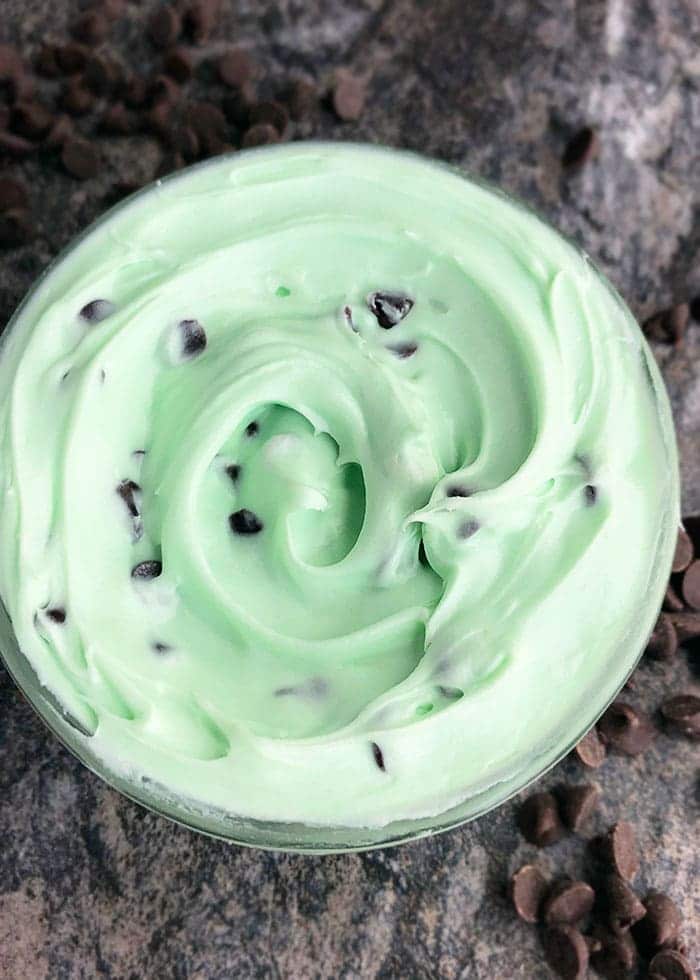 More green desserts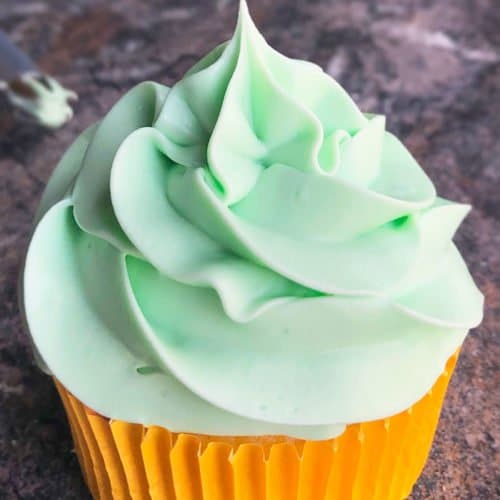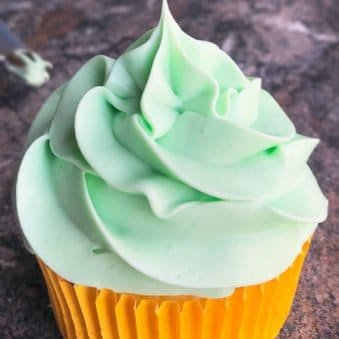 Easy Mint Frosting
Quick, easy mint frosting recipe, homemade with simple ingredients. Creamy, fluffy, stable, holds its shape. Great for spreading, piping, cake decorating.
Yield: Cups
Ingredients
1/2 cup Butter, Unsalted, Room temperature
1/2 cup Shortening
1.5 tsp Mint extract
5 cups Powdered sugar
2-4 tbsp Milk, Or heavy cream
Green gel coloring
Instructions
Gradually add powdered sugar (1/2 cup at a time).

Add a little milk (1 tbsp at a time) to thin out the frosting until it has the perfect spreadable consistency.

Mix in some green food coloring until icing is light green. Enjoy!
Nutrition
Calories: 1363kcal, Carbohydrates: 200g, Protein: 1g, Fat: 65g, Saturated Fat: 28g, Trans Fat: 6g, Cholesterol: 82mg, Sodium: 280mg, Potassium: 29mg, Sugar: 196g, Vitamin A: 962IU, Calcium: 23mg, Iron: 1mg
Until next time, tata my lovelies!