Halloween Candy Corn Cake
In this step by step tutorial, you will learn to make an easy candy corn cake. The orange, yellow and white colors are great for spooky halloween parties.
Last year, I made this candy corn cake for Halloween and I had a BLAST making it!
But, when I went through my archives today, I noticed that I DIDN'T post it.
For some reason, it was still sitting as a DRAFT in my blog…YIKES!
This cake is NOT really made of candy corns.
I just used the yellow, orange and white colors of candy corns to INSPIRE the cake design.
Honestly, I don't think I have ever used all those VIBRANT colors together on a cake…
But in the end, it all worked out for the BEST!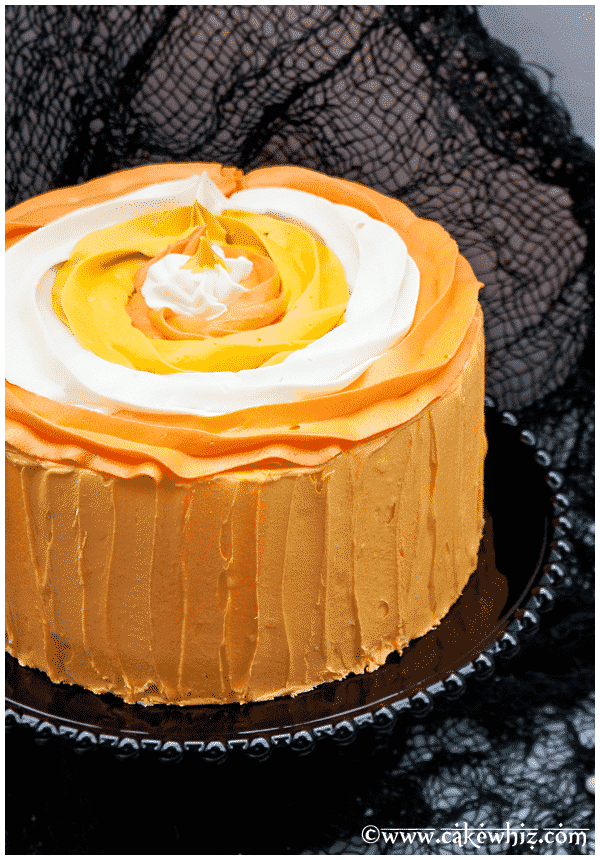 This cake is as EASY as it gets.
Since many of you ask for easy cake decorating ideas, I think you are really gonna LIKE today's tutorial.
No fancy tools…No fondant… No complicated techniques!
Here is a close-up of the side of the cake…MESSY yet PRETTY!
And believe it or not, it's decorated with just a spatula!
Yup…a plain old SPATULA!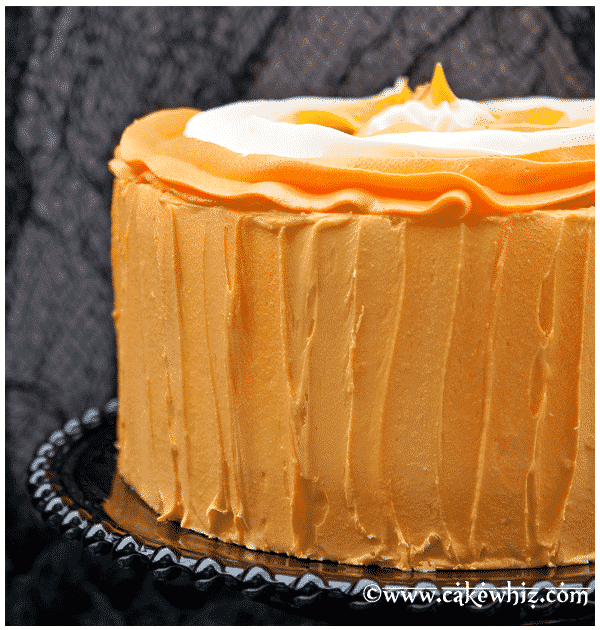 And here's a close-up of the top of the cake…
Notice the BRIGHT, colorful swirls?
They were made with just one decorating tip!
Yup… just ONE!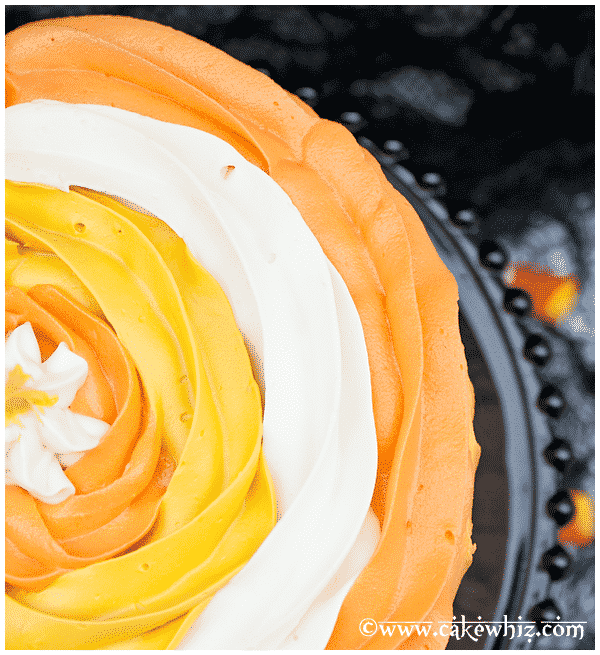 Anyways, to make this cake, you will need the following supplies:
Chocolate cake
Orange buttercream icing
White buttercream icing
Yellow buttercream icing
Spatula
3 Piping bags
Tip 1M
And here are the steps:
Step 1:
Frost your entire cake in white buttercream icing.
Fill three piping bags with orange, yellow and white frosting and attach Tip #1M to each bag.
Let's decorate the side of the cake first…
Squeeze yellow, orange and white icing randomly around the cake.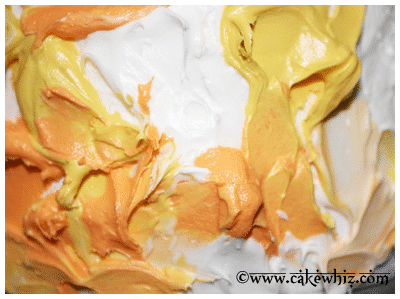 Step 2:
Now, run your spatula in an upward direction.
Do this all around your cake.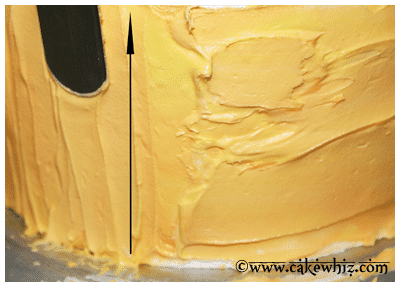 Step 3:
Let's decorate the top of the cake now…
Pipe orange frosting around the outer edge of the cake in the shape of a circle.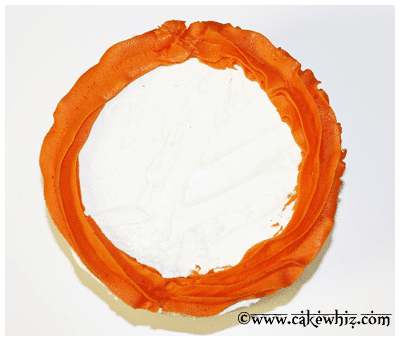 Step 4:
Pipe white frosting inside the orange circle.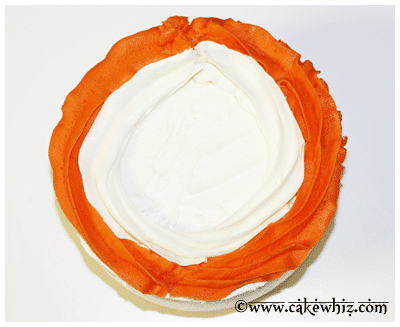 Step 5:
Pipe yellow frosting inside the white circle.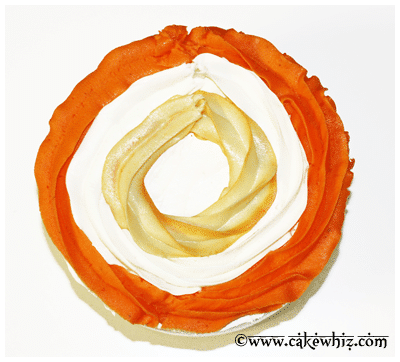 Step 6:
Pipe orange frosting inside the yellow circle.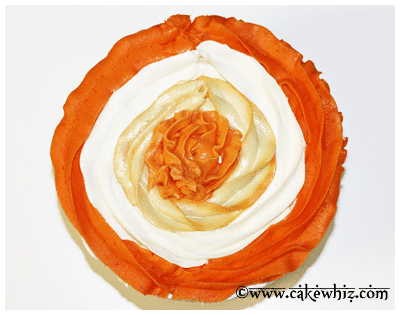 Step 7:
Finally, pipe a white star in the center of the orange circle.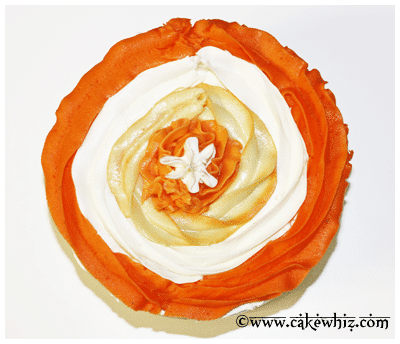 And you are done making your Halloween candy corn cake!
Enjoy!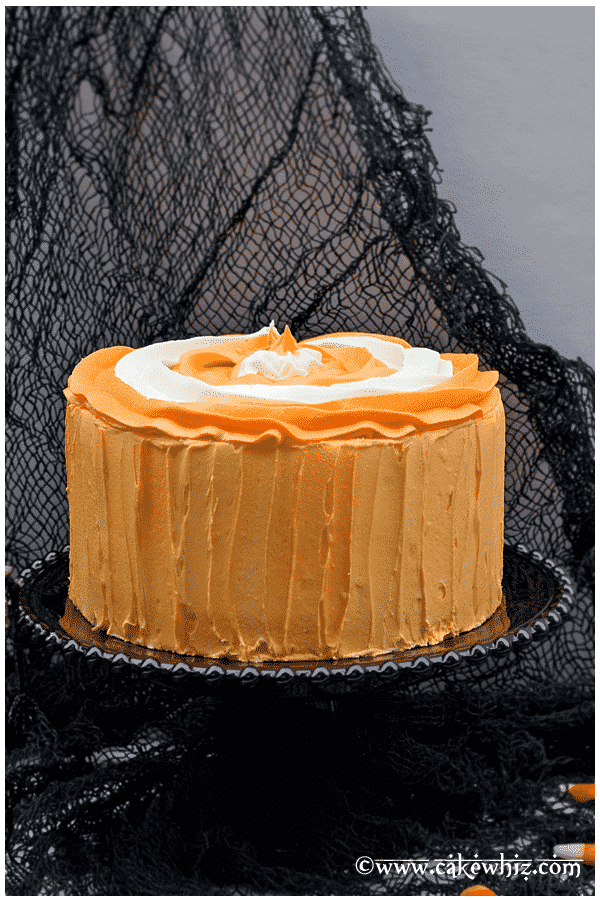 If you liked this candy corn cake, you may also like some of these other Halloween cakes:
Halloween cake with Oreo spiders and Twizzler spiderweb
Well, that's all for today.
Until next time, tata my lovelies!