Halloween Mummy Cake Tutorial
This easy Halloween mummy cake tutorial will show you how to transform a basic triangle shaped cake into a spooky but cute mummy, using icing and candy!
I recently got a cool candy corn shaped cake pan and decided to do a Halloween mummy cake tutorial.
Now, I had full INTENTIONS of decorating a cake that would look like a candy corn.
But then, an IDEA struck! 😀
I wanted to make a TRIANGULAR shaped mummy cake.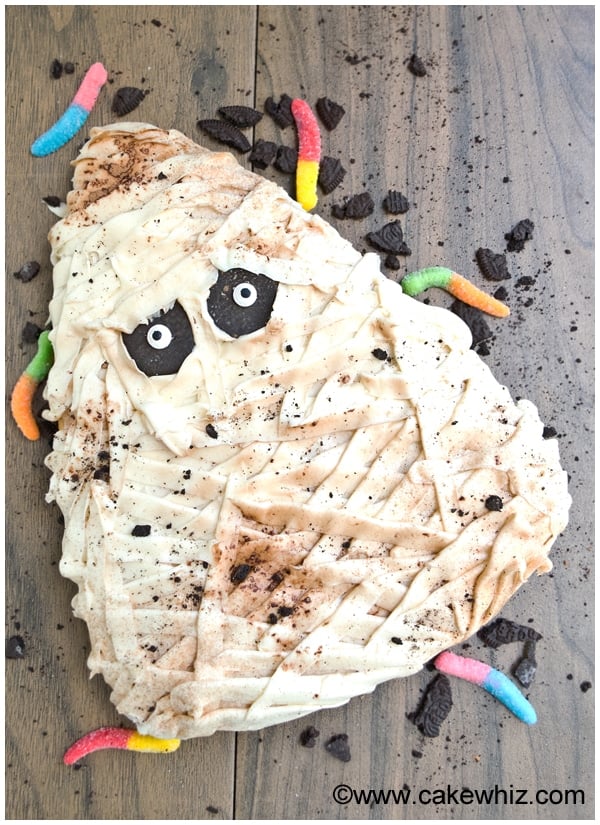 I have NEVER seen it done before and I thought it would just be so flippin AWESOME!
It's hard to believe how EASY it is to make this cake.
You just need Tip#104 and white buttercream icing!
Even if you have never decorated a cake before in your life, you can make this cake… I PROMISE! 😀
I even did a video tutorial so that you can easily FOLLOW along.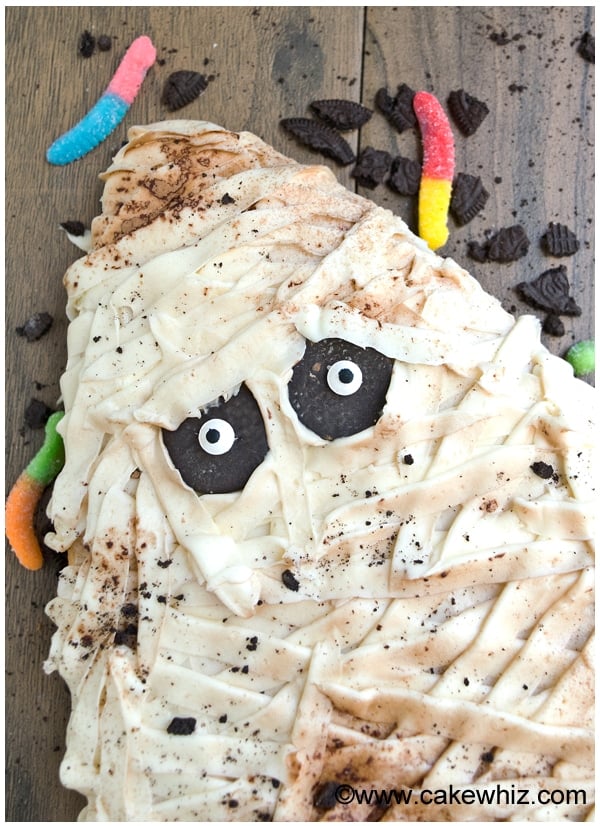 By the way, you can see my little cutie being quite the HELPER towards the end of the video…heheh 😉
Also, I am planning on doing MANY more video tutorials coz I am starting to have FUN with it.
So, be sure to SUBSCRIBE to my YouTube channel!
Also, let me know what type of tutorials YOU want to see in the future:)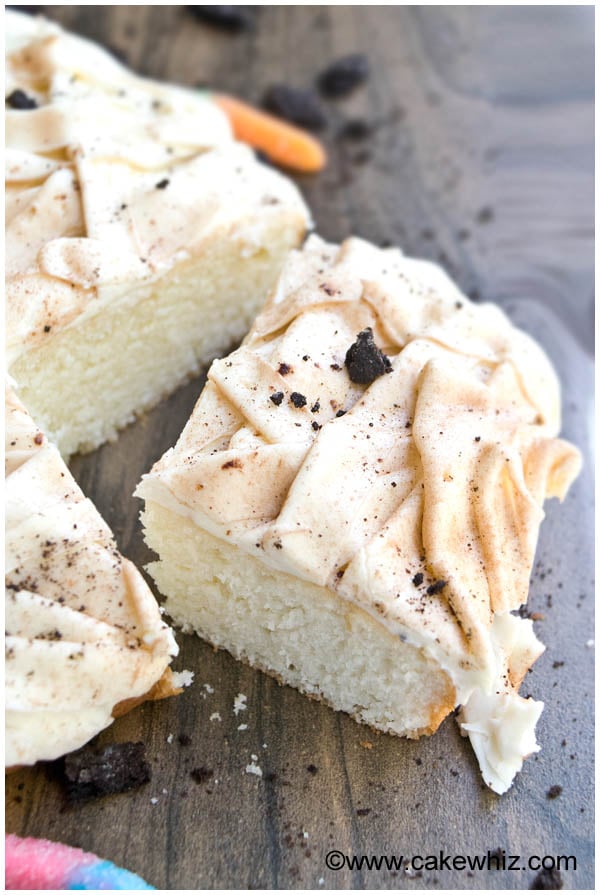 Follow along this video tutorial and make your own spooky cake.
Also, get recipes + written instructions near the end of this blog post.
For this Halloween mummy cake tutorial, you will need the following ingredients and supplies:
Vanilla pound cake
White buttercream icing
2 peppermint patties
1 tbsp cocoa powder
Eyeball candies
Crushed Oreos
Worm candies
Sifter
Small strainer
Spatula
Candy corn shaped pan (Wilton brand)
Piping bag
Tip # 104
And here are the steps:
Step 1:
Prepare your vanilla cake in the candy corn shaped pan.
Step 2:
Use a spatula to frost the entire cake in white buttercream.
Step 3:
Stick two peppermint patties near the top of the cake for the mummy's eyes.
Step 4:
Fill a piping bag with white frosting and attach Tip #104.
Step 5:
Hold the piping bag at a 45 degree angle and randomly start piping strips of white frosting all over the cake.
Note:
Make sure not to frost the peppermint patty eyes.
Step 6:
Stick eyeball candies on the peppermint patties, using some icing.
Step 7:
Scoop out a little bit of cocoa powder into a small strainer and lightly shake it to randomly sprinkle the cocoa powder all over the cake.
Step 8:
Place this mummy cake on a cake board and sprinkle some crushed Oreos and also stick some worm candies here and there.
And you are done!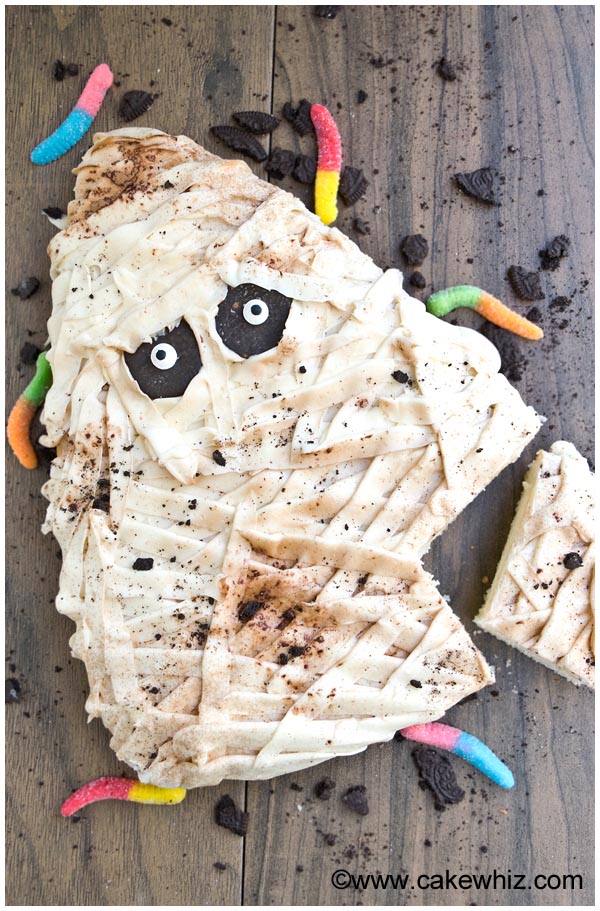 Well, that's all for today.
If you liked this tutorial, you may also like some of these other Halloween treats…
Red velvet candy overload cake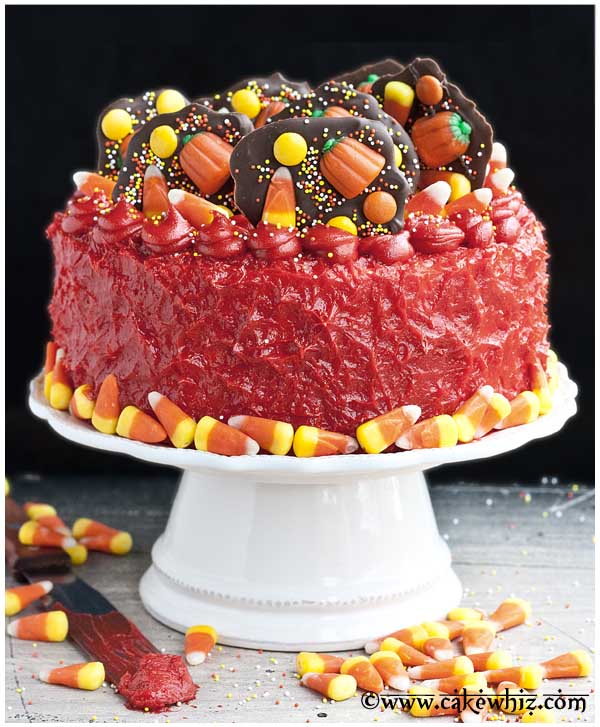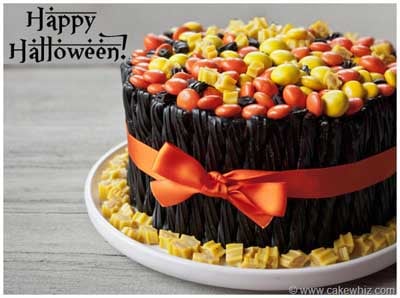 Spider web cake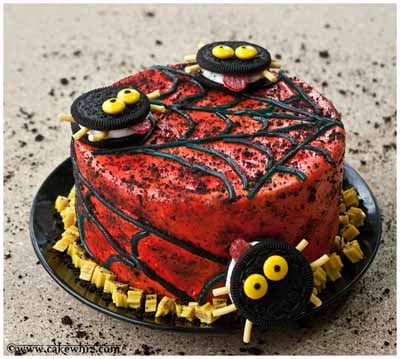 Until next time, tata my lovelies!