How to Make Frankenstein Cookies
Learn how to make quick and easy Frankenstein cookies for kids Halloween parties All you need is graham crackers, fondant and edible markers.
Today, I am showing you how to make Frankenstein cookies or how to decorate Frankenstein cookies. 
I used green marshmallow fondant to cover store-bought graham crackers.
You can use square-shaped sugar cookies and make Frankenstein sugar cookies. 
Instead of using fondant, you can also make these cookies with royal icing but that's quite time-consuming. 
Of course, I used my cheap homemade sprinkles for the eyes and nose. 
This is one of those easy Halloween cookies where even kids can help out and have fun.
You don't need any fancy tools or special Frankenstein cookie cutter… This is as easy as it gets!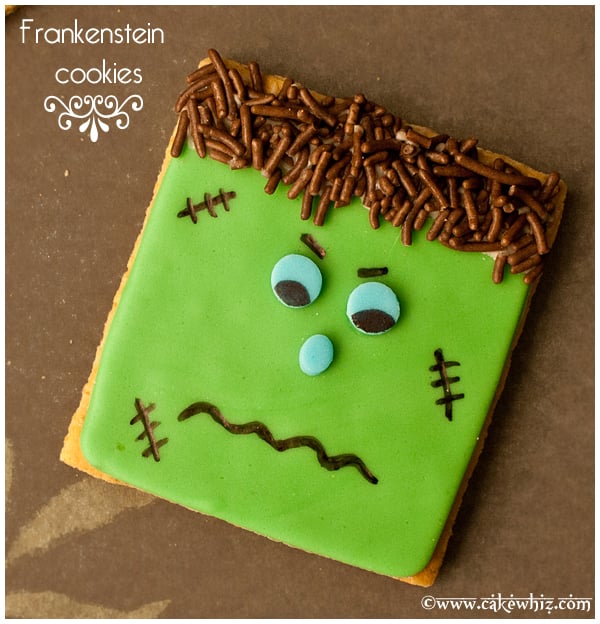 To make these cute Frankenstein cookies, you will need the following SUPPLIES:
Graham crackers (Or square shaped sugar cookies)
Square cutter (About the same size as your cookies)
Green fondant
Corn syrup
Melted chocolate
Paintbrush
Chocolate sprinkles
Round and oval sprinkles
Black edible marker
Rolling pin
These are the INSTRUCTIONS:
Step 1: Roll out green fondant and use the square cutter to cut out a square piece.
Step 2: Brush come corn syrup on top of the cookie.
Step 3: Gently place the fondant piece on top until it sticks into place.
Step 4: Draw little eyeballs on 2 round sprinkles with black edible marker.
Step 5: Stick them into place with some corn syrup.
Step 6: Also, stick an oval sprinkle in the center for the nose.
Step 7: Use a black marker to draw the mouth and stitch marks.
Step 8: Brush some melted chocolate on the top of the cookie.
Step 9: Dip this area into a bowl of chocolate sprinkles until Frankenstein's head is fully covered. Enjoy!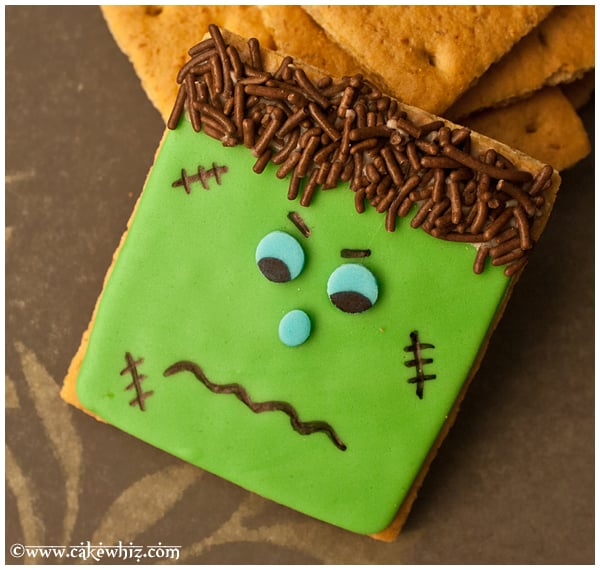 Well, that's all for today.
If you liked this post, you may also like some of these other Halloween dessert or snack/Halloween ideas:
Dracula Cookies OR Vampire Cookies
Until next time, tata my lovelies!