Homemade Vanilla Pudding {Best}
The best, classic, easy vanilla pudding recipe, homemade from scratch with simple ingredients. Rich, silky smooth, creamy, packed with vanilla flavor. Also known as "yellow pudding."
As a kid, it was exciting to see those Snack Packs in school lunches. Now you can make your childhood favorite treat at home. It is just as delicious as this Easy Rice Pudding and this Chia Seed Pudding (4 Ingredients). This is also a no bake dessert and a great way to use up leftover egg yolks.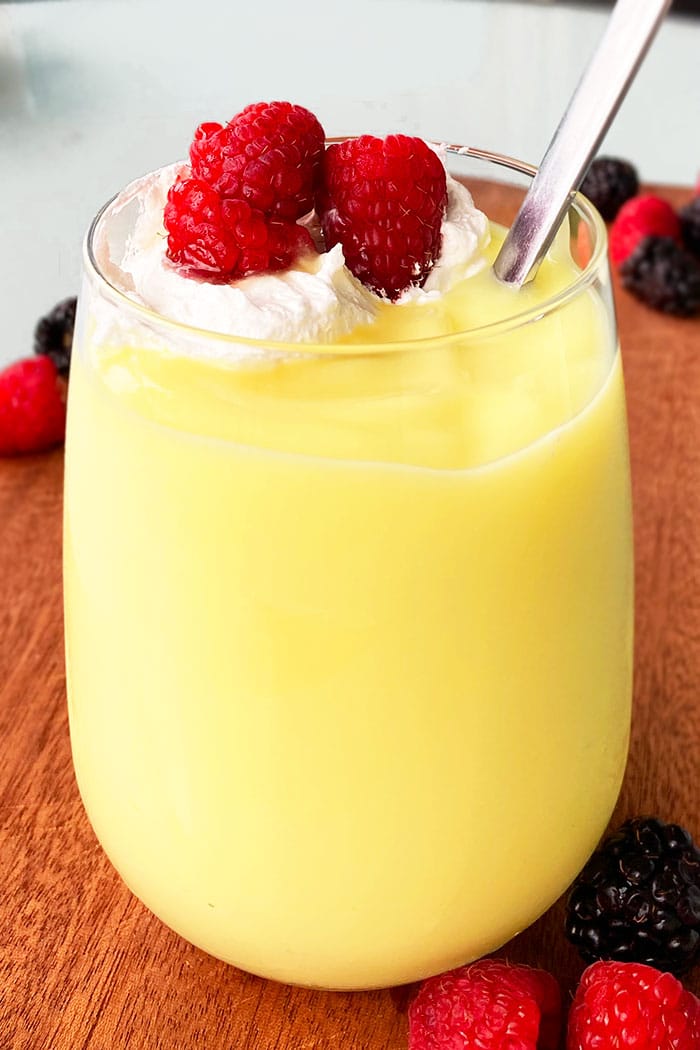 How to make vanilla pudding recipe from scratch?
Prepare milk mixture– By mixing together sugar, cornstarch, half and half and whole milk.
Prepare egg yolk mixture– Spoon out some of this milk mixture and mix with the egg yolks.
Cook again– Mix the egg mixture into the milk mixture and cook until thickened.
Add vanilla and butter– Until smooth.
Chill – Pour into individual pudding cups or bowls. The, cover and chill.
Enjoy! Serve with fresh fruits and whipped cream.
Are vanilla pudding and custard the same?
No they are not the same. Custards have a firmer texture and they are sometimes baked with a water bath. Also, custards typically don't use any cornstarch and rely solely on egg yolks for thickening.
Variations
Chocolate pudding– Mix in a little cocoa powder.
Topping options– Try fresh fruits like strawberries, raspberries, blueberries, blackberries, Homemade Whipped Cream, vanilla wafers, rainbow sprinkles, crushed cookies, chopped nuts, shredded coconut, mint leaves, chocolate chips or chocolate shavings.
Vanilla pudding pops– Pour the prepared mixture in popsicle molds and freeze them for a frozen Summer treat.
Add other extracts and zests– The classic choice is obviously vanilla but you can try caramel, almond, butterscotch, coconut e.t.c. You can even add orange, lemon or lime zest for a flavor twist.
Try other sweeteners– The classic choice in granulated sugar but you can also try maple syrup, brown sugar or agave syrup. Please note that this will change the flavor and color.
Use it as a filling in cakes and cupcakes– You can also use it in poke cakes or pudding cakes.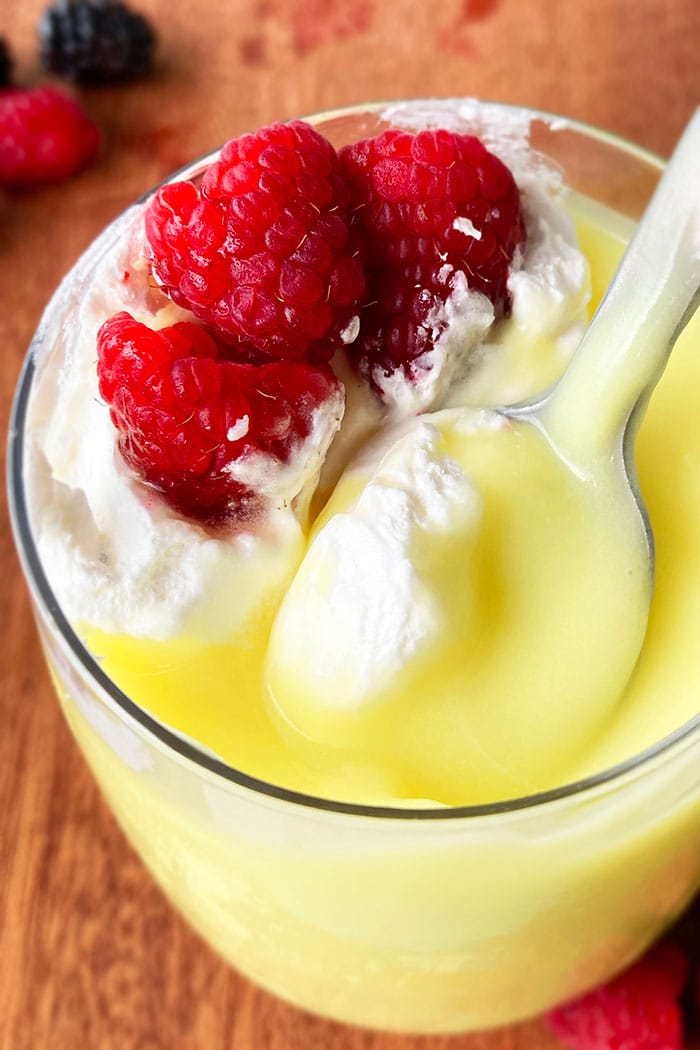 Tips and techniques
How to thicken pudding? Cornstarch and egg yolks both work as thickeners. Also, this dessert thickens further as it cools. You can also use additional cornstarch to make it thicker but please note that will alter the taste and make it taste "chalky."
How to make pudding thinner? Mix in more milk or half and half.
Make ahead instructions– This can be made 2-3 days before an event. Don't add any toppings until you are ready to serve.
Use full fat milk and half and half- Because this will ensure the richest and creamiest results.
Whisk often to prevent lump formation– The eggs will scramble, if left alone to cook. Make sure to keep mixing until you have no lumps.
How to fix clumpy/ lumpy pudding? Some people like to smooth it out by pouring mixture in a fine meshed sieve and pushing it through with a spoon. However, the easiest way, in my opinion, is to use a hand-held immersion blender.
Cornstarch substitute– Arrowroot powder is a good substitute. Some people have used flour but I don't like the flavor.
Only egg yolks are used in this recipe– If whole eggs are used, you will end up with a thin and soup-like consistency.
Use medium to low heat– That's because high heat will make the egg yolks scramble and that can lead to lumps.
Vanilla bean vs. vanilla extract– Either can be used and it's up to you. The vanilla beans add little black specks whereas clear vanilla extract will add no color. Vanilla bean also has a stronger flavor than extract.
What to do with leftover egg whites? You can use them to make these Easy Meringue Cookies.
Storage
Refrigerate– In a sealed container for up to 3 days.
Freeze- I don't recommend freezing pudding since heavy milk-based desserts don't thaw well and tend to separate.
More Pudding Recipes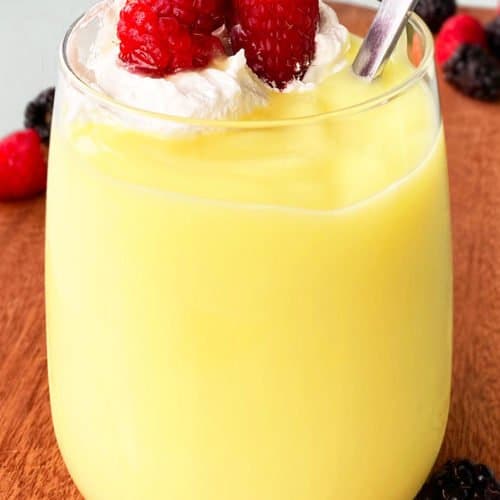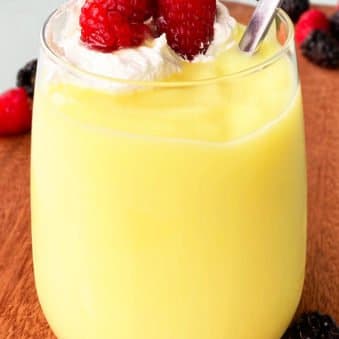 Homemade Vanilla Pudding
The best, classic, easy vanilla pudding recipe, homemade from scratch with simple ingredients. Rich, silky smooth, creamy, packed with vanilla flavor.
Yield: People
Instructions
Add sugar and cornstarch in a medium sized nonstick saucepan and mix until combined.

Add half and half and milk.

Cook over medium heat, whisking often, until mixture is bubbling and thickened.

Remove from heat and add 1 cup of this milk mixture to the egg yolks. Whisk it together until combined.

Pour this egg yolk mixture back into the saucepan and cook on Low heat for about 2 minutes.

Remove from heat and mix in butter and vanilla extract.

If there are any lumps, you can pour this mixture those a fine mesh sieve. You can also use a hand-held immersion blender to make it super smooth. If your pudding is already smooth, skip this step.

Pour mixture in 6 small serving bowls.

Cover the top with plastic wrap so that it is touching the surface of the pudding.

Let it cool to room temperature.

Then, refrigerate overnight or for at least 6 hours. It will thicken more, as it chills.

Enjoy with a topping of fresh fruits and whipped cream.
Notes
Read all my tips above.
Leftovers can be stored in a sealed container in the fridge for up to 3 days.
Nutrition
Calories: 282kcal, Carbohydrates: 34g, Protein: 6g, Fat: 14g, Saturated Fat: 8g, Cholesterol: 164mg, Sodium: 74mg, Potassium: 172mg, Sugar: 28g, Vitamin A: 545IU, Vitamin C: 1mg, Calcium: 148mg, Iron: 1mg