Tiered Rustic Cake
Learn how to decorate a rustic tiered Fall cake for Autumn weddings or Thanksgiving parties, using gourds, pumpkin seeds & edible sprays!
Every year, I like to make a GRAND Autumn cake and this year, I made a rustic tiered Fall cake.
I am not going to lie and say these are "easy-to-make" cakes coz they are NOT.
They require HOURS of work and are totally over the top!
There's this tiered cake decorated with REAL green apples from last year.
And then, there's this WHIMSICAL leaf print cake from the year before.
And how about this CUTE turkey cake from a few years ago?!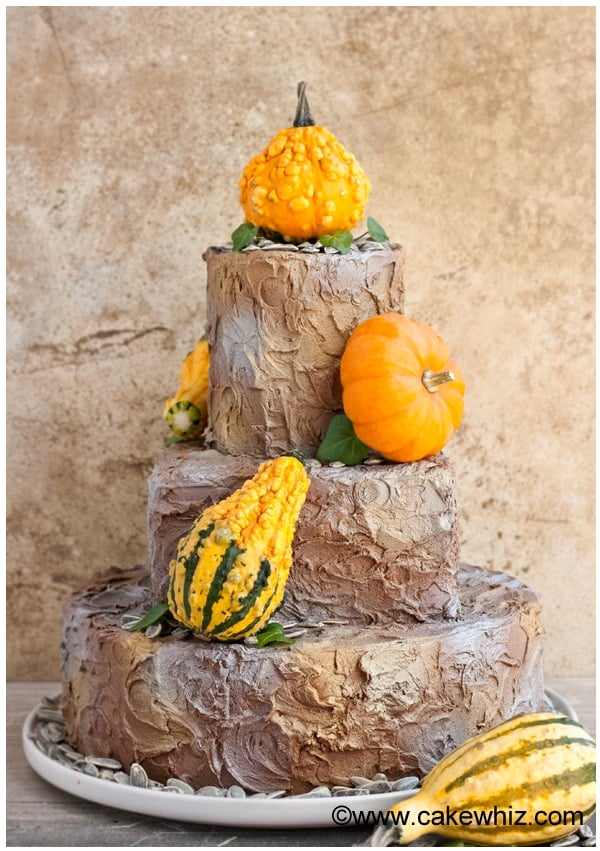 Well, allow me to present this year's creation…
A RUSTIC tiered Fall cake decorated with mini gourds!
What do you think?
Yay or Nay?
Before you ask, NO… I did not make the gourds out of fondant.
I tried making one but it was too darn HEAVY and was crushing the side of my cake, even with proper support.
So, I went to Hobby Lobby and bought PLASTIC gourds.
They are cheap, very light and look so real that it's just crazy AMAZING!
Also, to create the rustic appearance of this cake, I used a combination of gold and silver edible sprays.
To create the rustic look for this cake, you will need the following SUPPLIES/ INGREDIENTS:
Chocolate buttercream icing
Pumpkin cake
Small spoon
Gold edible spray
Silver edible spray
Notes:
I have not done a step-by-step tutorial for this cake but I will explain how to achieve the rustic, rough, textured appearance that you see on this cake.
You don't have to make such a huge tiered cake. You can easily do this technique on a smaller cake for Thanksgiving.
These are the INSTRUCTIONS:
Fill and frost your three pumpkin cakes in chocolate buttercream icing.
Use a spoon to make random "C" shapes all over the three cakes.
Stack the cakes on top of one another, using proper support system (I like to use bubble tea straws between each tier and a wooden dowel pierced through the centre of the entire cake structure).
Let the frosting set for 30-40 minutes (Move on to the next step when you touch the frosting and it doesn't feel too wet/sticky).
Now, hold the gold edible spray bottle about six inches away from the cake and randomly spray small portions all over the cake.
Hold the silver spray bottle about six inches away from the cake and randomly spray the remaining portions of the cake.
Arrange the gourds wherever you like on the cake.
Toss some pumpkin seeds around the base of the cake and near the gourds.
Stick a few edible leaves randomly and you are done!
I think this rustic tiered Fall cake would be perfect for Autumn wedding or engagement parties.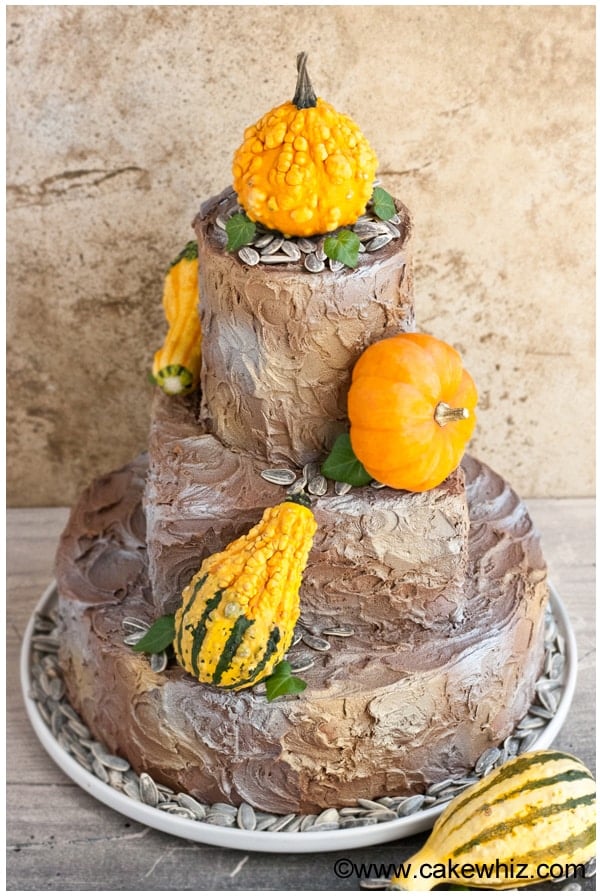 Well, that's all for today.
If you liked this post, you may also like some of these other Fall or Thanksgiving desserts…
Fall themed chocolate tree cake
Until next time, tata my lovelies!