Moist Lemon Cake Recipe
This moist lemon cake recipe with lemon curd and seven minute frosting is made from scratch and great for Summer. It's soft and bursting with lemon flavors.
I have been working on this moist lemon cake recipe for almost a YEAR now!
Most POPULAR lemon cake recipes I have tried have been too dense or too dry or too crumbly or there was only a hint of lemon flavor.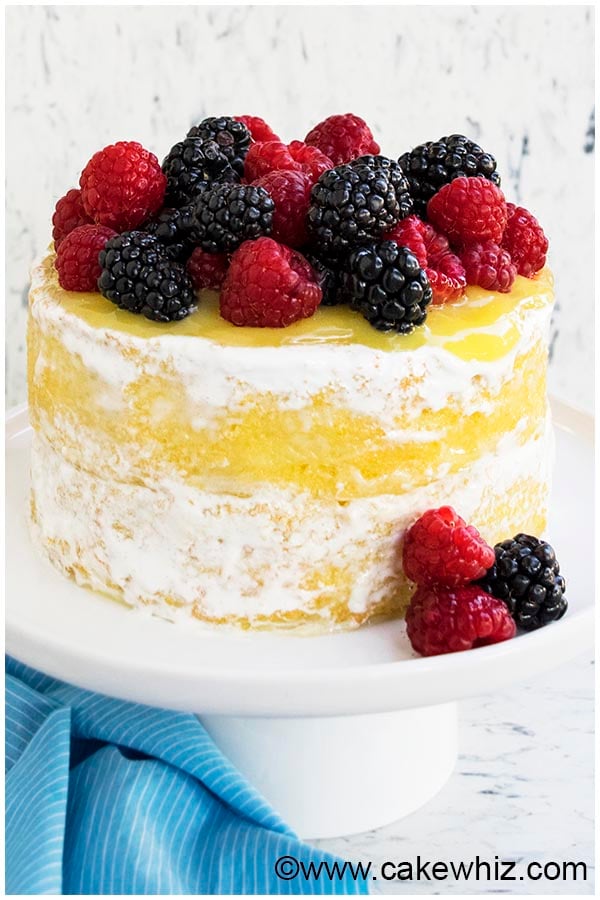 After going through loads of lemon cake disasters in the kitchen, I can now safely say this is the ultimate moist lemon cake recipe made from scratch.
It's BURSTING with zesty lemon flavor, thanks to the use of FRESH lemon juice and lemon zest.
I also ENHANCED the lemon flavor by filling and topping this cake with lemon curd.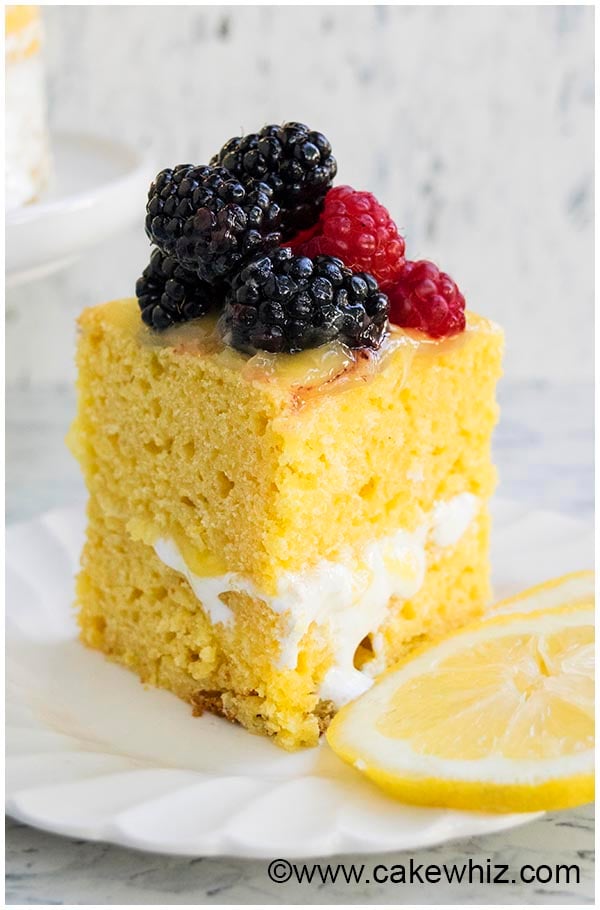 This lemon layer cake might be the SOFTEST cake I have ever made and that's mainly because of the use of sour cream.
DON'T even think about buying fat free sour cream… It has to be full fat, original sour cream.
We are not looking at calories here…hahahah 😉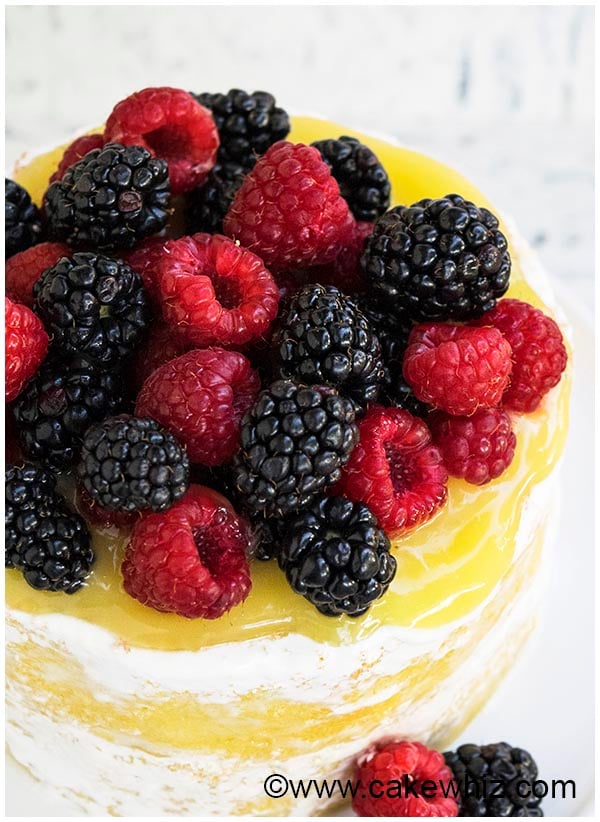 For decoration, I used a mixture of blackberries and raspberries since their flavors COMPLIMENT this cake very well.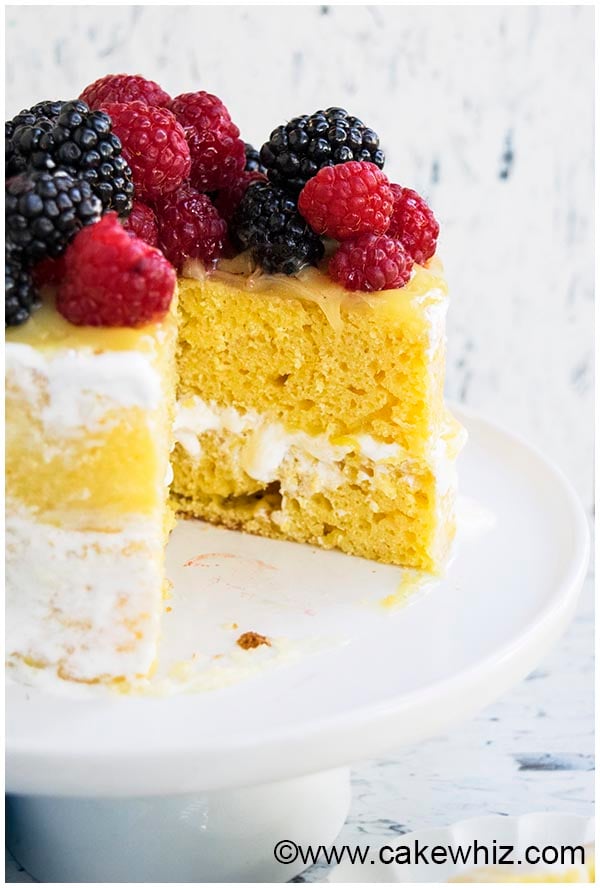 I also used white seven minute frosting in this naked lemon cake but you can use buttercream icing or even cream cheese frosting, if you like.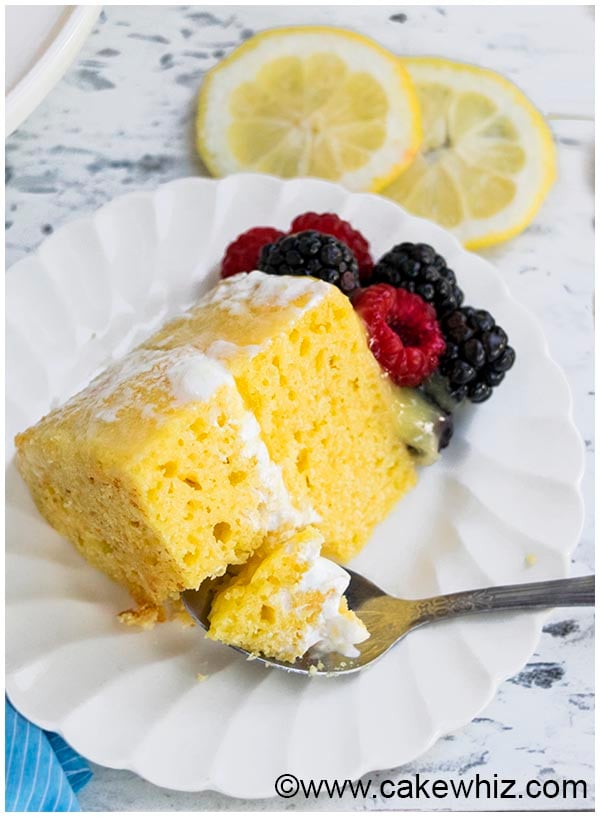 TIPS for perfect moist lemon cake recipe
Use a combination of both, all-purpose flour and cake flour. It yields the best texture.
Use lemon emulsion oil rather than lemon extract since it doesn't evaporate when baking and has a stronger taste and fragrance. If you must use extract, try to use the best quality extract you can find.
You must use full fat sour cream, not low fat or fat-free sour creams. It adds the perfect amount of moisture to this cake.
If you don't have sour cream, using plain green yogurt yields similar results but it must be thick good-quality greek yogurt.
Don't use store-bought lemon juice. Fresh lemon juice tastes so much better!
Don't skip on lemon zest. That adds a lot of flavor to this lemon cake.
More Fruit Desserts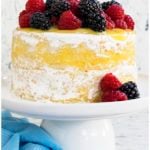 Print Recipe
Moist Lemon Cake Recipe
This moist lemon cake recipe with lemon curd and seven minute frosting is made from scratch and great for Summer. It's soft and bursting with lemon flavors.
Servings: 9 slices
Calories: 446kcal
Ingredients
Lemon Cake
1 cup All-purpose flour
1 cup Cake flour
1½ cups Sugar
⅔ cup Oil
⅔ cup Fresh lemon juice
3 Eggs
¾ cup Sour cream
1 tbsp Lemon zest
1 tsp Lemon emulsion oil or lemon extract
1 tsp Baking powder
1 tsp Baking soda
Filling, frosting, decoration
Instructions
In a mixing bowl,whisk together the cake flour, all-purpose flour, sugar, baking powder and baking soda.

Now, add eggs, oil, lemon juice, or emulsion oil and lemon zest. Mix until everything is smooth

Add sour cream and mix until just combined. Don't over-mix!

Pour this batter in two round greased/floured cake pans (Dimension: 8x2). Bake at 350 degrees for 40 minutes or until an inserted toothpick comes out clean.

While the cake is baking and then cooling down, make lemon curd and frosting.

Place one cake on a cake stand and top it off with a thin layer of frosting and lemon curd. Place the other cake on top of all this. Press your cake down with your hands (some of the frosting and curd will come out from the sides but don't worry about it!)

Now, use a spatula to frost the entire cake roughly with frosting.

Finally, pour some lemon curd on top of the cake and place some berries here.

Keep this cake refrigerated until you are ready to serve.

Note: Prior to serving, if any frosting or curd has come out from the sides along the center of the cake, just run a spatula around the cake again. And you are done!
Notes
Read all my tips above.
Leftovers can be stored in a sealed container in the fridge for up to 3 days. 
Nutrition
Calories: 446kcal | Carbohydrates: 57g | Protein: 5g | Fat: 22g | Saturated Fat: 3g | Cholesterol: 64mg | Sodium: 177mg | Potassium: 170mg | Fiber: 1g | Sugar: 35g | Vitamin A: 200IU | Vitamin C: 11.6mg | Calcium: 61mg | Iron: 1.2mg