Christmas Candy Cane Sleds
These adorable candy cane sleds carrying little graham teddy bears are so much fun to make with kids! Great activity for Christmas time and so easy to make!
Just like most people out there, I have a Pinterest ADDICTION  and I saw candy cane sleds, made with combining lots of different candy bars. 
Obviously, I was completely SMITTEN with them but I wanted to put my own twist on it.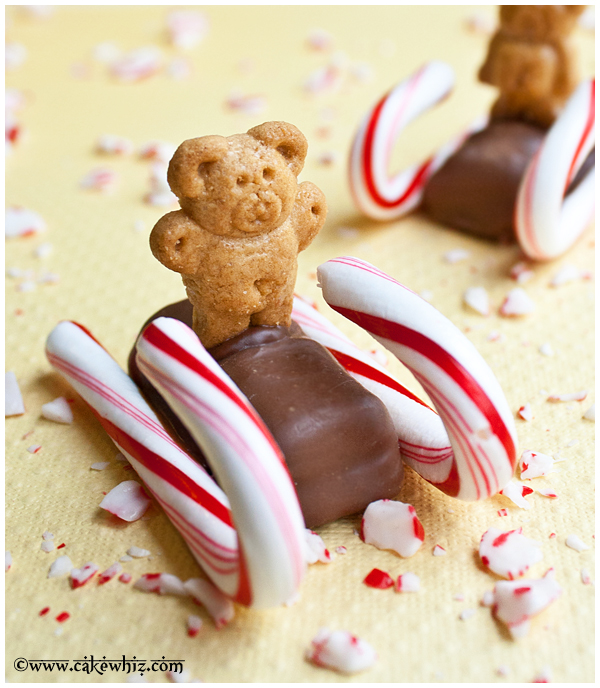 I knew I had to make them IMMEDIATELY!
Seriously, how could I not make something that looks this ADORABLE?! Right? 
I tried to make them with my 18 month old but he was more interested in EATING all the candies than actually assembling everything…hahaha.
Oh well, it was still FUN and he seemed to be having a good time.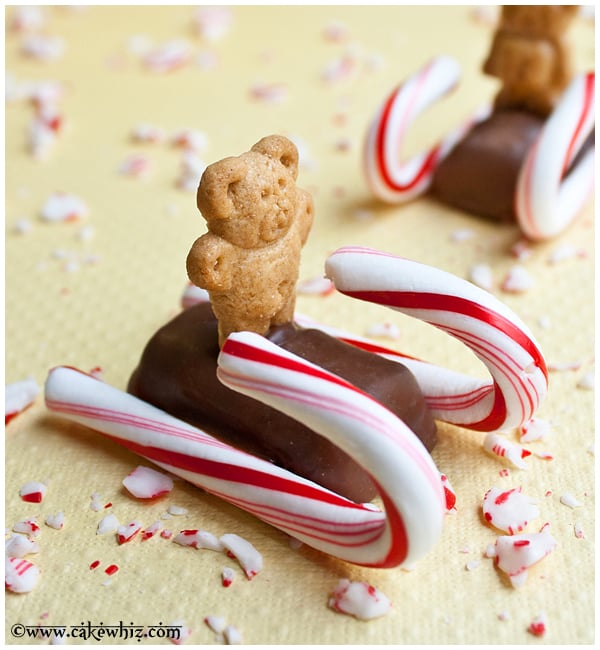 According to the original instructions, I was supposed to use mini Milky way bars but I used mini Twix bars instead coz that's what I had in my pantry.
Also, I MODIFIED the arrangement a little bit, which made putting everything together much EASIER.
And I even made a version where the sleds are carrying little presents.
Some round presents…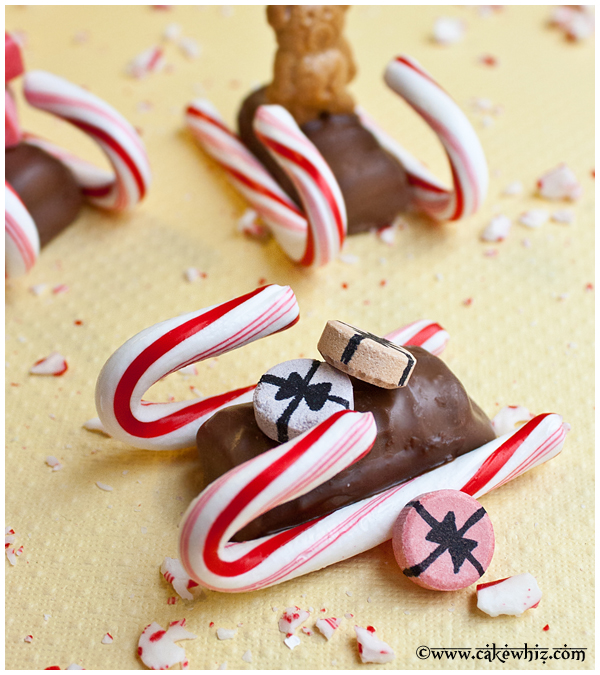 And some square presents…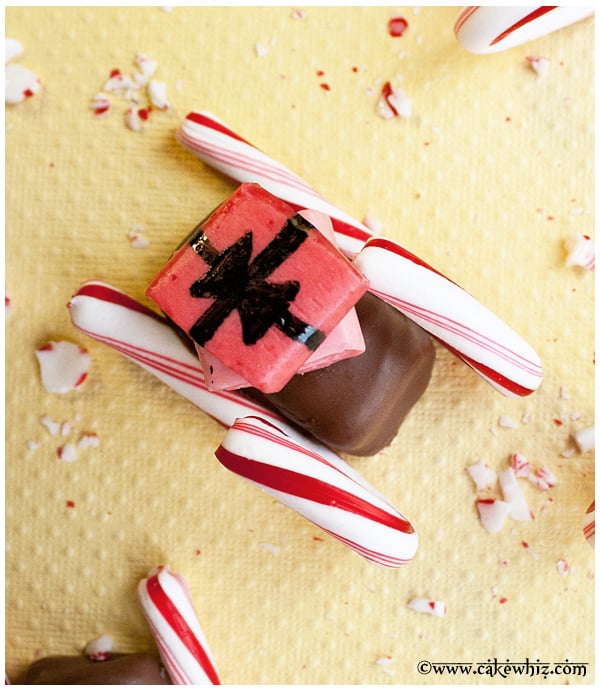 Which do you like more? The teddy version OR the present version?
My favorite are the Teddy sleds, HANDS DOWN! 
Anyways, to make these candy cane sleds, you will need the following supplies:
Mini Twix bars
Melted chocolate
Paintbrush
Mini candy canes
Mini teddy bear graham crackers
Black edible marker
Bottle cap candies (for round present boxes))
Starburst candies (for square presents boxes)
And here are the steps:
Step 1:
Unwrap one Twix bar.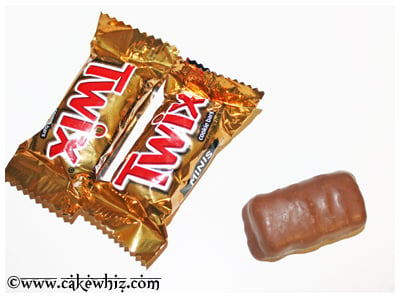 Step 2:
Brush some melted chocolate on both the sides of your Twix bar.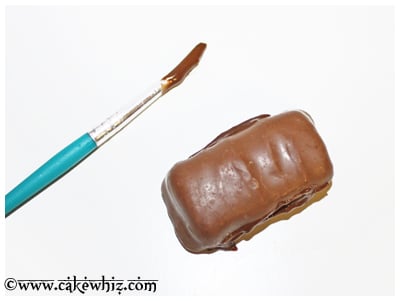 Step 3: 
Stick the mini candy canes on both the sides.
Hold them for a few seconds so that they stick securely.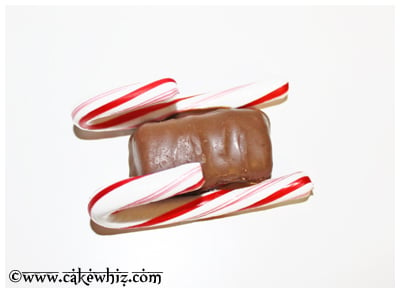 Step 4:
Brush very little melted chocolate on top of your Twix bar.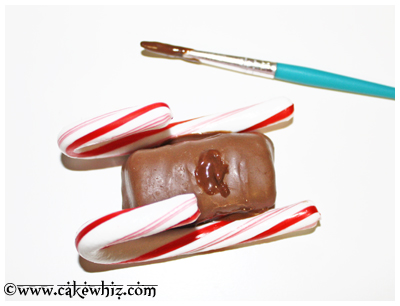 Step 5:
Stick the little teddy biscuit here.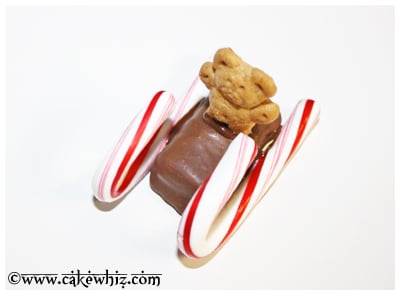 Step 6:
Instead of a teddy bear, you can also place goft boxes on top of this sled.
To do that, unwrap a few Starburst candies.
NOTE: You can use round Bottle cap candies to make round present boxes.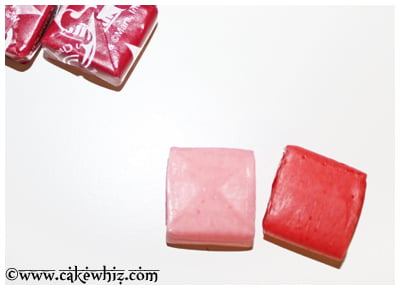 Step 7:
Draw bows on top of your Starburst candies with a black edible marker.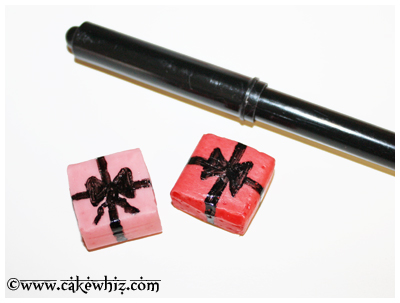 Step 8: 
Use melted chocolate to secure them on top of your sled.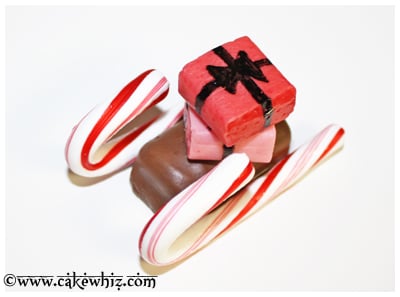 And you are done!
I think these would make GREAT cupcake toppers too but I haven't tried that yet. 
Maybe I will give that a shot that next year.
Well, that's all for today.
You may also like these Rudolph chocolate bars.
Until next time, tata my lovelies!