Snow Ice Cream Recipe
Quick and easy snow ice cream recipe, made with 3 simple ingredients: fresh snow, condensed milk, vanilla. Rich, creamy and many flavor variations possible!
This classic, old fashioned, easy snow ice cream recipe is great to make with kids for snow days! They are just as fun to make as these Snowman Ice Cream Cones.
If you live in a place that gets a lot of snowfall during Winter, this makes a very quick dessert or snack that you can get very creative with. My favorite way to enjoy this is with chocolate chips but kids love it with sprinkles.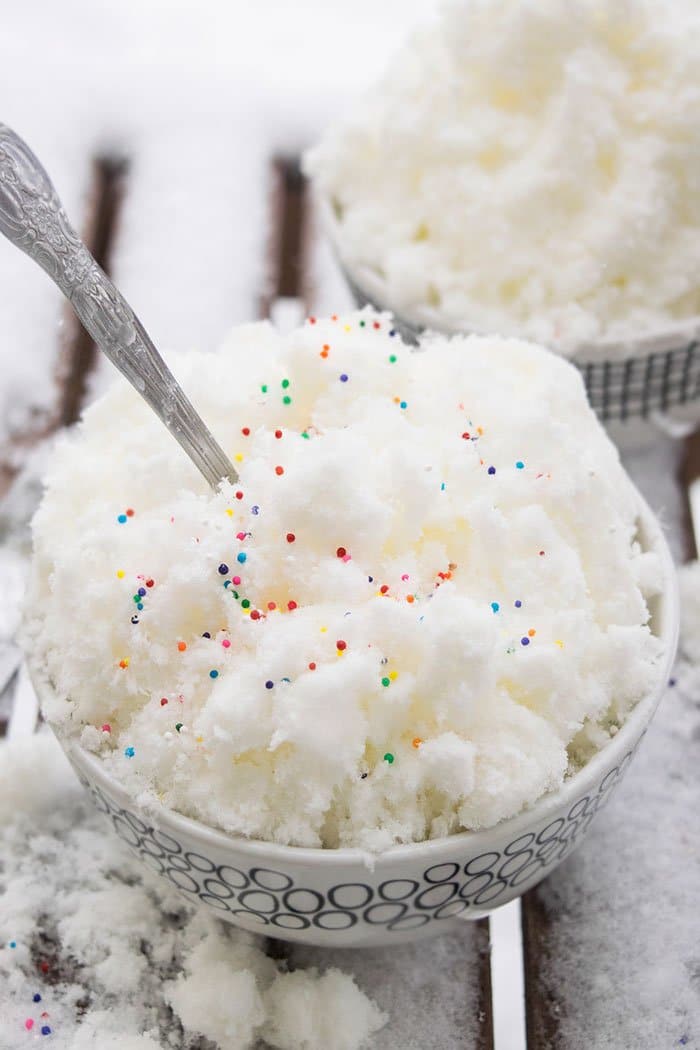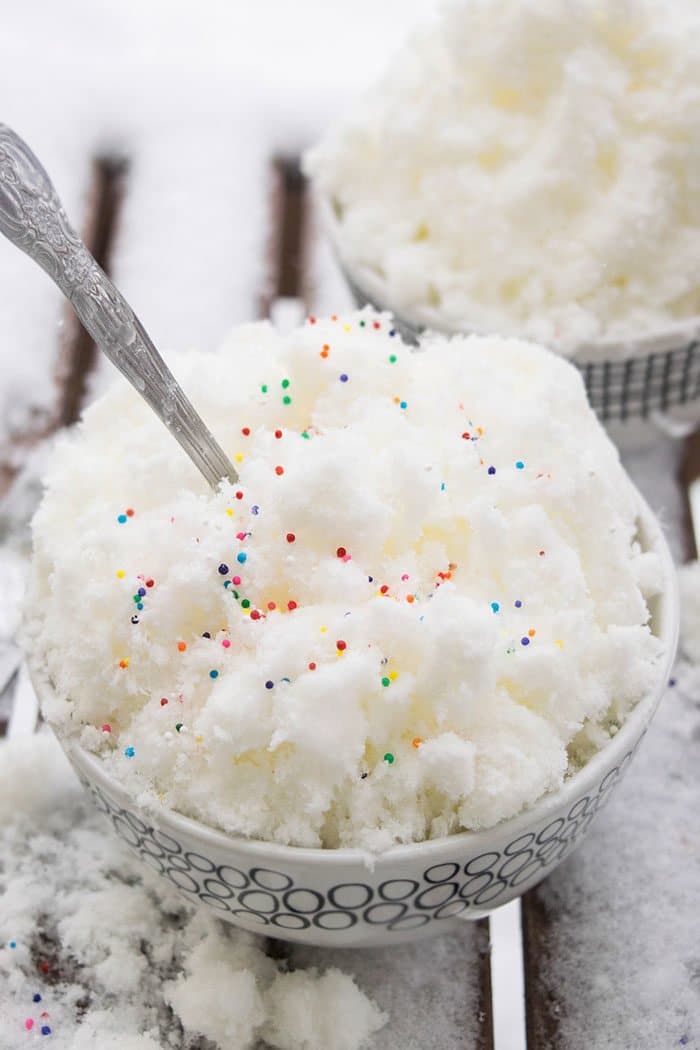 How to make snow ice cream? How do you make vanilla snow ice cream?
Mix together snow, milk, vanilla extract until thick and creamy.
Top off with sprinkles and you are done.
Can I use regular milk to make ice cream?
I don't recommend it because it's not as thick and creamy as condensed milk, evaporated milk, heavy cream/ whipping cream, coconut milk, coconut cream or half and half.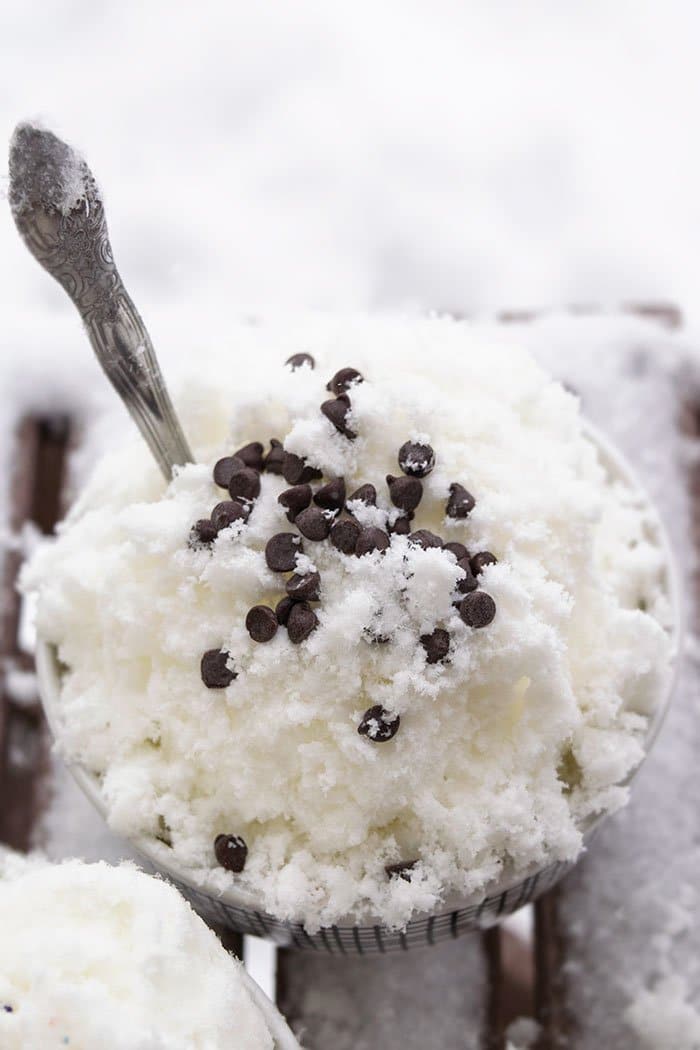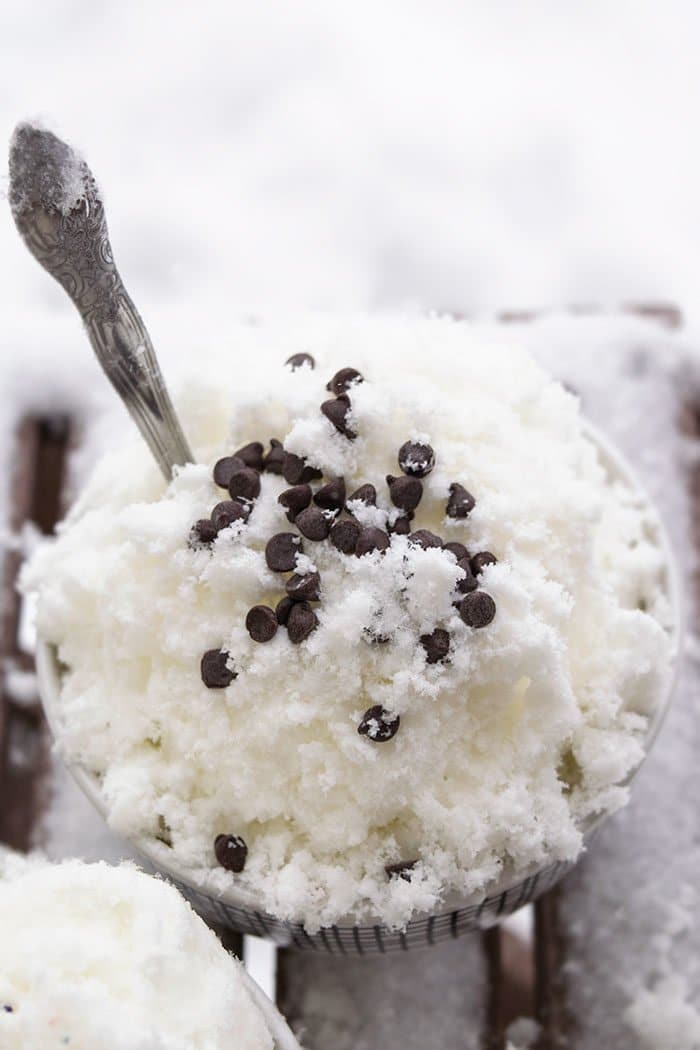 Can you make snow ice cream with the first snow? Is it safe to eat snow?
Yes, you can absolutely use Winter's first snowfall. There is a big debate about the safety. Typically, fresh snow is best and my family has been making this for years without anyone ever getting sick. The only thing I advise you not do is use snow that's been plowed, which has likely been mixed with large amounts of sand, salt, and de-icing chemicals.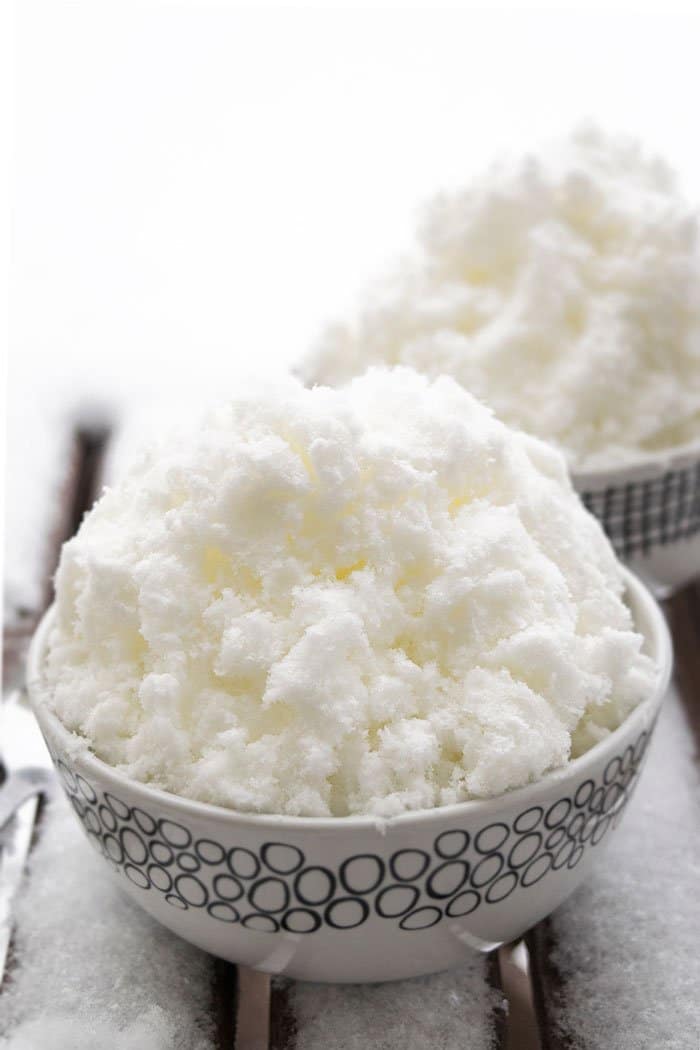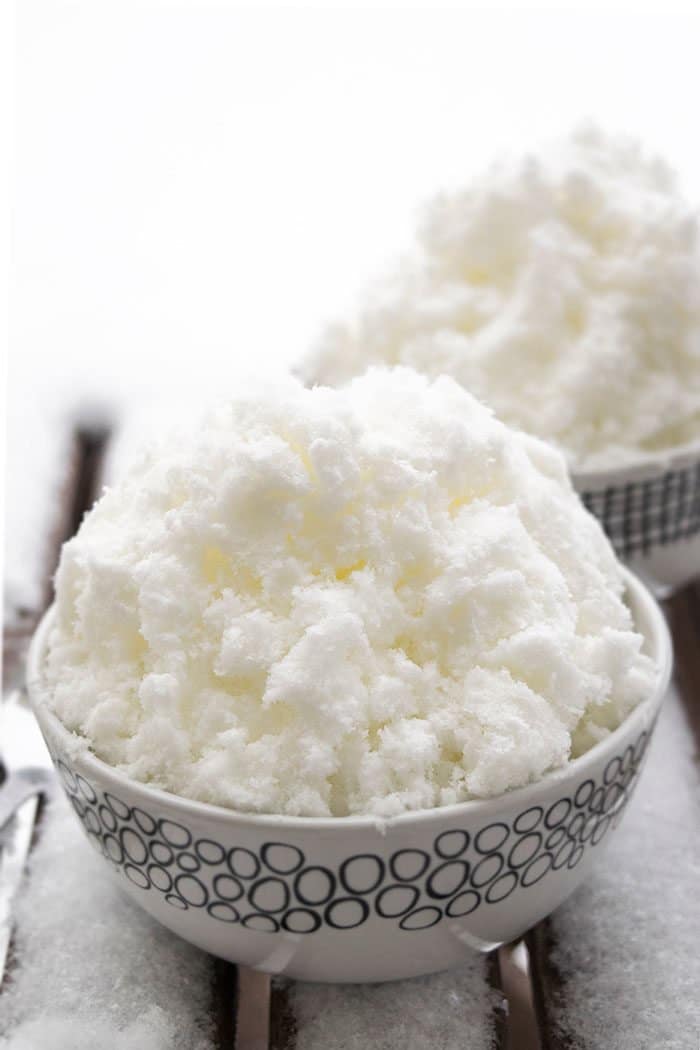 Tips and variations
You need work quickly to prevent snow from melting. You can place the mixing bowl over an ice bath to help to prevent the snow from melting too quickly.
After trying many different types of milks, I have come to the conclusion that condensed milk yields the best results and you don't have to include additional sugar either.
For chocolate flavor, add 1 tbsp cocoa powder and stir in 1/3 cup mini chocolate chips. Don't use regular chocolate chips because they are just too big.
For a different flavor, replace vanilla extract with any other extract you like.
You can even add some food coloring to make colorful rainbow ice cream.
Stir in chopped fresh fruits (strawberries, blackberries, blueberries, peaches raspberries) or nuts to take this dessert over the top.
The texture of the snow varies from place to place, which can determine how much milk should be added.
When you freeze leftovers, it becomes rock solid. So, you can either thaw it by heating in the microwave for 15- 20 seconds or let it thaw at room temperature for about 20 minutes until it softens.
You might think that adding milk will cause the snow to melt. However, that does not happen.
I have not tried this but if you don't have snow, you can still make this recipe by using shaved ice.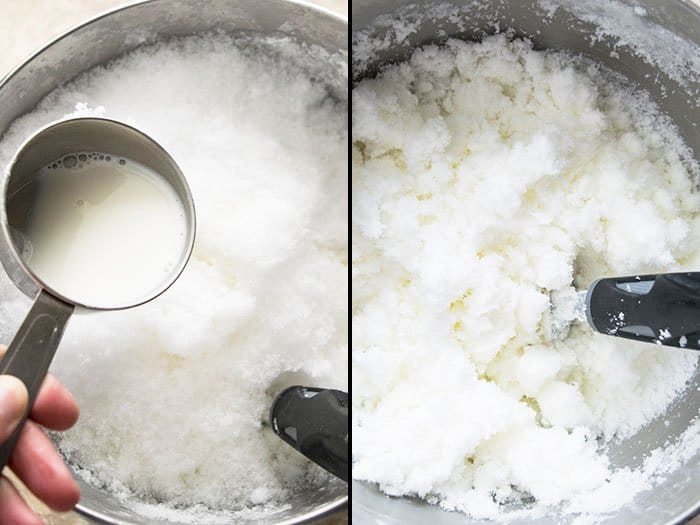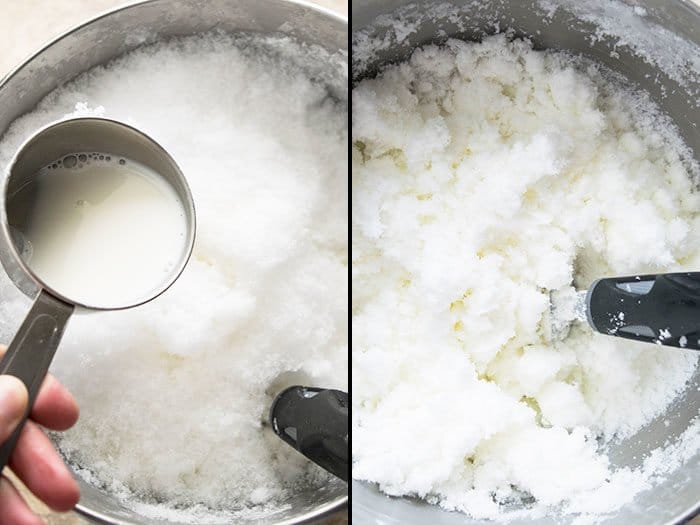 Other Ice Cream Recipes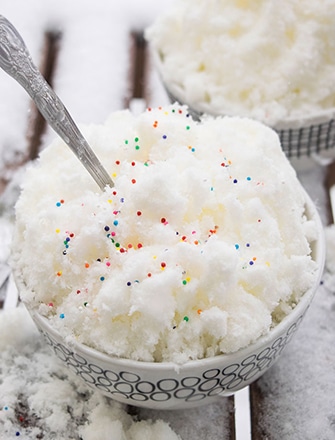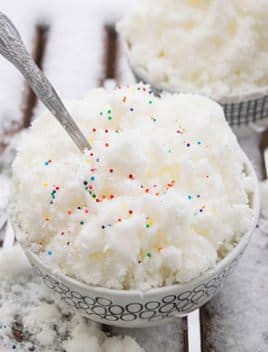 Easy Snow Ice Cream
Quick and easy snow ice cream recipe, made with 3 simple ingredients: fresh snow, condensed milk, vanilla. Rich, creamy and many flavor variations possible!
Yield: People
Ingredients
10-12 cups Fresh snow
1 tsp Vanilla extract
1 can Condensed milk, 14 oz. can
1/2 cup Mini chocolate chips, Optional
2 tbsp Sprinkles, Optional
Instructions
In a large mixing bowl, add fresh snow, vanilla extract and condensed milk and mix with a large wooden spoon until fully-combined. You need to put some energy into it.

If the ice cream consistency is too thin, add more snow to thicken it. If the ice cream consistency is too thick, add more condensed milk to thin it out.

Optional- Stir in mini chocolate chips and toss some sprinkles on top and enjoy.
Notes
Read all my tips above.
You can use evaporated milk or whole milk or 2% milk or half and half but will need to add about 1 cup granulated sugar to sweeten it. 
Nutrition
Calories: 303kcal, Carbohydrates: 49g, Protein: 5g, Fat: 9g, Saturated Fat: 5g, Cholesterol: 24mg, Sodium: 94mg, Potassium: 244mg, Sugar: 48g, Vitamin A: 210IU, Vitamin C: 1.7mg, Calcium: 205mg, Iron: 0.3mg
Until next time, tata my lovelies!