I was planning on waiting till next week to share this cake BUT I just can't wait any more…lol!
So, I present to you my Christmas Twizzler cake! 😀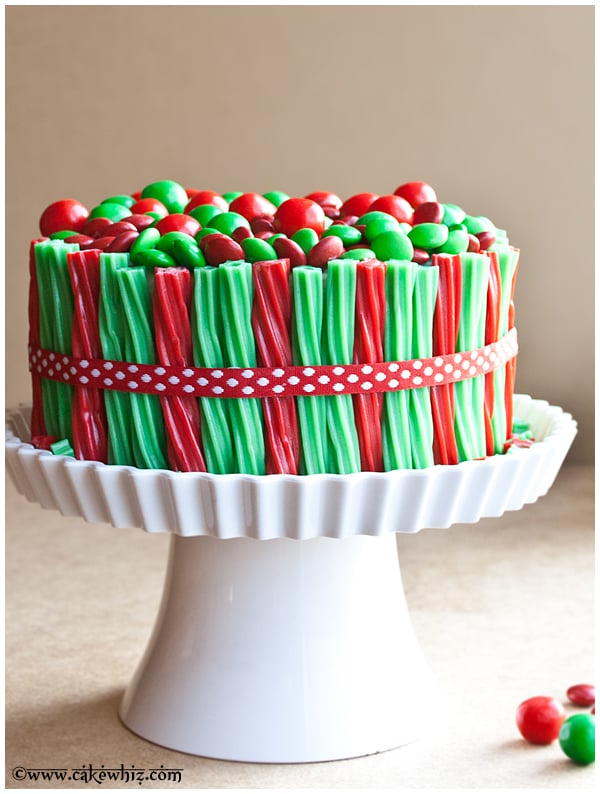 I have done a Halloween Twizzler cake before and that's one of my most POPULAR cakes. 
So, let's hear it… Which one do you like more? The Halloween version or the Christmas version? 😉
I honestly can't pick a favorite.
I love them both soooo much!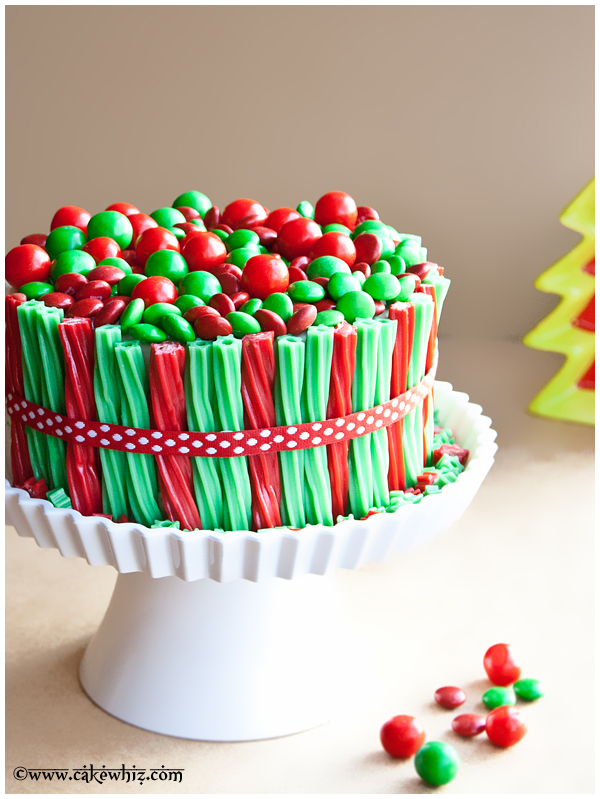 MY OTHER RECIPES
BTW, I had the HARDEST time finding green Twizzlers.
I went to a few different stores and I just couldn't find them, which totally bummed me out 🙁
But then I saw a bag of COLORFUL Twizzlers.
So, I quickly grabbed a few of those and came home.
It took me a while to separate all the green Twizzlers but it was all worth it at the end! 😀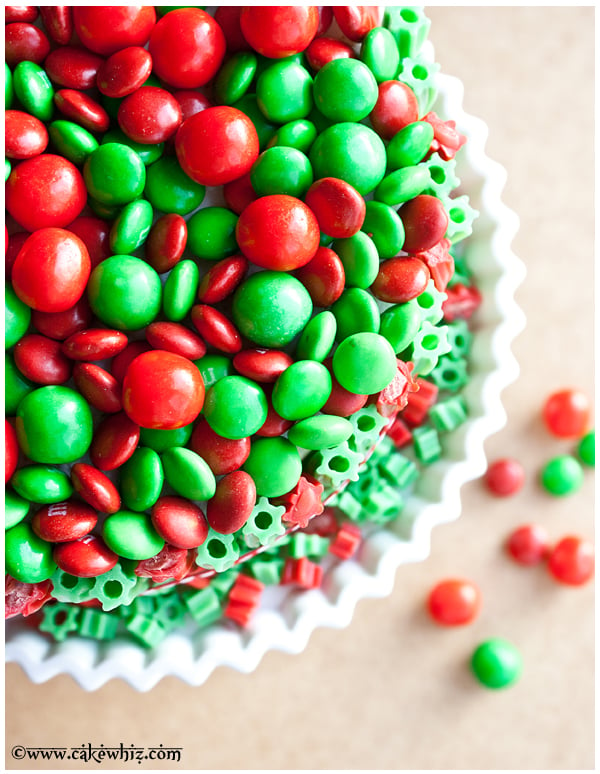 When my cake was almost done, I noticed that I didn't have enough red and green M&M candies!
All I could think was: WHAT THE HECK?! This cake must be cursed! 🙁
There was no way I was going out again. 
And with my luck, the freakin stores would be out of M&M's or something…lol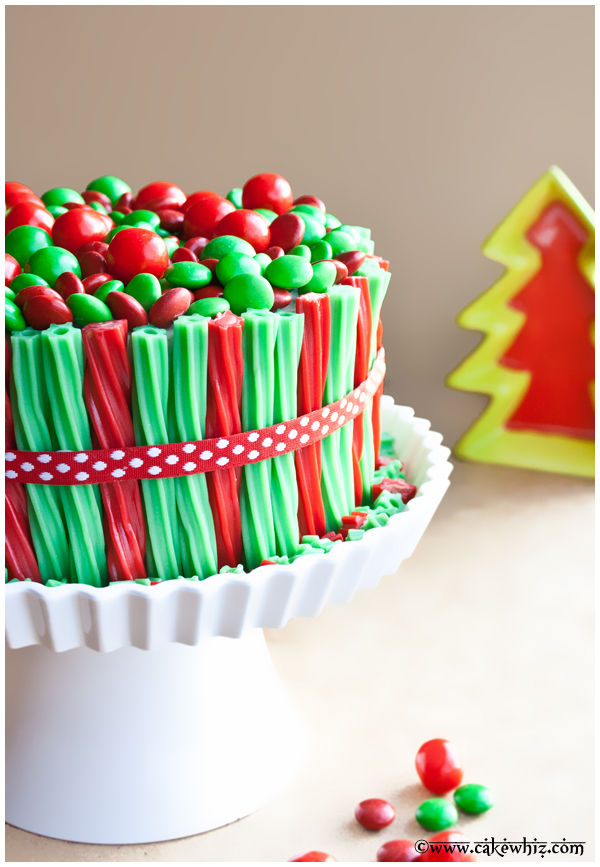 Thankfully, I had some red and green gumballs.
So, I used those along with my M&M candies.
PROBLEM SOLVED…. YAYYYYY!
And I didn't have to freeze my bum off either 😉 
Just keep in mind that if you are serving this cake where little kids will be present, you should skip the gumballs coz they are very hard to chew.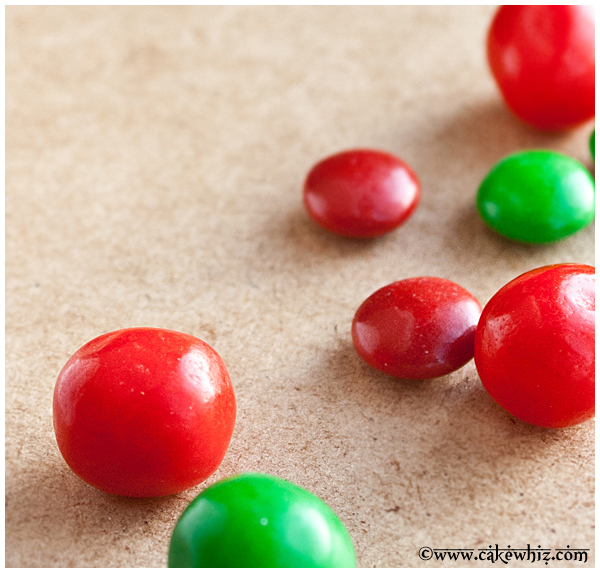 Anyways, there are a few reasons I LIKE this cake so much….
– It doesn't take too long to put together and it's not complicated either.
– It's bright and colorful and just looking at it fills you with HAPPINESS…hehe 😉
– And best of all, even a person who has never decorated a cake before in his/her life can make this twizzler cake on Christmas and WOW their friends 😀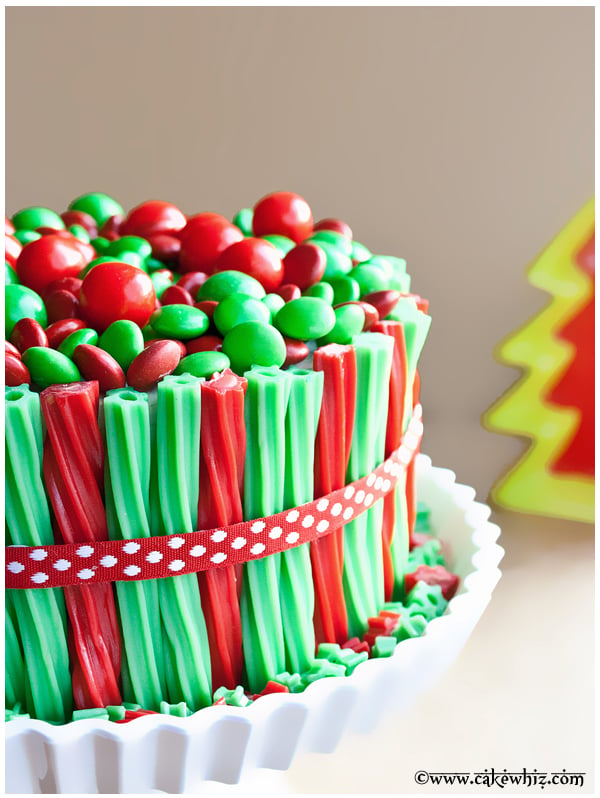 To make this Christmas Twizzler cake, you will need the following supplies:
Round chocolate cake
Buttercream icing
Red and green M&M candies
Red and green gumballs
Red and green Twizzlers
Ribbon
Scissors

And here are the steps:

Step 1:
Use scissors to cut your Twizzlers according to the height of your cake.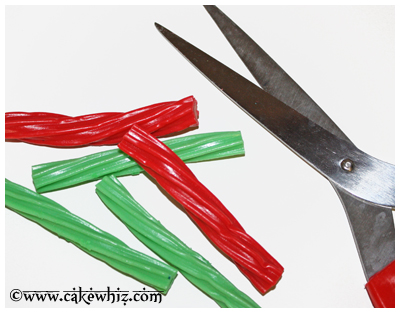 Step 2:
Cover your cake in buttercream icing.
Then, start sticking red and green twizzlers all around your cake.
You can arrange them in any pattern you like.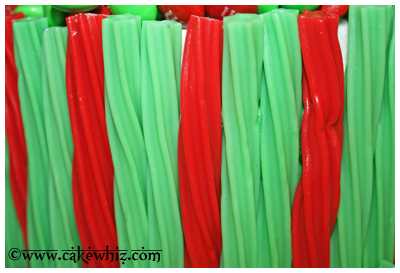 Step 3:
Secure your Twizzlers by wrapping a ribbon around your cake.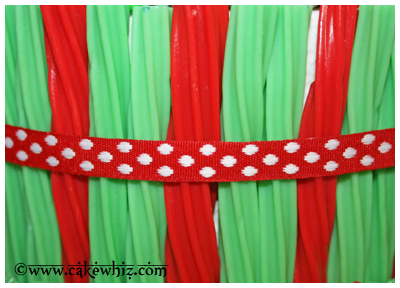 Step 4:
Use scissors to cut up some small pieces of your Twizzlers.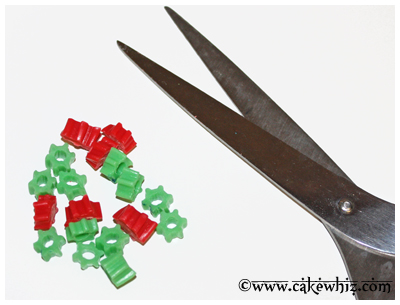 Step 5:
Place them around the base of your cake, sort of like a border.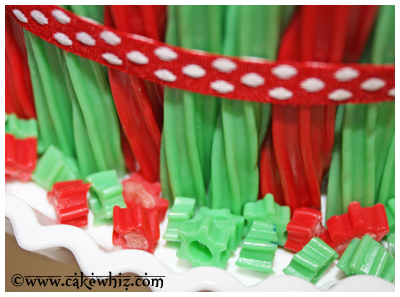 Step 6:
Finally, top off your cake with red and green M&M candies and gumballs.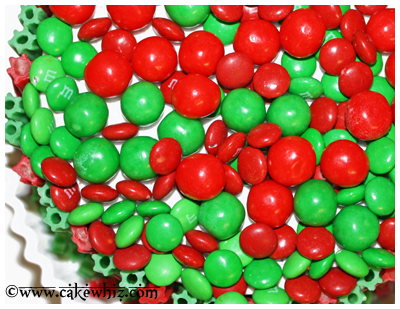 And you are done!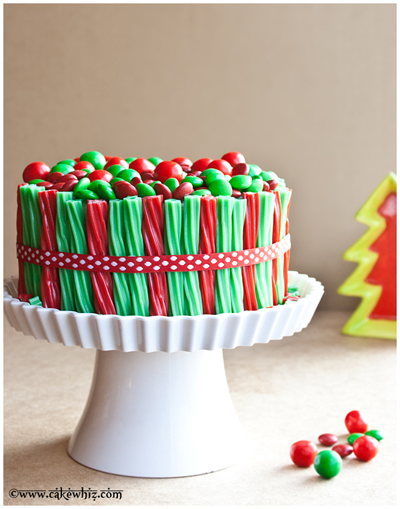 I told you it was an easy cake 🙂
Well, that's all for today. 
Until next time, tata my lovelies 🙂