Easy Christmas Cake
This quick and easy Christmas cake is beautiful and delicious and shows easy cake decorating technique. It's made with simple ingredients!
This is a fun and simple Christmas cake that you can make, even if you have never decorated a cake in your life. It's fun and colorful and great for serving at holiday parties. Even kids can help! They are just as easy as these Easy Christmas Brownies (Christmas Tree Brownies) and these Santa Hat Brownies.
This is one of the easiest Christmas cake ideas ever!
You simply start off with doctored cake mix recipe and then decorate the entire cake with store-bought red and green candies.
Decorated Christmas cakes/ Christmas cake designs shouldn't be difficult!
This cake was decorated in 30 minutes with candies. No one should be spending hours in the kitchen during the holidays. Find shortcuts and make life easier. Even though this cake design is simple, it has a major "WOW" factor.

Tips for Christmas cake recipe/ Christmas cake decorations
Add 1 tsp peppermint extract in the cake recipe and the frosting to make a chocolate peppermint cake, which would be more suitable flavors for this time of the year.
Make sure the cakes cool down completely before frosting them or else the icing will melt and make a mess.
You can use different types and colors of candies to make this cake for other holidays too. I have used the same general tutorial to decorate this Halloween Cake and Rainbow Cake.
If you are serving this cake where little kids will be present, skip the gum balls because they are very hard to chew and could become a choking hazard.
Red and green Twizzlers are only available during the Holiday season. If you can't find them, you would need to buy quite a few bags of rainbow Twizzlers and then, separate the red and green ones.

This is not a cranberry Christmas cake!
Use this delicious Cake Mix Coconut Cranberry Cake Recipe, if you like cranberries.
This would be a great Christmas birthday cake too!
You can take it over the top by making a 2 or 3 tier cake and also add other types of seasonal candies likes peppermint, candy canes e.t.c.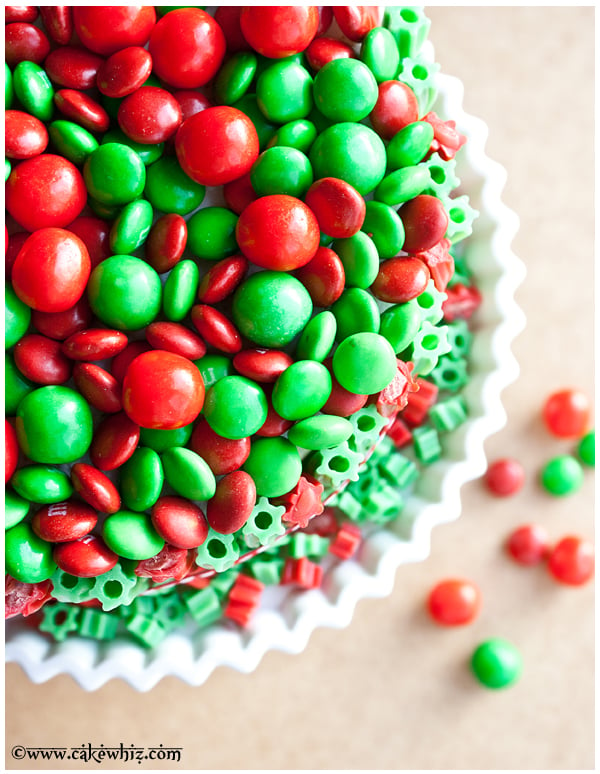 Other Christmas desserts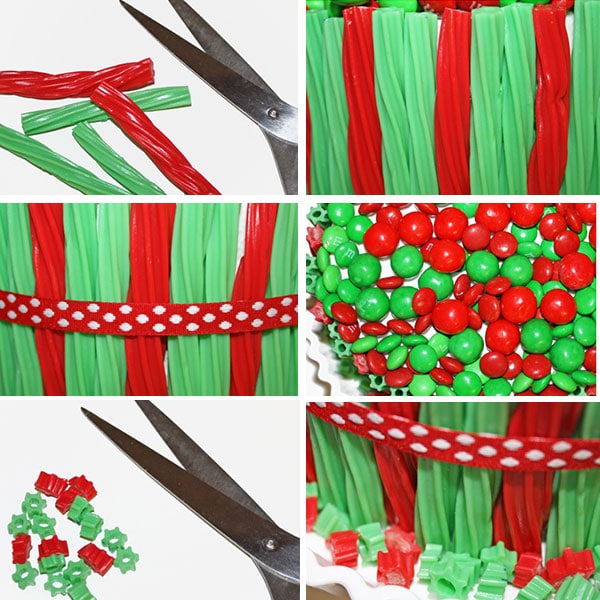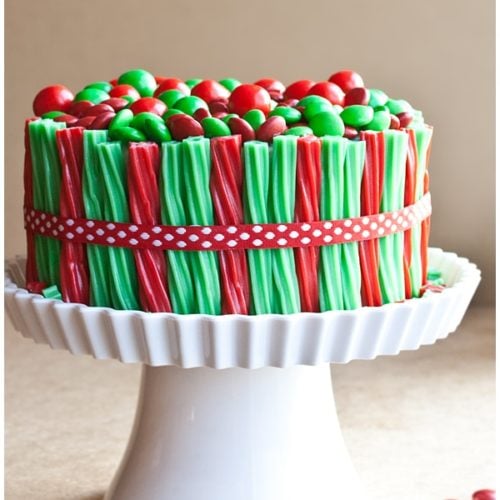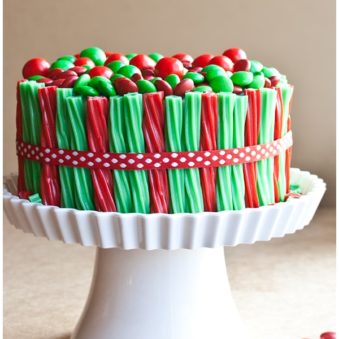 Easy Christmas Cake Recipe
Quick and easy Christmas cake recipe, made with simple ingredients. Moist chocolate cake filled with icing and decorated with seasonal red, green candies.
Yield: Slices
Instructions
Bake the chocolate cakes and let them cool down completely.

Place one cake on a cake stand and top it off with icing.

Then, gently press the other cake on top and frost the entire cake in icing.

Stick red and green Twizzlers in an alternating pattern along the sides of the cake. Frosting works like a glue. You will need to cut the Twizzlers with scissors to match the height of your cake.

Tie a ribbon around the cake to hold the Twizzlers in place. I used 1 ribbon but to make it even more secure, I would suggest using 2 ribbons… one near the top and one near the base.

Fill the top of the cake with m&m candies, gum balls.

Cut up leftover Twizzlers into small pieces and spread them around the base of the cake. Enjoy!
Notes
Read all my tips above.
Leftovers can be stored in a sealed container in the fridge for up to 3 days. 
Nutrition
Calories: 1471kcal, Carbohydrates: 250g, Protein: 14g, Fat: 50g, Saturated Fat: 14g, Cholesterol: 6mg, Sodium: 1446mg, Potassium: 513mg, Fiber: 4g, Sugar: 175g, Vitamin A: 95IU, Vitamin C: 0.2mg, Calcium: 270mg, Iron: 7.2mg