Use this step-by-step tutorial to make a cute and easy snowman cake with fondant. Fun to make with kids for Winter or Christmas parties.
*Thanks Cakes.com for sponsoring this post and providing supplies to make a snowman cake. All opinions and photography are my own.*
I have wanted to make a snowman cake for a few years now and with the crazy winter we are all going through, I think the timing is perfect!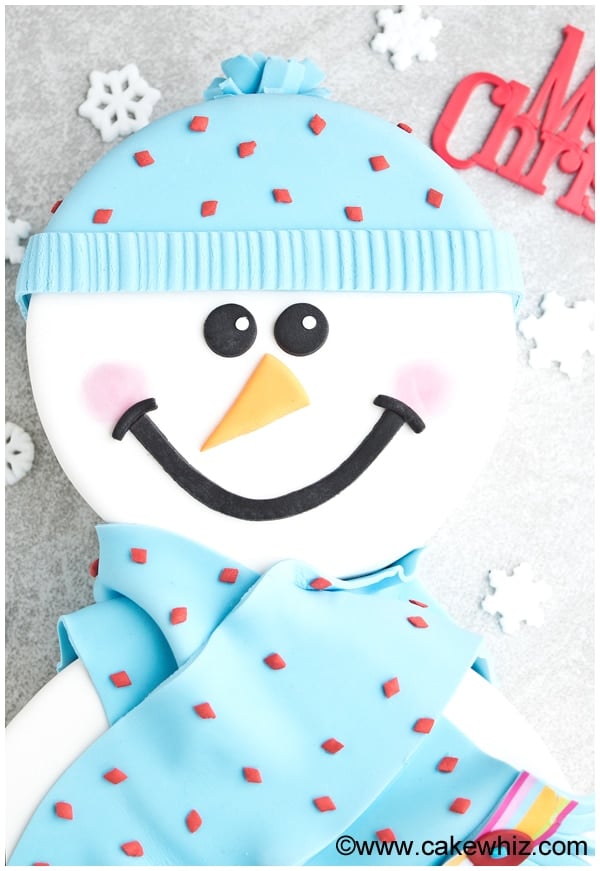 Isn't he just ADORABLE?!
I want to pinch his ROSY cheeks! hehehe
I tried to make him warm and cuddly by giving him a hat and a scarf 🙂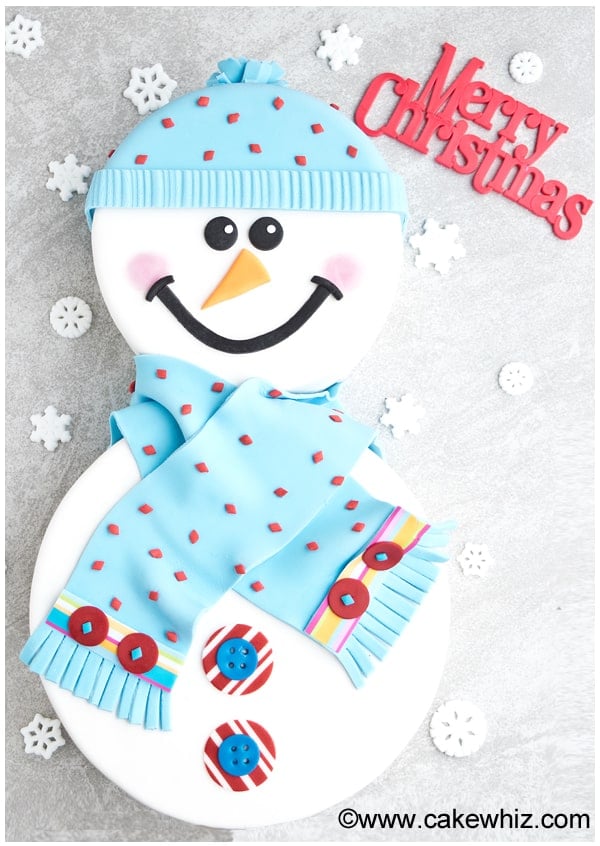 The scarf turned out even BETTER than I expected!

MY OTHER RECIPES
The FOLDS give it movement and makes it look very REALISTIC.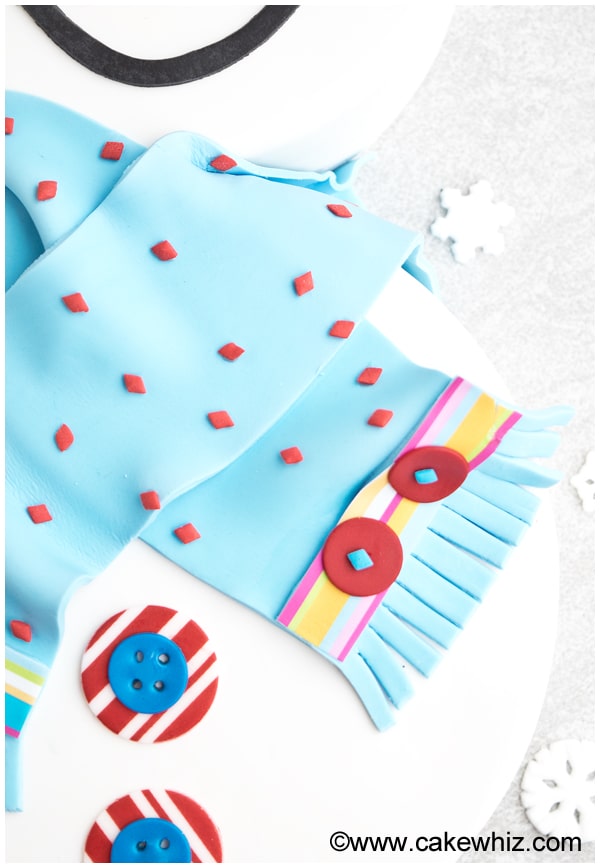 And these buttons were sooooo EASY to make, using Deco-Shape dots.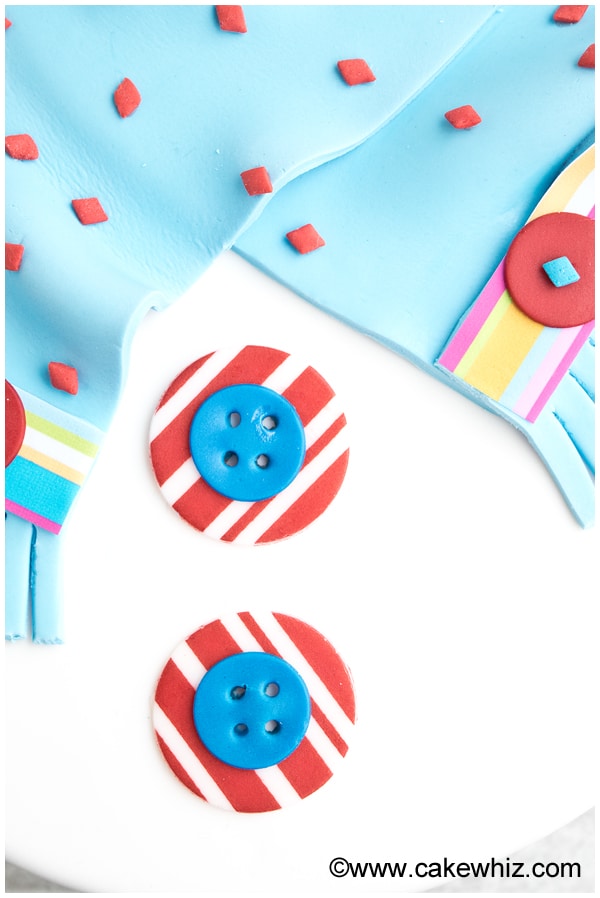 Overall, I was IMPRESSED with Cakes.com.
Everything was TOP-NOTCH quality.
Their delivery was FAST and prompt.
Everything was packaged PROPERLY and nothing broke along the way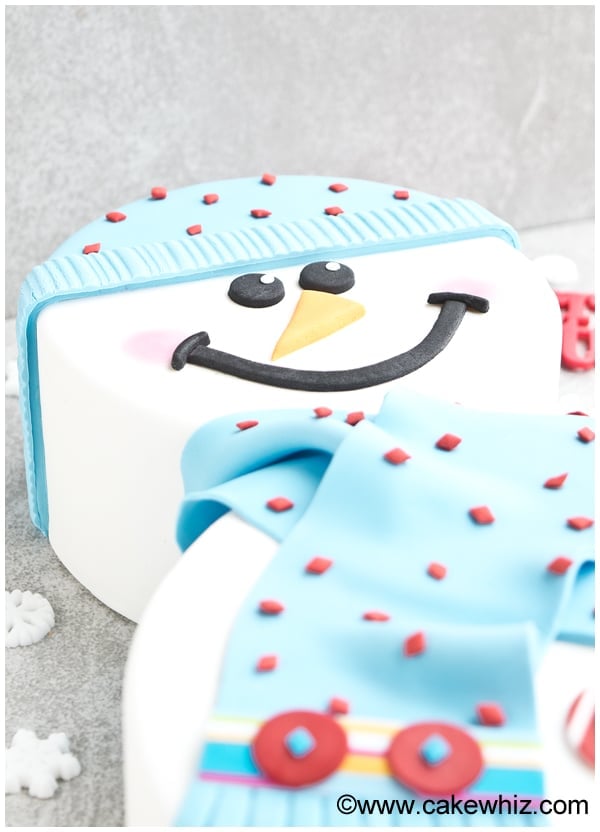 By the way, these are the products I got:
1. Snowflake sugar decorations
-Absolutely breathtaking with intricate designs.
-Very sparkly!
2. Diamond sprinkles
– The shape was so cute and different… haven't seen these sprinkles in my local cake supply store before.
– The colors were so vibrant.
– Huge quantity and can be used for MANY cake projects…Yay! 😀
3. Edible decorating strips
– These were packaged properly so that the strips don't dry out. They were also in a resealable bag.
– The print was clear and beautiful, just like the picture I saw online.
4. Merry Christmas cake topper
– Simple topper made of plastic… Good quality, no jagged edges.
– Great for projects where you don't want to write a message on the cake.
5. Fondant Deco-Shapes dots
– I LOVE these circles! This was my FAVORITE product, hands down!
– These are pre-cut fondant circles in different colors, different sizes and some of them even have different patterns like polka dots, stripes and chevron!
– No more mess with coloring fondant and cutting out lots of circle pieces, which is tiring and time-consuming.
– Lots of pieces and you can use them for MANY cake projects.
6. Satin Ice fondant (White/Vanilla)
– I have used this fondant before and I like it.
– Easy to use, soft, smells and tastes great!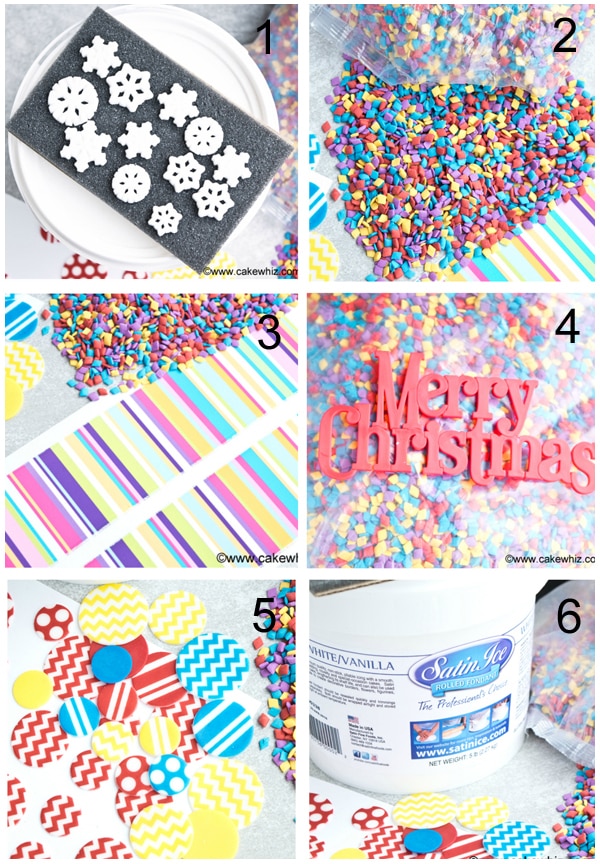 To make this snowman cake, you will need the following supplies:
2 round chocolate cakes (Dimensions: 6×3 and 8×3)
Buttercream icing
White fondant
Light blue fondant
Black fondant
Orange fondant
Pink petal dust
Diamond sprinkles
Striped edible sheets
Fondant Deco-shape dots
Snowflake sugar decorations
Toothpicks
Knife
Pizza cutter
Rolling pin
Fondant smoother
Scissors
2 round cake boards (same size as the cakes)
Big cake board (to place the full snowman cake)
Paintbrush
Water
Corn syrup
And here are the steps:
Step 1:
Bake your 2 round cakes.
Let them cool and place them on round cake boards.
Then, fill and frost in buttercream icing.
Roll out white fondant and spread it over your cake.
Cut off excess around the cake with a pizza cutter.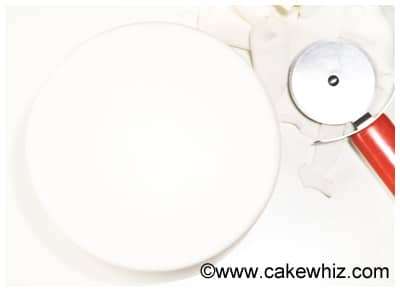 Step 2:
Use a fondant smoother to smooth out the fondant on top as well as the sides of the cake.
Follow steps 1 and 2 for both of your round cakes.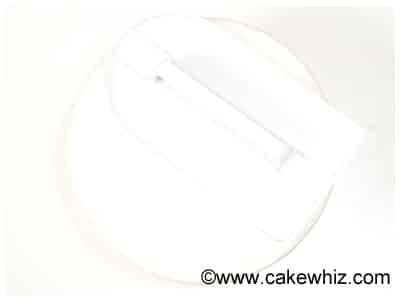 Step 3:
Place the 2 cakes on a cake board.
The smaller cake should be on the top and the bigger one should be positioned below it.
Stick them into place with royal icing or even tape.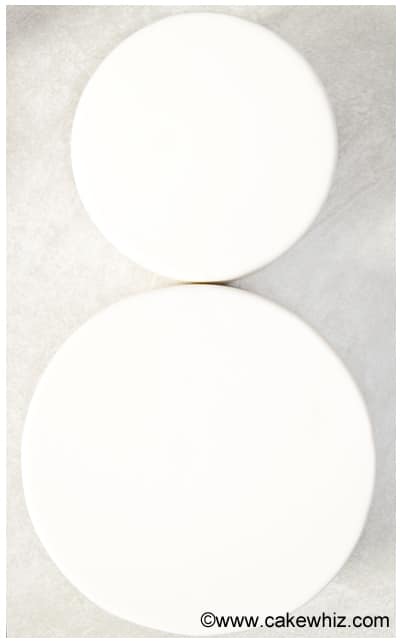 Step 4:
Roll out light blue fondant.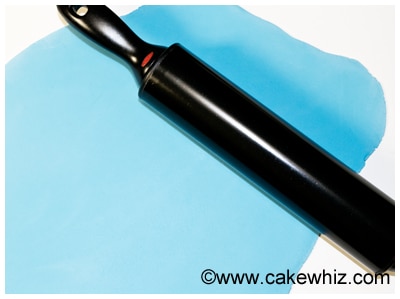 Step 5:
Use a knife to cut a straight line near the bottom.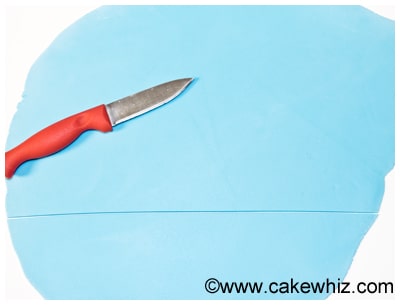 Step 6:
Gently lift the fondant and place it over the top portion of your small cake.
You can secure it in place by brushing some water.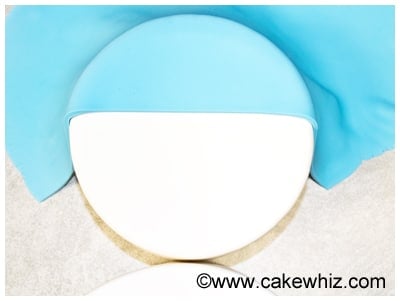 Step 7:
Cut off excess fondant around the cake with a knife or pizza cutter.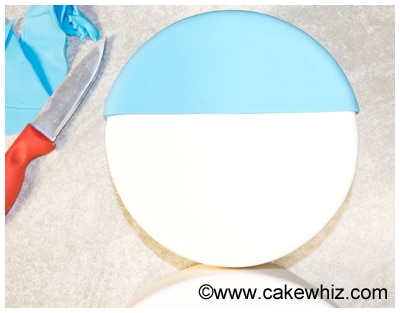 Step 8:
Roll out blue fondant again and cut out a thin strip.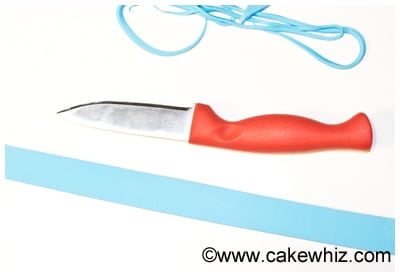 Step 9:
Use a toothpick or wooden skewer to create this pattern along the entire length of the strip.
Step 10:
Stick the strip near the base of the cap, by brushing some water.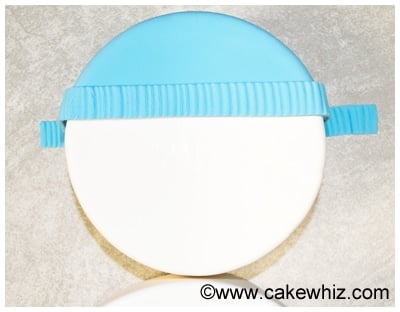 Step 11:
Cut off excess fondant with a knife.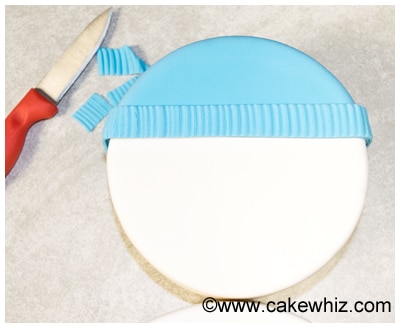 Step 12:
Let's make the fuzzy ball for the top of the cap…
Roll out blue fondant again and cut a rectangular strip.
Use a knife to make half cuts along the strip.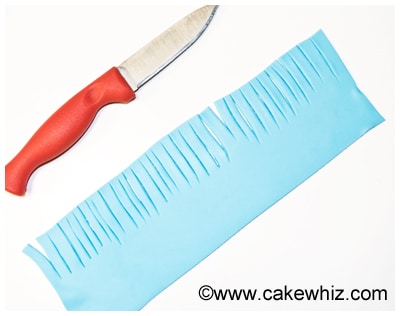 Step 13:
Roll this strip of fondant and squeeze the base.
Use a knife to cut off excess from the base.
And this will be the cap's fuzzy ball!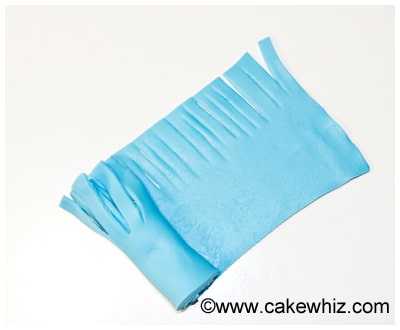 Step 14:
Stick the fuzzy ball near the top of the cap.
You can stick it into place with corn syrup or royal icing.
You will have to hold it in place for a little while until it sticks securely.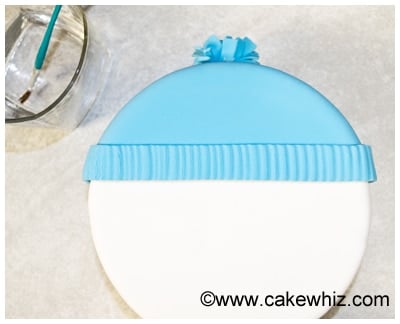 Step 15:
Stick some red diamond sprinkles all over the cap, with some corn syrup.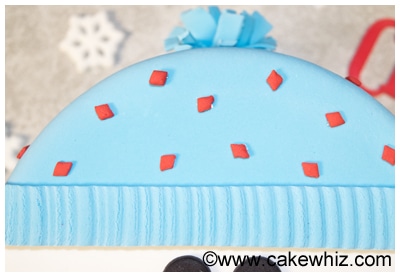 Step 16:
Let's make the scarf now…
Roll out blue fondant again.
Use a knife to cut out a rectangular piece.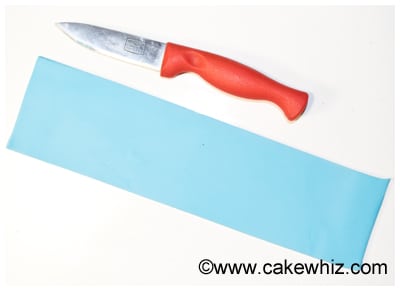 Step 17:
Arrange this piece between the 2 round cakes a.k.a the snowman's neck, sort of like a real scarf.
Try to fold the blue fondant a little so that the scarf looks more realistic.
Stick this piece into position by brushing some water.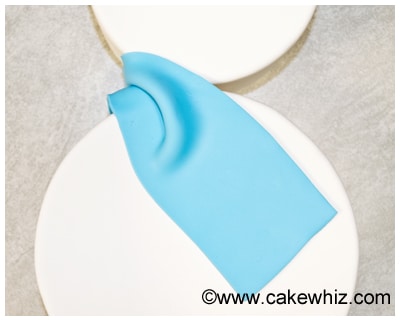 Step 18:
Cut out another rectangular fondant piece.
Arrange it on the other side of the snowman's neck with some folds.
Stick it into place by brushing some water.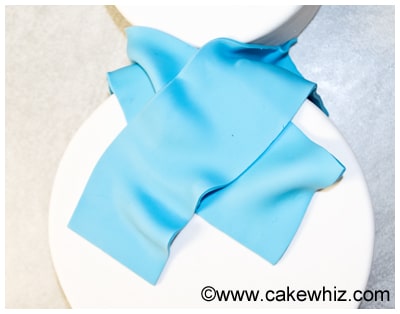 Step 19:
Let's make the frilly loops that usually go at the ends of most scarfs.
Cut out a small rectangular piece of blue fondant.
Use a knife to make cuts halfway only.
Make 2 similar pieces.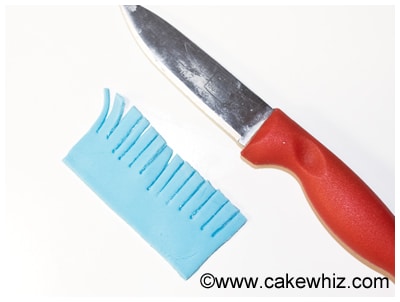 Step 20:
Stick those 2 pieces on both ends of the scarf with some water.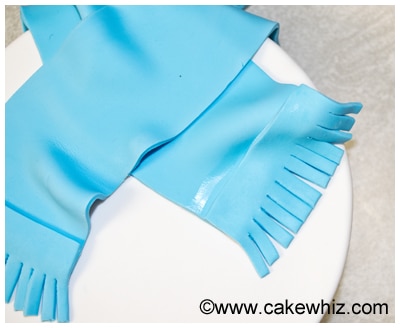 Step 21:
Now, use scissors to cut thin strips of the striped edible sheet.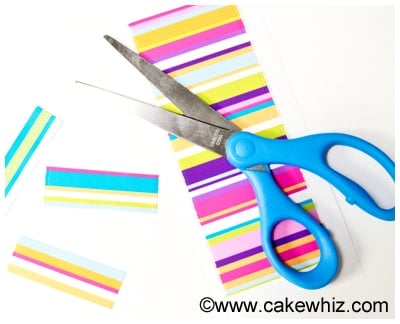 Step 22:
Stick them near the base of the scarf, right before the frills.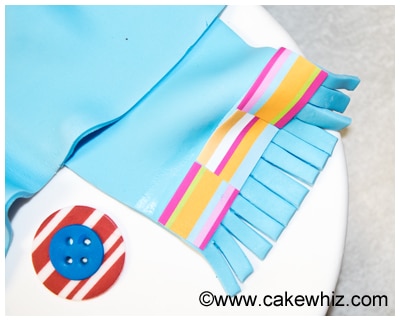 Step 23:
Stick 2 small red deco shapes on top of the edible sheet, using some water.
Stick a blue diamond sprinkle on each of the circle, using some corn syrup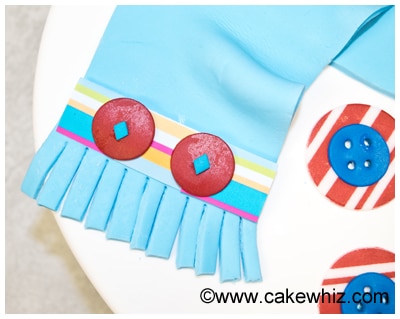 Step 24:
Stick red diamond sprinkles randomly all over the scarf, using some corn syrup.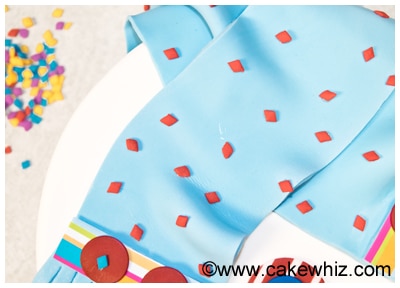 Step 25
Let's make buttons now…
Brush some water on top of a striped red and white deco shape.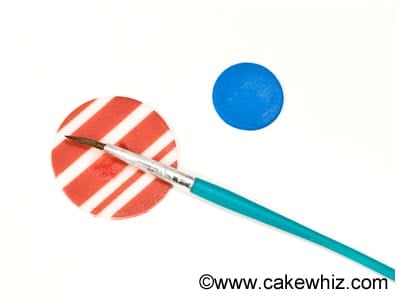 Step 26:
Stick the small blue deco shape on top of it.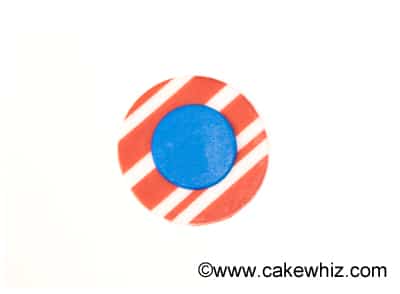 Step 27:
Use a toothpick to make 4 holes.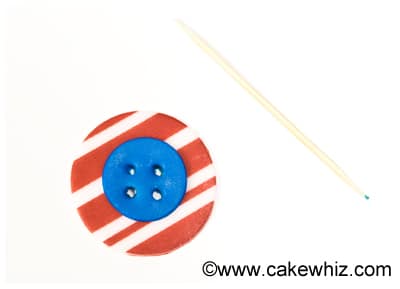 Step 28:
Follow steps 25-27 again to make another buttons.
Stick both of these buttons in the center.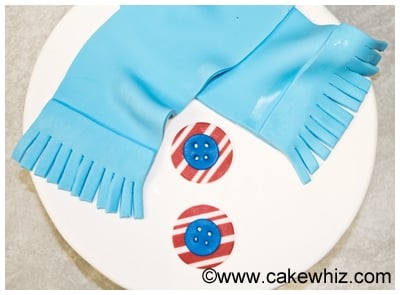 Step 29:
Let's give the snowman all the facial pieces…
Roll out black fondant and use a small cutter or a small decorating tip to cut out 2 circles.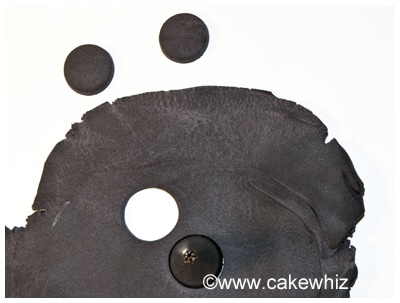 Step 30:
Stick the black circles below the cap.
Make tiny white circles and stick them inside the black circles.
Your snowman has eyes now!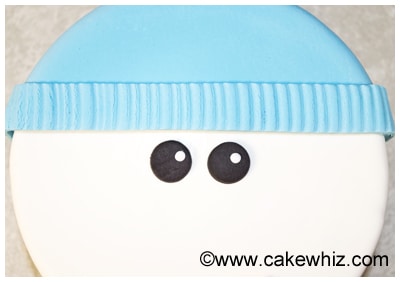 Step 31:
Cut out triangular orange fondant piece.
Stick it below the eyes with some water.
Make a smile with a thin strip of black fondant.
Brush some pink petal dust on the cheeks to make them rosy.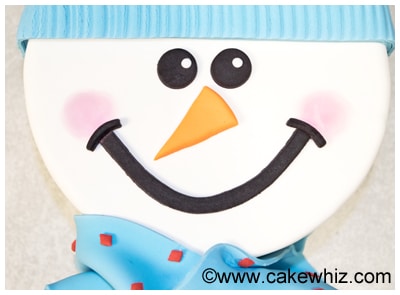 Stick some snowflake sugar decoration on the cake board, around the snowman cake. I used corn syrup to stick them.
Finally, stick the "Merry Christmas" sign near the top of the cake board.
And you are done… that's how you make snowman cake!!!!
Until next time, tata my lovelies 🙂