How to Make Snowman Cupcakes
Use this cake decorating tutorial to learn how to make a quick and easy snowman cupcakes with fondant. Great for Christmas parties and birthday parties.
Making a snowman is not as easy as it looks but these snowman cupcakes sure are easy!
I have seen many snowman cupcakes decorating ideas.
There are  snowman cupcakes with marshmallows, melting snowman cupcakes and even a snowman cupcake cake.
However, I made simple snowman face cupcakes.
How to make snowman cupcakes?
Start off by rolling out white fondant and cutting out a circle piece. Then, stick a blue semi-circle fondant piece on top of the white piece for the hat. Add more details on the hat with additional fondant and knife. Use edible marker to draw details on the face and you are done. Enjoy!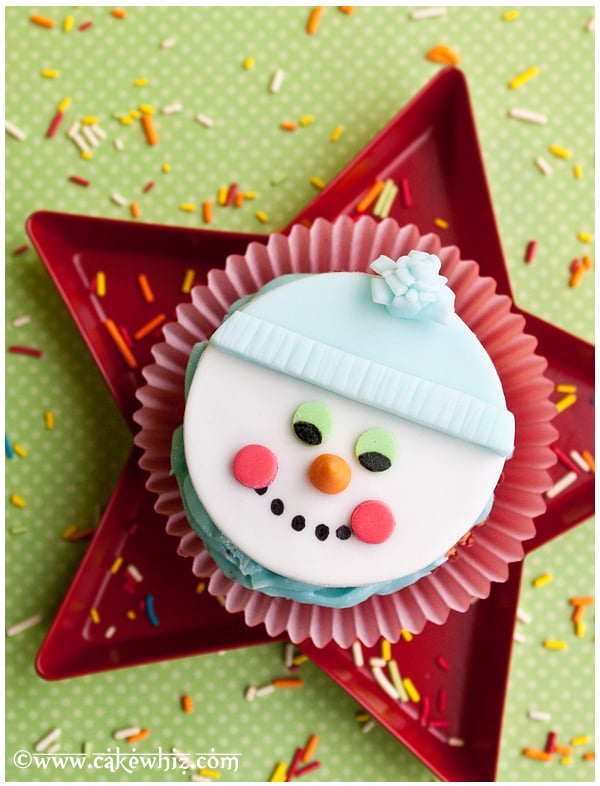 When the snowstorm hit Chicago a few weeks ago, I took my son out after the heavy snowing had tapered off so that he could make his first snowman.
But, my little one was just too COLD and wanted to come inside.
Oh well…all good.
We made fondant snowman cupcake toppers instead, put them on our cupcakes and sipped on hot cocoa.
Now that's what I like to call: "living the life."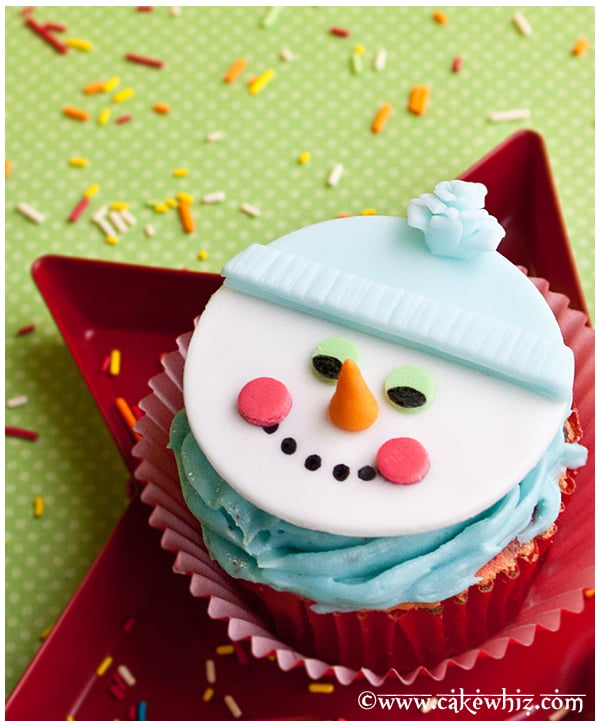 I also have many other other cute snowman dessert ideas in my blog archives:
Fondant Snowman and Fondant Penguin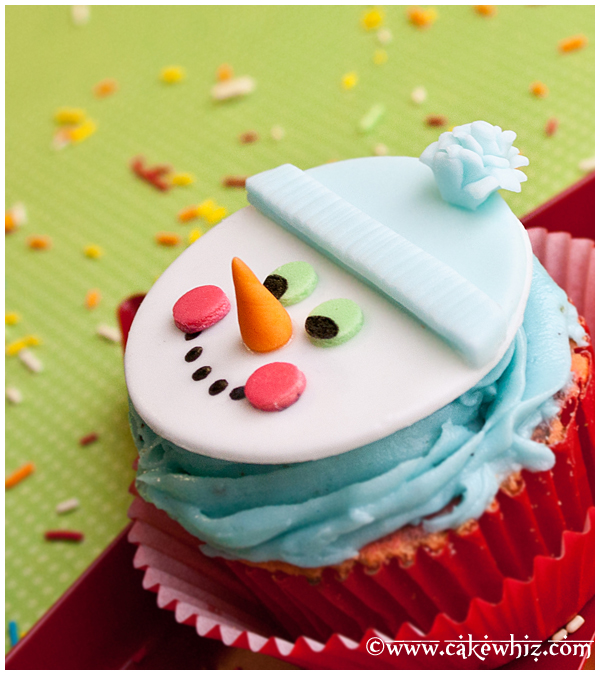 To make these snowman cupcakes, you will need the following SUPPLIES:
Vanilla cupcakes
White marshmallow fondant
Cream cheese frosting
Orange fondant
Light blue fondant
Circle cutter
Rolling pin
Knife
Water
Paintbrush
Black edible marker
Round sprinkles (Or homemade confetti sprinkles)
These are the INSTRUCTIONS:
Roll out white fondant and use a circle cutter to cut out a piece.
Roll out light blue fondant and use the same circle cutter to cut out another piece.
 Cut this piece in half with a knife.
Brush water near the top of the white circle and stick this blue semi-circle piece here.
 This will be the snowman's hat.
Cut a thin strip of blue fondant
 and use a knife to make little indentations. Stick this strip on the base of the hat with water.
Cut another thin strip of blue fondant. Roll it from one end to the other.
 Squeeze the bottom so it sticks together in the shape of a pompom. Use the knife to cut off excess from the base.
Brush some water on the top of the blue hat and stick this little pompom piece there.
To make eyes, take two round sprinkles and use a black marker to draw eyeballs. Stick them onto the face with water.
To make the carrot nose, make a little cone shape out of orange fondant and stick it into place with some water.
 You can also just draw the nose with orange edible marker.
Use a black marker to make a dotted smile.
To make cheeks, stick round pink sprinkles on the sides of the mouth and you are done!
Well, that's all for today.
I hope you liked these Christmas snowman cupcakes.
Until next time, tata my lovelies!