Chocolate Mint Truffles
Quick and easy mint truffles recipe made with 5 ingredients. They are rich and creamy and great as a homemade gift during the Christmas holiday season.
These chocolate mint truffles are something that my family makes during the holidays.
They started off with us just trying to use up LEFTOVER buttercream frosting.
Then, over the years, we tweaked the recipe to make it even more CREAMY and the flavors are much more balanced now.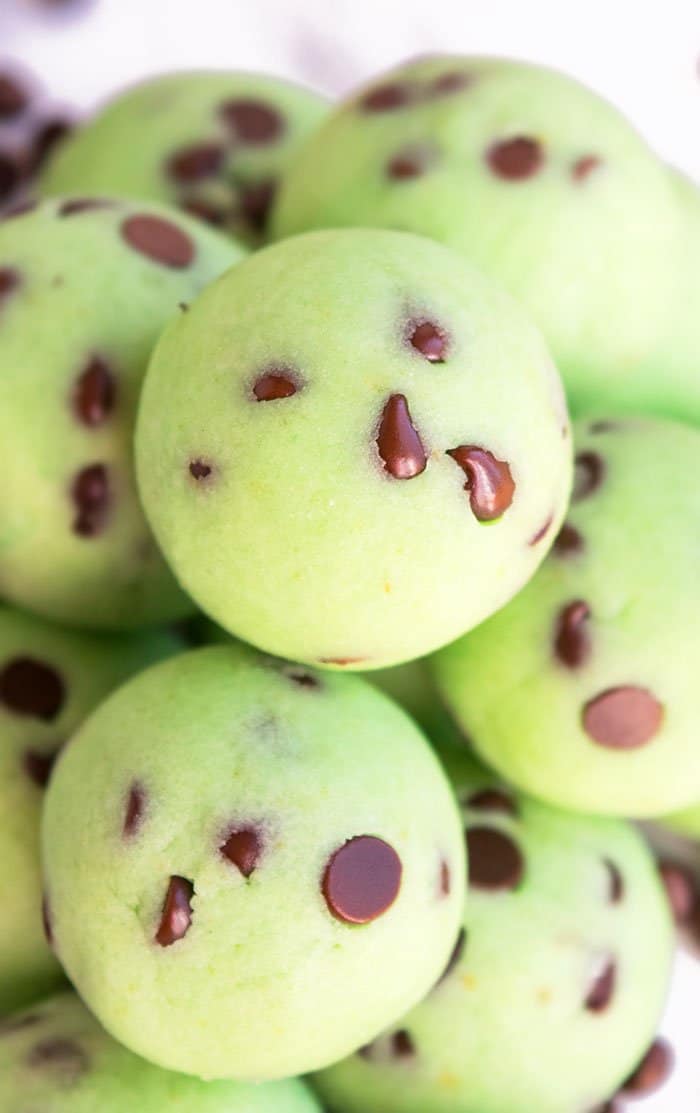 MY OTHER RECIPES
Typically, buttercreams or buttercream truffles or buttercream candies are made with butter and/or shortening, powdered sugar and vanilla but they are just too sweet.
So, we started adding a little cream cream cheese to cut down on the sweetness and to also make them more creamy.
Anyways, since they are GREEN in color, I think they are a PERFECT  St.Patrick's Day dessert too.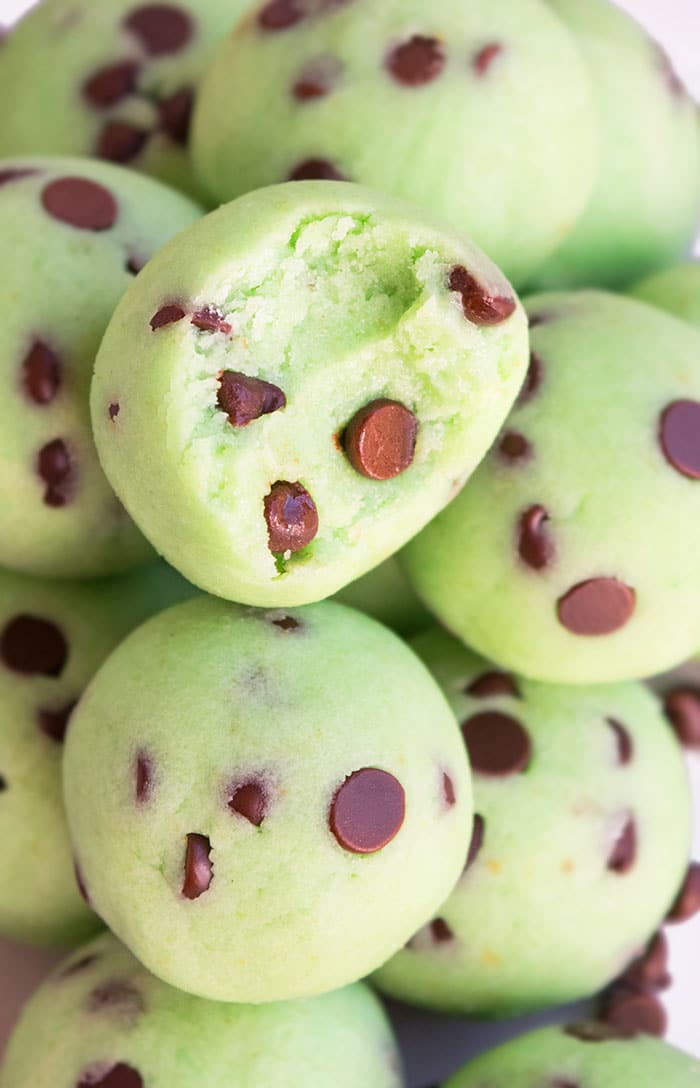 Here are some TIPS for making these mint chocolate chip truffles:
You must CHILL the mixture for 1-2 hours so that it's easier to handle and form into the shape of small balls.
You must use UNSALTED butter since salted butter will make the truffle mixture very salty.
You can ADJUST the amount of mint extract, based on your preference but remember that too much extract will make them bitter.
The numbers of truffles you get from the recipe will VARY, depending on how big or small you roll your truffle balls.
Instead of mint extract and green food coloring, you can use whatever extract or gel coloring you like, I love to use orange extract to make orange truffles and I color them orange.
I highly recommend using GEL food coloring because the colors are more vibrant and it's also a thick paste, which doesn't alter the consistency of the truffles.
Dip these truffles in melted WHITE CHOCOLATE to make white chocolate mint truffles.
Dip them in melted DARK CHOCOLATE to make dark chocolate peppermint truffles.
Dip them in melted mint chocolate to make thin mint truffles/ andes mint truffles.
I really DON'T recommend making fresh mint chocolate truffles with this recipe because it did not really taste that good. There was a bitter aftertaste that was awful.
Don't use this recipe to make Oreo mint truffles because that's a totally different recipe, made witrh crushed mint Oreos.
How to make mint truffles?
Start off by creaming together butter, cream cheese, mint extract, green color. Add powdered sugar gradually and stir in chocolate chips. Then, chill mixture. Form small balls and enjoy!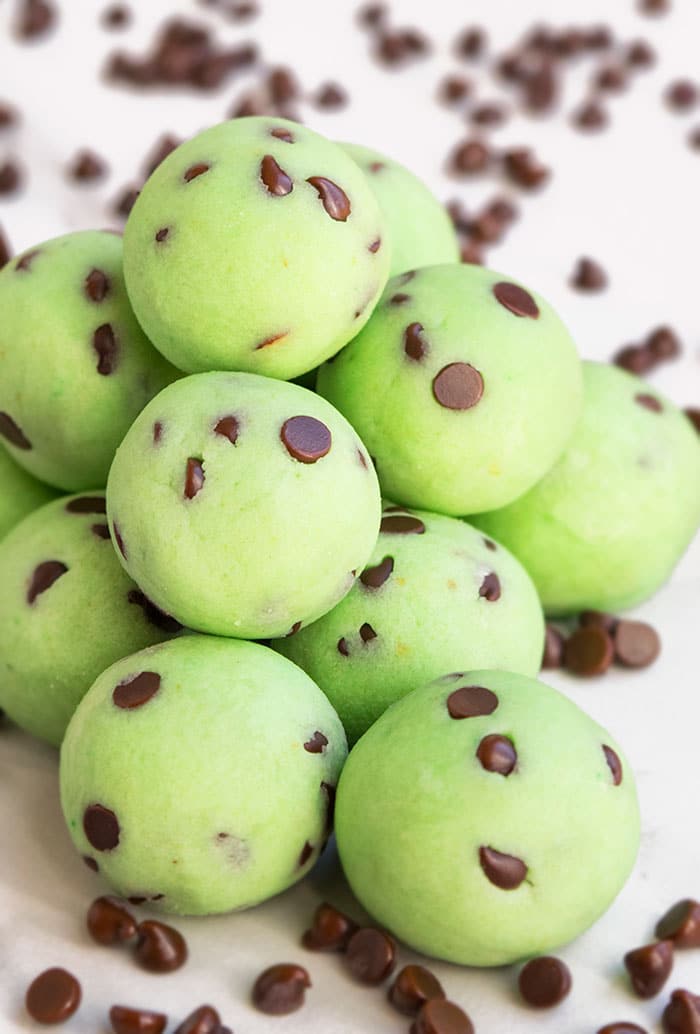 Well, that's all for today.
If you liked these mint truffles with cream cheese, you may like some of these truffles recipes too:
White Chocolate Truffles Recipe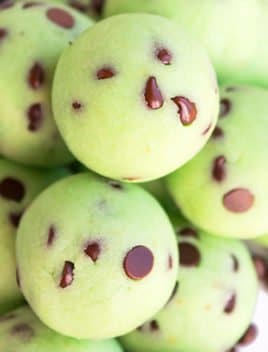 Nutrition Facts
Chocolate Mint Truffles
Amount Per Serving
Calories 111 Calories from Fat 36
% Daily Value*
Total Fat 4g 6%
Saturated Fat 2g 10%
Cholesterol 10mg 3%
Sodium 35mg 1%
Potassium 4mg 0%
Total Carbohydrates 17g 6%
Sugars 17g
Vitamin A 2.6%
Calcium 0.8%
Iron 0.4%
* Percent Daily Values are based on a 2000 calorie diet.
Chocolate Mint Truffles
Quick and easy mint truffles recipe made with 5 ingredients. They are rich and creamy and great as a homemade gift during the Christmas holiday season.
Servings: 36 Truffles
Course: Dessert
Cuisine: American
Calories: 111 kcal
Ingredients
1/2 cup Butter Unsalted, Room temperatre
1/2 cup Cream cheese Full fat
1.5 tsp Mint extract
Green food coloring Optional but highly recommended
4.5 cups Powdered sugar
3/4 cup Mini chocolate chips
Instructions
In a mixing bowl, add butter, cream cheese, mint extract, food coloring and mix until combined.

Gradually, add powdered sugar (1 cup at a time) and continue mixing until smooth.

Chill for 1-2 hours or until mixture is easier to handle.

Scoop out small portions of the mixture and form balls.

Tip: It helps to wear disposable gloves to form smooth balls and prevents the mixture from sticking to your hands.

Dip in melted chocolate, if you like. Enjoy!
Recipe Notes
Leftovers can be stored in a sealed container in the fridge for up to 5 days. 
Until next time, tata my lovelies!