Use this step by step tutorial to make easy Snowman cones during Winter or Christmas time. Fun to make with kids at parties!
Winter is here in full force and I made these snowman cones.
They are FUN and so easy to make.
It's also a great activity to do with KIDS.
Don't they look so snuggly and warm in their scarf and ear muffs? hehe.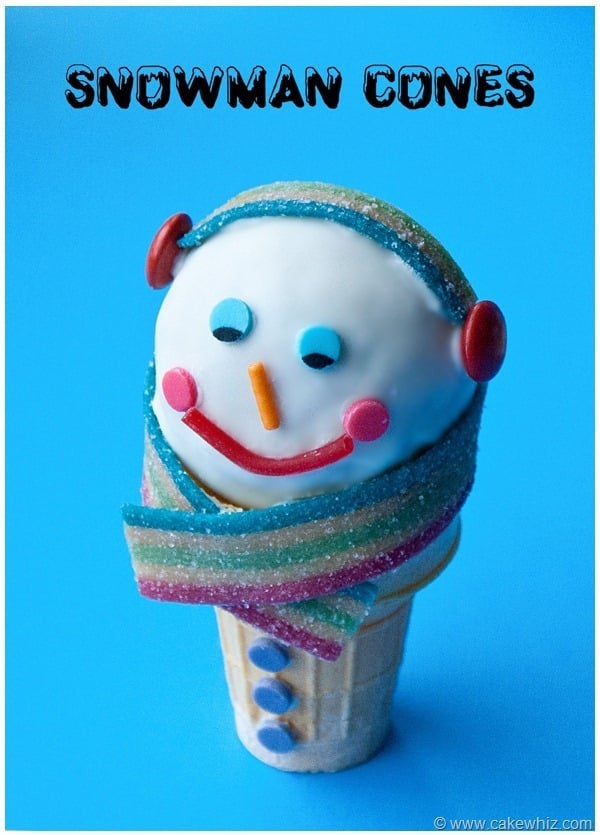 The whole time I was making these, a very SILLY song was going through my head…
My sister and I used to sing it when we were kids…lol.
Do you guys remember it?

MY OTHER RECIPES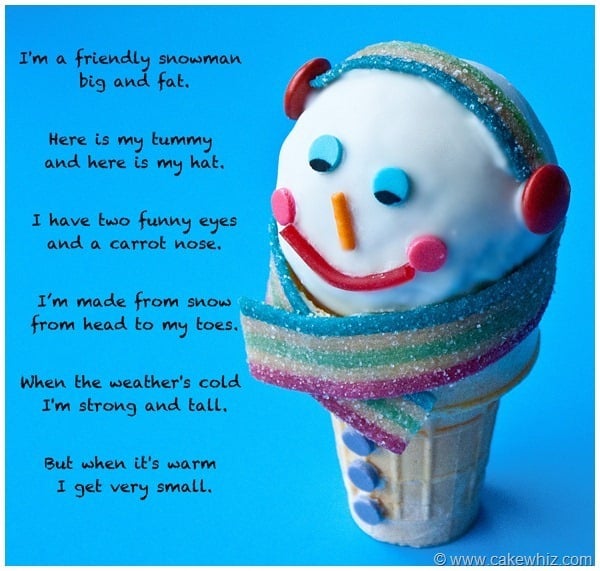 I spent most of my childhood in places where the weather used to be very HOT.
So, I never got to see snow until I moved to Canada.
And I still remember how EXCITED I was when I first saw snow.
It was even better than I imagined! hehe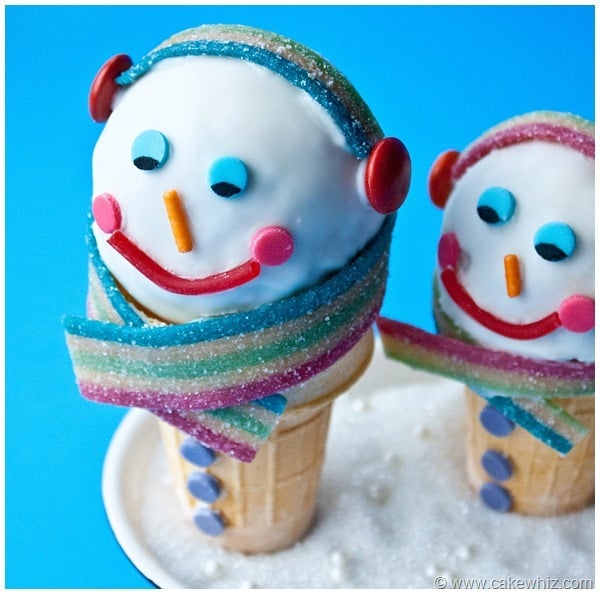 To this day, I look forward to snowfall.
It REMINDS me of all the times my  brother, sister and I would run out into the backyard to make a snowman.
We used to have a blast! 
Thinking of all the good times INSPIRED me to make these adorable snowman cones!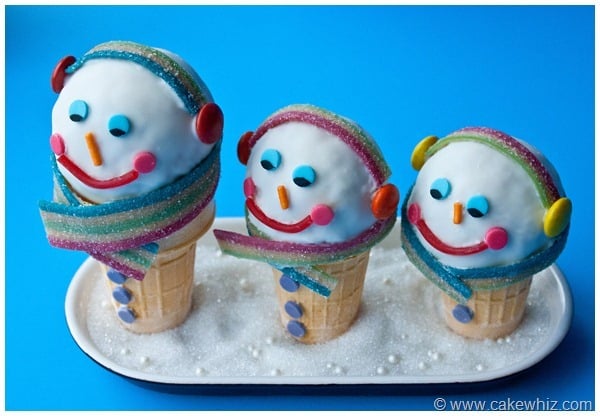 To make these snowman cones, you will need the following ingredients and supplies:
Cake
Chocolate chips (optional)
Ice cream cones
Melted white chocolate
M&M candies
Licorice strips
Licorice ropes
Scissors
Black edible marker
Round confetti sprinkles
Parchment paper
And here are the steps:
Step 1:
Make cake balls (They should be big enough that they can easily rest on top of an ice cream cone).
I also stirred in some chocolate chips when I was making these cake balls. The more chocolate, the better …lol. 
Tip:
– I have a tutorial for making cake balls that should be helpful, if you have never made them before. 
– You can also easily use store-bought donut holes or munchkins from Dunkin Donuts.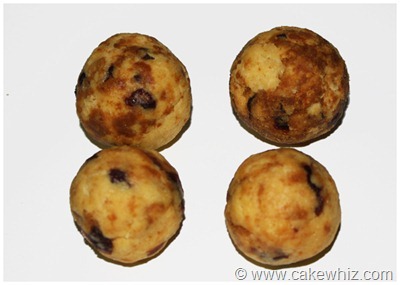 Step 2:
Dip your cake balls in melted white chocolate until they are fully covered.
Tip:
If you freeze cake balls for 15-20 minutes, it's easier to cover them in melted chocolate.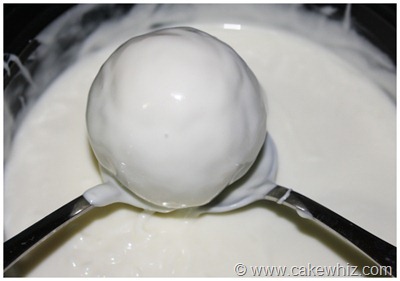 Step 3:
Place these cake balls on wax paper or parchment paper until the chocolate hardens.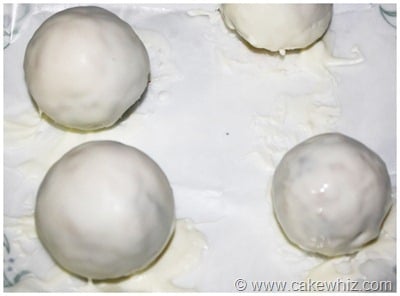 Step 4:
Make your cones different sizes so that some of your snowmen are big and some are small.
To do this, I used a regular ice cream cone and then I also used some, where I broke off the top.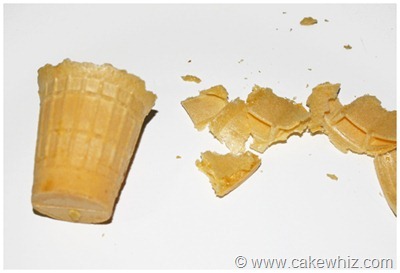 Step 5:
Fill your cones with candy for an additional surprise.
Pour some melted chocolate around the outer rims on the cone.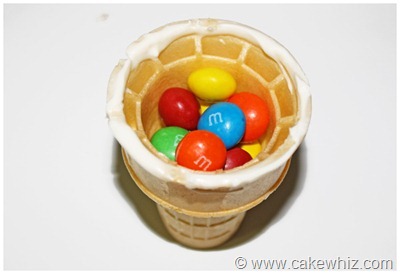 Step 6:
Now, place the cake ball on top of the cone and press gently until it sticks into place.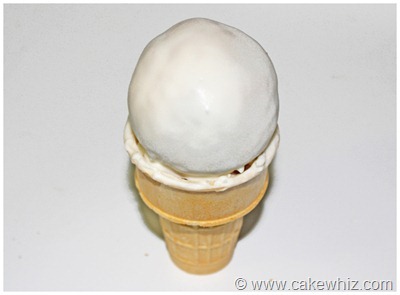 Step 7:
Use melted chocolate to stick all these features…
– Blue confetti sprinkles for eyes
– Purple confetti sprinkles for the buttons (not shown in this picture)
– Pink confetti sprinkles for the cheeks (not shown in this picture)
– Sour candy strips and orange Reese's pieces for the head muff
– Sour candy strips for the scarf (use scissors to cut them if you want them smaller or thinner)
– Orange vermicelli sprinkle for the carrot nose
– Red licorice rope for the mouth/smile
You can play around with other candies too.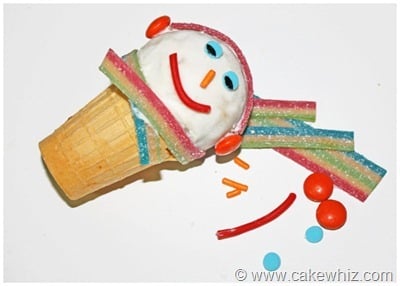 Step 8:
Place these snowman cones on a tray filled with sparkling sugar and some edible pearls (optional) and you are DONE!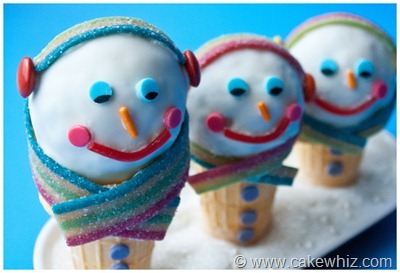 Well, that's all for today.
Until next time, tata my lovelies!