Chocolate Cherry Cupcakes
These soft chocolate cherry cupcakes are made from scratch, using maraschino cherries and they are also stuffed with fudgy cherry truffles.
*Thank you Nielsen Massey Vanillas for sponsoring this post so that I can develop this chocolate cherry cupcakes recipe. As always, all opinions are my own.*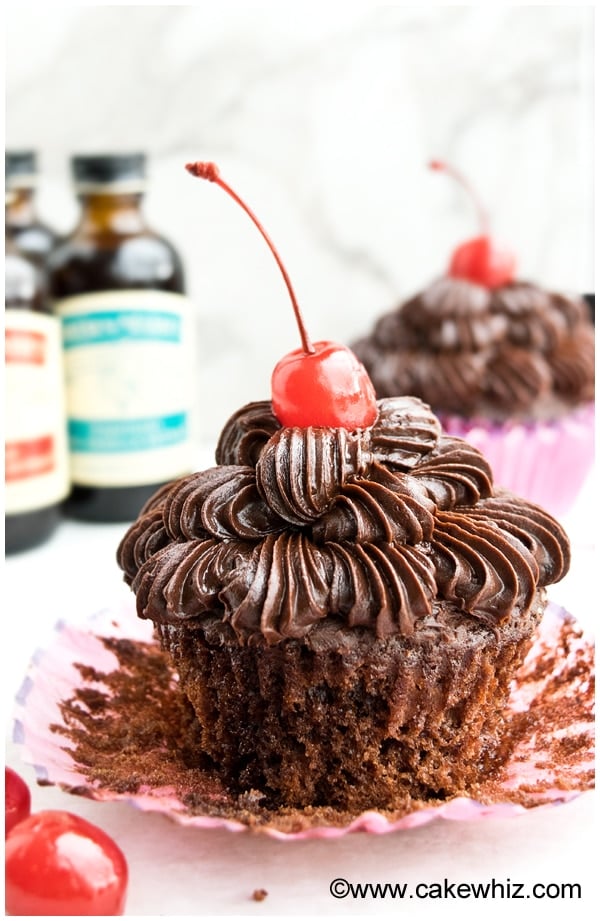 My mom always says that your food is only as GOOD as the ingredients you use.
The better your ingredients, the better your food will taste!
I never fully understood this bit of WISDOM until I became obsessed with baking.
You can have that popular recipe from a famous pastry chef or that top secret family recipe…
BUT if you don't use high quality ingredients, I guarantee your recipe will not turn out right.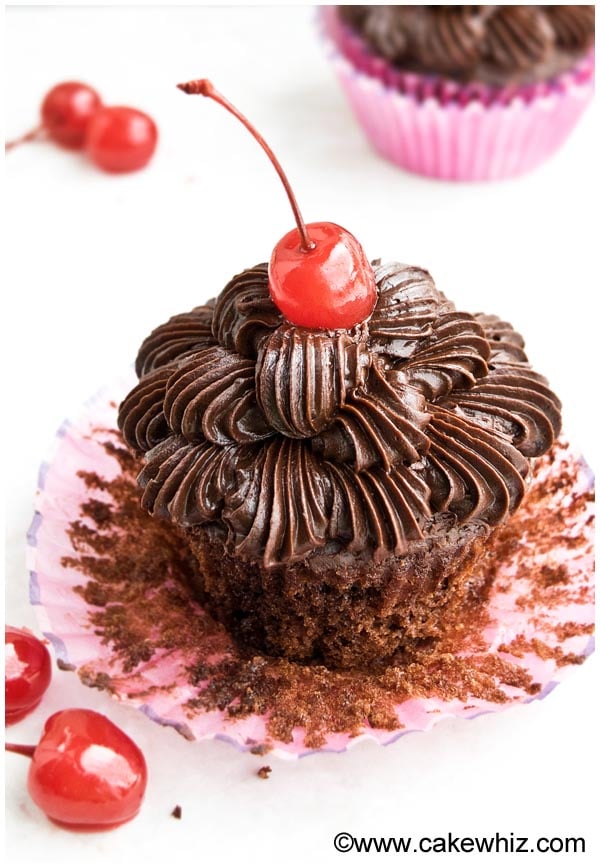 When it comes to making cakes and cupcakes, I am very FUSSY!
I use the best quality of butter, cocoa powder, eggs, chocolate and extracts I can find.
They are totally WORTH it and make a difference.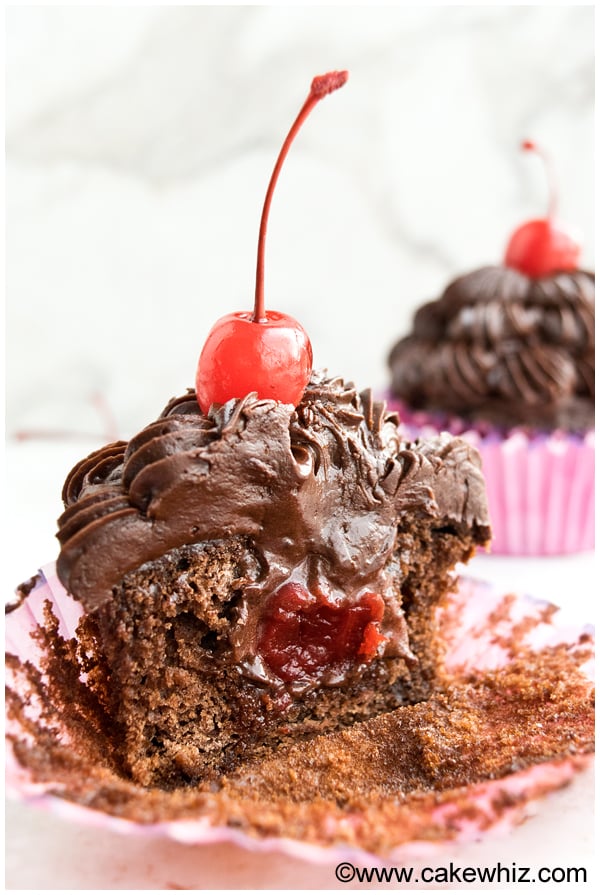 Speaking of ingredients, my latest discovery is Nielsen-Massey's Tahitian vanilla extract.
It has a WONDERFUL fruity cherry flavor, which reminds me of flowers and Spring time! lol
For these delicious chocolate cherry cupcakes, I used a combination of Tahitian and Mexican vanilla extracts.
Those two Nielsent-Massey extracts worked together harmoniously to really ENHANCE the flavor and aroma of these cupcakes!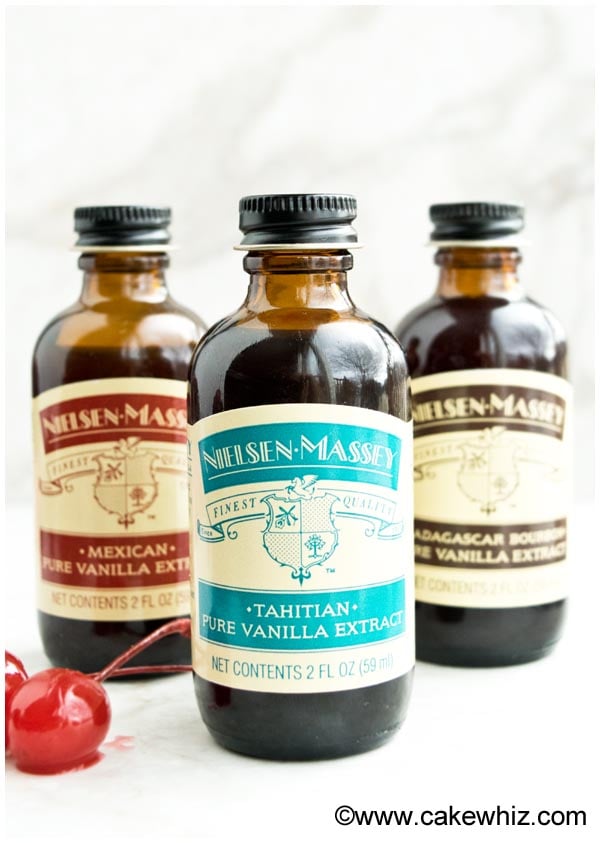 Initially, I was thinking of using fresh cherries but who can resist maraschino cherries?
So, I used maraschino cherry juice in the cupcakes and I also STUFFED a cherry in each chocolate truffle that I placed in the center of each cupcake…YUM!
If you are a FAN of cherries and chocolate, you should make these cupcakes ASAP!
They have the PERFECT balance of chocolate and cherry flavors.
They are also very SOFT, thanks to the use of greek yogurt.
Now, I will be the first to admit that these cupcakes take a bit LONGER to prepare but you can divide the work over a couple of days, if you like.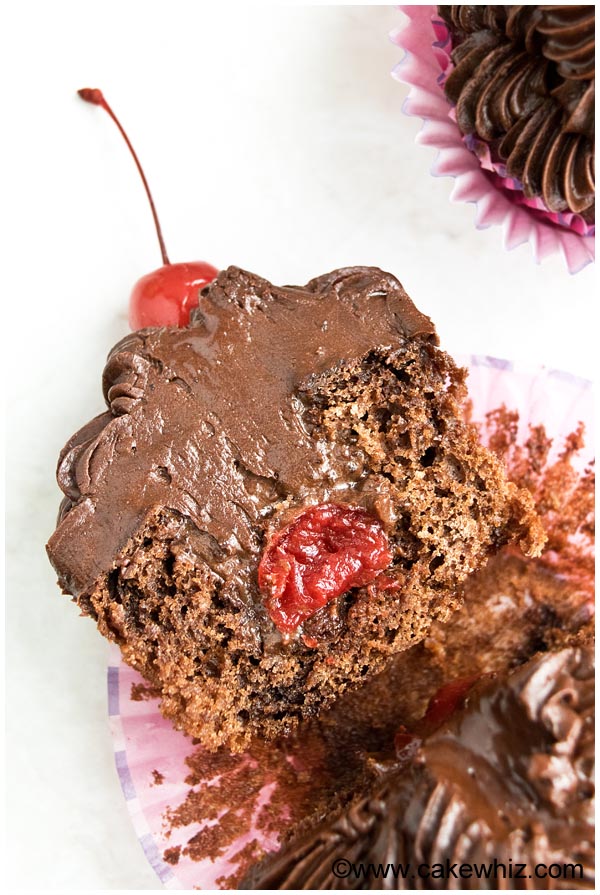 On their own, these chocolate cherry cupcakes are NOT too sweet.
That's why they pair so nicely with with fudgy coconut cream chocolate frosting.
Since I am fond of cupcake decorating (hehehe!), I used the star tip to make pretty chocolate swirls and topped everything off with a red cherry!
If you liked this post, you may also like some of these other cupcake recipes…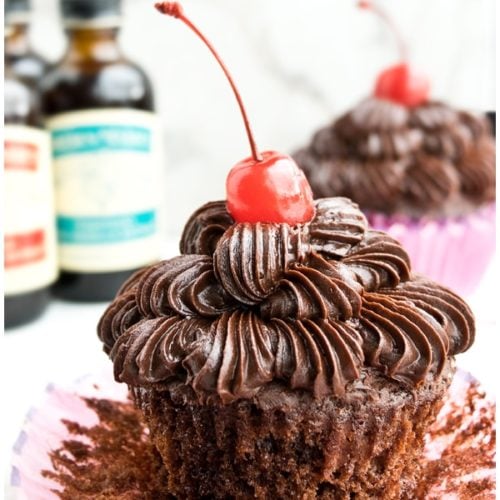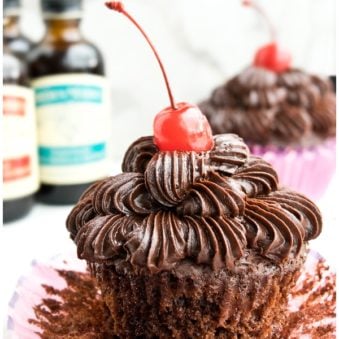 Chocolate Cherry Cupcakes
These soft chocolate cherry cupcakes are made from scratch, using maraschino cherries and they are also stuffed with fudgy cherry truffles.
Yield: Cupcakes
Ingredients
Cupcakes:
2 cups All-purpose flour
½ cup Cocoa powder
½ cup Butter, Unsalted
¾ cup Granulated sugar
⅔ cup Greek yogurt
⅔ cup Maraschino Cherry juice, From the jar of cherries
2 Eggs, Large
1 tsp Tahitian vanilla extract
1 tsp Mexican vanilla extract
1½ tsp Baking powder
½ tsp Baking soda
Cherry truffle filling:
3 cups Chocolate chips
1 cup Condensed milk
½ tsp Vanilla extract
24 Maraschino cherries
Instructions
In a

mixing bowl

, cream butter and sugar together until light and fluffy.

Then, add eggs and extracts and mix until just combined.

Add yogurt and cherry juice and mix again.

Now, in a separate small bowl,

whisk

together the flour,

cocoa powder

, baking powder and baking soda.

Dump the dry mixture into the wet mixture and mix until just combined. Don't over-mix! The batter will be very thick.

Pour this batter into cupcake liners and let the tray sit on the countertop for 10 minutes.

Then, bake at 350 degrees for 20 minutes or until an inserted toothpick comes out clean.

While the cupcakes are baking, prepare the chocolate frosting.
Chocolate cherry truffles
Melt chocolate chips in a microwave-safe bowl.

Add condensed milk and

vanilla extract

and mix until you have a thick mixture.

Chill this mixture in the fridge for 45 minutes. Then, scoop out small portions of the mixture and roll them into little balls with a cherry stuffed in the center.

Place these truffles on a

cookie tray

lined with parchment paper and chill in the refrigerator for 30 minutes.

When the cupcakes have cooled down, use an apple corer or big piping tip to make a hole in the center of the cupcake.

Place a chocolate truffle in this hole.

Then, frost your cupcakes with chocolate icing and top it all off with a cherry. Enjoy!
Notes
The cupcake batter is really thick. Don't worry about it. Just don't over-mix!
Once you pour the batter into cupcake liners, let the cupcakes sit on the countertop for 10 minutes before you start baking them. This resting time helps these cupcakes rise better.
Nutrition
Calories: 279kcal, Carbohydrates: 42g, Protein: 4g, Fat: 10g, Saturated Fat: 6g, Cholesterol: 31mg, Sodium: 100mg, Potassium: 130mg, Fiber: 1g, Sugar: 31g, Vitamin A: 225IU, Vitamin C: 0.5mg, Calcium: 94mg, Iron: 1.2mg
Well, that's all for today.
Until next time, tata my lovelies!